Sprinting in a parking lot presents some challenges.
There's the uneven pavement, a more unforgiving surface and the absence of the normal visual markers showing runners how far they need to go. For athletes who measure success in milliseconds, every aspect of training matters.
"It has been kind of hard practicing on this," said Mackenzie Wilson, a senior sprinter for Carolina Forest High School. "I feel like it's still the same a little bit. It's the same team, same coaches. We're still making it beneficial. We're still making improvements that we need to make. I don't think like it's any different within the team, just really the track. … It really does make a difference."  
A year ago, COVID-19 ended the spring sports season just as it was beginning. While optimism runs high among coaches and athletes in 2021, facility construction has made preparations difficult for some teams, forcing them to train and play in, well, unusual places.
Carolina Forest's home lacrosse games have been played more than 30 miles away at Green Sea Floyds. The Panthers' home soccer games are at the North Myrtle Beach Park and Sports Complex and track athletes have been traveling to Doug Shaw Memorial Stadium in Myrtle Beach or Coastal Carolina University in Conway when they want a more realistic experience than a parking lot run.
"It's one thing coming back during COVID and a pandemic," said Carolina Forest track coach Jesse Patrick. "It's another thing to have to do that and to not have a track. … The coaches and athletes have been doing the best that they can to make sure we're still improving, keeping a positive mindset through all of the adversity."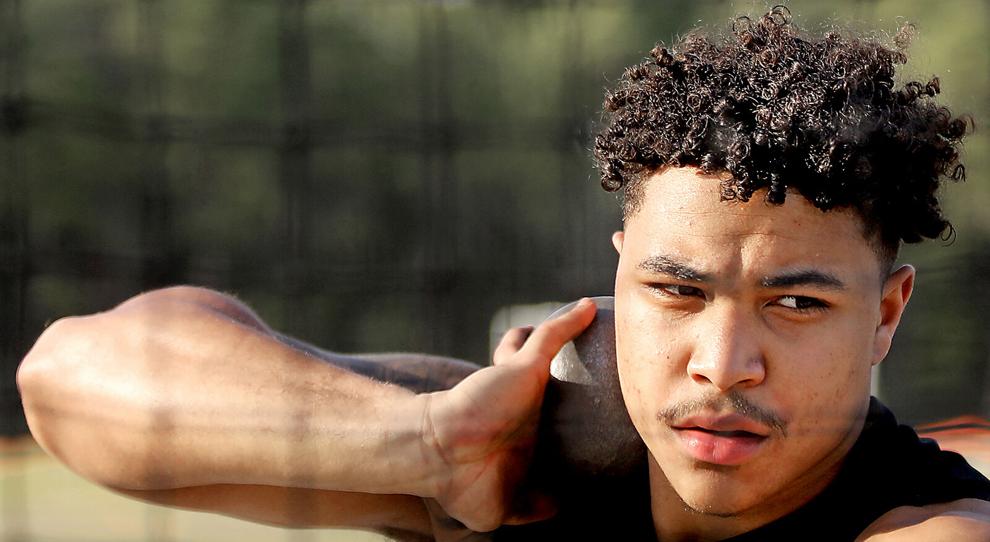 Struggles aside, promising signs continue to emerge. At Carolina Forest, a new discus cage just opened for training. Last week, crews finished pouring concrete for the school's shot put pit. A temporary pole vault pit is coming, too.
The track transformation is part of a $4.4 million series of high school facility upgrades. The first phase of construction began last year with the resurfacing of the tennis courts at Socastee, Loris, St. James and Aynor. This season, Horry County Schools has been reconstructing and replacing the tennis courts at Conway, Carolina Forest and Green Sea Floyds. HCS also began replacing the high school tracks at Carolina Forest, Loris and St. James. This work includes improvements for field events such as the pole vault and long jump.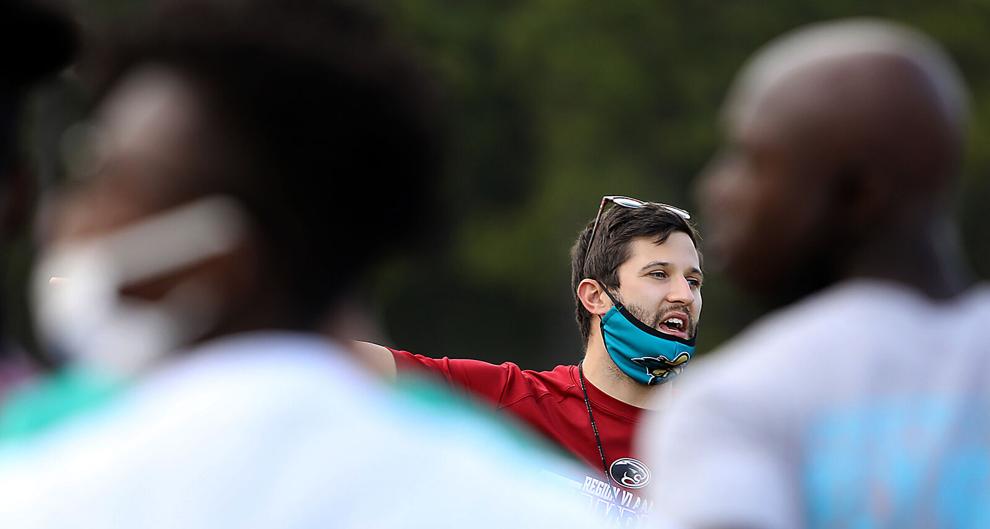 The district has completed construction on the Loris track while the Carolina Forest and St. James tracks are now being paved. Those two schools' facilities are expected to be finished by the end of April.
HCS spokeswoman Lisa Bourcier said in an email that bidding will soon begin for the $3.3 million phase two of the sports facility projects. That work involves replacing high school tracks at Aynor, Green Sea Floyds and North Myrtle Beach. 
The district has plans for two other phases of track and tennis court improvements, but officials have not allocated funding for those enhancements yet.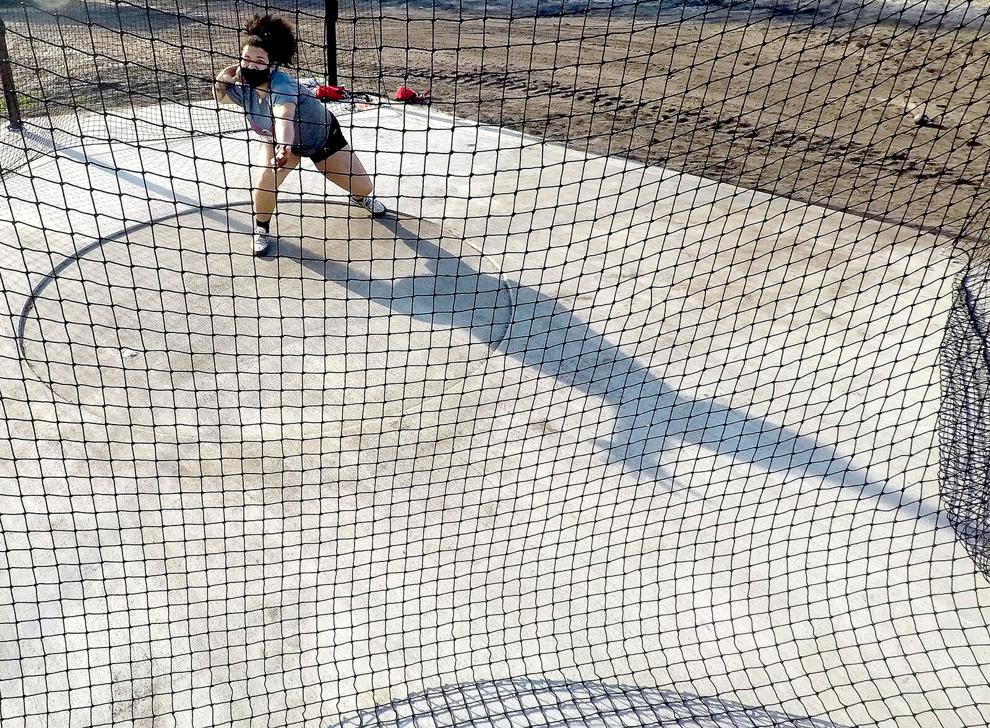 "Fields are made available to teams as they become safe to access," Bourcier said. "Some phasing of construction does displace activities due to the work's invasive nature, but every effort is made to limit impacts to sports. Because of the amount of work necessary at each school, some impacts will inevitably occur."
Despite the challenges presented by the construction, the fact that spring competitions are being held at all gives hope to the athletes.
"It was definitely kind of discouraging [last year]," said Brianna Hatfield, a senior distance runner for Carolina Forest. "For a long time, we were just kind of having to run on our own. We didn't know if we were going to be prepared for the season. But I think that this year we have some of the most hardworking people we've had in a long time. … It has been more difficult, but I think we're all just really grateful to have the opportunity to actually run a track season."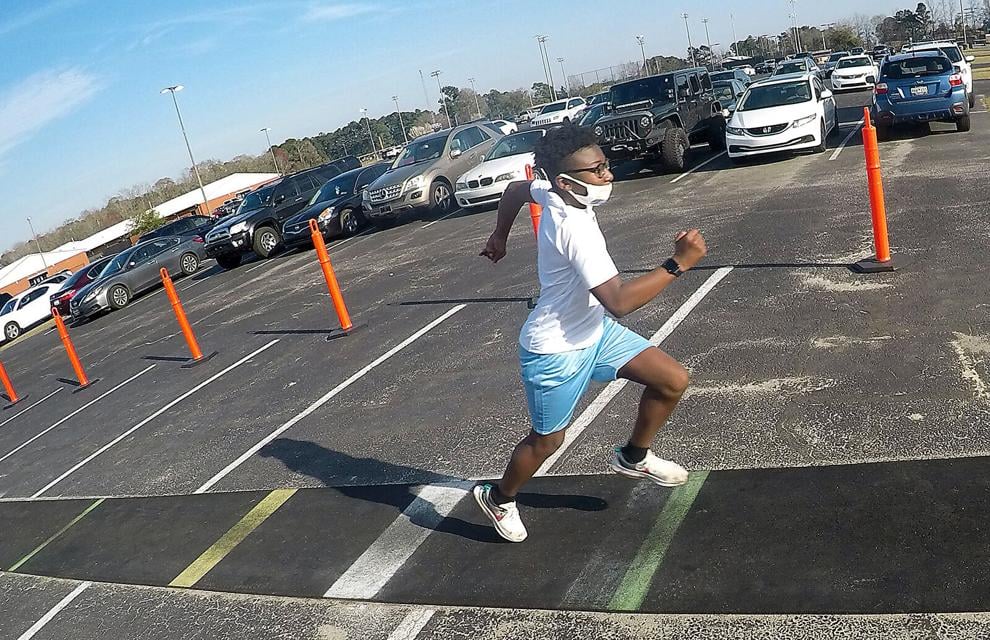 Kaden Buchler agrees. The senior distance runner aims to break the school record for the 1-mile race this season. He's already 15 seconds off that mark.
"We work hard," Buchler said. "Same as we did before COVID and before any of this construction. … We always have that mentality."
Danielle Emmen, a CFHS senior who throws the shot put, sees an opportunity in their new accommodations.
 "We don't have a track or anything, so it makes us work harder because we don't know how it's going to be when we get out there [at a meet]," she said. "So if we work hard now, it'll pay off later."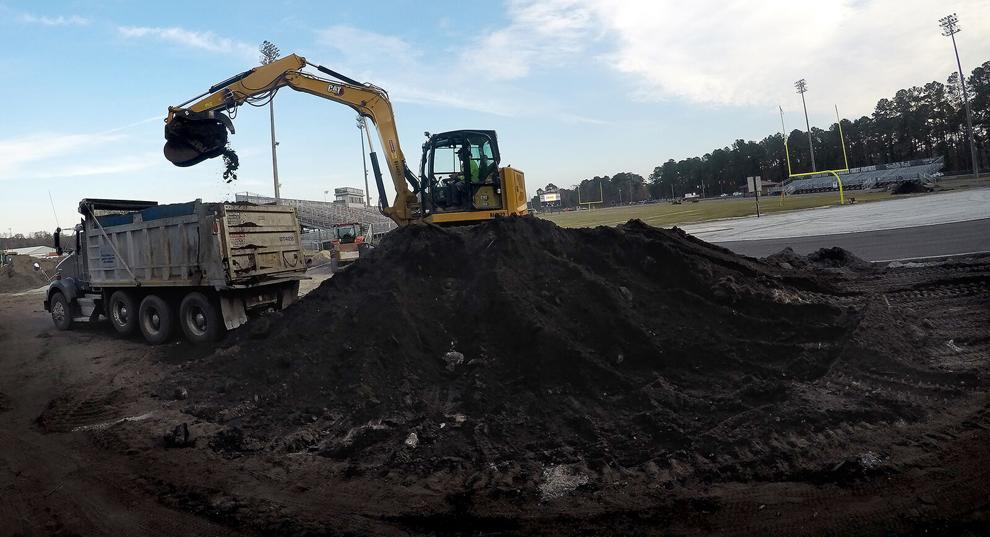 Since she started sprinting at age 6, Mackenzie Wilson always dreamed of running in the Olympics. Even when training beside sedans and SUVs at CFHS, she monitors her time, constantly trying to slice off seconds.
The COVID setbacks, the rainy weather and now the construction delays, they've all been frustrating. But she's still running — still challenging herself in her final high school season.
 "It's our senior year," she said. "We really want to make a boom this year. Everybody wants to go out hard their senior year."