Conway coach Carlton Terry said his Tigers were at full strength for the first time this season entering Friday's cross-county matchup against North Myrtle Beach.
The Tigers sure looked healthy after a dominating first-half performance against the visiting Chiefs at E. Craig Wall Jr. Memorial Stadium.
A torrid start by junior quarterback Devin Grainger guided Conway to a big halftime lead and the Tigers cruised in the second half to a 33-13 victory over the Chiefs.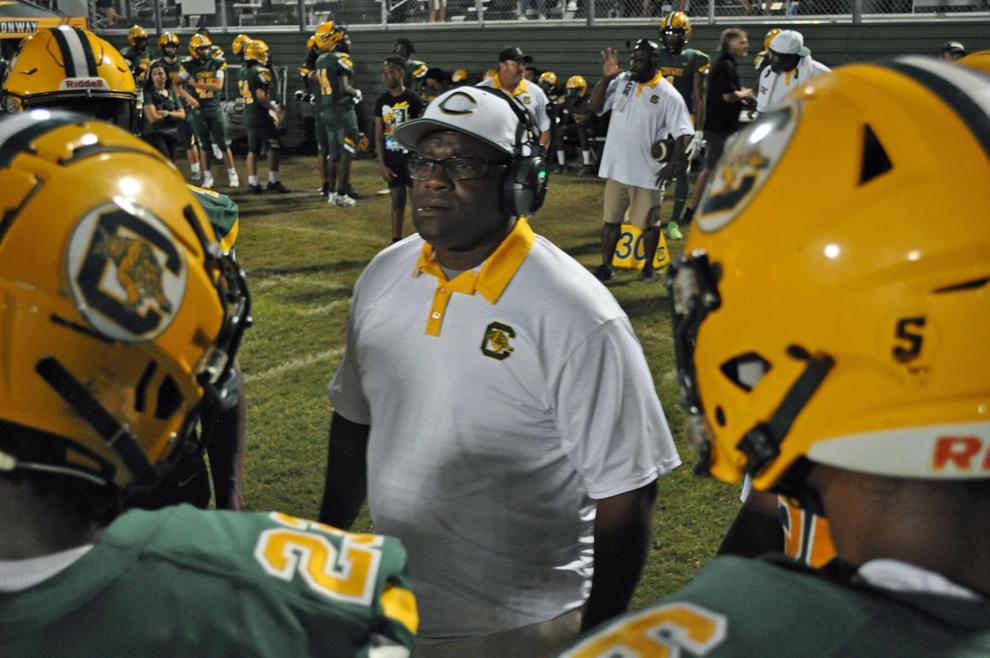 Grainger led touchdown drives on the Tigers' first four possessions, and by the time Rodney Huggins ran 2 yards up the middle for a touchdown with 10:53 still left in the first half, Conway (2-2) held a comfortable 25-7 lead.
By then, Grainger, a southpaw, had connected on all five pass attempts for 175 yards and two touchdowns.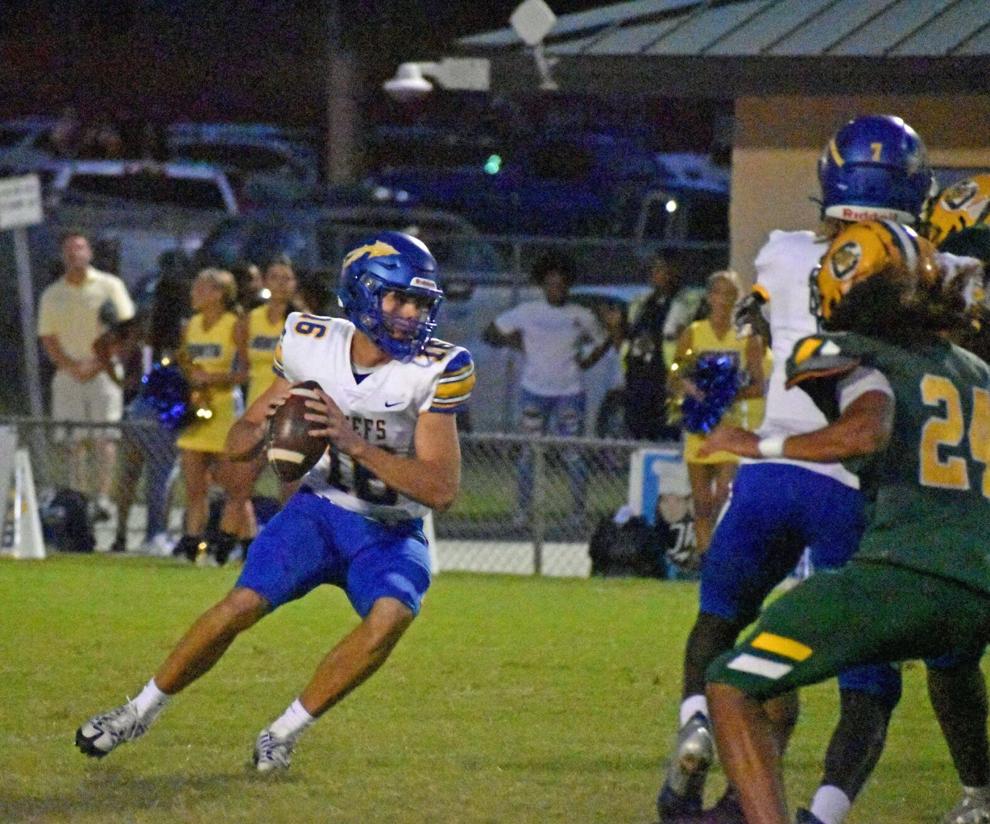 "Devin's a special player, and he's learning the game," Terry said. "He's getting better each game, but he's a junior and he's going to make some of those little junior mistakes. But overall I thought he managed our offense very well tonight."
Grainger finished with 12 of 19 passing for 245 yards and the two touchdowns.
"They were very hot (offensively) tonight," said first-year North Myrtle Beach coach Greg Hill. "I thought early in the game their team speed showed. They are the fastest team we've seen to date."
Conway's quick, athletic defenders gave a young Chiefs offense fits, limiting the visitors to only 26 yards rushing on 32 carries.
"Defensively, they're not overly huge but they're quick and our young guys had a hard time adjusting to the speed," Hill said.
Chiefs quarterback Chance Hall completed 16 of 27 passes for 205 yards and two touchdowns to pace the North Myrtle Beach offense.
Conway defeats North Myrtle Beach
Scenes from Conway's 33-13 win over North Myrtle Beach Friday
Conway was coming off a win over Myrtle Beach (33-28) followed by a loss to Ashley Ridge (23-7) in which the Tigers were without four starters, including two-way standout Cameron Austin.
"I thought against Myrtle Beach that we had things together, but then the injury bug hit us," Terry said. "So we're regrouping from the injury bug and hopefully we can propel into next week and play as well as we did tonight."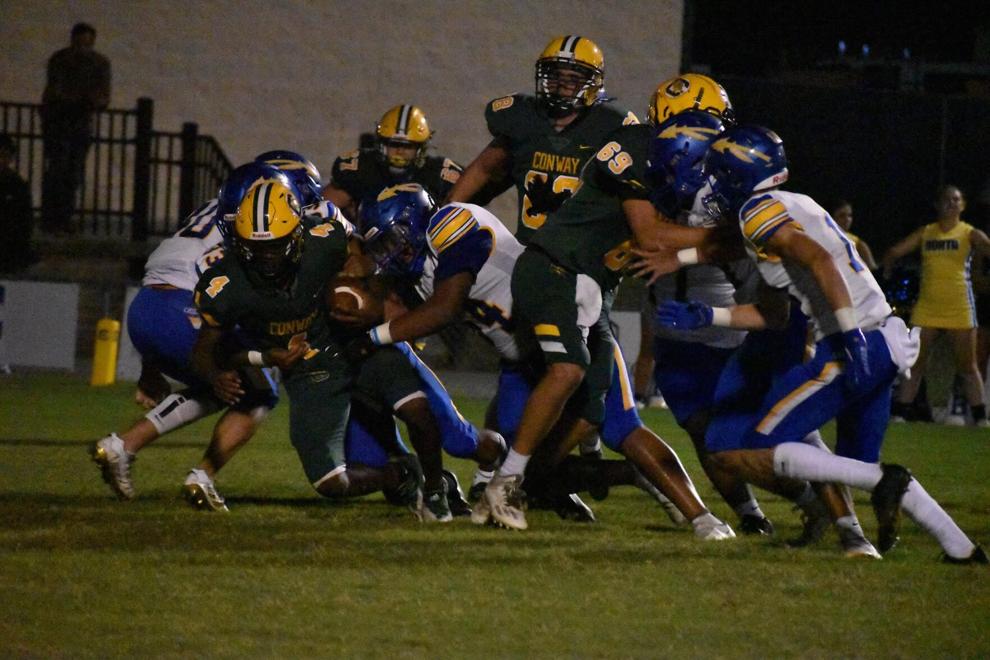 Next up for the Tigers is an away game against undefeated Loris (3-0) next Friday.
"They're a good football team and we're going to have to play well in order to compete with them," said Terry, who noted the game will be Conway's first visit to Loris since 1985. "They'll be jacked up for us, and we're playing at their place. We'll have to play almost a perfect game to beat those guys."
North Myrtle Beach (1-3) has a week off before traveling to Carolina Forest on Sept. 23.
Hill was encouraged by his team's effort in the second half despite facing a big deficit.
"We only gave up one touchdown the second half," Hill said. "We made adjustments at halftime and our kids [executed] the adjustments and I was pleased with that. We have got to be able to, if we walk out on a field and we get punched in the mouth, we've got to punch back. We can't wait until the next lull in the game to be the aggressor. It doesn't work that way."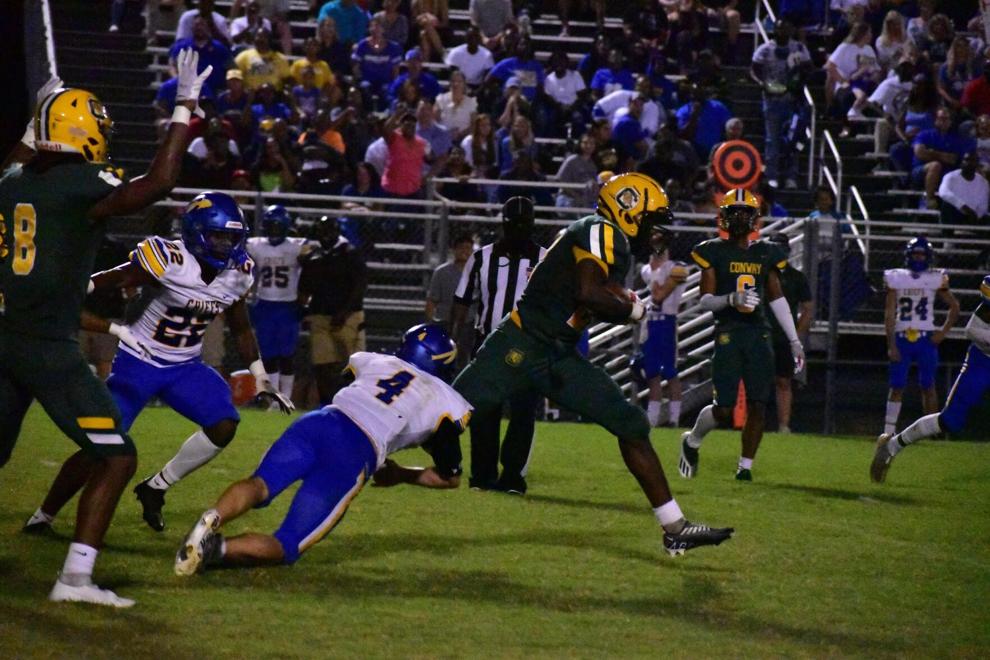 Conway opened the scoring when Grainger found a leaping Aiden Brantley for a 20-yard touchdown pass in the corner of the end zone with 8:09 left in the first quarter.
After the Chiefs responded with a 39-yard touchdown toss from Hall to Kaden Gore to tie the score at 7-7, the Tigers exploded.
Three quick Conway touchdowns ensued – a 65-yard touchdown strike down the sideline from Grainger to Derek Grant, a 20-yard gallop by J'Kwon Brantley following a foiled Chiefs' punt, and then Huggins' 2-yard run, which was set up by a 39-yard pass from Grainger to Takevin Scott.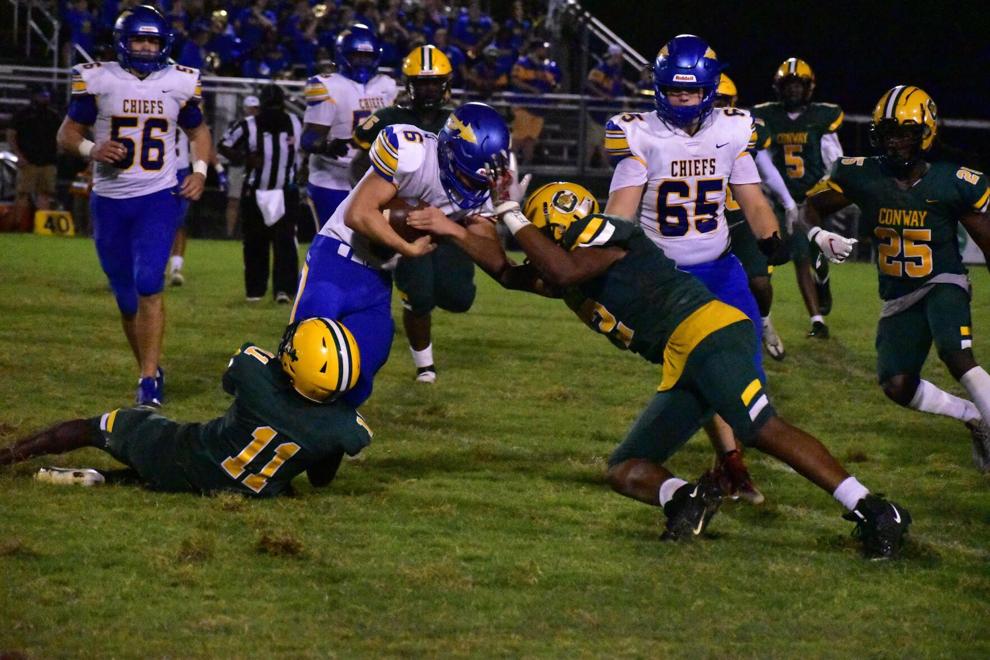 When the dust had cleared Conway held the 25-7 lead with 10:53 to go in the first half.