Mason Garcia rounded the edge of the building, the expression on his face telling the story his mouth eventually would.
"I haven't been over here in forever," he said of Pepper Geddings Recreation Center. "Not since rec league."
He's a lot different now.
The Carolina Forest senior is 6-foot-5 and pushing 220 pounds. He's the quarterback of the football team at the fourth-largest school in South Carolina. He's ranked as the sixth best football prospect in the state, and he's verbally committed to East Carolina University.
Yes, things are going pretty well for Garcia, and that's not to mention that he's playing for a team that is among the best in Class 5A and is still trending upward. He's come a long way since those recreation league football and basketball games at Pepper Geddings.
Yet, the tie will always be there, in part because of the fellow senior who just stepped out of his own car out front.
Luke Doty, Garcia's counterpart at Myrtle Beach, drew his first NCAA Division-I offer before he reached high school. He played junior varsity in the eighth and ninth grades and then mostly receiver as a sophomore. In his first year as the full-time varsity starter last fall, he steered the Seahawks to the Class 4A state championship.
By that point, he had verbally committed to the University of South Carolina. Doty has been in the spotlight more than he hasn't. There was his selection to the Elite 11 quarterback camp last summer, the constant need for updates from recruiting services and autograph- and photo-seeking fans in Columbia each time he heads to Williams-Brice to watch the Gamecocks.
Before any of that, though, he, too, was cutting his teeth at Pepper Geddings.
Frequently against Garcia.
On Friday, the two will suit up for their respective schools for what is believed to be the 10th time across rec league football and basketball, B-Team and junior varsity football, and now as seniors on the big squad. It is a non-region contest that is being treated like a playoff game — a national television broadcast and all — much because of Doty and Garcia's high-profile spots in the national rankings.
Doty is the No. 4 dual-threat quarterback in the nation, according to 247Sports.com. That same recruiting network places Garcia as the 21st best pro-style quarterback nationally. Those lofty rankings have elevated the attention both schools have received for a game that will have zero impact on playoff seeding.
And the hype is converging all at once.
"They grew up together and they're 11 miles apart — it's kind of like one of those ESPN stories," said Ramon Robinson, the private quarterback coach who has worked with both players. "I love it because it is very rare. But to have two guys who practically played their whole [youth] career together, rec league basketball but went opposite ways when it came to high school, it is rare. It is very rare."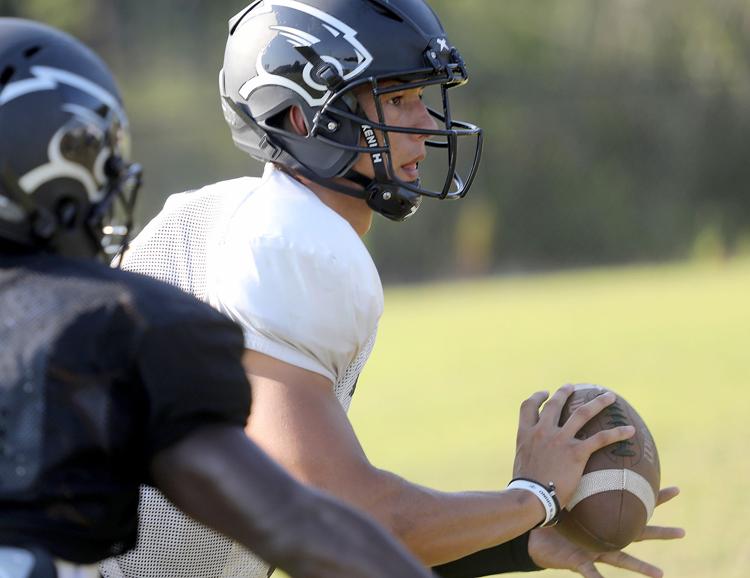 Mickey Wilson was jokingly referred to as the quarterback whisperer by an opposing coach after Doty received that offer from Coastal Carolina as a middle schooler.
Wilson has coached some good ones at Myrtle Beach since taking over in 2009. Everett Golson went to Notre Dame. Tyler Keane found a spot at Coastal. Drayton Arnold earned a full ride at Old Dominion.
Doty's ride has been even more prominent, thanks in part to booming social media reach, and Wilson said he's noticed a direct byproduct of the attention.
"He's really handled the off-the-field part of being a quarterback and Elite 11 guy and SEC guy really well," Wilson said. "He's very confident, which is what you want. He's accepted that he's going to be treated a little different than most."
Doty has become revered by Gamecock fans, partly because he has said over and over that he's going to USC. His father, Bobby, said last week that it would take something "catastrophic" for his son to change his mind.
Garcia's recruiting cycle was a full year behind Doty's, since the Carolina Forest quarterback hardly played as a sophomore while backing up former starter Matt Beale. Unlike Doty, he wasn't asked to play another position. College coaches weren't interested in seeing his junior varsity film, so they waited until he was starting for the varsity squad to start the process.
When Garcia got on the field, he immediately started making throws that few others could. His big arm was paired with some serious precision. And those college coaches began flocking.
Missouri and Syracuse offered, as did a number of slightly smaller programs.
ECU offered the best chance for playing time versus those power-five schools, but it also fit some of his personal goals. The Pirates pressed him to make a decision, and he jumped at the opportunity before they moved on to someone else.
So unless Alabama or Georgia offers, he said, Garcia is going to be at East Carolina this time next year. Power Five or not, Carolina Forest coach Marc Morris said his quarterback is going to prosper.
"From this year to last year is an unreal jump," Morris said. "When he gets to the next level, you're going to see an even bigger jump. When he matures, you're not going to see anyone better. Just watching him grow from a sophomore to a senior has been unreal."
A big reason for that is Robinson.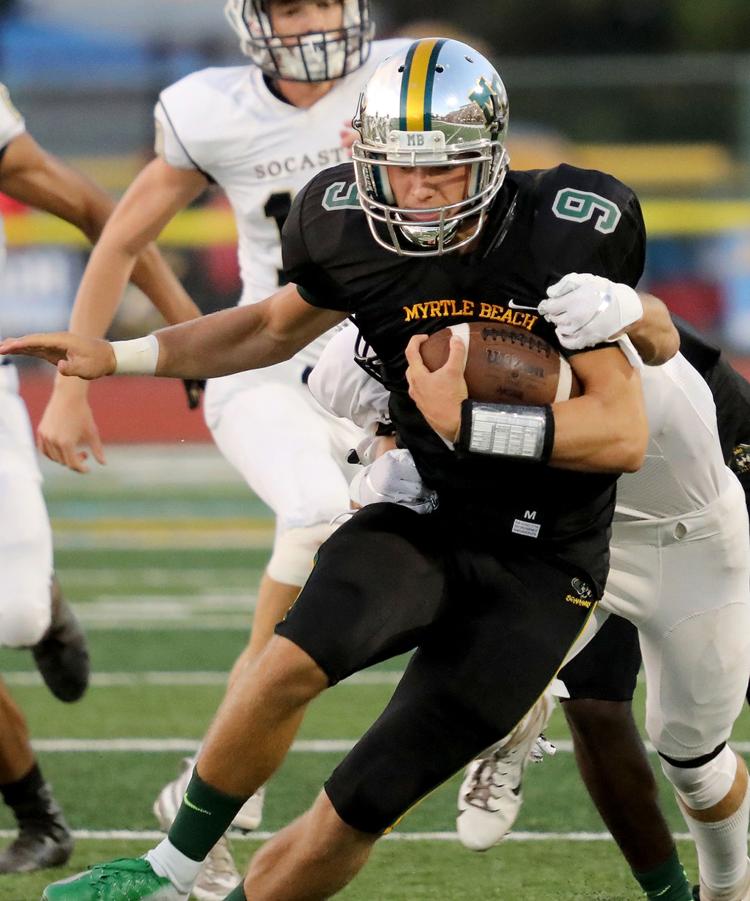 Ramon Robinson parlayed his own high school quarterback career at T.L. Hanna into one at Benedict and then the Canadian Football League. After his playing days, he got into coaching and football management.
In 2011, he founded Elite Position Training, a nonprofit that aimed to help in-state players max out their potential. Word got out that Robinson was pretty good at what he did, with reminders coming any time one of his quarterbacks signed a college scholarship paperwork. Doty started working with Robinson in middle school. Garcia started a couple years later during his freshman year. Coincidentally, it was former Seahawk quarterback Drayton Arnold's father who suggested Garcia make the phone call.
Robinson and Garcia linked up, and the then-6-foot-2 player would make regular treks to Robinson's home base in Greenville. After a year or so, he started working alongside Doty here in Myrtle Beach. They'd meet at Doug Shaw Memorial Stadium and work on everything from footwork to arm angles.
"You could see it," Robinson said of their long-term potential. "Some kids, it takes a little time. But those were two kids who I could honestly see where and why their recruiting was taking off like it was."
Robinson clarified that both players could play, but they both needed to work on mechanics. Garcia, for instance, was throwing the ball so overhand that his arm would frequently go over the top of his head.
Still, he had the arm strength to put the ball wherever he wanted (Morris said that he's only had one player in all his years with comparable arm strength).
These two-for-one meetings with Robinson weren't social atmospheres.
The two quarterbacks from opposing schools were there to bust their tails. It also bred a competition between them.
Not in the way you may think, though. They each made a personal commitment to learn from the other, be it physically — their skill sets are certainly not mirror images — or emotionally.
"Whenever we'd be training together or anything, [scholarship offers and recruiting weren't] the sole conversation, but it would come up," Doty said. "We definitely talked about it and had some really good conversations about it. The recruiting process is pretty tough. It's excruciating. It's tiring at times."
The year prior to high school, when Doty got that first one, Garcia's reaction wasn't one of jealousy.
"Right then and there, I didn't know what I wanted to do," Garcia said. "I didn't know I was going to be good enough. I didn't know if I wanted to go play football somewhere else at the next level like he was. Seeing that, it was like 'Wow, he really is that good.'"
Garcia decided sometime the next year that he wanted to be that good, too.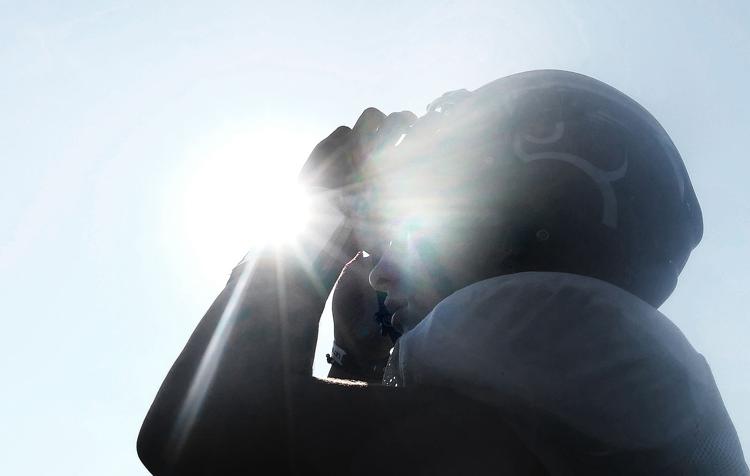 The funny thing about this individual matchup is how how innocently it all began, but also how improbable the continued links between the two have continued to be over time.
Garcia has always lived in Carolina Forest, but between camps at Mary C. Canty on Canal Street or leagues at Pepper Geddings, he spent most of his youth sports life at the Myrtle Beach complexes.
The glory of playing quarterback in fourth or fifth grade isn't like it is down the line, as it mostly just revolved around handing the ball off to someone else. Doty played running back and linebacker, for instance, and Garcia got his fair share of time at other positions.
It just happened that Doty — who is three inches or so shorter than Garcia now — hit a growth spurt earlier.
"He was always the athlete. He was always the top guy everyone talked about," Garcia said. "I wanted to be right behind him. I've always had faith in him, always encouraged him and always looked up to him."
Said Doty: "He was a heck of an athlete. He did everything on the field 100 percent. He just went out there and made plays."
One season, the two were each selected for the league's all-star game. It was essentially the positional turning point for Doty, who was earmarked as a future quarterback. 
Pure statistical chance says that one, if not both, would have fallen off by now. At least one of them should have sickened of football, failed to develop beyond youth sports stardom or maybe just moved out of the area.
Instead, their paths are crossing again and again. 
"Playing quarterback, there are so many variables," said Wilson, himself a former high school quarterback. "You don't know what the future holds. But the pieces have come together."
In total, 247 Sports has six in-state quarterbacks ranked inside the Top 75 nationally at their respective spot (dual-threat or pro-style). That's a boon, of sorts.
However, Robinson said that South Carolina is "behind the eight ball" when it comes to producing these types of quarterback-rich classes, compared with the likes of California, Texas or Georgia. It very well may go back to the ways of past seasons after this year, when Garcia and Doty move on to college ball and some of that high-profile recruiting heads back to the more traditional football power states.
Regardless, it is starting to look more and more likely that the Doty-Garcia rivalry may not be done even after this week. ECU and South Carolina are contracted to play each other in 2020 and 2021. Even if one player redshirts next fall, Garcia-Doty 11 could be in play the following year.
"I think it would just be like going back to the old days, playing football at the rec league field, doing what we do best - which is competing," Doty said. "If we were on the field at the same time, it would be pretty cool."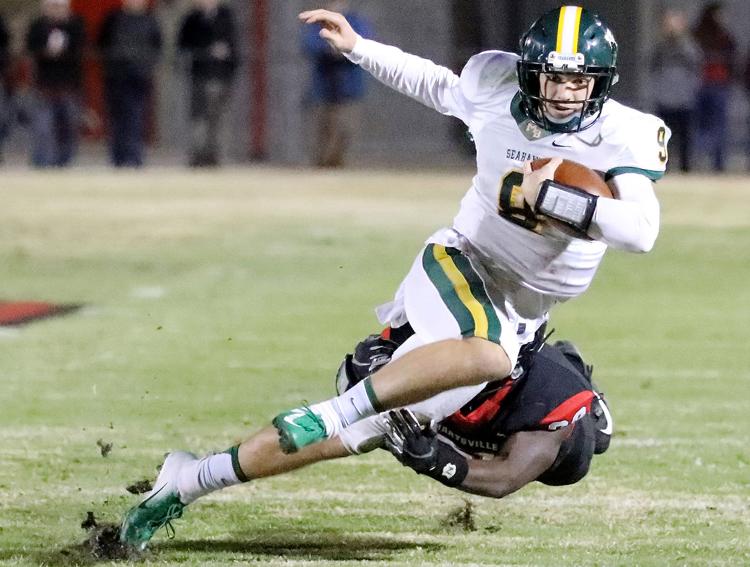 There is a portion of even the football-loving demographic here mildly annoyed with how much attention Friday's game is getting. Heck, even Morris tried to downplay it to a degree.
He mentioned that it is a non-region game and its best attribute is that an expectedly large crowd watching a contest against a top-notch foe will prep his Panthers for bigger games next month and hopefully deep into November.
And still, even the detractors can understand why this game is so big.
"It's a good thing," Garcia said. "Myrtle Beach with the state championship, they're an explosive team. Missing the game last year hyped this up more - Luke being involved in it and the talent both teams have, yeah, it's a good thing."
Last year, these two were slated to play at Doug Shaw. The game was cancelled due to the school-based closures associated with mass flooding around the district. Officials at Myrtle Beach estimated that the gate would have reached five figures, easy.
It will almost assuredly happen this week, if for no other reason that the build-up for this one is now two years deep.
Last weekend's Shrine Bowl of the Carolinas roster release did nothing to quell expectations. Doty and teammate Quamil Spells were both chosen, as was Carolina Forest offensive tackle Darin Goss. (Shrine Bowl coach Dean Boyd said that Garcia is considered an alternate and may be added at a later date if the situation presents itself.)
Other Carolina Forest and Myrtle Beach players also stand to make an impact. But make no mistake, all eyes will be on the two quarterbacks.
Will they lead their offenses to some gaudy numbers as they have for most of the past season-plus? Will it be a high-scoring game in the 30s or 40s, as the two both predicted last weekend?
"I'll definitely be OK with that," Doty said. "If it's just a straight-up shootout, I'd be more than OK with it."
Doty wants to win, of course, but he's "OK with it" because it would mean that his old buddy — the one he grew to know and respect as a grade schooler — probably had a good game, too.