TABOR CITY (N.C.) | Coming into the season, all the talk surrounding Loris football focused on the Lions' defense.
Seven starters returning. Veteran linebackers and defensive backs. Speed everywhere.
On Friday night, the offense wanted a word.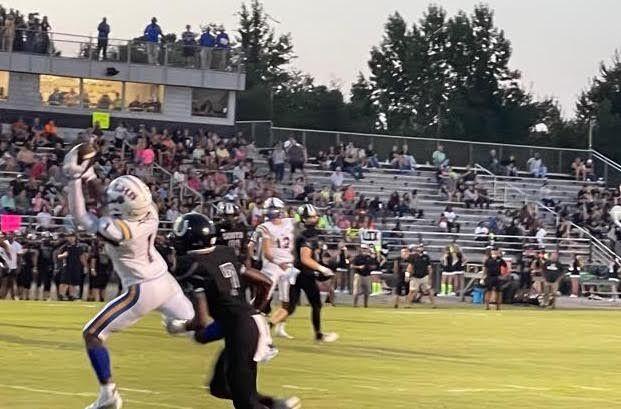 The Lions found success both on the ground and through the air as they routed South Columbus (N.C.) 46-14. The Lions' third straight rivalry win — they already defeated Green Sea Floyds and North Myrtle Beach — featured their best offensive performance of the season.
"We're starting to jell offensively," third-year Loris coach Greg Mance said. "Defensively, we've been sound all year. … We feel really good with our defense. When our offense catches up, it puts pressure on people."
The Lions began applying that pressure early to the Stallions at Civitan Stadium.
After forcing South Columbus to go three and out, Loris went 52 yards in nine plays and took the lead on a 4-yard pass from quarterback Jackson Huff to Randall "Duke" Bellamy.
A two-point conversion pass from Huff to Cameron Faircloth made the score 8-0 with 6:41 to play in the opening quarter.
After forcing a turnover on downs, Loris put together a 51-yard drive that ended with La'Ontray Knox punching it in from 3 yards out. Knox ran in the two-point conversion as well, giving the Lions a 16-0 lead with 17 seconds left in the first quarter.
Despite the Lions' strong start, South Columbus didn't fold.
The Stallions got on the board with a fourth-down, 15-yard touchdown pass from quarterback Rush Blackwell to running back Domnick Johnson. Blackwell then ran in the two-point conversion to cut the Loris lead to 16-8 with 8:41 in the second quarter.
The Stallions also took advantage of some Loris' miscues. The Lions turned the ball over on downs at the South Columbus 32, but the Loris defense forced the Stallions to punt. However, a Lions player touched the bouncing ball and South Columbus recovered.
The Stallions' drive ended with a one-yard touchdown run from Blackwell, bringing the score to 16-14 (the two-point conversion attempt failed).
Despite allowing South Columbus to come back, Loris grabbed momentum again just before halftime when Huff hit Bellamy for a 30-yard touchdown pass.
"I knew and the coaches knew, like on a one-on-one route, it's me over them," Bellamy said. "I'm glad that the quarterback trusts me enough to give me the ball."
There was no lack of trust in Bellamy Friday night.
After Loris took a 24-14 lead into halftime, the speedy senior removed any hope of a South Columbus comeback with a series of stellar plays early in the third quarter .
First, Bellamy caught a 9-yard touchdown pass from Huff to boost the Loris lead to 32-14 with just over 8 minutes left in the third. After Loris recovered an onside kick, Huff found Bellamy on the next play for a 43-yard touchdown pass.
"When you've got No. 1 standing out there, you know, he's a pretty good football player," Mance said of Bellamy. "He can go get it. He can fly. If you don't double cover him, we're going to take our shots with him."
Loris would add another rushing score from Knox, and South Columbus never threatened the lead again.
Apart from stellar games from Bellamy and Knox, Mance said he was pleased with the play of the offensive line.
"That's the best we've played up front," he said. "They opened up the holes."
He also noticed that his sophomore quarterback found a groove.
"Man, he gets better every week," he said. "When Huff plays well, we play well."
After the game, Lions players and coaches celebrated both their 3-0 start and a change in the program's culture. 
"We're bringing back a lot that ain't been here in a long time," Bellamy said. "We're bringing back Loris pride."
Loris has a bye next week before hosting Conway on Sept. 16. Mance praised his players' efforts to reach this point.
"These kids have worked their hind end off," he said. "We watch tape four days a week now. They hit the weight room five days a week. We even lift on game days. And they've bought into the program."