Say this for the odd scheduling quirks associated with the 2020 high school football season: There won't be much of a struggle preparing for your opponents.
With region games taking precedent and non-region games mostly scheduled against foes from nearby locales, essentially every opponent on every Horry County docket is one that the team already knows quite well. Take this week, for instance.
Of the eight local teams set to take the field this week (Loris is off), six of them are playing an opponent they played at least once last season. The lone exceptions are Green Sea Floyds, which is taking on new region opponent Johnsonville, and St. James, which will be playing Sumter for the very first time in school history.
As for the others, they have come to know and love (or hate) these matchups.
Myrtle Beach will be playing Hartsville for the fifth time in three seasons; the Seahawks have won each of the last three. Conway, which is now a class above former region foe West Florence, continued the rivalry to ease both schools' scheduling concerns. North Myrtle Beach (Darlington) and Carolina Forest-Socastee will continue their region slates. Aynor renews its region tilt with Georgetown after a brief hiatus. Even so, those two met in the playoffs less than 11 months ago.
The familiarity likely means fewer surprises, as some of those basics of film review and the ensuing strategy could be implemented quickly.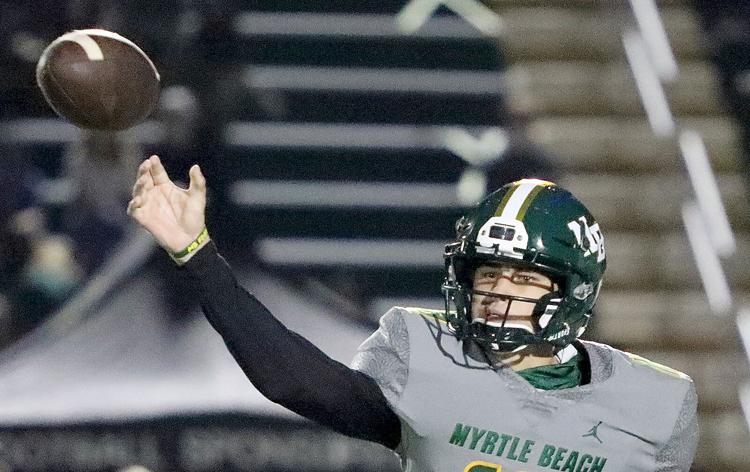 NUMBERS MATTER
Comparison shopping won't do much good when it comes to Ryan Burger's performances this year when viewed against Luke Doty's from last fall. 
The two are different types of quarterbacks, with Burger certainly falling much more into that pocket passer description. However, numbers also don't lie.
Through three games this fall, Burger is 41-of-60 for 702 yards, nine touchdowns and just one interception. Through three games a year ago, Doty was 41-of-60 for 527 yards, nine touchdowns and two interceptions.
Of course, Doty had 130 more rushing yards (149 to 19) and a rushing score as well. But the similarities in the completion percentage can also point to the development of the receivers getting all those targets. Doty was throwing to essentially a trio of first-year starting receivers in J.J. Jones, Adam Randall and Darius Hough. 
Even though Hough graduated and is now playing college ball, Jones and Randall are typically considered the best one-two receiver tandem in the state.
They're helping Burger along, and the junior quarterback is making sure it counts.
FORMER SOCASTEE COACH, AD RENFROW TAKES POSITION WITH FCA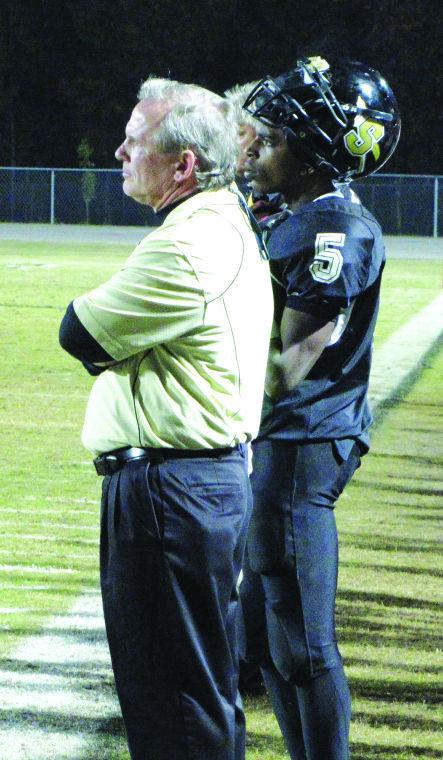 Tim Renfrow wasn't expected to be out of work long. Late last week, the Fellowship of Christian Athletes made sure of it.
The FCA announced that Renfrow — the longtime athletics director and football coach at Socastee — would take over as the area director for Dillon, Georgetown and Marion counties. Renfrow's job officially started Oct. 1. According to a release, he will be in charge of "talent, board and donor and international advancement lanes of ministry."
The move was a natural one for Renfrow, who has long been involved with the organization during his lengthy career in Horry County.
Renfrow was initially Socastee's athletics director from 1994-2003 before leaving the administrative post to lead the team's football program. He was 57-57 overall in 10 seasons in that job.
He then announced in March of 2013 — months after the team posted a school-record 12-1 record behind his son, Hunter — that he was returning to the athletics director job. Renfrow's coaching slate included a combined 66-79 overall record when his three seasons at Green Sea Floyds were factored into the mix. 
In total, he spent 32 seasons at Socastee in various capacities and nearly four full decades inside the district. However, he was part of the district's wide-scale elimination of at-will employees at the end of the 2019-2020 school year.