Connor Meehan saw the tipped ball. The senior safety reached out his left hand and hauled it in, then dashed towards St. James territory.
In a first half where the Carolina Forest defense mostly looked helpless against the St. James passing attack, Meehan's interception late in the second quarter proved to be a turning point. The Panthers would eventually make a tie game a 70-28 blowout.   
"Turnovers win games," Meehan said. "That's what I like to believe and I think that's what won us this game or turned it around at least. … It really just takes one turnover."
On paper, the one-win Sharks (1-4, 0-4 region) were not expected to challenge the one-loss Panthers (4-1, 3-1 region) who have already clinched a playoff spot. Over the last four seasons, the average score of this matchup has been 49-5 in Carolina Forest's favor.
But that history didn't seem to matter early in Friday's contest. The Sharks put together a solid opening drive and capped it with a short touchdown pass from quarterback Joey McMenamin to wideout Jeremiah Nesbitt.
The McMenamin-Nesbitt combination would frustrate the Panthers' defense throughout the first half.
After Carolina Forest tied the game on a 15-yard Luke Janack touchdown run, the Sharks responded with a 32-yard Nesbitt reception that pushed St. James back in front 14-7.
Janack again rumbled for a 15-yard score to tie the game at 14, only to watch St. James respond with a 63-yard Nesbitt touchdown catch.
"A lot of the credit had to go to St. James," Carolina Forest coach Marc Morris said. "They just outcoached us and outplayed us and everything on that side of the ball early."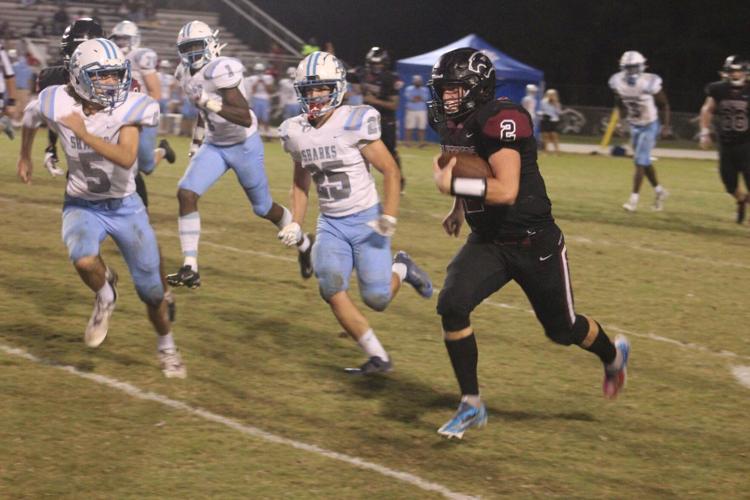 Despite their initial defensive struggles, the Panthers' offense kept rolling.
Quarterback Kyle Watkins scampered into the end zone from seven yards out to even the game at 21 with 5:43 to play in the second quarter.
Then Meehan's pick seemed to inspire the Panthers. After the interception, they got the ball back with just over two minutes left in the half. Watkins then marched them down the field and plunged into the end zone after a five-yard churn to put Carolina Forest ahead.
They led 28-21 at halftime.
"We came out flat tonight," Meehan said. "I hope to never do that again. We've got to stay fired up. Keep the pedal down, especially after halftime."
They certainly slammed the accelerator in the third quarter Friday. A 35-point offensive eruption, a shutout by the defense and a blocked punt made the fourth quarter a mere formality.
The second half included a 50-yard touchdown run from Janack, two rushing scores from running back Savion Pinckney, a 46-yard touchdown reception for Janack's brother Adam, an eight-yard TD catch for wideout Amos Uber and another rushing score for Watkins.
St. James' only second-half points came on a late one-yard run from McMenamin after the game's outcome was already obvious.
"Second half, our kids played a little quicker and we made some adjustments and did a good job," Morris said.
The Panthers will now prepare for a non-region game against Beaufort next week. Until recently, the Oct. 30 date had been empty for Carolina Forest, but Morris said the two teams have settled on a game that day at Carolina Forest's field. He said the undefeated 4A Eagles should be a good test for the 5A Panthers.
"Every week is a blessing, really, to get an opportunity to play," he said, referring to the challenges of the COVID-19-shortened season. "We wanted to find a good game next week and obviously we got an incredible opponent with Beaufort, who has already won their conference down there. To me, it's all about preparing kids for the playoffs and trying to get us to play the best football we can play once the playoffs start. Because when you've got eight teams in 5A football, everybody's good."