FORT MILL | North Myrtle Beach coach Brian Alderson didn't need much convincing to keep starting pitcher Austin Long on the bump in the final inning Monday night.
Leading by just two runs in Game 1 of the best-of-three 4A state championship series, Alderson said he contemplated going to the bullpen for the final three outs as the Chiefs looked to secure a valuable road victory against hosts Catawba Ridge.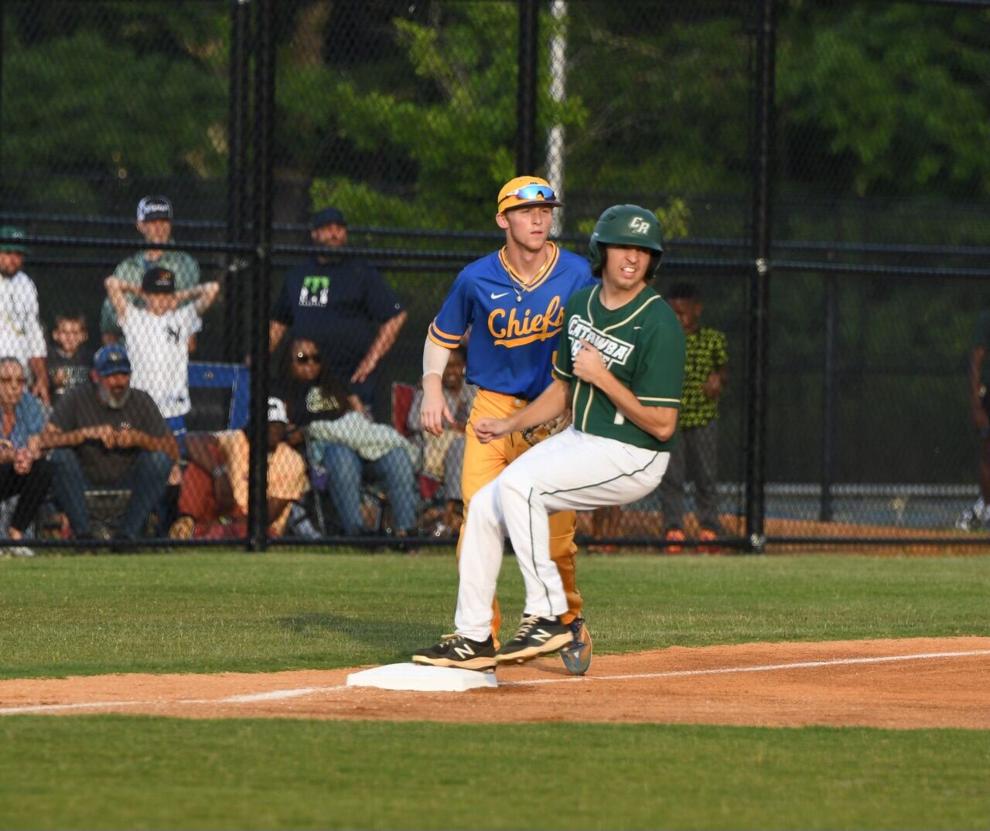 "But Austin said he wanted the baseball," Alderson said. "So we let him run back out there and finish it off. I said, 'Can you finish it?' and he said, 'Coach, I've got this.'"
Long struck out nine batters in a complete game effort, Luke Roupe smacked a three-run homer and Chance Hall sealed the deal with smart base running to help North Myrtle Beach secure a 5-3 win over Catawba Ridge Monday in Fort Mill. 
With the win, the visiting Chiefs (28-5) earned a 1-0 series lead heading into a pivotal Game 2, which will be played at North Myrtle Beach on Wednesday. 
Both teams are chasing their first baseball state title in school history. 
Long was efficient all night, allowing just two walks and four hits over seven innings. 
"He's Mr. Consistent," Alderson said. "He did what he's done for us all year long."
After two scoreless innings, Roupe smacked a homer to deep left-center in the top of the third inning to score Hall and Sawyer Smith. Chase Sturgeon extended the North Myrtle Beach lead in the next inning to 4-0 when his single to deep center helped Mason Cox score from second. 
Catawba Ridge (27-7) fought back in the bottom of the fourth. Facing two strikes and with two outs, Jake McCoy smashed a long three-run homer to cut the Chiefs' lead to 4-3. 
Jackson Mullen pitched five innings for the Copperheads, finishing with four strikeouts, three walks and five hits allowed. Reliever Caden Glauber finished out the last two innings, earning four strikeouts, allowing one walk and no hits. 
Catawba Ridge coach Stas Swerdzewski noted that the Copperheads left several men on base, especially in the opening innings. 
"We had opportunities early in the game," he said. "It would have been nice to capitalize on those chances. We didn't have timely hits. Hopefully we can go to Game 2 and perform better in RBI opportunities."
Hall made Catawba Ridge pay for some defensive sloppiness. After reaching first base on a walk, Hall initially stole second base on a called third strike, but a wild throw from the catcher allowed Hall to advance to third base. A wild throw back in from the outfield then allowed Hall to sprint to home plate and pad North Myrtle Beach's lead. 
Facing the top of the Catawba Ridge order, Long threw three straight strikeouts in the final inning to close the game out and give the Chiefs a precious series lead heading back to Little River.
"It worked out in our favor," Alderson said. "Tip of the cap to (Catawba Ridge), they've got a really good squad. Hopefully we can go back home and have a good game on Wednesday."
For his part, Swerdzewski said he feels confident in his ballclub.
"We've got a deep pitching rotation," he said. "It's a three-game series, not one and done. We've got our backs against the wall, but this team's been fighting all year long. We'll go into Game 2 and work hard to try and take it to Game 3."
North Myrtle Beach swept South Florence in last week's lower state championship series to punch its ticket to the state title series. Catawba Ridge swept Laurens last week in the upper state title series to earn its berth in the finals.