New Coastal Carolina football coach Tim Beck reluctantly canceled the team's spring game scheduled for Saturday due to inclement weather.
But he departs spring practices satisfied with the progress he believes the team has made.
The Chants had 14 practices between Feb. 28 and Thursday under Beck and his new staff. Beck, who spent the past three seasons as the offensive coordinator and quarterbacks coach at N.C. State, was hired by CCU on Dec. 4, the same day former coach Jamey Chadwell announced he was leaving for Liberty.
"I was really pleased with spring. We got better, and that was the goal, to get better," Beck said. "We're still building. We're still a work in progress. I'm very encouraged where we're at. From where we started to where we're at, every position improved."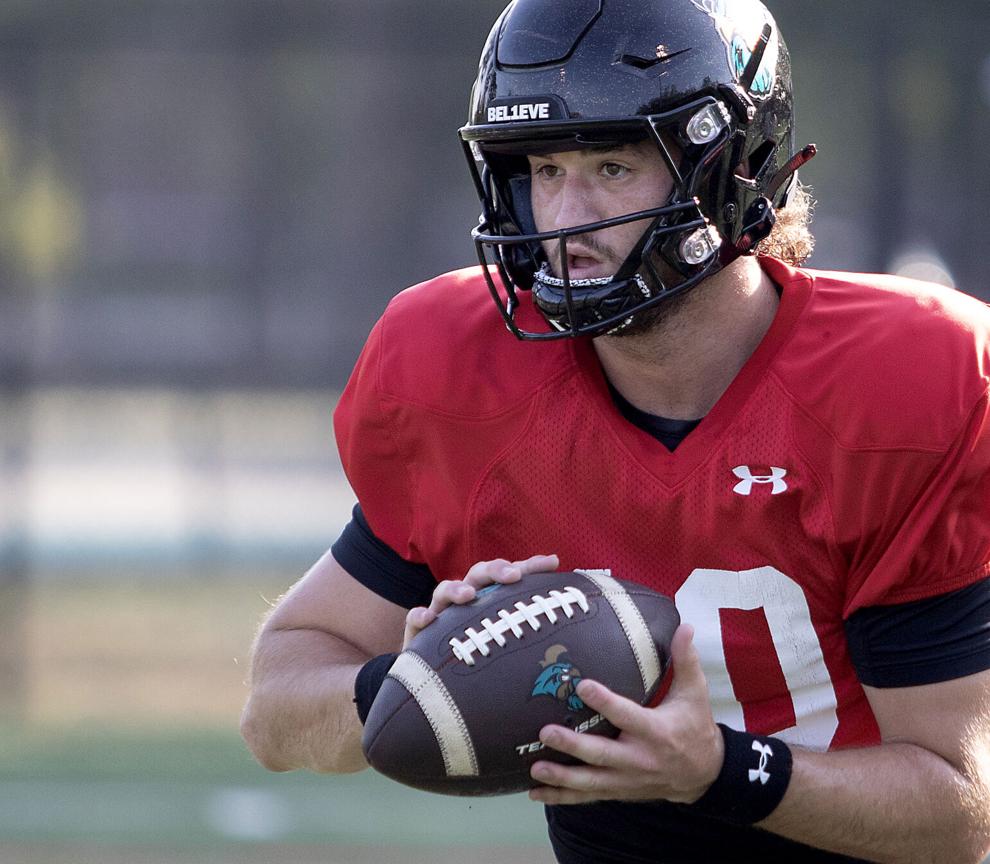 The spring practices gave the returning CCU players a chance to quickly get accustomed to the new coaches and their ways, as outside linebackers/special teams coach Josh Miller is the only assistant holdover from Chadwell's staff.
"The big difference is . . . different coaches, but a lot of these guys, we've built a culture here that we feel like works," senior offensive lineman Will McDonald said. "Everyone is so close and we'll continue to work on that. We brought in some new guys, but we feel we're just as close as we've been."
"It's definitely different with terminology and scheduling, but at the end of the day it's football. From middle school to high school to college to the NFL, every position teaches some more things. . . . Everything though is pretty similar."
CCU's spring practices were more physical than in recent years, according to Beck, based on player feedback.
The Chants incurred some injuries that are being evaluated for proper treatment, with the most significant apparently being a leg injury to returning starting safety Tavyn Jackson, a graduate student.
"Tavyn doesn't look good for fall," Beck said. "We'll get more a little bit later, we're still not 100% on it."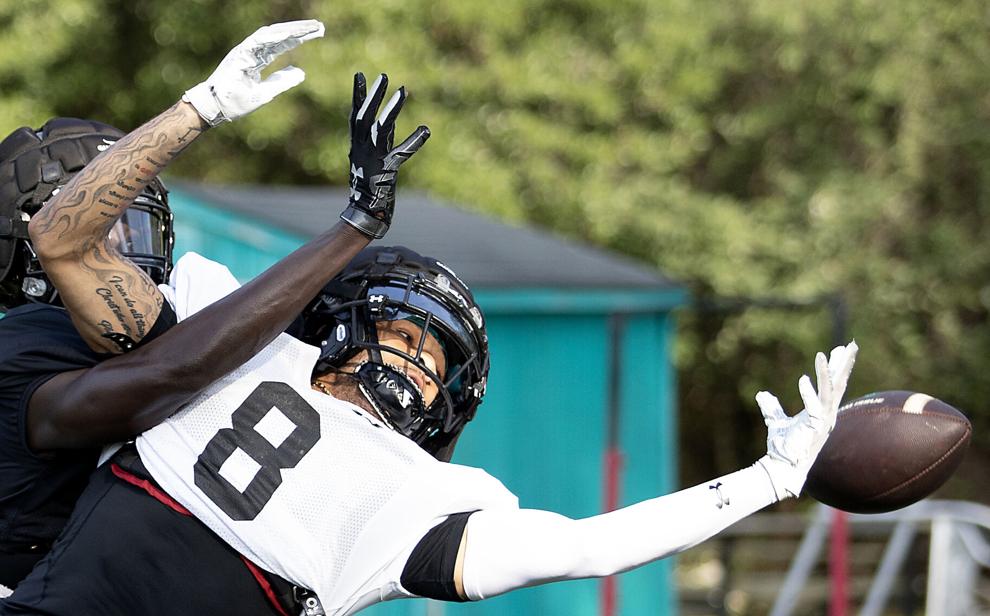 Beck has spent the past 18 seasons at programs in Power Five conferences. Did he see a difference in the strength, speed, athleticism and skills of CCU's players compared to those in his past programs including N.C. State, Texas, Ohio State and Nebraska?
"There are a lot of players here that can play at those programs. The biggest issue might be depth," Beck said. "One year I was at Ohio State with five first-round corners. Only two of them played but we had five of them, so if one got hurt the other guy went in and was pretty good. So it's just different, but there are guys here who can play at that level.
"I think we're a good football team. I think we have a chance to be a good football team."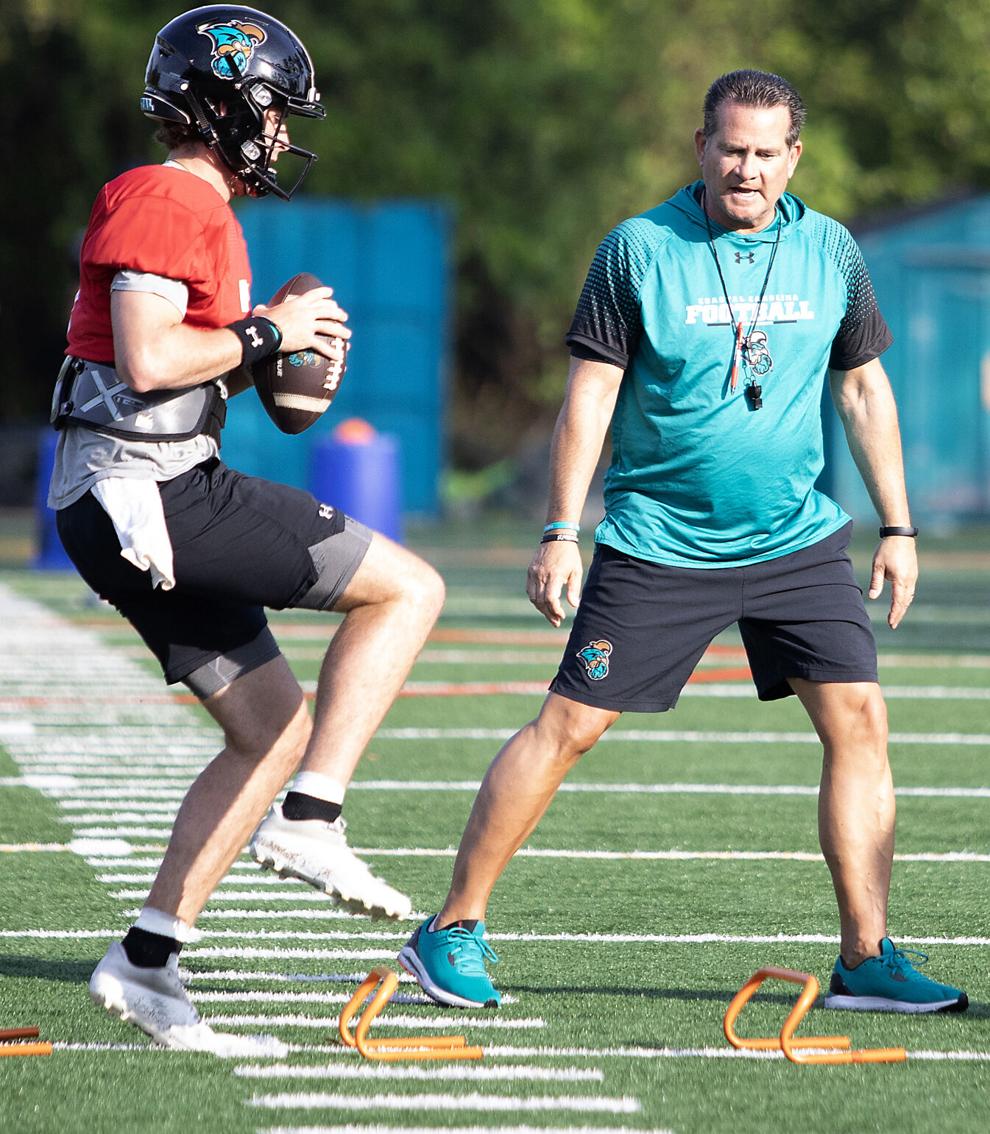 The team outlook
The Chants return nearly all of their offensive skill players, aside from the tight end position.
Three-time Sun Belt Conference Player of the Year Grayson McCall returns at quarterback along with running backs Braydon Bennett, Reese White and CJ Beasley, and receivers Sam Pinckney, Tyson Mobley and Jared Brown, the SBC Freshman of the Year and a freshman All-American.
The offensive line returns three starters in left tackle Donnell Wilson, left guard Will McDonald and right tackle Willie Moise, and right guard Dillon Luther also saw significant playing time in 2022.
The Chants ran a fairly unique spread option offense under Chadwell, and Beck said the offense throughout spring was diverse. "We dabbled in a little bit of everything," Beck said.
The Chants return four of their top five leaders in tackles in 2022 in linebackers JT Killen, Shane Bruce and Tre Pinkney, and safety Charles Arnold Jr.
Others returning after seeing significant action in 2022 include defensive linemen Ja'Quon Griffin and Kennedy Roberts, cornerback Jacob Proche and safeties Tobias Fletcher, Joshua Madison and Jackson.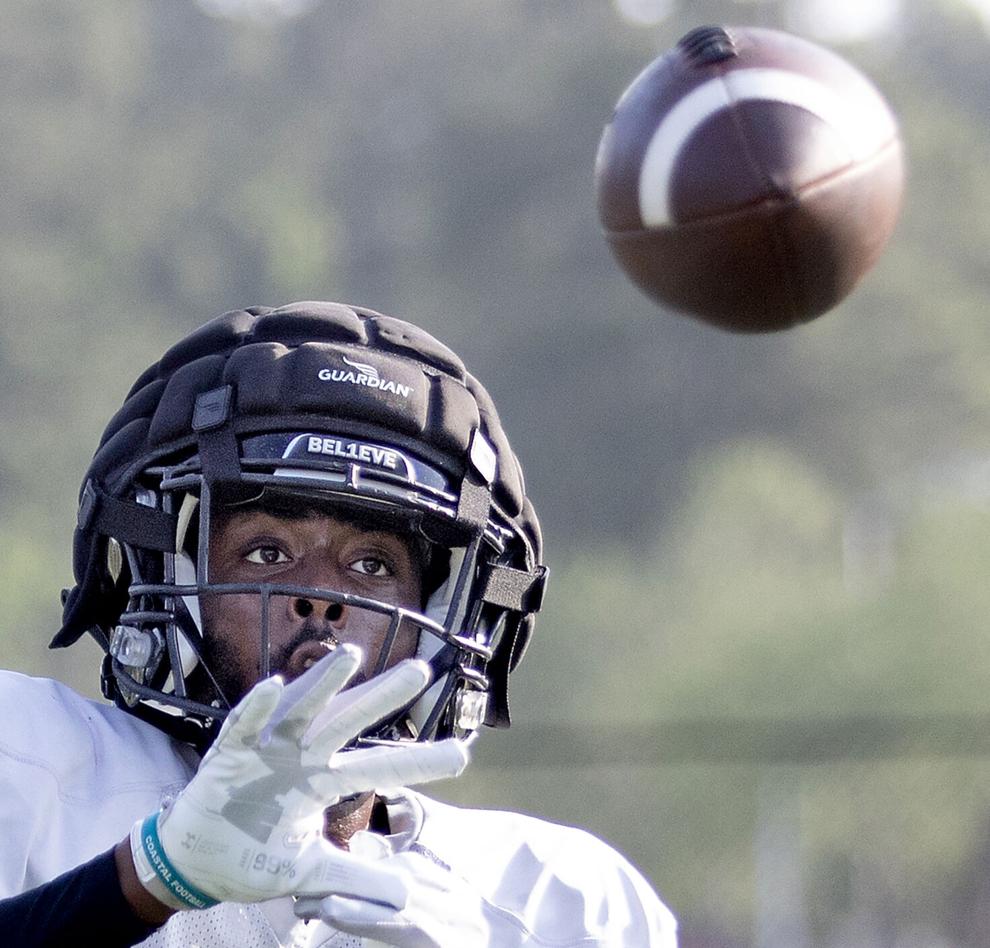 The Chants return many of their special teams players from 2022 including kickers Kade Hensley and Liam Gray, punter Evan Crenshaw, holder Mack West, long snapper Payton Bunch, and kickoff and punt returners Mobley, Brown and Matthew McDoom.
CCU lost some significant players to transfers, including offensive lineman Willie Lampkin to North Carolina, defensive end Josaiah Stewart to Michigan, and rising sophomore quarterback Bryce Archie, the potential heir apparent to McCall, to South Florida.
"Obviously losing Willie hurt a little bit, but I thought we made a lot of improvements this spring," McDonald said of the offensive line. "Me personally, a lot of things I feel like I needed to work on, [offensive line] coach [Derek] Warehime picked up on that quickly. I think we're going to have a really good unit and pick up where we left off last year."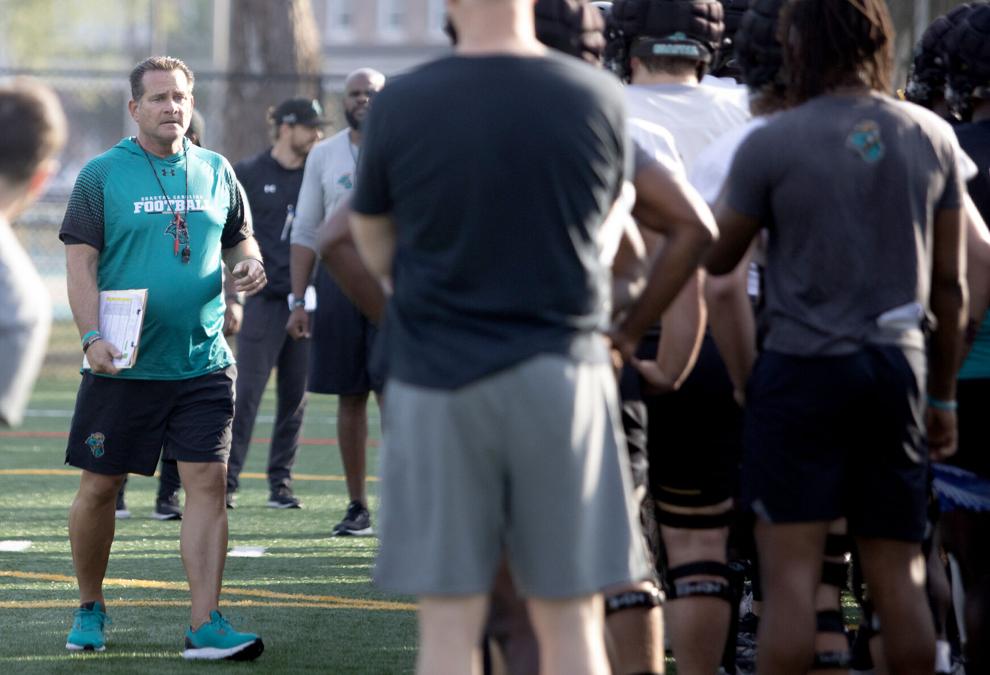 CCU may add a few more players through the portal before summer workouts, and may lose a few as well.
"In today's college athletics, it's very fluid. People are coming and going all the time," said Beck, who has identified positions he'd like to strengthen. ". . . I do think there will be some changes."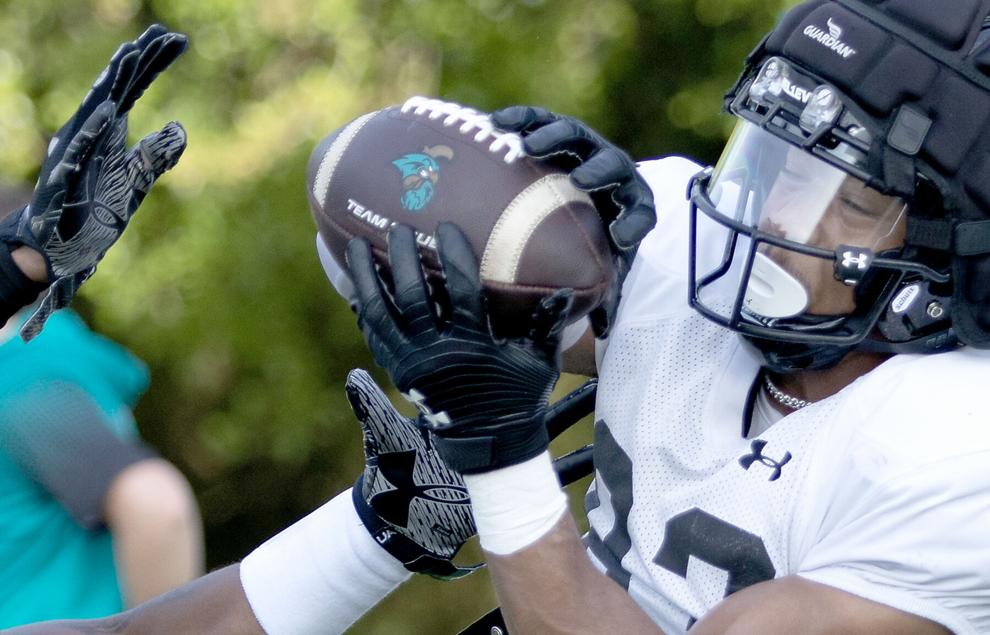 Off field issues
Spring practices were a bit tumultuous with the arrest of two CCU players in late March.
Rising sophomore tight end Troy dela Vega was arrested by campus police on March 28 on a charge of carrying weapons on school property. He transferred to CCU from Utah State prior to the 2022 season.
Rising sophomore quarterback Dontrell Jackson Jr. was arrested March 22 and charged with simple possession of marijuana, carrying or displaying firearms in public buildings or adjacent areas, and unlawful sale or delivery of a pistol.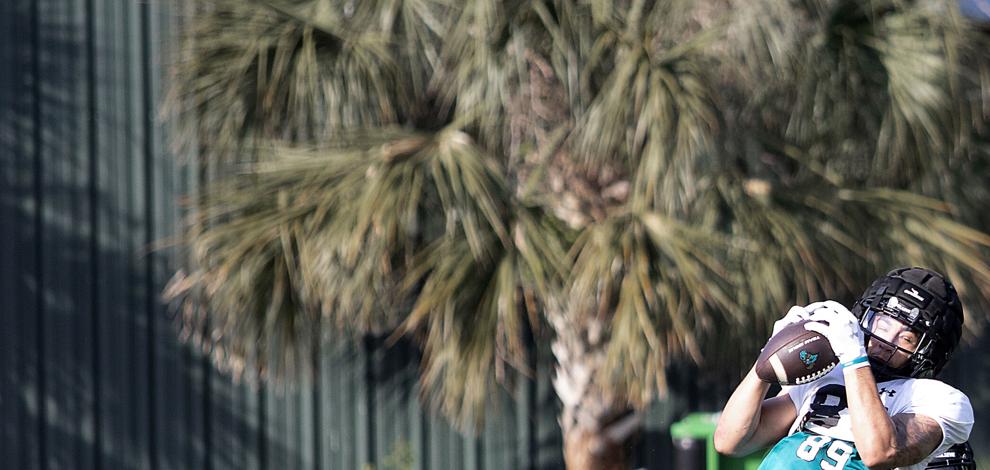 Neither player has seen game action at CCU and both have been indefinitely suspended from the team.
Those followed then super senior QB Bryce Carpenter's arrest on Dec. 11 on third-degree assault and battery charges. Carpenter's eligibility has expired.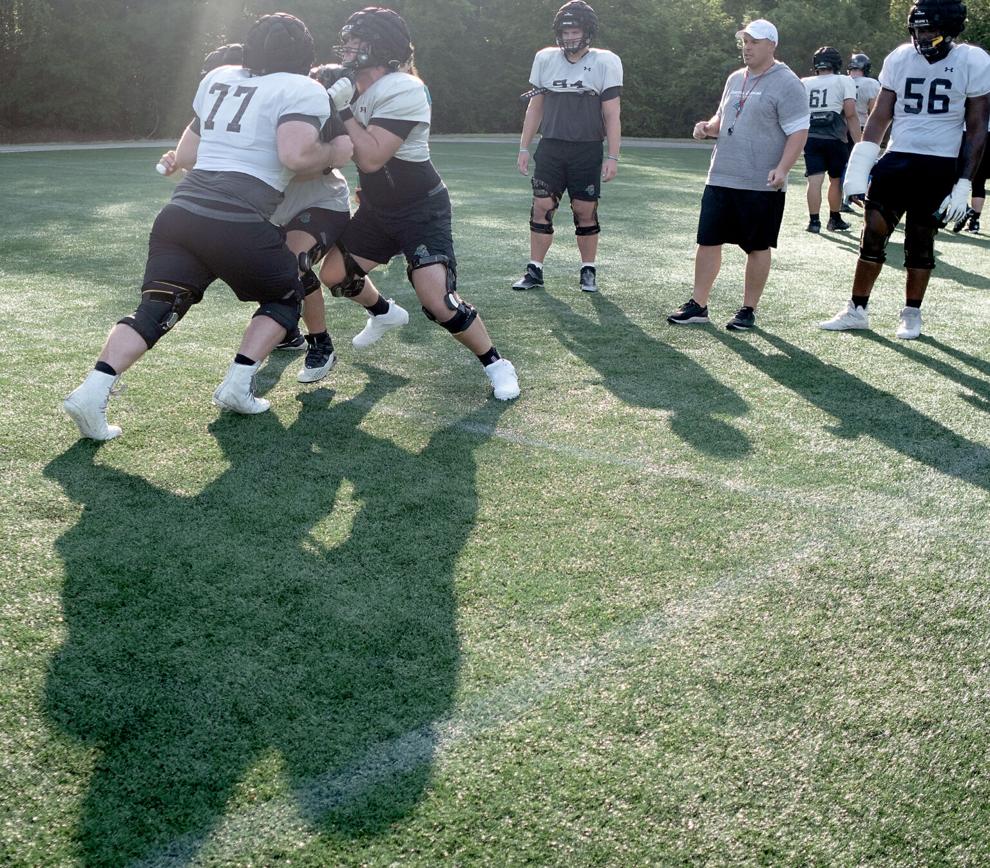 Beck said he has addressed the arrests with the team.
"If they are violating team rules, if they're not doing the things we've asked them to do, they won't be in our program," Beck said. "So we are very serious about that. The players understand that and know that. Sometimes young men make poor decisions, but we're not going to tolerate that type of behavior and that type of activity on our football team.
"I treat these guys like my family. If my son did that the difference is I'd probably put my foot up his rear. So these guys are like my family. You have conversations like that. You have to. It's tough love, unfortunately sometimes individuals aren't with you anymore because of that."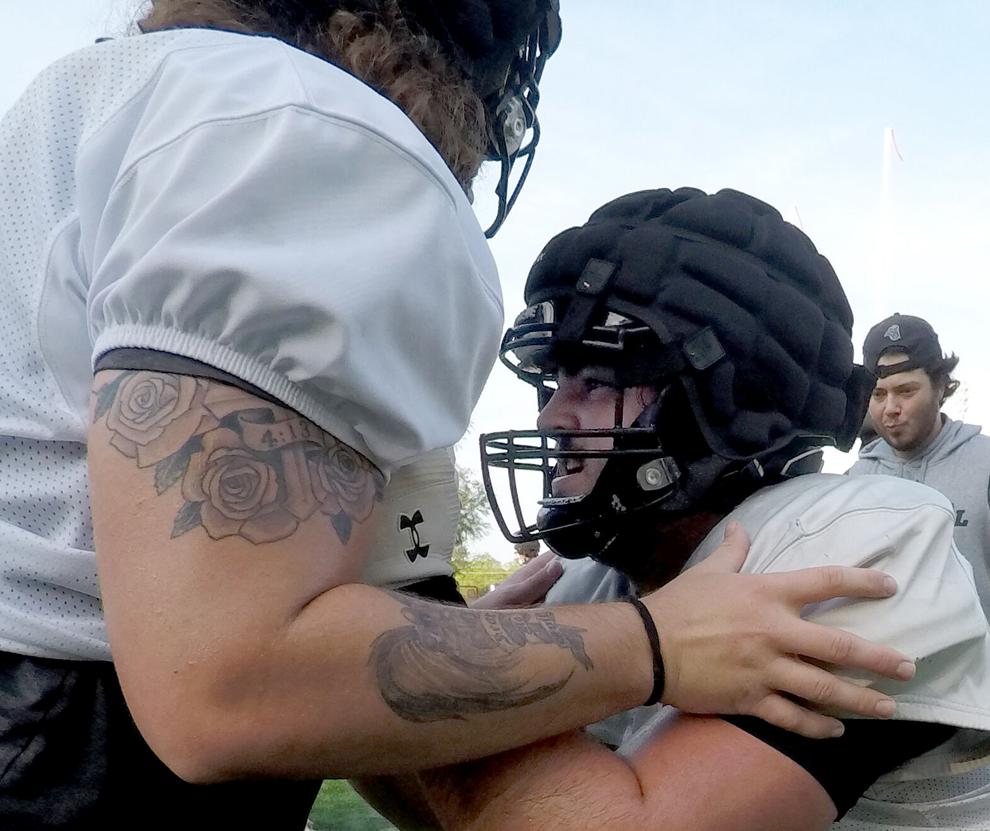 Beck said connecting with players has become as important as knowing the game of football as a college coach.
"It's certainly an area that's a part of college football now. It's just not Xs and Os, you've got to make sure you build a relationship with kids," Beck said. "Any relationship takes time. It doesn't matter if it's a marriage, it doesn't matter if it's business, and it doesn't matter if it's this, football.
"We've been here three months. We're probably further along in three months than most people would be in three months in a relationship, but we've still got room to grow as coaches. I love where we're at. I couldn't ask for it to be any better right now."