BIRMINGHAM, Alabama | Grayson McCall's record-breaking career at Coastal Carolina likely came to a close earlier than expected Tuesday night, and without him for most of the game, the Chanticleers were unable to keep pace with East Carolina.
The Pirates (8-5) got a TicketSmarter Birmingham Bowl record-breaking performance by fifth-year senior quarterback Holton Ahlers in a 53-29 win at Protective Stadium – the Pirates' first bowl win since 2013.
McCall suffered what appeared to be a neck or head injury in the second quarter when he was flipped into the air into a somersault on a touchdown run and landed on his head.
The redshirt junior, who played despite having entered the NCAA transfer portal, was accompanied to the CCU locker room and returned to the sideline but did not return to the game. McCall did not speak to the media following the game, and CCU defensive coordinator and acting head coach Chad Staggs said he was unsure of the extent of the injury.
"He's walking around the locker room and we had a big embrace right before I came in [the postgame interview room], but I haven't been updated on his injury," Staggs said.
McCall's touchdown run gave the Chants a 14-10 lead, but they were outscored 43-15 thereafter. He completed 10 of 12 passes for 67 yards and had the rushing touchdown.
Redshirt junior Jarrett Guest played most of the remainder of the game in his absence and completed 6 of 11 passes for 136 yards and a touchdown, was sacked three times and lost a fumble.
"When Jarrett came in we still expected to execute all the plays that were called," CCU senior running back Reese White said.. "I wouldn't say that we were deflated by that, I would say we expected Jarrett to get the job done and get the win."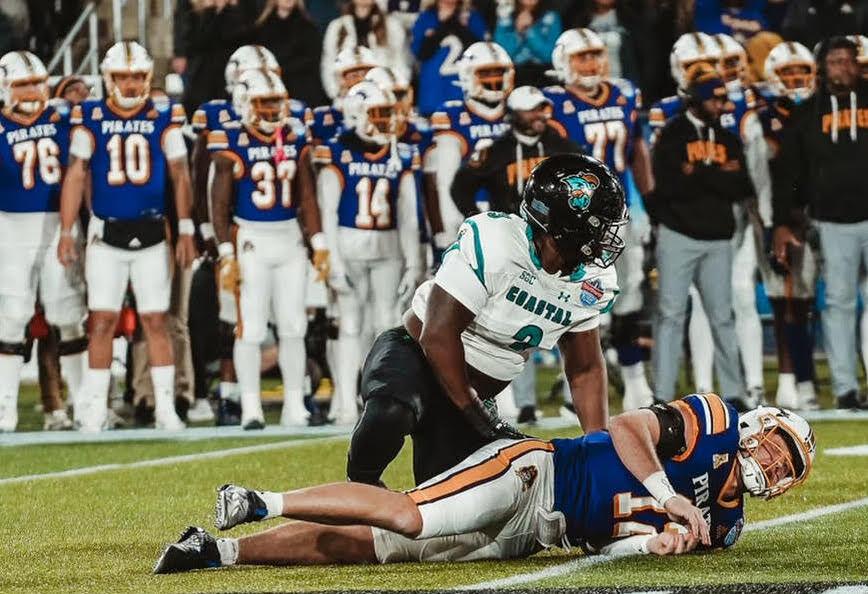 Ahlers, meanwhile, completed 26 of 38 passes for 300 yards and set Birmingham Bowl records with five TD passes and six TDs accounted for. He had seven rushes for 48 yards and a score.
"Anytime you have one game left and a month to prepare for it, I'd better have went out there and played good," said Ahlers, who grew up in ECU's home of Greenville, North Carolina, and whose father is the longtime public address announcer at the ECU football stadium. ". . . I couldn't imagine going out a better way than this.
"Being a kid from Greenville and experiencing that [celebration] out there, that's all I ever wanted was to bring this university and this football program back."
ECU sophomore running back Keaton Mitchell complemented Ahlers by gaining 127 yards rushing on 22 carries, scoring a rushing touchdown and amassing 199 all-purpose yards.
CCU's defense struggled to cover ECU's talented group of wide receivers and couldn't muster much of a pass rush without starting fifth- and sixth-year cornerbacks Lance Boykin and D'Jordan Strong and edge rusher Josaiah Stewart, who all skipped the game. Stewart announced a transfer to Michigan and Boykin and Strong are preparing for potential pro careers.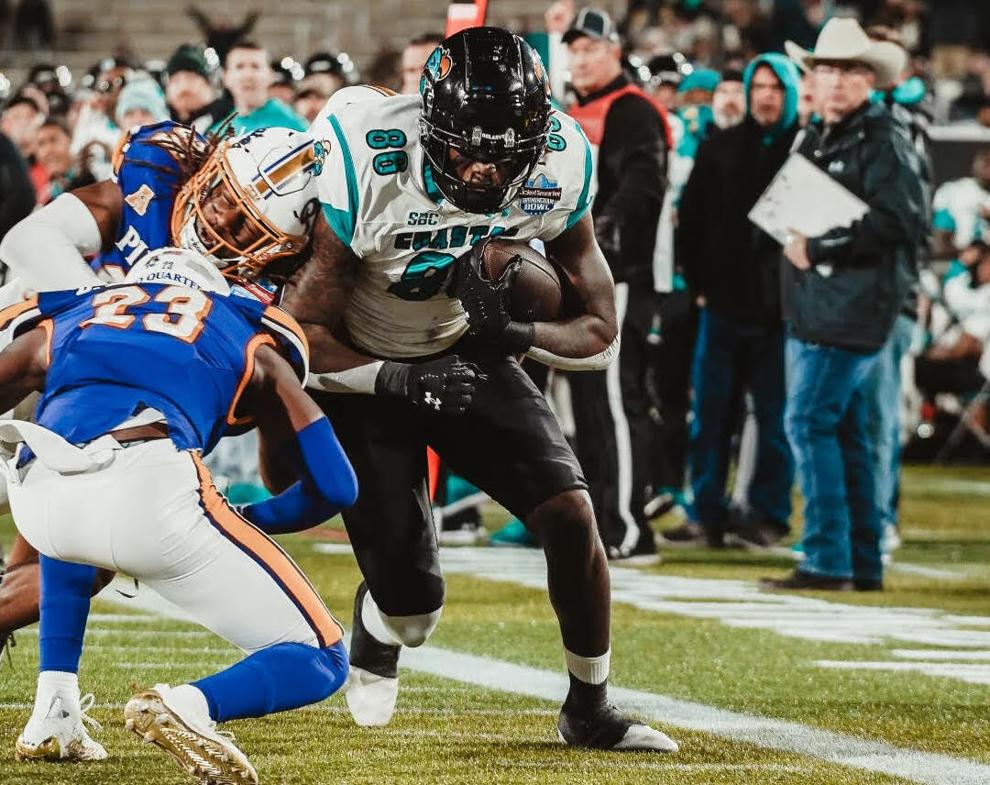 Coastal fell to 1-2 in bowl games with a win over Northern Illinois in last year's Cure Bowl in Orlando sandwiched between Tuesday's loss and a loss to Liberty in overtime in the 2020 Cure Bowl.
The Chants (9-4) dropped their final three games of the season and were outscored by 83 points in those games following a 9-1 start that secured the Sun Belt Conference's East Division title.
"This was a tough one, a tough locker room to leave," Staggs said. "What I saw is we fought, we battled. We're not going to leave any excuses out there. We didn't play well enough to win the ballgame and they outplayed us.
"Chanticleer football players will battle. With all that has been going on for three weeks, they battled. And I feel like they battled for me so I'm proud of them."
Game summary
East Carolina won the coin toss and elected to receive the ball in what was expected to be a shootout.
The Pirates quickly drove 76 yards in six plays – five passes and a 27-yard Mitchell run – to reach the Coastal 5-yard line on the game's opening drive, but a sack by CCU defensive lineman Ja'Quon Griffin helped stall the drive and force a 28-yard field goal by Andrew Conrad.
A 27-yard TD reception by Isaiah Winstead gave ECU a 10-0 lead before a 1-yard White scoring run got CCU on the board early in the second quarter. A 25-yard McCall pass to TJ Ivy Jr. to the ECU 1 on a reverse flea-flicker set up the score.
McCall's touchdown run gave CCU it's only lead of the game. ECU responded with an 11-yard Winstead TD catch and 1-yard Mitchell TD run to take a 24-14 halftime lead.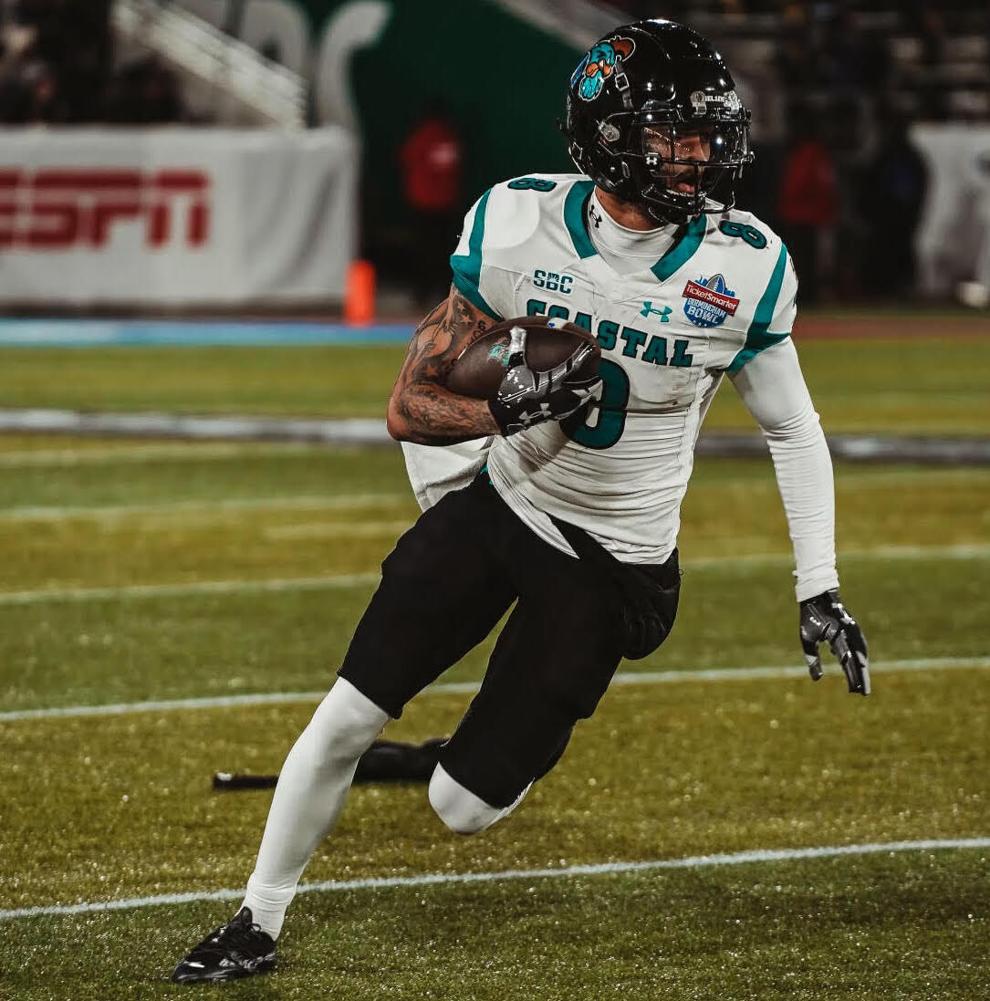 Coastal's offense initially became shorthanded in the first quarter when Jared Brown, the Sun Belt Freshman of the Year, was injured on a late hit out of bounds that drew a 15-yard penalty. He did not return.
Brown, who had 47 catches for 782 yards receiving on the season for an average of 16.6 yards per catch, tumbled into ECU players and support staff on the sideline and needed assistance to slowly limp to the CCU side of the field.
The Chants had an inauspicious beginning to the second half, as Braydon Bennett fumbled on the first offensive play and East Carolina recovered at the CCU 27.
That led to a Jaylen Johnson 2-yard touchdown reception that gave the Pirates a 31-14 lead.
Coastal temporarily wrestled momentum from the Pirates for a stretch of the third quarter.
Guest hit Tyler Roberts deep down the middle of the field for a 47-yard touchdown pass to cut the deficit to 10, and though Mitchell returned the ensuing kickoff 57 yards, the Chants forced a turnover on downs at their 27 when a pass into the end zone on fourth-and-3 was incomplete.
A pass interference penalty on CCU's Tobias Fletcher was called on the play but was rescinded after an officials' discussion.
A 24-yard Sam Pinckney reception and 15-yard unsportsmanlike penalty on ECU helped CCU reach the Pirates' 29 as the Chants threatened to cut the deficit to one score.
But a strip sack of Guest and fumble recovery by Gerard Stringer ended the drive and led to an Ahlers' 1-yard TD run that pushed the ECU lead back to 17 at 38-21.
A 15-yard C.J. Johnson touchdown reception early in the fourth quarter extended the lead to 24 points.
CJ Beasley scored on a 2-yard run with true freshman Bryce Archie running the CCU offense following a blocked punt , but ECU scored the final TD on a 1-yard Shane Calhoun reception and tacked on a two-point conversion with 2:14 remaining.
Major changes coming
The Chants are losing three key players to the transfer portal in McCall, Stewart and offensive lineman Willie Lampkin, and a few more to potential pro careers, but the biggest changes are likely coming to the coaching staff.
Some assistants and coordinators may be retained by new head coach Tim Beck, who replaced Jamey Chadwell on Dec. 4 following Chadwell's departure to Liberty following six years in the CCU program. Some may not be retained, and some may choose to go elsewhere.
Staggs, who has been CCU's defensive coordinator for the past four seasons, was asked about his future with the program, or where he might be coaching next season if he leaves CCU.
Staggs has coached alongside Chadwell for a total of 12 years, including Chadwell's former stops at North Greenville, Delta State and Charleston Southern. He was also the defensive coordinator at Furman for two seasons in 2017-18.
"You probably know about as good as I do," Staggs said. "I was trying to get through this game, trying to do the best I could for these players. I think that was my No. 1 goal. I really tried to not even think about anything since we've been here [in Birmingham]. There's a lot up in the air and I wish I knew a lot of those answers myself. I wish I could answer them for you but I truly don't [know]."
Staggs believes there will be a lot of coaching turnover, and it could come as early as Wednesday with CCU's 2022 season complete.
"There's a large portion that will probably move on, the exact number I'm not sure," Staggs said. "Coach Beck has been working hard at trying to interview coaches and see who he wants to keep. It's been a crazy transition with all that and the transition of the interim coach with the sitting head coach there, which is probably unheard of a little bit, and trying to work together with him and do the best I could to help keep the program where it was in recruiting.
"I don't know an exact percentage but I know there is probably a large percentage that will go to another place."
Following three consecutive losing seasons in their first three years in FBS from 2017 to 2019, the Chants have gone 31-7 over the past three seasons and spent 24 weeks ranked in the AP or Coaches Poll Top 25.
"It's hard to say goodbye to a lot of the people I've spent most of these years with," White said. "I'm just grateful to have had the opportunity to experience these memories I've had with them. I'm looking forward to making some more memories with whoever comes in. I'm glad to welcome them to the family that we've had."