Darren Grainger is a bona fide dual-threat quarterback for Georgia State, and his roles on the team are even more varied than his skills on the field.
The Conway High graduate is a little bit star, a little bit leader, and a little bit emotional elixir for the Panthers, who host Coastal Carolina on Thursday night in the 2022 Sun Belt Conference opener for both teams.
The affable confidence that Grainger exudes may be the redshirt senior's greatest contribution to the Panthers.
"Darren has brought a sense of calmness to our football team," said sixth-year GSU head coach Shawn Elliott. "He's a guy who really exudes a lot of confidence in his smile. It's relaxing. When he walks in a room I may have the stress level up to the top, but when he walks in he's got that smile on his face, then I just relax. He's kind of like blood pressure medication for us all around here, which is fantastic to have."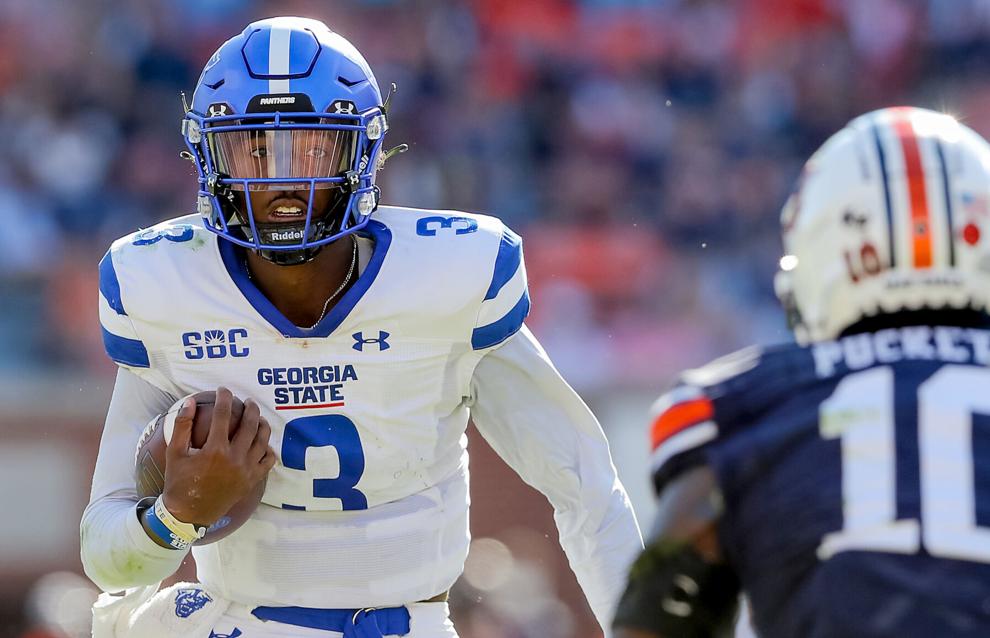 The road to Atlanta
Grainger is a late bloomer as a quarterback.
He was a receiver at Conway High before being moved behind center for his senior season, when he threw for 2,125 yards and 18 touchdowns and rushed for 641 yards and four scores to lead Conway to a 10-2 record, region championship and playoff win.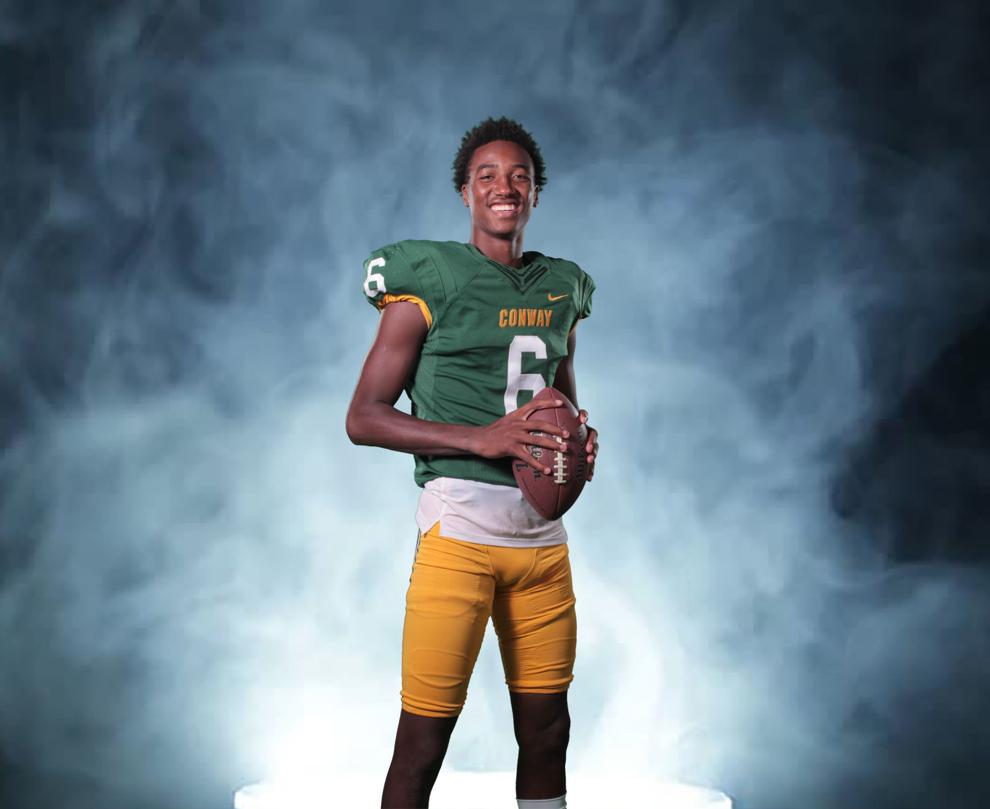 He signed with Furman, was redshirted as a freshman in 2018, then won the starting job in 2019.
He made the Southern Conference All-Freshman Team after passing for 1,222 yards and 13 TDs and rushing for 316 yards and five scores to lead Furman to an 8-5 record, at-large FCS playoff berth and No. 16 ranking in the final AFCA Coaches poll.
He caught the eye of Elliott in a 48-42 loss to Georgia State in 2019 in which he completed 16 of 25 passes for 311 yards and four touchdowns while rushing for 53 yards and a score to earn the STATS FCS National Freshman of the Week honor.
He transferred to Georgia State in January 2021 and earned the starting QB job early last season.
"He's a tremendous leader," said Elliott, who has led the Panthers to four bowl games in his first five seasons. "From the time he walked in he was a great leader off the field because he wasn't in the starting role. But now he's emerged and he's got a very vocal voice. He's got a huge amount of respect from our players and our coaches and it's hard to find guys like that with truly great leadership. But Darren is one of those guys that comes around every do often and he's just a pleasure."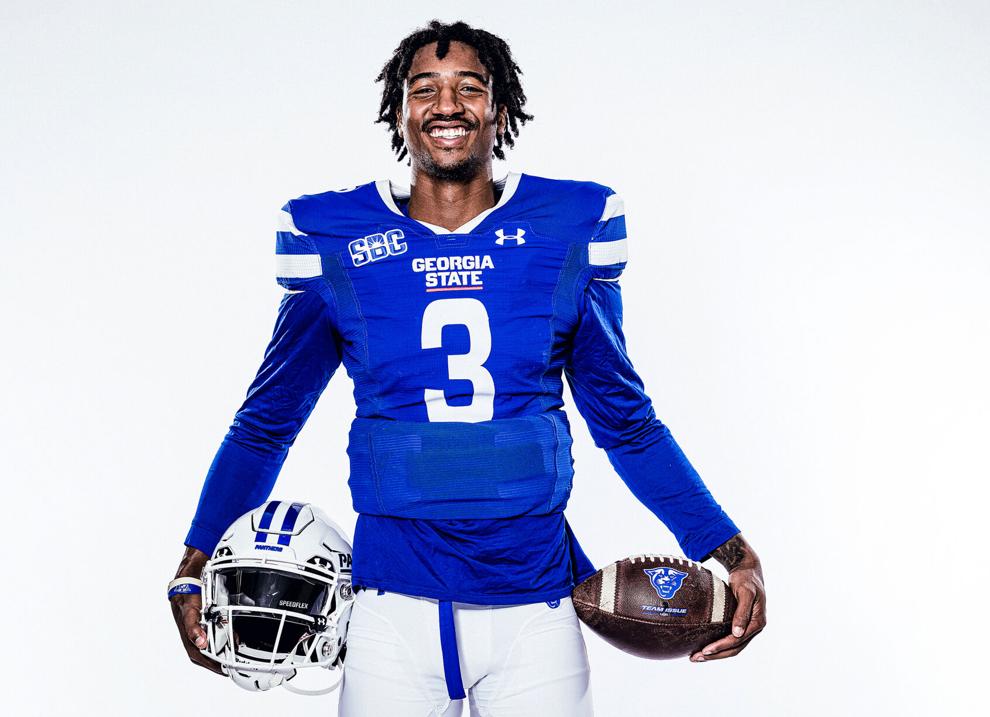 Leading the Panthers
In 13 games last season, Grainger completed 136 of 228 pass attempts (60 %) for 1,715 yards and 19 touchdowns with just four interceptions, and gained 660 yards rushing with three additional TDs.
The Panthers won seven of their final eight games last season to finish 8-5, including a 42-40 win over CCU in Conway where Grainger completed 18 of 24 passes for 198 yards and two scores, and rushed for 29 yards in his homecoming.
He was named the MVP of the TaxAct Camellia Bowl after completing 15 of 19 passes for 203 yards and three touchdowns and rushing for 122 yards and a score in a 51-20 win over Ball State.
"He's Lamar-esqe I would say," said CCU junior linebacker Jahmar Brown, referring to Baltimore Ravens QB Lamar Jackson. "He makes their offense look incredible. I would say the word incredible. He moves around the pocket. He moves really well, he runs really well. He can make every throw that I've seen. . . . He's a ball player and I'm just excited to have a chance to play against him."
Grainger (6-4, 195) has completed 45 of 87 passes for 640 yards, eight touchdowns and two interceptions this season, and is second on the team with 172 rushing yards and a score.
The Panthers are off to an 0-3 start this season, but they've held second-half leads in all three of their losses to South Carolina, North Carolina and Charlotte.
After struggling against USC, Grainger rebounded against UNC, completing 16 of 24 passes for 186 yards and three TDs without a turnover, and broke out last week.
The Panthers amassed 602 yards in their up-tempo offense in a 42-41 loss to Charlotte, the fourth most in program history, as Grainger completed 22 of 34 passes for a career-high 343 yards with four touchdowns and rushed for 54 yards.
He helped Jamari Thrash break the Georgia State single-game receiving yardage record with 213 yards on 10 receptions, and the duo connected on a go-ahead TD with 1:39 to play before the Panthers gave up a TD with 17 seconds remaining.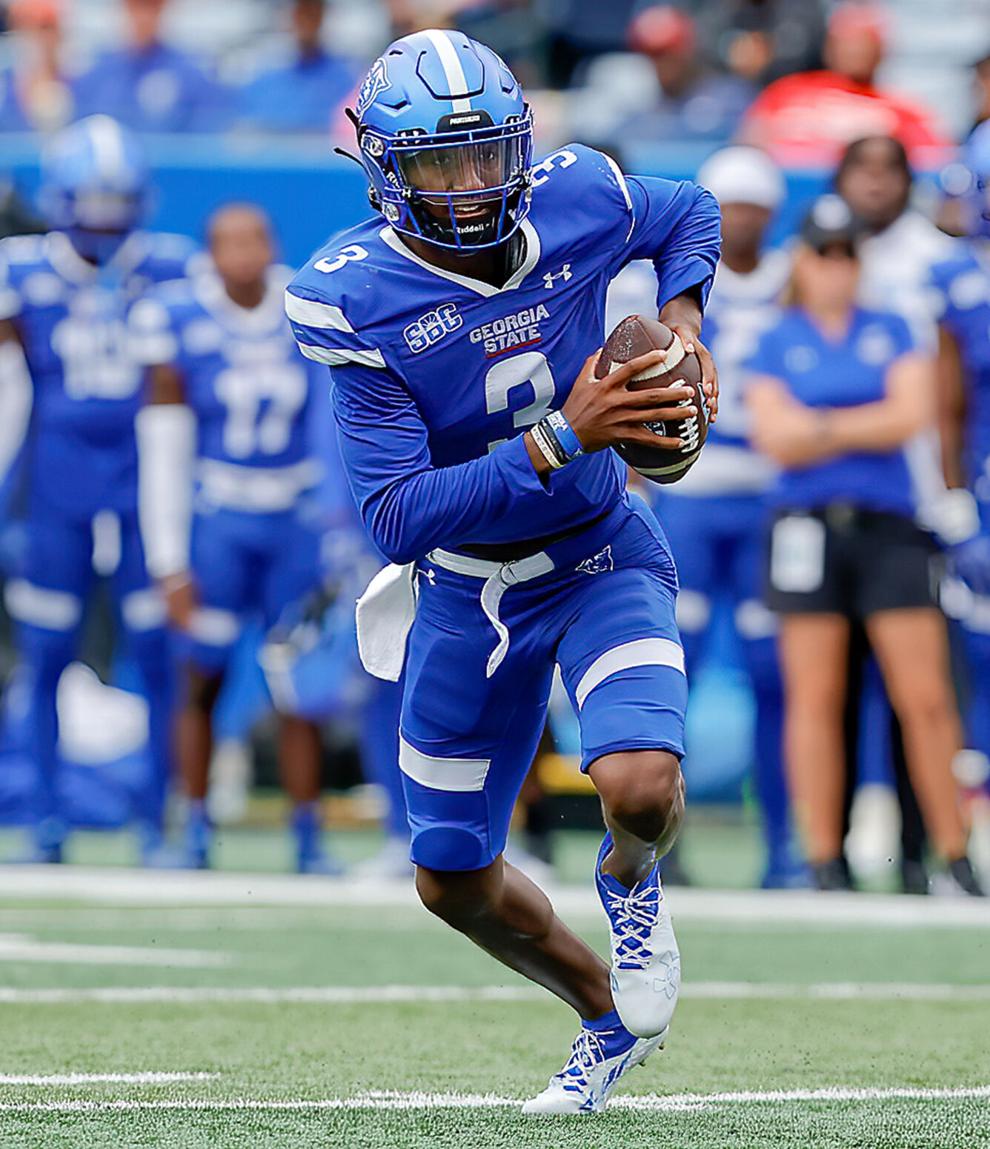 Defending Grainger
CCU coach Jamey Chadwell said the Chants will try to keep Grainger within the pocket.: "He's really good at a lot of things. One is the vertical game. He can really stretch you vertically, he's got a really good arm. But then he's just as good when he gets outside the pocket and throws those out routes and the different things they do. Then if you don't tackle him with a zone read or when he breaks out of the pocket he can really run, and he's big. So he by far will be the biggest challenge we've seen up to this point because he's dynamic in both ways."
Grainger will be facing a CCU secondary that has struggled early this season with assignments and communication. The Chants allowed 448 yards passing in Week 2 against Gardner-Webb including eight completions of at least 24 yards. The Chants made positive strides last week when they allowed 278 yards passing on 49 pass attempts to Buffalo but had two interceptions and didn't allow a completion longer than 20 yards.
"You can see their confidence getting better. I expect us to continue to get better there," Chadwell said. "I think we've got a lot of good players there and now they're getting more and more experienced. . . . Last week was really the first week with that group playing a lot and it wasn't good. We improved this week now hopefully we'll continue to improve."
Thursday's Game
Who: CCU (3-0) vs. Georgia State (0-3)
When: 7:30 p.m. Thursday
Where: Center Parc Stadium, Atlanta
Occasion: Sun Belt Conference opener
TV: ESPN2
Radio: WRNN 99.5 FM