Coastal Carolina opened Sun Belt Conference play with an emphatic win on national television Thursday night, scoring three first-quarter touchdowns to cruise to a 41-24 win over Georgia State at Center Parc Stadium in Atlanta.
The Chanticleers scored on two of their first five offensive plays to open up a 14-0 lead and the defense forced four turnovers in a sparsely attended game aired on ESPN2.
CCU quarterback Grayson McCall completed 19 of 27 passes for 268 yards and two touchdowns and had a rushing TD, and the Chants amassed 272 yards rushing while improving to 4–0.
McCall broke Alex Ross' school record with a TD pass in his 17th consecutive game, but he also left the game early and did not return with an apparent right ankle injury incurred as he was tackled on an incomplete pass.
McCall went into a medical tent and was peddling an exercise bike for a short time on the sideline afterward, and did not appear to be wearing a brace as he mingled with Panthers players on the field following the game.
"If he had to finish we could have probably had him finish, but it's a sprain. So we'll see. Hopefully he's back for Georgia Southern [next Saturday]," CCU coach Jamey Chadwell told WRNN 99.5 FM following the game. ". . . We'll have to figure it out and get him back and get him healthy. But he's tough."
Starting running backs Reese White and Braydon Bennett both missed the game due to injuries, but CJ Beasley rushed for 142 yards on 25 carries. Redshirt freshman Jared Brown had 129 yards receiving on five carries and scored CCU's first two touchdowns, and Georgia State grad transfer Sam Pinckney had seven receptions for 77 yards against his former teammates.
CCU largely contained GSU QB Darren Grainger of Conway, holding him to 14 completions on 25 attempts for 231 yards and a touchdown with two interceptions, and just 14 yards rushing.
Before the game's final five minutes, Grainger had nine completions for 160 yards passing. The Chants held their third straight opponent to fewer than 80 rushing yards.
CCU outgained the Panthers 540-309 and possessed the ball for more than 40 minutes, including a nine-minute scoring drive that took up much of the third quarter.
"Our demise has been exaggerated," Chadwell told WRNN. "We know what type of team we have here and when we start getting everybody back [from injuries] watch out." 
The teams have met in six consecutive years as members of the Sun Belt and the road team has won each contest. "You can't spell ATL without teal," Chadwell quipped to WRNN.
Georgia State, which held second half leads against both South Carolina and North Carolina earlier this season, fell to 0-4. Chadwell took exception to the Panthers' style of play.
"That team over there was pretty dirty. They were cheap and our guys didn't get involved in that," Chadwell told WRNN. "I'm very proud of that, because it could have gotten out of hand and they tried to make it get out of hand and our guys did a good job with that. So I'm proud we got the victory, proud of how they handled themselves there, and we responded when we needed to."
Running out of the gate
Coastal erupted off the opening kickoff, as freshman Matthew McDoom returned the kick 50 yards to midfield and McCall found Brown open down the left sideline on CCU's first offensive play for a 50-yard touchdown reception.
The Chants then scored on their fifth offensive play to take a 14-0 lead less than 3 minutes into the game. After forcing a punt following three Georgia State plays, McCall pitched to Brown off an option run around the right side and Brown raced 53 yards for a score, cutting to the inside at about the 15-yard line to avoid a defender.
The Panthers pulled within a touchdown on a 4-yard Tucker Gregg run midway through the first quarter that completed an eight-play, 87-yard drive, but the Chants added another TD before the end of the first quarter on a 2-yard McCall run.
McCall threw for 140 of CCU's 193 offensive yards in the first quarter.
Kade Hensley added a 24-yard field goal to complete an 11-play, 57-yard drive 6 minutes into the second quarter for a 24-7 lead.
The Panthers easily marched 75 yards in the final two minutes of the first half to pull within 10 points on a 29-yard Robert Lewis touchdown reception with 44 seconds to play.
A hands-to-the-face penalty on Antwine Loper of the CCU offensive line negated a 75-yard Brown TD reception that would have given the Chants a 17-point cushion just before halftime.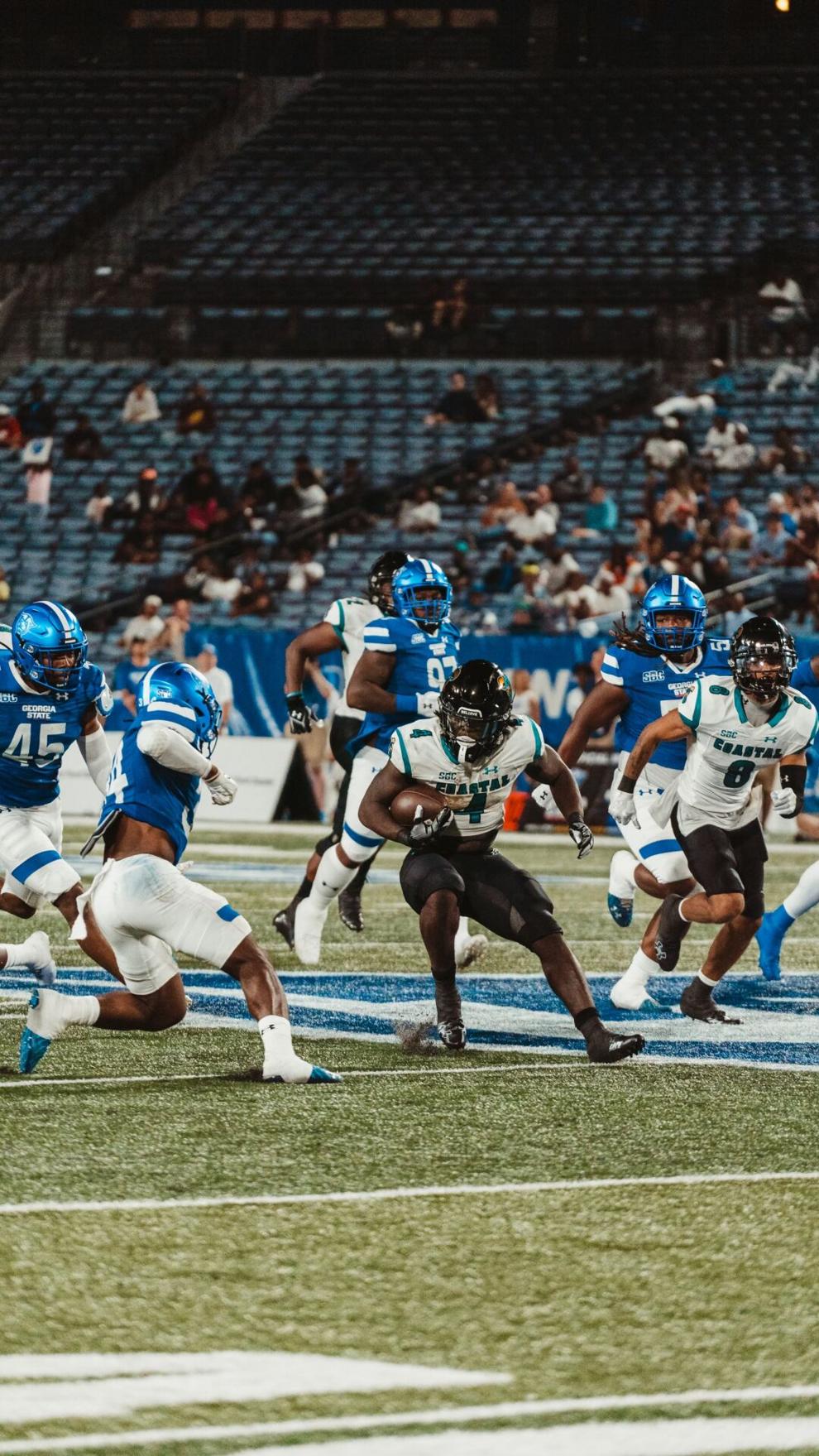 The Chants' lead never dipped below 10 points in the second half, as junior running back Nate Hope II and junior quarterback Jarrett Guest scored on short runs.
Cloaked in turnovers
After committing six turnovers in the past two games, including four lost fumbles in the first half against Buffalo last week, CCU won the turnover battle 4-1 Thursday.
The Chants didn't turn the ball over until a late interception was returned for a touchdown.
The Chants' first two forced turnovers came at key times. The Panthers were driving while trailing by 10 in the third quarter when redshirt freshman safety Charles Arnold Jr. undercut a Grainger pass at the CCU 16 for an interception.
With the Chants leading 34-17, J.T. Killen recovered a fumbled exchange between Grainger and a running back at the CCU 38 with 11:30 remaining in the game.
Later in the fourth quarter, Arnold got his second interception and Killen forced a fumble with a hit on tight end Ahmon Green that was recovered by Tobias Fletcher.
CCU had another apparent fumble recovery on a sack by Josaiah Stewart, who hit Grainger's arm as he was attempting to throw and a fluttering ball was picked up on a bounce by linebacker Jahmar Brown and returned to the end zone. But the play was ruled an incomplete pass upon review.
Up next
Coastal has an eight-day break before it returns to Brooks Stadium to host Georgia Southern on Family Weekend at the university. It will be CCU's fourth home game in its first five games.
Georgia Southern made national headlines on Sept. 10 when it defeated Nebraska at home, leading to the firing of Cornhuskers coach Scott Frost the next day.
That win improved the Eagles to 2-0 along with a 59-7 win over Morgan State in their opener. But a 35-21 loss at Alabama-Birmingham last Saturday took some of the luster off the Eagles' start to the season, and they host Ball State on Saturday.
The Chants are 3-2 against the Eagles since joining the Sun Belt Conference in 2017, with wins in each of the past two seasons, including a 28-8 win on the road last year.
Georgia Southern has been a run-dominant option team for several years but is now more balanced and throws the ball much more often in its first season under former Southern California coach Clay Helton.