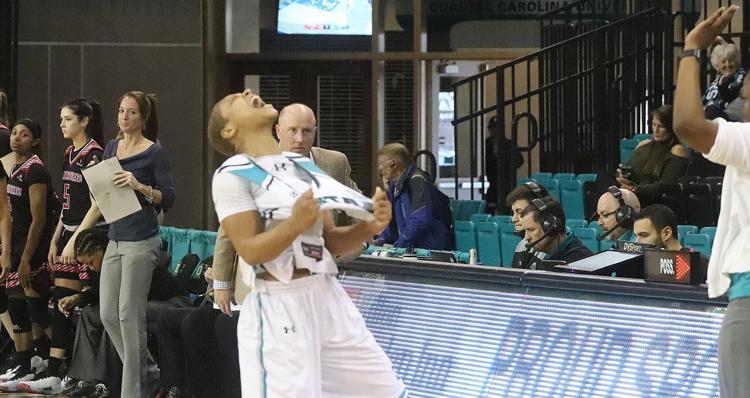 When her doctor told her she had ovarian cancer, DJ Williams didn't believe the diagnosis.
"I honestly thought the doctor was playing with me," the Coastal Carolina senior guard said. "When it sunk in, I became shocked."
That news arrived just before her freshman season at CCU. Treatment delayed her college basketball career for a year, but Williams never conceded, never believed she wouldn't play again. Through hair and weight loss, chemotherapy, then building her muscle and game back, Williams not only returned to the court, but she became an integral starter. She eclipsed 1,000 points last year. In Coastal's record books, she ranks 12th on the all-time scoring list. And as her team tips off the season at the HTC Center Friday night, Williams is expected to be one of the Chanticleers' leaders. Her coach compares her to LeBron James of the Los Angeles Lakers.
"DJ won't like that comparison since she's a Kobe fan, but there really is no other way to describe her," Coastal coach Jaida Williams said. "She just impacts the game in so many ways. It's not just the points for DJ. It's the ability to assist, the ability to rebound, the ability to defend. She can really do it all."
A native of Moreno Valley, California, DJ Williams knew early on that she would play for the Chanticleers.
"I came to Coastal because I loved the way the campus was set up," she said. "The training facility was amazing. I fell in love with the HTC Center. I really did feel the teal. And the campus was so beautiful, from the building to the palm trees. I fell in love."
Her coach said it was the 5-foot-10 guard's intensity that piqued her interest during the recruiting process.
"I have complimented her on that almost every day since the day she got onto campus," Jaida Williams said. "One cannot not love to watch her play basketball because there is so much joy in her game. A lot of kids these days play because their parents want them to, but DJ plays because she loves the game of basketball and that speaks to my heart."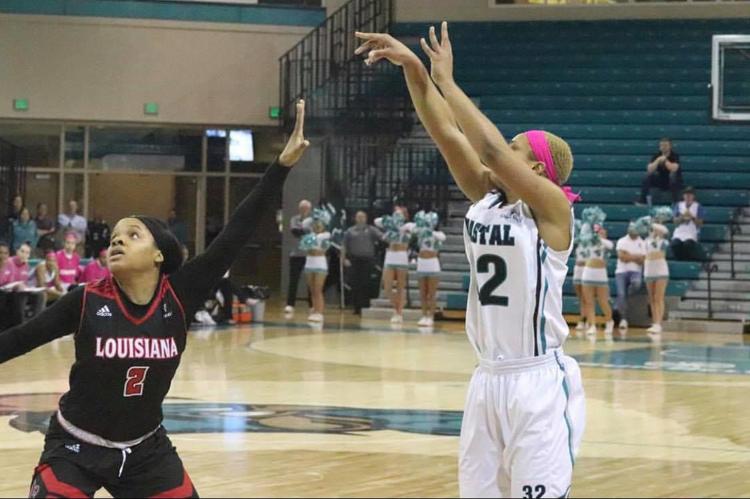 After the cancer diagnosis, both player and coach shifted their focus away from the court.
"In that moment, basketball was the last thing anyone cared about," Jaida Williams said.
The coach said this was the first time she had a player face such a challenge. 
"I'm going to be honest, DJ probably handled this situation a lot better than I did," she said. "I just cared about the person and I wanted her to be OK."
DJ Williams underwent aggressive chemotherapy. She moved back to California for treatment, though she still kept in touch with her teammates and coaches, often participating in practices. 
"I would FaceTime and watch them practice and be a part of meetings, despite it being five in the morning out in California," DJ Williams said. "My treatments were super early as well, so I would purposely stay up all night. When I was in that hospital getting treatment, I was asleep."
She credits her family with helping her return to the court. 
"There were a lot of things I could not eat because of how it reacted with my treatment," DJ Williams said. "One time, my mom made tacos without the grease because I couldn't eat anything greasy and even without the grease, there was something in there that made me have really bad heartburn."
"Her mother was a warrior throughout this whole process," Jaida Williams said. "She was my rock through this situation and that says a lot about who her mother is. I don't think I remember DJ's mother crying throughout the whole time DJ was going through this."
After undergoing the rigors of chemotherapy, DJ Williams got some positive news: She was cancer free and could pursue basketball again.
"It was a long process for her," Jaida Williams said. "When you go through chemotherapy, they literally clean out your entire system. You lose much weight and muscle mass and we had to get that back up in DJ. She was probably more frustrated than anyone because she couldn't perform at the level she was used to performing at. She had to start from scratch when it came to building back up her endurance, stamina and all of that stuff."
But her physical strength did return. 
In her redshirt freshman season in 2016-2017, DJ Williams played in 19 games and started nine. She averaged 6.7 points a game as well as 3.9 rebounds a game.
The next year, she ignited, playing in 31 games, starting 29 of them, and helping the Coastal Carolina women's team achieve its first winning season since 2009-2010. DJ Williams averaged 14.7 points per game, scoring 451 points in her sophomore season.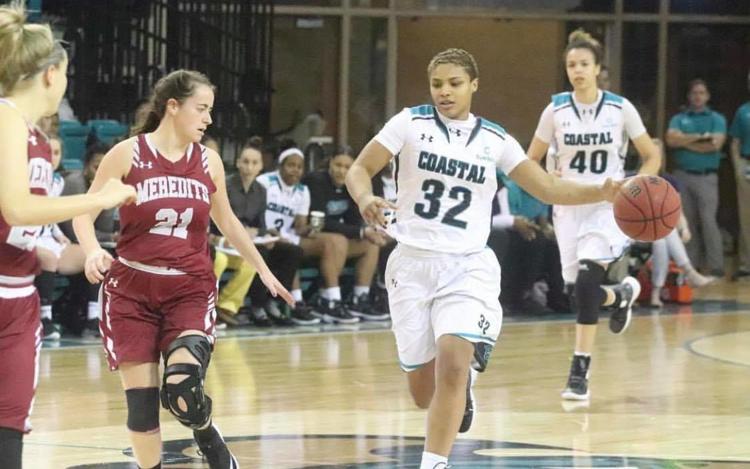 Last year, she continued that streak, putting up 491 points in 27 games. She averaged just over 18 points per contest. DJ Williams attributes her success to the arduous journey she endured just to practice again.
"I didn't have any muscle after my treatments were done," she said. "It's not like I was getting done with chemo and then going to shoot around. I had not really been able to play the sport that I love for almost a year and that humbled me. I was an 18-year kid, and to be honest, I was a bit arrogant. I had this mindset of 'I'm 18 and in college, you can't tell me nothing' and then this happened. It was in that moment I realized I was being humbled."
 She described picking up a basketball for the first time post-treatment as "surreal."
 "That summer after my treatments were over, I didn't get to play," she said. "I hadn't had surgery yet, so they didn't want to risk anything. So I spent a good amount of time on the sidelines. But that moment when I was told I could participate in full contact I was like 'Ahhh, let's do this.'"
Since she returned, DJ Williams has been climbing the CCU record books at a swift pace.
 On Feb. 28, 2018, she scored her 1,000th career point. She finished her junior year with 1,070 career points. 
"Growing up, I played co-ed basketball and scoring was the last thing on my mind," DJ Williams said. "Boys wouldn't want to pass to me, but then, being from LA, I started watching Kobe and he was going off. Dropping 81 one night and then 60 another night and that kind of boosted my confidence in calling for the ball and I kept working on my effectiveness as a scorer."
Going into this season, her coach has noticed a significant change when it comes to the offensive side of the ball.
 "She is playing with a confidence I haven't seen in previous years," Jaida Williams said.
The star guard knows what built that internal strength.
"Think of the future and not so much where you are at," DJ Williams said. "Know that on the other side, once you get through this walk, that door is going to open and you are still going to have an opportunity to have a great story."