Coastal Carolina softball is looking to get back to winning ways after 2021 saw the Chants suffer their second losing season in four years.
Despite having a young squad, head coach Kelley Green is confident her team will make the most of their opportunities when they step up to the plate.
Green, who is entering her 13th year as head coach, said several new players will be taking up positions across the diamond in 2022.
"We're going to have a lot of new faces in our infield," Green said. "We're going to have a new catcher this year as well."
Green highlighted several freshmen and some grad transfers who she believes will make an impact in the lineup, many of whom are freshmen.
"We have Keirstin Roose, most likely she's pushing for time at third or second, but she'll be in the infield most likely. She's super athletic, really hard working," Green said. "We have Abby Jankay, she's a corner player so she's potentially first base or third base. She's got a tremendous bat with good power."
At catcher, Green will look to freshman Maddy Jennings, nicknamed "MJ," to help call the shots behind home plate for the 2022 season.
"She's been doing a great job behind the plate taking charge and she's also got a powerful bat," Green said. "We're looking forward to her back there."
There is also some local talent mixed in with this young group of Chanticleers. Aynor's Kennedy Ellis and Socastee's Jay Wrightsman are featured on the roster for 2022 — additions that Green was excited to have.
"It's fun having local players," Green said. "It's easy for them to acclimate because they're right here. Their families are here and they have that outlet when they need it. They mix in so well with our current team and they're both doing a really good job. Kennedy has been in the outfield for us and Jay has been everywhere so Jay's our super utility. She can really do it all … I definitely like having the local kids … they'll bring a lot of fans to games whether it's family or friends so that'll be fun."
Green added that Wrightsman is another one from the freshman class who could make an immediate impact.
While there may be some new faces in the starting lineup in 2022, there is a not-so-new face who joined the coaching staff to help guide the new group of Chanticleers. In the first week of the new year, the program announced the return of former first baseman and catcher Kassidy Smith as a volunteer assistant coach. Smith played at CCU from 2017 to 2020, becoming one of the best power hitters in Chanticleer history with her 38 career home runs, good enough for fourth all-time in program history.
Green was over the moon to hear that Smith decided to come back to Conway.
"I was so thrilled when I found out she wanted to get into coaching instead of going to med school," Green chuckled. "I'm not sure her parents were as excited as I was, but she's got a lot of support being able to follow her passion."
Green described Smith as someone who embodies the definition of being a student-athlete.
"She's just such a positive role model and as a player, she always worked hard and always was positive," Green recalled. "She's got a great head on her shoulders and she gets it. Just to have her as a mentor for our younger players."
Smith joins another Chanticleer softball alumni on the coaching staff in Amanda Daneker, who played for the team from 2014 to 2018 and became a volunteer assistant coach in the fall of 2018. Daneker was promoted to assistant coach in September last year.
"She's just grown so much," Green said. "I pretty much give her all of hitting right now. I've given her a lot of responsibility and she's taken it and ran with it. She's doing fantastic."
Both Smith and Daneker are not only bringing experience from the program that will help the young and new players adapt, but they also bring championship game experience. Daneker was a part of the 2014 Coastal Carolina softball team to make it to the Big South final while Smith was a part of the Chanticleer program that went to the Sun Belt championship game in 2019. Daneker was also a coach on that 2019 squad. It is experience that Green says is unmatched.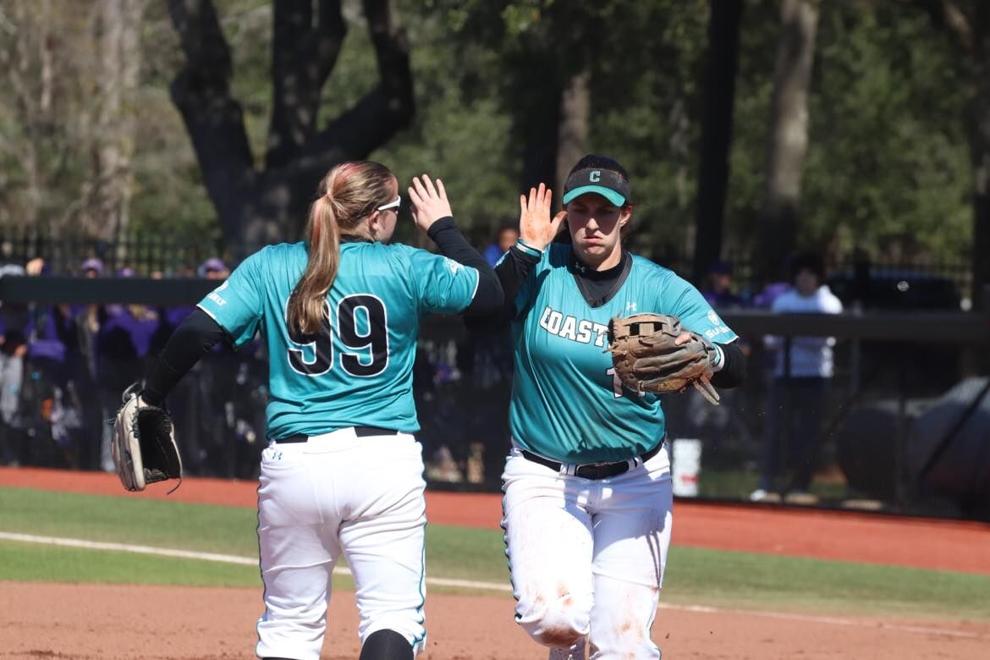 That experience will certainly come in handy when preparing the team for an incredibly tough non-conference schedule that features the likes of several power five schools including Purdue, South Carolina and future Sun Belt member Marshall.
"We're going to be put in a lot of situations that these guys as freshman haven't seen before and the pressure and so forth," Green said. "I'm looking forward to those kinds of challenges and things we can't really duplicate in our own practices."
After three weekends of home tournaments, the Chanticleers will travel down south to partake in a tournament with one of the toughest opponents in collegiate softball – the Florida Gators.
The Gators have only missed the Women's College World Series three time since 2008, making it to the finals on five different occasions and winning it all in 2014 and 2015. For Green, the Gators are the perfect challenge.
"Our ultimate goal is to get to the College World Series," Green said. "I think it's important to play those types of teams, the top 10, top 5 teams in the country. And it's fun. We don't have anything to lose by playing a top five school like that. It's all about opportunity. If we go out there and play well and we wind up beating a team like that, that's huge for us. And if we don't, then we learn from it."
Green added that she doesn't necessarily feel the pressure when going up against a national powerhouse like Florida. Rather, it's more about the excitement.
"As our program grows and becomes stronger, then those games become more pressure," Green said. "But right now, this team won't feel that necessarily … They've grown up watching these schools in the College World Series so that's pretty cool to play against the very best so it's more like that for us right now."
There is some experience returning for the Chanticleers in 2022. On the batting side of things, Mikaya Thomas and Abbey Montoya are back for the Chants while Kaitlin Beasley-Polko and Raelee Brabham will look to take care of business in the circle.
Green said there hasn't been much discussion about team leaders as this group of seniors and returning players just seems to get it.
"They've stepped into that leadership role immediately," Green said. "They've made a great, positive dugout culture for us. Our kids love coming to this stadium every day. They're having a lot of fun. And I think our returners have done a great job at making our freshman and new players feel comfortable right away … They've shown our rookies the standard and the expectations and they've led by example."
Green said there's a great sense of chemistry within this group of Chanticleers.
"I love to start the year like that because when adversity does hit, and we know it's going to at some point, it's not just going to be easy every single day we're out there, I like to have that strong base," Green said. "They respect each other. They get along. They're having fun. It's a lot easier to get through things when you enjoy being here so we're really looking forward to that."
The Chanticleers will open the 2022 season with the Kickin' Chicken Classic, starting Friday, Feb. 11. Coastal will play a doubleheader against Purdue and Georgetown, starting at 3 p.m. The Chants will face off with the Boilermakers first before finishing off the day with the Hoyas. On Saturday, the Chants will battle Georgetown and Purdue once again at 3 p.m. and 5:30 p.m., respectively, before finishing the weekend off with a single matchup against East Carolina at 12:15 p.m. Sunday.