Following a second loss of the season to Georgia State last Saturday, the Chanticleers look to regroup ahead of their final home game of the 2021 season.
"The players have rebounded," head coach Jamey Chadwell said in a press conference Wednesday. "It's always challenging coming off a loss, especially when you felt like you had an opportunity to win the game. But the last couple of days have been some good solid practices. Their attitude has been good."
Coastal will take the field at Brooks Stadium one last time this season, and 28 seniors will be honored ahead of the clash with the Texas State Bobcats. While Saturday's loss to Georgia may have been the final nail in the coffin for Coastal's chances to play in the Sun Belt Championship Game in December, Chadwell said the team has the opportunity Saturday to give this group of seniors a proper send-off.
"There's so much still to play for," Chadwell said. "We're not playing for a Sun Belt Championship, but we're playing for a lot."
Many of the seniors are some of the final members of Coastal's team when it was an FCS program. Those seniors went through the transition process.
"They've meant a lot to this place and this university," Chadwell said. "And we want to make sure that we go out here in our last game at Brooks Stadium the right way playing the game the way we're capable of."
The Chanticleers have taken care of business against the Bobcats the last two times the teams have met, which featured a 24-21 win at Brooks Stadium on senior day in the 2019 season.
The Chanticleers will kick off at Brooks Stadium at 1 p.m. Saturday, Nov. 20. The game will be televised on ESPN+.
Here are three things you need to know ahead of Saturday's final home game at Brooks Stadium:
THE OPPONENT
Texas State enters Saturday's contest coming off a 38-30 loss to Georgia Southern. After allowing an Eagles touchdown in the final five minutes, the Bobcats still pressed on and managed to pull within eight. However, much like Coastal last week, the Bobcats relied on an onside kick that ultimately was recovered by the opposing team, squashing their chance at a comeback.
Despite the team's 3-7 overall record and 2-4 conference record, the Bobcats are currently second in the Sun Belt West division, picking up wins over third-place ULM and fourth-place South Alabama – both of which have better overall records than the Bobcats.
Saturday's matchup is a tale of two very different teams, statistically on offense and defense. The Chants have the best rushing offense in the conference and the ninth best rushing offense in the country, averaging 228.1 rushing yards per game. Texas State, on the other hand, has the second-worst rushing defense in the conference, allowing 184.6 rushing yards per game. The Bobcats have rank seventh in overall defense, allowing 420.9 yards per game, while the Chants lead the Sun Belt in total offense, averaging nearly 500 yards per game.
However, while the Chants may be in the top two in several categories across the Sun Belt, Chadwell said there are still improvements that need to be made by the Chants, especially following the loss last week.
"We got to do a good job of tackling," Chadwell said. "I think when we've given up some plays, we've missed some tackles where we may have had a guy down here or there or had an opportunity to get them down and they broke tackles or we missed them and they were able to get first down off of it."
Chadwell said there was also a focus on not allowing there be a breakdown in communication.
"Where we are supposed to be aligned, we're supposed to be aligned," Chadwell said. "When we've gotten in trouble and when we've got beat, whether it's the technique or not lined up properly, we've not done the little detail things that are necessary. When we do those things, we can be a tough defense attack. But when we give up things because of alignment issues or whatever it may be, that makes it more challenging."
Another challenge that the Chants will have to face is the possibility of going up against the two different quarterbacks in the Bobcats' Tyler Vitt and Brady McBride.
McBride has played a majority of the season, starting the first seven games, throwing for over 1,500 yards and 12 touchdowns while completing nearly 60% of his passes. However, McBride has thrown for 10 interceptions.
Vitt has played in each of the last three games for the Bobcats, throwing for 580 yards and completing 51 of his 90 pass attempts. He's only thrown one interception in his three games for Texas State this season. On top of that, Vitt has rushed for nearly 150 yards so far in his brief stint with the Bobcats, including a 94-yard performance on the road against Louisiana-Lafayette on Oct. 30.
Chadwell said his team will be ready no matter who is under center Saturday.
"You have to prepare for both," Chadwell said. "They're both very capable. [McBride] can make some plays from a bunch of different ways. It looks like the play is dead and he can come out and make something happen. Tyler [Vitt] is more a dual threat but he can also beat you out of the pocket. He's more cautious than McBride but they both bring a challenge. It's not that their offense changes dramatically when they're in there but they do offer something different so you have to plan for what calls you might expect at certain times."
INJURY UPDATE
After missing the last two games with an upper body injury, CCU's redshirt sophomore quarterback Grayson McCall is listed on the depth chart for Saturday. However, Chadwell said McCall's status is "questionable."
"Grayson is practicing," Chadwell said. "We're putting him in more situations, but I still think he's questionable at this point. Every day he's gotten better from a standpoint of getting back to where he's close to being where he can go out and play."
Chadwell said if McCall does play this week, he won't be at 100%.
"He's going to be closer to [100%] than he has been in a long time," Chadwell said.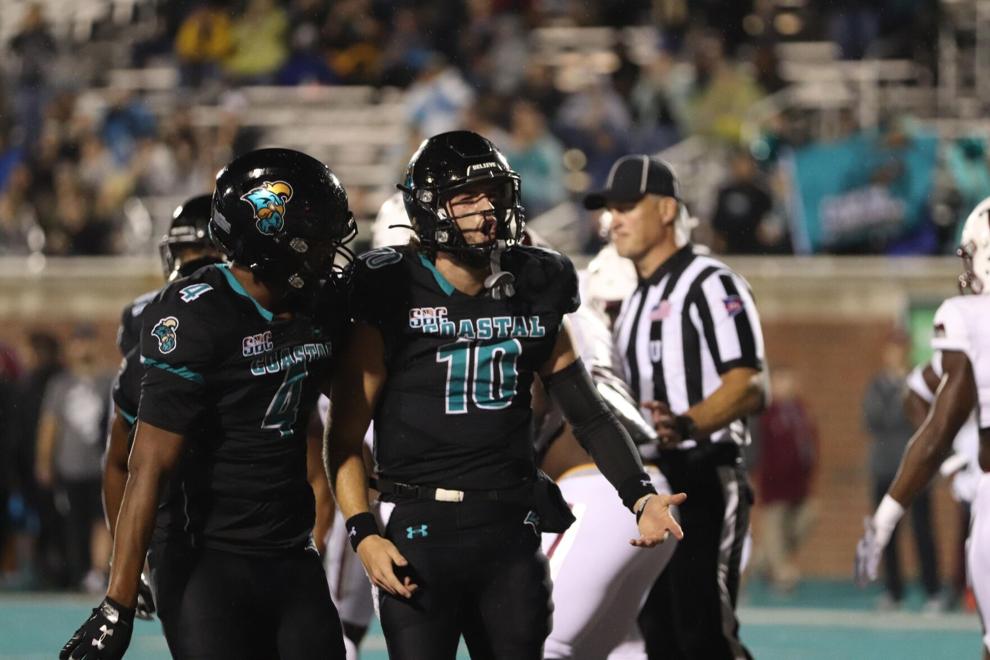 For the third straight game, junior running back Reese White will be out. White left in the first half of Coastal's game against Troy on Oct. 28 with an injury. He returned to the sidelines in a walking boot.
Chadwell said White has practiced with the team, though he has not reached a point in his game where he can contribute to the offense.
"He's not close to being 100%," Chadwell said.
Another potential key injury is redshirt senior Jeffrey Gunter, who left the game versus Georgia State and did return. Chadwell said Gunter was limited in practice this week, but should be good to go for kickoff Saturday.
"We anticipate him playing," Chadwell said.
SENIOR DAY
Prior to Saturday's game, a total of 28 seniors will be honored ahead of playing their final home game of their Coastal Carolina career.
While some of this year's senior class may have not come in together at the same time, they have been a part of a group that has seen the rise of a Coastal Carolina football program that many felt had no chance when they made the move to FBS in 2017.
Out of the entire senior class, 13 players are listed as "super seniors," meaning not only did they take a redshirt year, they also utilized the extra year given to them due to COVID-19. Of those 13 super seniors, seven of them stuck it out all six years at Coastal Carolina, starting their careers in CCU's final FCS season and going through the ups and downs during the FBS transition.
Punter Charles Ouverson, former St. James High standout, was one of those seven who came to CCU six years ago. Ouverson said it has somewhat hit him that Saturday will be his final game at Brooks Stadium.
"It's settling in a little bit," Ouverson said.
The senior class features several players who have etched their names into Chanticleer history and record books. Linebackers Silas Kelly and Teddy Gallagher have climbed their way to third and fourth, respectively, in career total tackles. Kelly surpassed 300 total tackles in the loss to Georgia State, becoming the third Chanticleer to do so.
On the offensive side of the ball, the duo of wide receiver Jaivon Heiligh and tight end Isaiah Likely has been a showstopping affair. Following a 54-yard performance against Georgia State, Heiligh became the third Chanticleer to surpass 2,500 career receiving yards. Heiligh needs only 11 yards to surpass Matt Hazel for second all-time in receiving yards and one reception to break tie for second place with Bruce Mapp for career receptions.
For Isaiah Likely, the senior tight end is having a stellar year in what could be his final year at Coastal. Likely has hurdled his way to a career 1,871 receiving yards, good enough for fourth all-time. His 24 career touchdowns is currently the third most in Chanticleeer history while his counterpart Heiligh is tied for fourth with 20.
While the senior class of Coastal football has certainly seen it all, senior offensive lineman Trey Carter – who will be playing in his 60th career game Saturday – said the trials, tribulations and success over the last six years have created bonds that can never be broken.
"They're going to last forever," Carter said. "I've made straight up brothers here, for sure. I have guys that are going to be in my wedding one day. I'll be in their wedding one day. I'm already seeing former players get engaged and already talking about us going to the wedding. Some of my best friends for life are here. I'm blessed to have met some of the guys I know here."