As Sun Belt conference play is starting to heat up, the Coastal Carolina women's basketball team is looking to continue their hot start and grow together game by game.
"Everybody just wants to keep the main thing the main thing," head coach Jaida Williams said. "And the main thing is putting ourselves in the best situation."
The 2020-21 season was not the kindest to the Chanticleers.
The Chants went 3-15, their first losing season in four years and the first time since 2004-05 that the Chants had won less than 10 games in a single season. On top of that, Coastal was 0-13 in conference play, the first time since their first year as a Division I program during the 1986-87 season.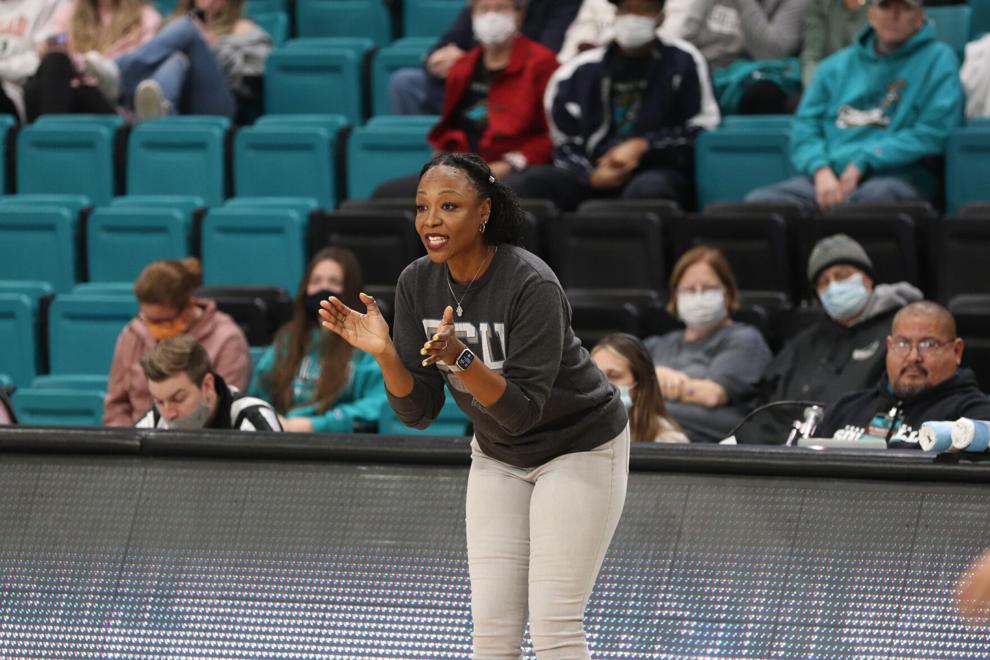 Last season certainly was night and day compared to the year before, which saw the Chants have their best season in program history, going 25-4, finishing second in the Sun Belt and just two wins away from the program's first-ever NCAA Tournament berth before the COVID-19 pandemic.
Senior forward Aja Blount has been a part of that roller coaster and this season, she sees a team that is determined to put last season behind them and move forward.
"Everybody is focused and locked in and wants to get better every single day," Blount said. "Everybody just wants to fight and win. They know last year we had a rough season so the freshman are coming in and are playing for us every single game and they know how serious we're taking this season."
When it comes to freshmen, the Chanticleers have two freshmen starters in Arin Freeman and Angie Juste-Jean. Freeman has started in 13 of the Chants' 14 games while Juste-Jean has started in five of her 12 games played. Juste-Jean is second on the team in scoring, averaging 10.8 points per game and is fourth on the team in rebounds with 55.
"I have some incredible freshman," Williams said. "They're just competitive and they want to play basketball. They just want to win."
Blount said she has seen this group of freshmen mature rather quickly as the season has progressed.
"They don't act like freshmen on the court," Blount said. "They're locked in, focused and they just want to get better. They know we have a job to get done and they help get that job done."
After a starting the year 8-0, a program best, the Chants fell at the buzzer to St. Mary's at home. The Chants finished their non-conference schedule with back-to-back wins prior to the holiday break. The Chants dropped their conference opener on the road to defending champions Troy, 91-80 on Dec. 30. Williams said the team has learned a lot from those defeats.
"When do take losses, or lessons as I like to call them, that we learn from it so that we can put ourselves in the best position to win the very next game," Williams said.
Following the loss to Troy, the Chants have done just that, winning back-to-back games over Georgia Southern in come-from-behind fashion and then blowing out Georgia State 75-51 on Saturday.
While Saturday's 24-point victory over the Panthers may have looked like a walkover, the Panthers rallied after a slow start to come within three points midway through the second quarter. The Panthers continued to battle, keeping the game within single digits for much of the third quarter and only trailed by four going into the fourth.
That's when the Chants blew it open, going on an 11-1 run to start the quarter.
"We knew we had to win that quarter," Williams said.
The Panthers went ice cold in the final quarter, missing their first 15 shots, including four three-pointers. Georgia State's lone field goal came in the final minute of the game. The Chants defense stood their ground, recording three steals and three blocks in the fourth.
Williams said the team checked off all facets of their game to pull away with the victory.
"Communication, moving, talking and being in the spots we needed to be," Williams said.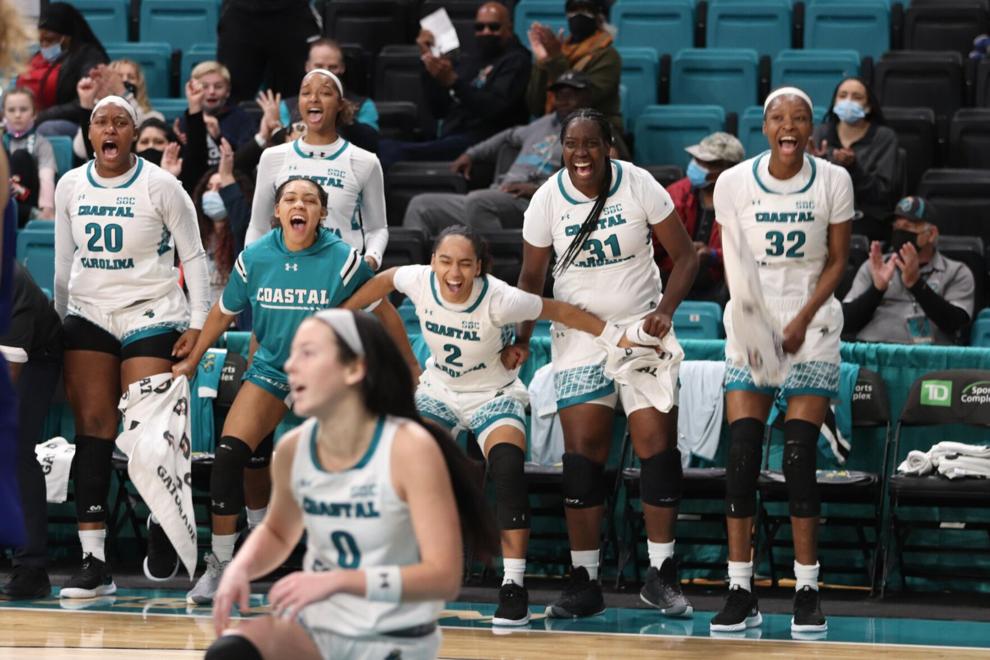 It's déjà vu for the Chants as they are currently in the exact same position they were during the dream season of 2019-20. Both years, the Chants went 10-1 in non-conference play, the lone loss coming at home. Both years, the Chants opened conference play with a road loss to Troy, only to win their next two to become 12-2 overall and 2-1 in conference play.
The question that remains is: will this sense of déjà vu continue, only to end with a different outcome that goes in favor of the Chants?
There definitely is a sense of something special that reminds her of that dream season, Blount said.
"I can just tell by how we fight in the games," Blount said. "We never give up. There's never that moment of when teams go on a run, we're like, 'OK, it's our turn to go on a run.' We just have that competitiveness and we want to keep going, going and going."
Despite the success, Blount said the team is more focused on being in the present than looking ahead to what today's success can bring down the road.
"If we focus on the championship right now, we will lose track of all these games leading up to it," Blount said. "Take every game one by one, get serious, lock in and make sure our grades are good."
Coastal Carolina travels west to take on Arkansas-Little Rock and Arkansas State on Thursday and Saturday, respectively. Coastal will battle Little Rock at 7:30 p.m. Thursday and then will look to avenge a buzzer beating loss from that 2019-20 against Arkansas State when the two face-off at 2 p.m. Saturday.
The Chanticleers will return to Conway with three of their next four games at home in less than a two-week period, starting with hosting Louisiana-Monroe at 6 p.m. Thursday, Jan. 20.