Carlton Terry's message to his Conway team is simple: get a little better each day.
But making those gains has been tough over the COVID-19-altered summer. Workouts began, stopped and restarted. There were no passing camps. Last week, the Tigers' practices finally involved a football. Still, the fourth-year coach has seen progress.
"Our guys worked really hard over the offseason," Terry said. "I've been pleased with the work ethic. … Basically, we could only lift and condition. We can now use a football. … We have a long way to go, but our guys have worked hard and really learned the playbooks on offense and defense."
The Tigers are coming off a 3-7 campaign that ended in a loss to Wando in the first-round of the 5A playoffs.
Graduation cost the Tigers some power in defensive linemen Tonka Hemingway and Tim Steele, and speed in receiver/running back/playmaker Xavier Kinlaw. But the team returns six offensive starters and six defensive ones.
That group includes quarterback Carlton Terry Jr. and wide receiver Christopher DeWitt. The Tigers' also have a new slot receiver thanks to the transfer of Jaiden Fignole. Donovan Singleton will see reps at running back.
"The younger guys, they've been stepping into the roles pretty well," said DeWitt, one of the team's captains. "Us rising seniors have been pushing them to be better than they have been."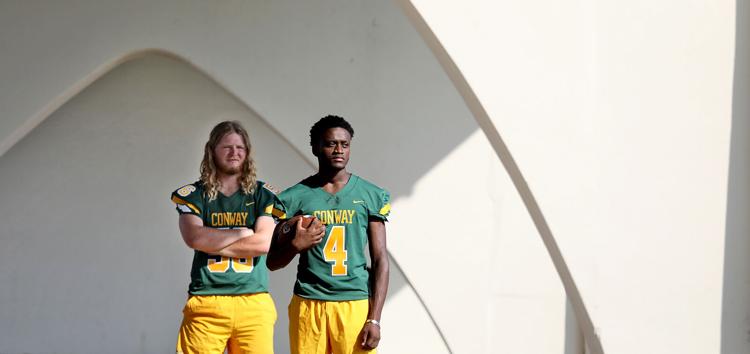 Senior center Aubrey Hunter also sees the Tigers' potential.
"Although we lost some weapons, we've got some in the making," he said.
Along with the COVID-19 uncertainties, the region landscape is much different this year. South and West Florence are now in the 4A classification while Sumter is again part of the Tigers' region, along with Horry County schools Socastee, St. James and Carolina Forest. Socastee has a new coach who is overhauling the offense and defense. Carolina Forest and St. James each lost a starting quarterback and running back to graduation.
Conway High School seniors are ready to play
But the Tigers aren't focused on where they stack up in that mix.
"We're not really worried about the competition," DeWitt said. "We're just worried about doing our job."
What the Tigers do think about is representing their community. Although DeWitt was born in South Africa, his father is from Conway and he moved here when he was 12. He started playing football in the eighth grade.
"Representing Conway, it's a big thing," he said. "I'm representing my hometown and South Africa as well. So I've got to go all out."
Aubrey, a Conway native, also appreciates his role on the team.
"It means a lot," he said. "I grew up here, so I was knee-high going to games. To kind of flash forward a couple years and now I'm captain … it's a small town kid's dream."
But what happens if that dream is cut short?
COVID-19 has raised many questions about what kind of season teams can have, and the pandemic has already altered some traditions.
The Battle for the Victory Bell, the annual Conway-Myrtle Beach rivalry game, won't be played this fall.
"Even if we don't have a season this year, I still got to see coaches who made a very large impact on my life," Hunter said. "I got to see people that I spent hours up hours on that field with."
That type of gratitude has been obvious to Terry at summer practices. And another sign of the growth of his team.
"At this point, we're just so happy that we're playing football," the coach said. "There was talk at one time that we wouldn't play at all.
"When we started up in June, we had some guys missing. And their hesitancy was, 'Coach why are we going out there when we may not be able to play?' So when we came back, those players did show up. … We have a smaller group than we normally do, but I'm happy with the guys that we have. They've done everything that we've asked them to do, and we've pushed them extremely hard."