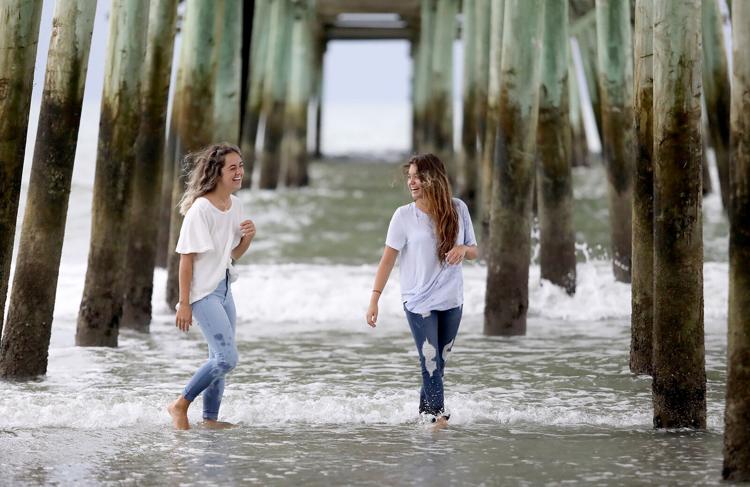 Anna Grace Watford doesn't stress about St. James' upcoming golf season.
"We're going to do pretty good this year," she said. "Because we're awesome."
She's not wrong. The Sharks finished seventh in the state in the 2019 5A championship — higher than any other Horry County team — and they return every key contributor from that group. One of the team's golfers, Adrian Anderson, placed fourth among all the 5A competition. Anderson is a junior this year while Watford, who finished 43rd at the state match, and Amanda Meno, who finished 31st, will be seniors. Grace Kenley (65th at state) will also be a senior.
"None of us graduated last year," Watford said. "Our whole team is going to be back."
That fact has coach Denise Bornman thinking her team can do even better at the state competition this fall.
"My goal for us is to move up to Top 5," Bornman said. "Those big 5A schools in the Upstate and down by Columbia, they're just super strong. Our No. 1, Adrian Anderson, she's got a real possibility at winning individually. And then as a team hopefully we can somehow pull out fifth or better."
But before the Sharks get to the state level, they have some competition in their own backyard.
Carolina Forest finished ahead of St. James in region play last year. Although the Sharks fared better at the state championship — the Panthers came in ninth — the Sharks haven't forgotten the region loss.
"We're very motivated," Meno said. "The whole team is just ready to go back up there on the leaderboard."
St. James High School seniors are ready to play
St. James has a history of producing golf talent. Bornman, who is in her seventh year coaching the team, said the program benefits from being in a community of driven golfers.
"I kind of get lucky with the girls that are in the area and how often this group plays," she said. "Adrian practices every day, multiple times a day. That's how you get that good. But the majority of the girls, they'll go out and play a couple of days a week, even in the offseason. … It makes a big difference when they're out there hitting balls on a regular basis."
Although COVID-19 has left questions about high school sports, St. James golfers remain optimistic.
Watford is as confident about the golf season as she is about her team.
"I'm super excited to start golf again," she said. "It's like the most social distanced sport ever, so I believe we can really go out there and take advantage of this for our sport."