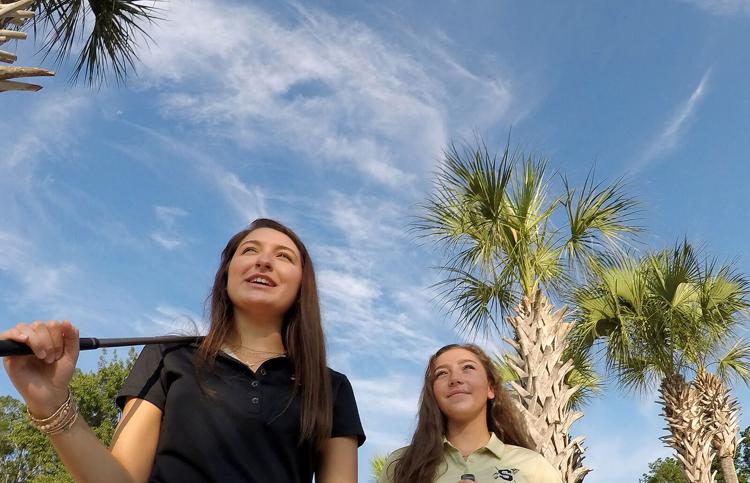 Socastee's girls golf team hopes to build on the progress they made last year.
They qualified for the lower state competition — a marked improvement from the prior year — and they aim to continue that growth this season by qualifying for the state contest.
"I want to be able to improve and progress forward," said Makenzie Hoffman, a senior and one of four returning players on the team. She joined the Braves in 2019 after years of casually playing courses with her father. She found a great support network among her teammates.
"I like how all of us are very friendly with each other," she said. "We always try to motivate, lift each other's spirits up. Like, if we're having a bad day, we're always like, 'Oh, it's OK, it's just a hole … it's all good.'"
Socastee High School seniors are ready to play
Alexis Neumann, who has been playing all through high school, also values the Braves' fellowship. Her goal for the season is to maintain an optimistic attitude.
"Just to be super positive," she said. "Not only for other people — because I know I am positive to other people — but also about my own game play. Because sometimes I get frustrated."
She's also a fan of coach Roni Shoemaker.
"Because she's the best coach ever," Neumann said.
Shoemaker, who is in her fourth year leading the Braves, agrees that her team should be stronger this season. She knows there are some tough teams in the region, including top-tier golfers at St. James, Conway and Carolina Forest. But she hopes her group can advance to compete at the lower state and state levels.
"The girls have consistently gotten better over the last few years," she said. "I'm excited to see new and young girls interested in golf."
She's had about 10 golfers interested participating this year, including some who have played with her since they were freshmen.
"This is a sweet team for me," she said. "And really, it'll be even better when I'm coaching the sixth year because they can start in seventh grade. But this is a very special year."