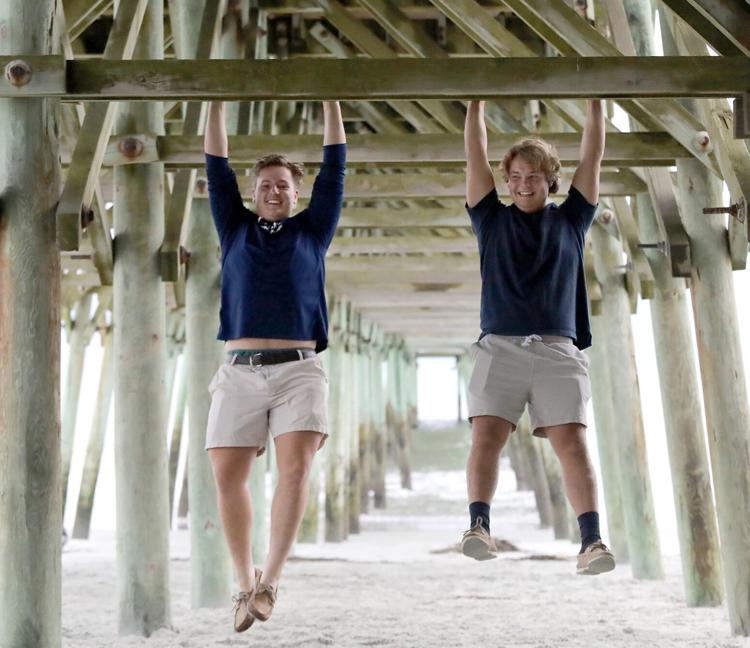 The Sharks thought they could make it.
When the 5A playoff brackets were decided last November, St. James players hoped their resume was strong enough to earn them a spot.
It was not. Now a year later, players aim to get to the place they wanted to be in 2019.
"It was just so unsettling to see that we didn't make the playoffs," said Nate Murphy, the Sharks' senior left tackle. "It's just one more thing that put us … driving this much further in the weight room, on the field, everything."
The Sharks went 5-5 in 2019, but that was a marked improvement over the 1-7 campaign of 2018. Players also say the program has changed since Tommy Norwood took over as head coach in 2018. At one time, the Sharks saw four head coaches in a five-year span. Norwood brought stability.
"Everything just kind of settled down," said senior linebacker Jacob Morgan, who was a sophomore when Norwood took the reins of St. James football. "We were nowhere near as good as we are now."
Morgan said the number of players hitting the weight room has increased, as has their drive to become competitive in the state's largest classification.
Murphy agreed.
"Definitely our size in the weight room [has improved]," he said. "There's been so much work put in throughout the past two years that Coach Norwood's been the head coach."
One place where that size will be obvious is on the offensive line, where all five starters are returning this fall. In total, the Sharks have seven returning starters on offense and three on defense.
Despite the youth on defensive side of the ball, Norwood sees potential in the younger players who have moved up.
"A good thing, to be honest about it, we'll be a little bit more athletic," the coach said. "Maybe in the long run, we may be a little better."
Offensively, the Sharks have more depth at wide receiver than they've had in years past. As for who will be throwing to those wideouts, that remains a question. Senior Alex Jones and freshman Jasaan Faulkner are the top two candidates battling for the quarterback job. A string of running backs will likely be carrying the ball for the Sharks this year, including Ayron Armstrong, Chase Washington and Patrick Gallagher.
St. James High School seniors are ready to play
Although some of the returning players are motivated by last year's playoff miss, Norwood takes a longer view of the program.
"Where this program was for so many years, all we want [is] to be better tomorrow than we are today," he said. "That's really all we focus on. If we keep on improving, then the good things are going to happen."