Brice Faircloth spent his summer learning his new coach's offense.
The Loris quarterback liked the different formations and pass plays.
"From what I've seen, we're going to have a tremendous year this year," the senior said.
That would be a sea change for the Lions, who went 1-9 last year for their fifth straight losing season. After the 2019 campaign, coach Jamie Snider was out and in came Greg Mance, a state championship-winning coach from Richlands, Virginia.
Mance coached for more than two decades at Richlands and won 205 games. His teams set records for offensive production and won at least nine games for 13 straight seasons. Mance won a state title in 2006 and his teams played in four others. Mance also won a state championship as a player at Giles (Va.) High School in 1980 and he was an assistant coach for another state champion in 1992 at Richlands. 
When Mance met his new team earlier this year, he informed them things would change at Loris.
"The first thing I told them was, I said, 'Losing at Loris High School football is over,'" he recalled during an introduction to Lions fans in February. "And I looked them in the eye and I meant it."
Mance has been impressed with the players.
"The kids are here," he said earlier this year. "We've just got to develop them. We've got to get them in the right positions. And I believe that."
He also has lofty goals for the program.
"Loris High School in the near future is going to be going to Columbia," he said, referring to the site of the state championship games.
The Loris players knew about their new coach's resume before he arrived.
"I feel like he's going to be a great coach," said senior wideout Chris Gilchrist. "We're going to win way more games than we did last year. … I don't feel like no team that we play should get in our way. Not this year."
Faircloth agreed that the transition has been smooth.
"It's been really good," he said. "He's a great guy, and I know he's an even better coach. I know he's had really good records over the past years he's been coaching at Richlands. I'm really excited to get working with him and seeing what we've got this season."
While coaches and players remain unsure exactly how much football they will see because of COVID-19, the Lions are hopeful that, if given the chance, the team can begin turning the program around this fall.
The Lions have 15 seniors on their roster. That includes Faircloth, who played wideout last year and is moving into the quarterback role, and the talented wide receiver Gilchrist. 
"We have a really solid wide receiver group," Faircloth said. "I'm really excited to get the chemistry working and everything, starting up practice. I feel like we're going to be really good this year."
Gilchrist pointed out that the team should be strong defensively as well.
"Our defense should be stacked," he said. "Don't miss a play, always on the ball. They're ready to eat."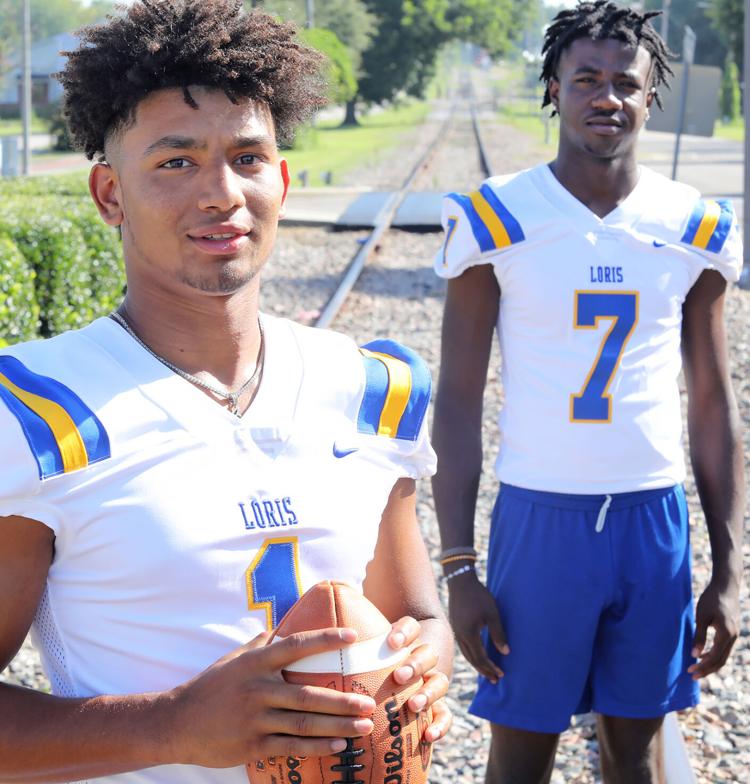 The same could be said for many members of this senior class, a group eager to change the football culture at the school. Despite the lopsided 2019 record, the Lions were competitive. Four of their region losses came by a touchdown or less.
That's motivating them heading into 2020. They know what they could be.
"This is like our comeback year," Gilchrist said. "To show everybody what the Lions [were] supposed to have been last year. We're going to make sure we finish this year."
Loris High School seniors are ready to play