Steve Robertson​ ​ ​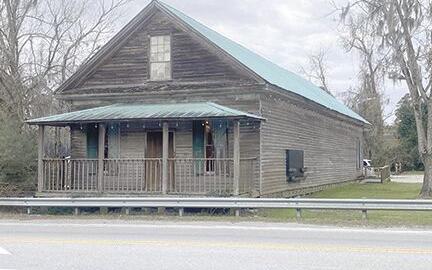 Steve Robertson
Socastee used to be the gateway to the coast. Motorists traveled on a bumpy dirt road now known as S.C. 544 because it was difficult to travel directly from Conway to Myrtle Beach, which was described on old maps as the "Impassable Swamp."
In 1968, Sarah Page Chestnut Cooper described in the Independent Republic Quarterly the Cooper Store, situated on the west side of the Intracoastal Waterway on S.C. 544 (just before the drawbridge.) It was built before the Waterway was dug, and her father ran the store.
According to Cooper, old-time country stores were many things to many people: a place of business where necessities could be bought, a place to meet friends, and a forum for local politics. In the winter, patrons gathered around a pot-bellied stove. In the summer, they sat on chairs or benches on the front porch.
The Cooper store, owned by Thomas Cooper, was typical of establishments serving many communities in Horry County. In the early 1900s it was lit by a Delco battery plant.
The store contained an amazing variety of merchandise.
Upon entering the store, customers saw shelves on the right stacked with clothes for women and children, lace ribbon, buttons and a thread cabinet. Further down were hats, shoes, and underwear, wrote Cooper.
On the left side of the store customers could find men's suits, shirts, ties, socks and black felt hats or straw flat tops for summer wear.
The back part of the store was stocked with groceries and staples like nails, horse collars, buggy whips, cheese, kerosene and lanterns. There was also a tobacco cutter for plug tobacco, a large tub of mixed candies, a barrel of apples and a big jar of sweet cakes, recalled Cooper.
There was always a supply of patent medicines such as Epson Salts, Castor Oil, camphor, turpentine, liver pills, Sloan's liniment, cough syrup and Grove's chill tonic for malaria.
Farmers bought fertilizer transported by boat to nearby Peachtree Landing and hauled by wagon to the store. Cooper wrote that all of the merchandise arrived by boats sailing the Waccamaw River.
Thomas Cooper was also Postmaster and when mail came everyone was curious, wrote Cooper, daughter of the store operator.
She recalled that a bottle of pain killer sold for 25 cents, snuff for five cents, a dozen eggs for 10 cents, and 5 ½ pounds of meat for 70 cents. A barrel of flour sold for $6.65, 25 pounds of nails for $1 and a bridle for $1.25.
The Cooper store at Socastee was closed around 1932 after nearly 30 years of business. The building still stands as does the adjacent home. It serves as a reminder of the slow, simple living that was characteristic of earlier years in Horry County.
The Independent Republic Quarterly can be read online
by visiting www.digitalcommons.coastal.edu