Two adults and a child died in a shooting Sunday afternoon near Surfside Beach, authorities said.
Horry County Coroner Darris Fowler identified the deceased as 47-year-old Brian Brady, Krista Brady, 42, and 9-year-old Teagan Brady in a news release.
Fowler said all three of them were family members and were pronounced dead at the scene. They died from apparent gunshots. An autopsy is scheduled for Tuesday morning.
Few details about the case have been released, but Horry County Police Department officials said officers received a call about a shooting on Drake Lane around 2:45 p.m. Drake Lane is located off of Spanish Oak Drive near Glenns Bay Road.
HCPD spokeswoman Mikayla Moskov said several units responded, including detectives and crime scene investigators with the agency's Criminal Investigations Division, and patrol officers. Authorities also brought police dogs to the scene.
Moskov said police had to force entry into a home. She added the circumstances involving the deadly shooting remain under investigation.
Police are not searching for a suspect and authorities have not made any arrests in the case. Police said there is no threat to the community stemming from this incident.
The shooting has left neighbors reeling. Several in the community said they were surprised by what happened, describing the neighborhood as typically calm. The community was quiet the day after police swarmed the area.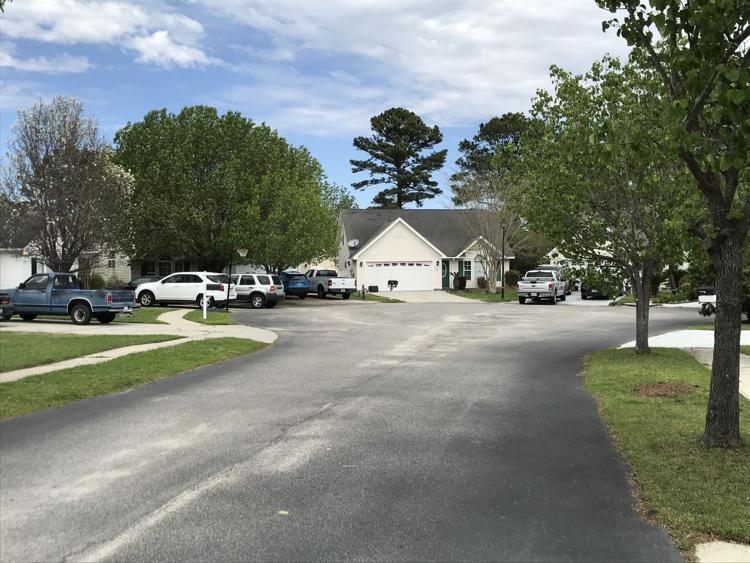 Dennis Milligan, who lives in the Mallard Landing community, said he was "shocked" by the shooting. He was out walking his dog Sunday afternoon when he witnessed numerous police cars arrive in the neighborhood, and he recalled his wife asking what was going on.
Despite what happened, he doesn't feel unsafe, pointing to how police said there is no threat posed to the public.
"It could happen anywhere," said the Massachusetts transplant who lives one street over from Drake Lane on Mallard Lake Circle. "This is the safest neighborhood ... [and] the most quiet neighborhood I've ever lived in."