The Grand Strand's 60-mile strip of sand and surf is the perfect playground, and many use Mother Nature's free waterpark and sandbox for fun physical exercise and friendly competition.
Stick-and-ball team sports like baseball, football and soccer are great if you have enough room and numbers, while solo sports like surfing, fishing or kiting require the right conditions and equipment.
But there are lots of two- and four-person games designed for the beach or that translate well to the salty air and sandy surface. Here are 10 favorites on the Myrtle Beach area's summer play list:
Bocce: This Italian bowling sport has players roll larger balls at a smaller pallino (aka the jack, pill or bullet), attempting to land them closer than their opponents.' Bocce is traditionally played on dirt, grass or asphalt courts, but the beach at low tide provides a tougher challenge and a better view.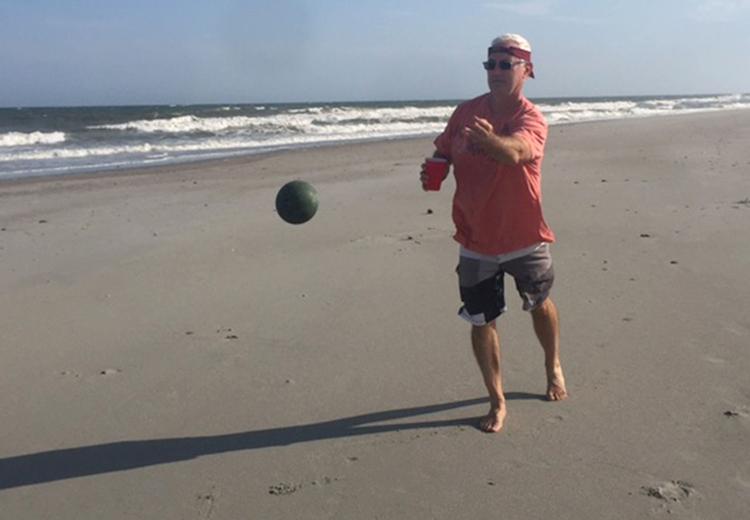 "Bocce is better on the beach," said Myrtle Beach resident Mike Lambert, who is trying to form a local beach bocce league. "(Regulation) courts are on a flat surface, but the beach has packed sand, loose sand, slopes, seashells, water ... and you're at the beach."
• BucketBall: Think beer pong but with big buckets and, thankfully, no drinking required. Players stand 30 feet apart behind six buckets arranged in a triangular pattern and filled halfway with water or sand. Teams takes turn throwing tennis balls into their opponents' buckets, trying to fill them all. The buckets are stackable buckets or useful for hauling other items to the beach.
• Cornhole: This popular tailgate game is also big on the beach, in part because it's one of the few sports you can play with a cold drink in one hand. Players toss beanbags into the hole of sloped boards to score points. If you don't want to haul the heavy boards to the beach, pick up a game called TidalBall — a cross between bocce and cornhole where you dig two holes in the sand and roll balls instead of slinging sacks.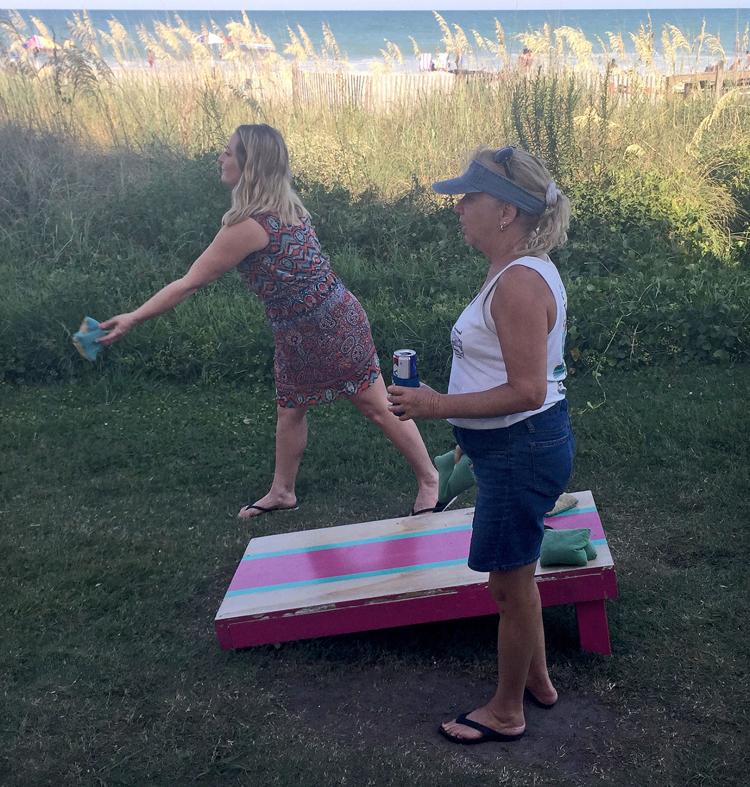 • Frisbee: Invented by college kids whirling empty pie tins between classes, this classic never gets old. An empty stretch of beach is a great place to play catch, but disc sports like Flick 'N' Sticks (trying to knock a plastic Solo cup off tall sticks planted in the
sand) and Can Jam (akin to connecting on an alley-oop in hoops) are flying off the shelves.
• Ladder Ball: "Some Assembly Required" is the only drawback to this popular pastime, but once you've constructed the three-tiered ladders and secured their bases in the sand, this game is a blast.
• Myrtle Ball: Combine Myrtle Beach's biggest draws — the beach and golf — and you get this locally invented game that can be picked up at area beachwear stores. Myrtle Ball
players bury shallow cups at sand level and try to roll balls into the holes. The color-coded balls and cups hold various scoring possibilities, and you can adjust the course from short par-3s and long par-5s.
• Paddleball: Many enjoy this game with no scoring, no rules, just whacking a rubber ball back and forth for kicks. But you can play beach tennis with the paddles and a tennis ball that will bounce on packed sand. Mark the boundaries by dragging your feet in the sand.
• Seashell Football: Beach goers can play this game without bringing any toys. Use a stick to trace a mini-sized gridiron in the thick sand (about the size of a ping-pong table) and collect a few silver dollar-sized shells. Players stand behind their end zones and take turns tossing shells at the opponent's paydirt (or pay-sand).
Score touchdowns by landing your shells completely inside the end zone.
"We play Clemson versus Carolina," joked Upstate vacationer Mandy Graves, who defeated her Gamecock fan relatives during a recent family gathering, "so it's just like real life football."
• Spike Ball: If you see people huddled around in a circle and running around like crazy, odds are they're playing Spike Ball. Known as Slammo in some circles, Spike Ball sees players bounce a ball off a miniature trampoline in a circular version of handball. This one requires some space and stamina.
• Volleyball: Real beach volleyball involves two-player teams, but get ready to get sweaty and sandy if you stick to that rule. The more the merrier (and less strenuous) to cover more ground, or you can always take a break and watch.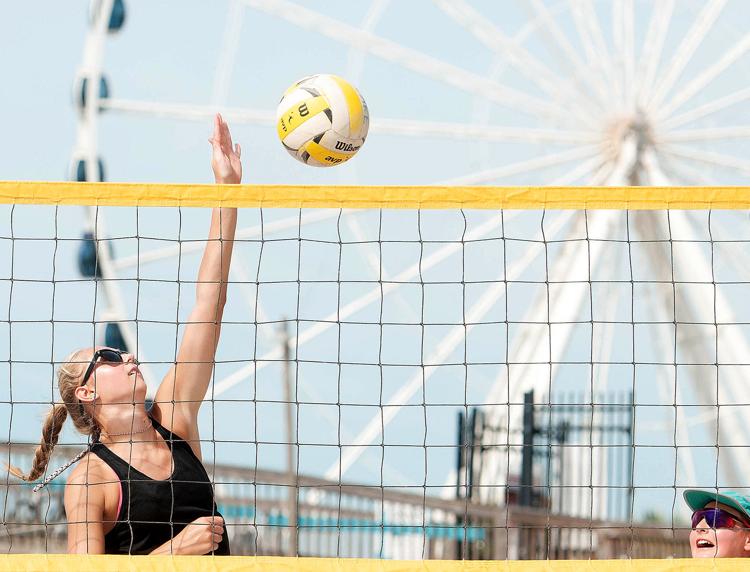 "It's a great workout and a fun way to stay in shape," said longtime local beach volleyballer Joe Goodwin, "and the (swimsuit-clad) players aren't hard to look at. That's another reason people watch it."
Even spectator sports are better on the beach.