Forty years ago, solo sailor David White thought of doing something that not many people would ever dream of doing. White dreamt of a yacht race, one that would become known worldwide and mold some of the world's best sailors. While building his 56-foot yacht, called The Gladiator, White issued a challenge to other sailors to race him around the world solo.
In 1982, 17 men, including White, set sail from Goat Island near Newport, Rhode Island, for the British Oxygen Corporation (BOC) Challenge. The race had four legs, with stops in Cape Town, Sydney and Rio de Janeiro before ending back in Newport. During the inaugural race, records were smashed, and incredible stories of endurance were told.
On Friday, The Original Benjamin's Calabash Seafood honored White with the unveiling of a new display that pays homage to The Gladiator. The display includes a model of The Gladiator made by hand from Original Benjamin's own Jimmy Frost, one of the trophies that White received in the BOC Challenge and the actual sextant that White used while sailing the world.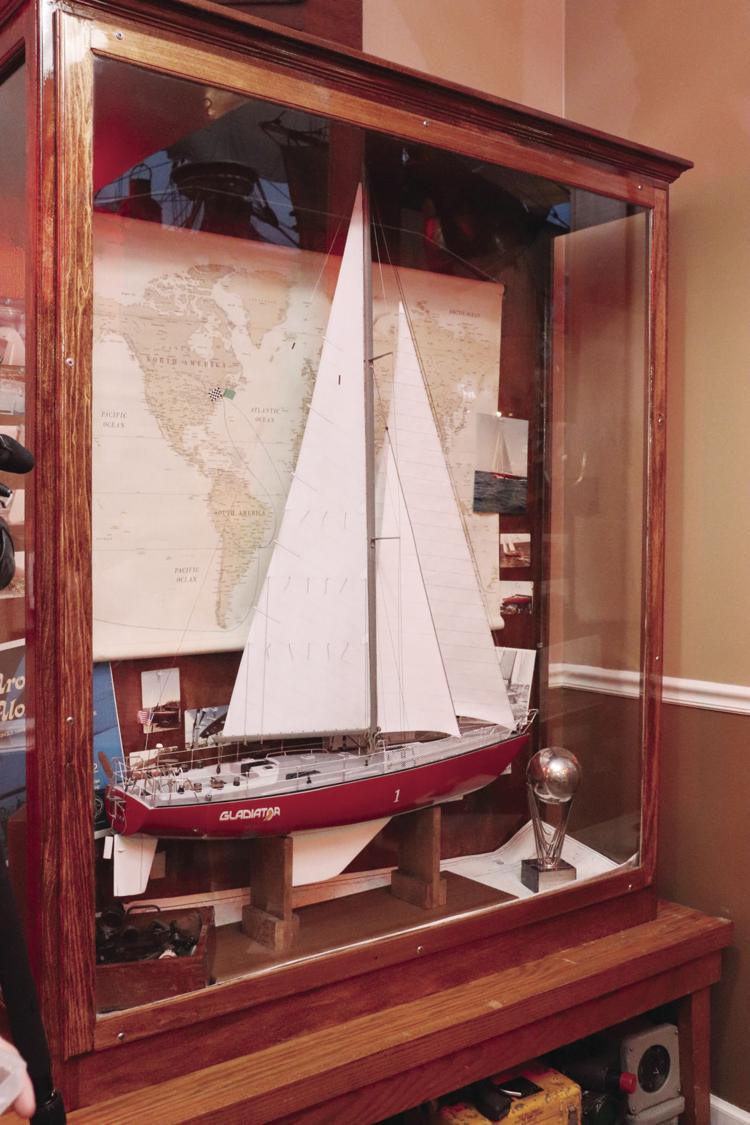 When the display was revealed, White was taken back to when he first set sail nearly four decades ago.
"We didn't have GPS back when I sailed around the world the first time," said White. "I used a World War II sextant that I bought. Even satellite navigators were iffy, so I went around the world using a sextant for position. Now most people don't even know what a sextant looks like."
The race ran every four years from 1982 to 2006.
"It ended over a decade ago due to the novelty wearing off and the costs of the ships becoming prohibitedly expensive," said White. "The total cost it took me to build my boat 40 years ago was the total cost for someone to put sails on their boat in the final race in 2006."
White says that while his boat isn't anywhere near as fast as the ones that are used to sail around the world today, it was pretty fast for its time.
"I had a 300-mile day in this one day while in the BOC," said White. "I also had a 6,000-mile month, which is 200 miles a day for 30 days. That's insanely fast for its time."
The display is one of many nautical-themed displays for guests' viewing pleasure at Original Benjamin's and it's displays like The Gladiator that Mamie Gunter, whose family helps run the restaurant, says makes Original Benjamin's different from the rest.
"We try to make our restaurant an experience," said Gunter. "We are very family-friendly and there is a lot to see here. We have a children's nautical experience as well as Jimmy Frost, our master model shipbuilder, there is just so much here that we have to offer."
Gunter says that having incredible staff members also adds to the amazing experience guests can expect when coming to Original Benjamin's.
"They have been here a long time and have put in a lot work to make this place perfect," said Gunter. "And having Jimmy with us and his talent in making model ships by hand is a once-in-a-lifetime chance. There are not a lot of master model shipbuilders in this area. We really are honored to have him."
Both White and Frost worked on the design for The Gladiator model and Frost constructed the model by hand with his own supplies.
One can check out the display at Original Benjamin's Calabash Seafood at 9593 North Kings Highway, Myrtle Beach, SC 29572. Original Benjamin's is open every day from 3:30-9 p.m.