A stolen pickup truck linked to a triple homicide in North Carolina was found in Horry County this week, authorities said.
Columbus County Sheriff's Office spokeswoman Michele Tatum confirmed the 2009 Chevrolet Silverado Horry County police found early Tuesday morning is the vehicle North Carolina deputies had been searching for.
Around 7 a.m. Saturday, authorities were called to a home on Brittany Lane in Columbus County, North Carolina, in response to a shooting, according to a news release on the Columbus County Sheriff's Office Facebook page.
Deputies found four people at the residence with gunshot wounds.
Authorities said the suspects stole a silver 2011 Ford Fusion and fled the scene. The sheriff's office described the incident as "a targeted crime and not a random act of violence."
The next day around 7:15 p.m., deputies were dispatched to a home in the 3000 block of New Britton Highway, also in Columbus County, in reference to a stolen vehicle.
The victims said two black males operating a silver Ford Fusion arrived at their home and asked about a vehicle they had for sale in their yard.
After talking to the victims, one of the males entered the vehicle, a 2009 Chevrolet Silverado pickup truck, and sped off as the other male left in the Ford Fusion, according to the sheriff's office.
The suspects matched the description of those involved in the triple murder, the sheriff's office said, and the Ford matched the description of the vehicle stolen from the scene of the triple homicide.
Authorities later located the Ford Fusion on Twin Pines Road. 
Horry County police found the Silverado on fire on the side of Morgan Road near the North Carolina state line after someone reported a suspicious blaze around 1 a.m. Tuesday, according to an incident report.
The truck appeared to have been heading toward U.S. 701, the report said.
The Loris Fire Department put out the fire; the report said the truck didn't display a license plate.
Marquez Montrell Cherry, 23, of Whiteville is wanted for questioning in connection to the case and should be considered armed and dangerous, the sheriff's office said.
"This individual also has outstanding warrants for his arrest from an unrelated case," a sheriff's office Facebook post said. He is wanted by police on charges of possession of a stolen firearm and resisting a public officer in addition to multiple drug-related charges.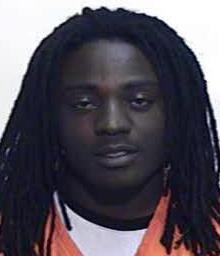 Tatum said the investigation is active and the agency is focused on finding those responsible; no arrests had been made in connection with the case at the time of this report.
Anyone with information about this case is asked to call the Columbus County Sheriff's Office at 910-640-6629.