At the edge of the Myrtle Beach Pelicans dugout at TicketReturn.com Field, five-year-old yellow lab Slider patiently awaits his command from handler Hunter Horenstein to retrieve a bat lying at home plate.
As soon as Horenstein says fetch, Slider bounds toward home, gently picks up the bat by the handle with his mouth, and proudly struts back to the dugout, where a treat awaits him.
Recently, Slider has been training to retrieve bats and run the bases at Pelicans games, much to the joy of fans, players and staff alike. He returned this month after being away from the ballpark through the COVID-19 pandemic.
"He's getting there," Horenstein said. "He's a smart dog. He can do the bats now and we're working on getting the baserunning down. That'll all come. I think it's more that the fact that he's here is good enough at this point. We're just happy that he's back with us."
Slider is in his third full year of retrieving bats for the Pelicans. He took over full-time in 2019 after the Pelicans second bat dog Deuce retired following the 2018 season. Slider and Deuce shared duties in 2018 before Deuce officially retired.
Ever since the Pelicans began playing ball on the Grand Strand in 1999, the team has always had a bat dog, starting with Dinger, who eventually retired in 2008.
Deuce, who is now 13 years old, has lived with Kylie Beckerman and her family. Beckerman said that Slider is family to her.
"He is like a little kid to me," Beckerman laughed. "He's family. He's the world."
Beckerman described Slider as a loving dog.
"He will go up to anybody and just love on them," Beckerman said. "Instead of laying at the end of the bed like most dogs do, he wants to [be] on top of you and cuddling all night long. Anywhere he can be on top of you, he wants to be on top of you."
Beckerman said that Slider loves to get Deuce to play with him.
"He gets Deuce up and moving which is fantastic since Deuce is older than him," Beckerman said.
Despite there being no minor league baseball in 2020, Beckerman still took Slider out to fields just to keep him active.
"I would take him and try my best to be able to get him back into his thing," Beckerman said.
When the 2021 Minor League Baseball season began in early May, there were still COVID-19 restrictions around the ballpark that limited the access that fans and even staff members had in the dugout. That meant that Slider couldn't be around players and everyone's favorite bat dog had to sit in the on-deck circle for over a month and a half.
"That's one of the biggest things we missed in our show," Horenstein said. "He's the fabric of our experience here at the ballpark."
Horenstein said that season ticket holders to tourists who come to catch a game while on vacation were constantly asking about Slider, wondering when he was going to return.
As greater access was becoming more available, the organization officially made the announcement that the goodest boy in baseball would return on July 18.
Pelicans general manager Ryan Moore said that July 18 was a special day for the organization.
"It's really exciting for everybody," Moore said. "Our staff, the fans, the team enjoys having him [in] the dugout."
The excitement was clearly visible for those who got to see Slider's return.
"We had one season ticket holder keep asking us every homestand 'When's Slider coming back? When's Slider coming back?' And the first time she got to see him, she was over the moon," Horenstein said.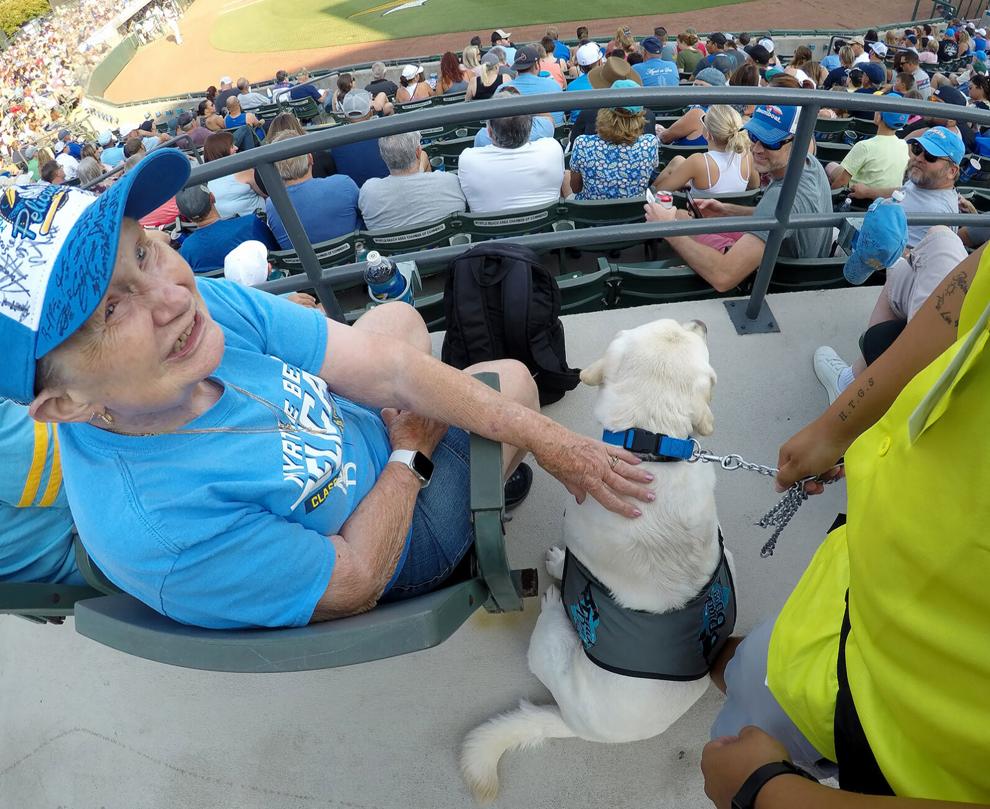 Members of the Pelican's organization have said that Slider's return to the ballpark has been extremely well received, especially when it comes to those in the dugout — the players.
For Pelicans relief pitcher Jeremiah Estrada, the only knowledge he had of a bat dog was when it popped up on the scoreboard. When Slider made his debut for the 2021 season, Estrada was smiling ear to ear when the pup made his way to retrieve his first bat.
"It was pretty exciting because I extremely love dogs," Estrada said. "I think it's awesome for a dog to go out and pick up the bats. It's pretty unique to see."
Horenstein said that the players are some of Slider's biggest cheerleaders.
"This year with a completely new roster, these are guys that haven't had any sort of experience with [Slider]," Horenstein said.
Both Horenstein and Estrada said that having Slider around helps the players remember that no matter the result of the game, baseball is fun.
Other Pelicans staff members have also said Slider's return has been very well received throughout the last week.
"Barring a home run, it's the biggest cheer of the night," said Kristen Call, associate general manager for the Pelicans.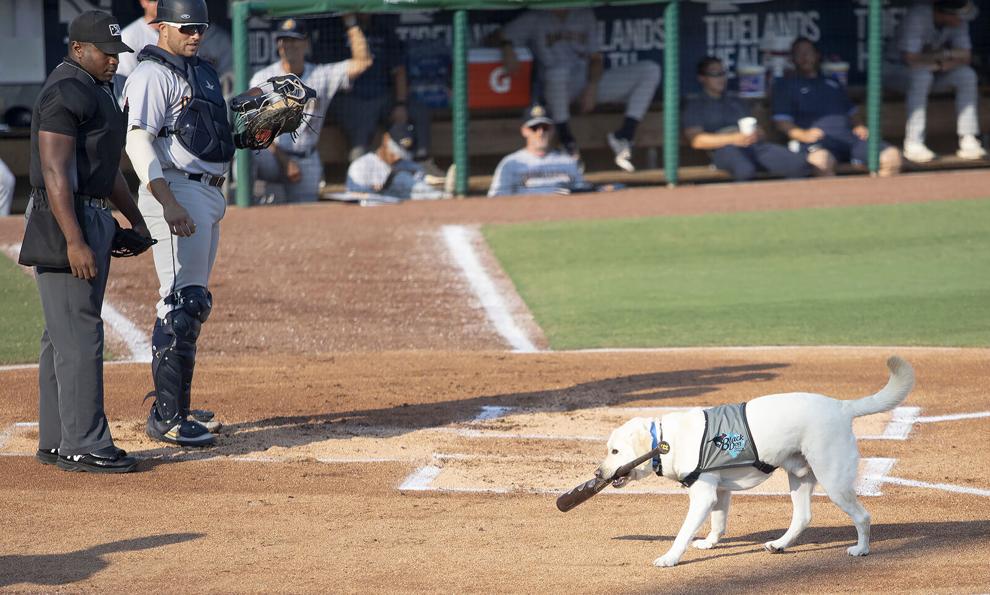 Horenstein said that Slider is the popular guy in the ballpark, something that fans and members of the organization have missed.
"This past year, we've kind of realized how much all those little things we take for granted and it's been awesome to have that back," Horenstein said.
Horenstein lost his dog last August and said that having Slider back has been therapeutic.
"I'm really just happy that he's back because he adds so much to our experience here at the ballpark," Horenstein said.
Over the weekend, fans of all ages lined up near guest services inside the park to take a photo with the happy pup.
Gretchen Farrell was visiting the area with her family and has been coming to Pelicans games since she was a student at Coastal Carolina University 20 years ago. Her children couldn't stop talking about Slider after getting a photo with him.
"My kids absolutely loved it," Farrell said. "It's really neat. They wanted it on tape so they could look at it over and over again."
Horenstein said that as Slider gets acclimated back to life in the ballpark and on working on gamedays, they've done well with keeping him away from fans giving him French fries or nachos.
"He's a Lab so he's pretty food motivated," Horenstein said. "He's been good. He's getting far more pets than he is nachos."
Those pets are something that Slider seems to enjoy.
"He's an attention hog," Beckerman said with a laugh. "He absolutely loves attention, he loves people. He gets upset if people don't give him attention. He has such a big personality."
For some, Slider's return can be viewed as a sign that everything is returning to normal.
"First it was full capacity. Then it was on-field access. Now, it's dugout access," Horenstein said. "As we continue the season, more and more things we are used to are coming back and falling back into place and [Slider's return] is definitely one of those feelings that makes us go 'Alright, we're back at it.' And that's so cool to finally have."
Beckerman feels overwhelmed with the amount love that Slider has seen since he returned.
"It's awesome to see how much fans care for him," Beckerman said. "You wouldn't think so many people would care for your dog."
The Pelicans have 24 more games over the course of four homestands at Pelicans ballpark and will return to the Grand Strand for a six-game series with the Charleston RiverDogs on Tuesday, Aug. 10. Slider will be picking up the bats in the bottom of the first and seventh innings and available for photos in the middle of the third inning.