For football junkies and sports enthusiasts, Broadway at the Beach's latest attraction is a literal walk through history, dedicated to preserving the legacy of football's finest. 
Gridiron Glory, the Best of the Pro Football Hall of Fame, officially opened over the Fourth of July weekend in Myrtle Beach. It is the only extension of the original Pro Football Hall of Fame, which is located in Canton, Ohio, and features over 200 pieces of memorabilia that will take fans on a trip down memory lane. With game-worn jerseys from the likes of Walter Payton, Johnny Unitas, Tom Brady and other NFL legends to ticket stubs from previous Super Bowls, the 9,000-square-foot museum showcases pieces of NFL history.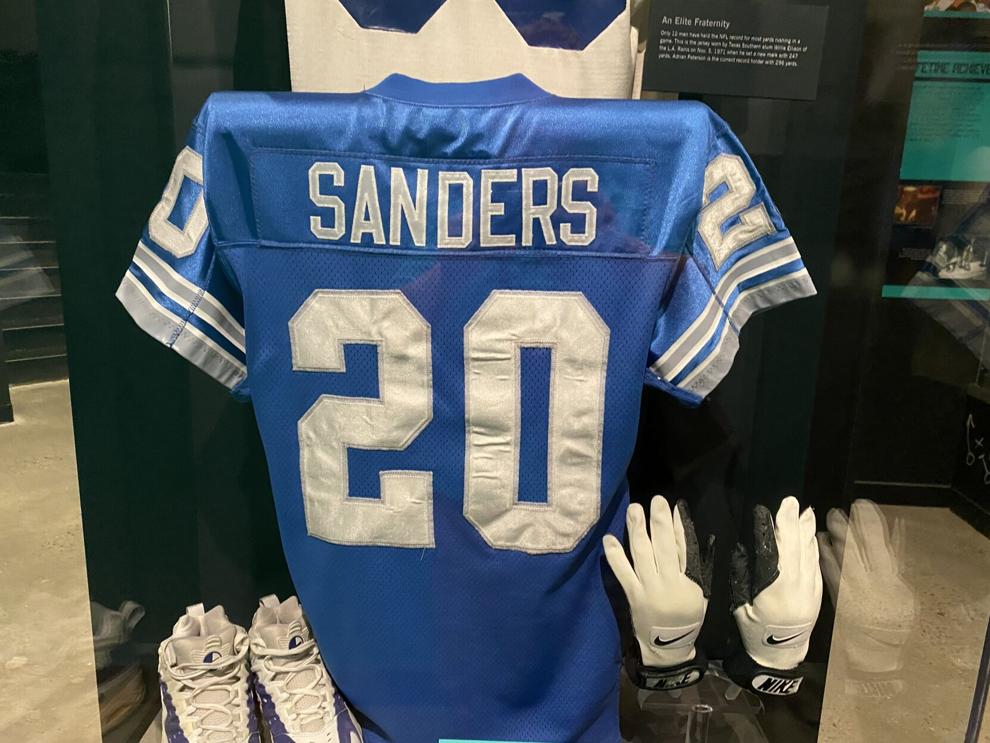 General manager Kevin VanDuser said that bringing the Pro Football Hall of Fame to Myrtle Beach fills in a piece that the area was missing.
"There's not many sports attractions really," VanDuser said. "The amount of people that are brought through Broadway and through Myrtle Beach in the summer, it was a no-brainer."
When one walks into Gridiron Glory, they are met with pieces of football history that date back to World War I, including the likes of the Canton Bulldogs and the original artifacts from when professional football was in its infancy.
"The Hall of Fame handles each artifact with such care, such delicacy that these artifacts look like they just came off someone's body," VanDuser said.
As one continues their journey, the Champions Theater boasts a collection that any football fan would be jealous of. While a video plays on small TVs overhead, guests can walk around the half-circle and come face-to-face with game-worn jerseys from Brett Favre, Peyton Manning and Joe Namath. The centerpiece of Champions Theater is one of two Vince Lombardi Super Bowl Trophies that are used by the Pro Football Hall of Fame for appearances and special events. The other trophy resides in Canton.
"It gives you chills to be a football fan and be that close," VanDuser said.
Around Champions Theater, there are displays dedicated to the coaches and officials that have played a part in making what the game is today. For those that want to relive some of their team's favorite moments, there is an exhibit called "Fantastic Finishes," which is dedicated to some of the most heart-stopping moments in NFL history such as "The Catch" and the "Music City Miracle."
Upstairs, there are more relics from football's treasured history including Tom Brady's draft card that was read the day the now-seven-time Super Bowl Champion was drafted in the sixth round of the 2000 NFL Draft, along with game-worn memorabilia from former and current greats like Jerry Rice and Rob Gronkowski.
For VanDuser, the game of football is huge in his family and the opportunity to work in a place surrounded by iconic pieces of football history is something he views as a blessing."
"My house is God, family and football," VanDuser said. "It's a great experience."
With the original Pro Football Hall of Fame being a little over 10 hours away from the Grand Strand, VanDuser said that this attraction allows fans to get another taste of Canton. VanDuser said that there have been some visitors so far that have experienced the original Pro Football Hall of Fame in Canton but also those who live in Ohio and have never been to Canton.
"They consider this trip easier, I guess because they vacation here and they've shared with us the excitement that they were able to come see Gridiron Glory," VanDuser said.
With Myrtle Beach already being called "the golf capital of the world" and also events like the Beach Ball Classic and Cal Ripken tournaments, VanDuser calls the addition of Gridiron Glory to the Grand Strand a perfect fit to an area that prides itself on being a sports tourism location.
"The town needs it," VanDuser said. "The tourists love it. It only helps this area grow more."
Going forward, VanDuser said this is just the beginning for the Pro Football Hall of Fame in Myrtle Beach. While the exhibit is committed to the area for at least two years, VanDuser wants to see this attraction be a mainstay for the Grand Strand.
"Our goal is to have the exhibit stay here forever," VanDuser said. "We're working on some football fields, either at Broadway or close by that way we can host combines and camps. We are going to work close with Coastal Carolina. We're big fans of the season they had last year and their growth. We're close to the Carolina Panthers. It's a no-brainer and the town and leadership here is awesome. They've always been sports focused and we hope to continue to grow that."
VanDuser said that Gridiron Glory is looking to host a few signings with Hall of Fame members as well as host some golf tournaments in the future with Hall of Fame members. For more information on those events, visit www.hofmyrtlebeach.com.
Gridiron Glory, the Best of the Pro Football Hall of Fame, is located next to Wahlburgers and is open seven days a week from 10 a.m. to 11 p.m.