Local law enforcement is looking to help children in need — one teddy bear at a time.
The Horry County Sheriff's Office and the Myrtle Beach Police Department have partnered with Conway Medical Center and the Myrtle Beach Pelicans to help distribute 500 stuffed animals to children in stressful situations.
The sheriff's office will receive 250 teddy bears while the MBPD will get the rest. Both departments will be giving bears to officers to have in their cars while the sheriff's office plans to have bears available at the courthouse in Conway.
"This is a simple way to show kindness and to spread love through kids," said Sgt. Jeff Benton with the Horry County Sheriff's Office.
Benton added that some bears will also be going to victim's advocacy groups, where he believes they will go a long way.
"It's a very inexpensive way to show love and kindness and affection in a job that sometimes doesn't put that off," he said.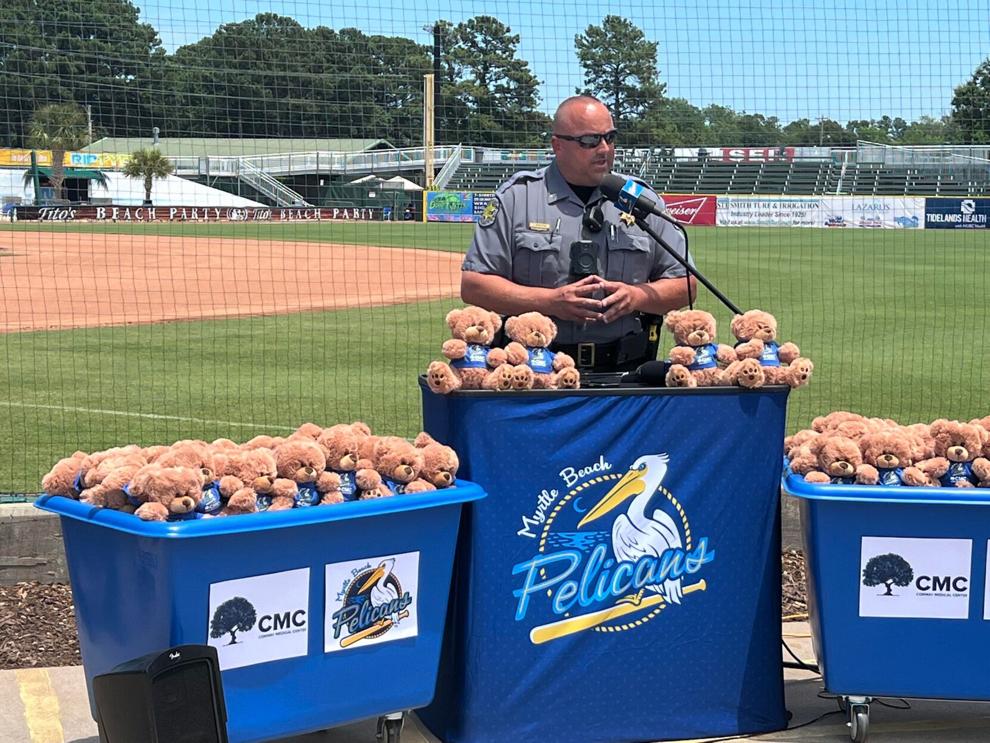 Benton also hopes this initiative helps police officers leave positive impressions.
"A lot of times I could be just walking through the mall and a kid sees me in uniform and is not sure if they want to approach, not sure if they want to be scared, wondering why the police are there," Benton said. "Then you see them and you got a teddy bear, you got something to offer. You got love to show. And I love that part about it."
Having these teddy bears readily available will not only help kids get more comfortable with officers but can also calm them during tense situations such as a car accident or a house fire, Benton said.
"To have a teddy bear to hug and hold … we think it's just fantastic," Benton said.
Kristin Call, general manager for the Pelicans, said planning for this initiative started before the season and she's glad to see the project come to fruition.
"We're always looking for new ideas, especially those that are going to be impactful to the community," Call said.
Looking at the bears, Call loved how warm and welcoming the stuffed animals are, making them ideal for this initiative.
"I think he's very cuddly and cute, personally," Call said.
In years past, Benton recalled times when he handed out pencils and stickers to children at scenes. Benton said handing out a stuffed animal gives a child something they can keep for a long time.
"They're not going to rip it off or throw it away," he said. "Let's face it, they're going to hold it. They're going to keep it in the car. They're going to remember that person in uniform that actually gave it to them."
If the initiative is well received, Call said there will be conversations about giving more bears to the police departments. In the meantime, she hopes the bears serve their purpose – creating comfort.
"If us and Conway Medical Center can come together and help the officers do that and achieve that goal," she said, "then I think that's a win for everybody."