The peacocks that amble about Holly Circle are two birds of a feather.
The bachelor birds have a mystery following them as long as their tail feathers. Some of the Socastee neighbors say peacocks have been living in the neighborhood since the 1980s while others swear they were blown in by a hurricane about a decade ago.
The pair have turned the small Socastee neighborhood into their habitat by perching on sheds, strutting around porches and even fanning out in defiance when cars back out of driveways.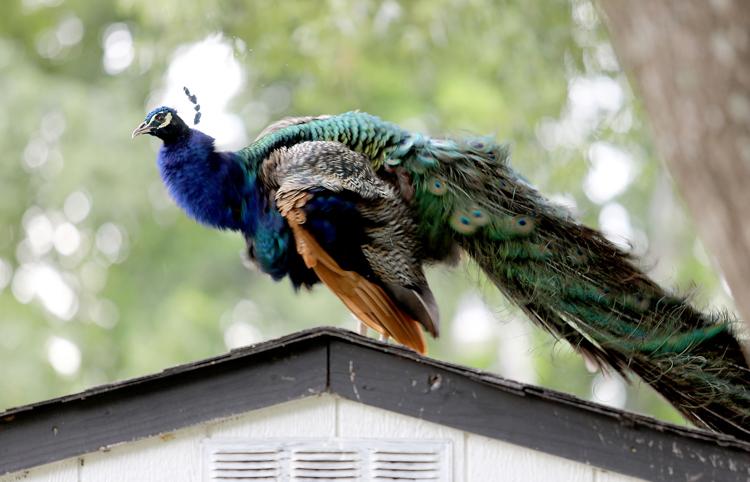 "It's just like a feral cat," said Stephanie Rosenberger, who's lived on Holly Circle for about three years. "They're just our neighborhood pets."
The origins of the two peacocks' arrival are unclear, with each resident seemingly having their own story as to how and when the pair took up the neighborhood as their home.
Wanda Smith has lived in the neighborhood for more than four decades and said the pair could be remnants of a family of four who wandered the community in years past.
Jessica Fincher, who works at an auto repair shop up the street, claimed the birds have been in the community since the late 1980s when Hurricane Hugo swept through the region.
Rosenberger said the two escaped confinement around 10 to 12 years ago.
One belief was that the animals originated from Waccatee Zoo off Enterprise Road, though Jeff Futrell, whose family owns the establishment, assures this is not the case.
Regardless, the two have become staples of the community.
"They're awesome," said Rosenberger, who first saw them when viewing what is now her home.
"It's the first time I'd ever seen one outside of a zoo," she said.
Rosenberger laughed as she remarked how she no longer leaves a bowl outside containing food for her cats because the peacocks would eat it all.
"It's definitely a discussion point," she said, adding the birds don't appear to be bothered by her pets. "Whenever I have company or people drive through this neighborhood looking for a cut-through … they always stop and look and take pictures on their cellphones."
Though neither are named, the monikers "Pretty Boy" and "Mister" have been used to refer to them.
At nighttime when it sleeps, one has even roosted by clutching the fence surrounding Rosenberger's home.
"They don't bother us," said Jon Brown of Brown's Car Care Center.
Even the bird's yelps have become customary for those living in the neighborhood, with Rosenberger comparing the frequency of the noise to how often the sounds of overhead planes that often pass by are heard.
Brown recalled when, years ago, he heard what he thought was an elderly woman being strangled and yelling for help, only to realize it was a peacock.
The two birds in the neighborhood are Indian peafowl, many of which are found in the United States. Peacocks refer to male peafowl and peahens are female. Babies are peachicks.
During mating season, the males' will extend the tails with their striking feathers in an attempt to woo female counterparts. Experts said it takes a peacock three years to sexually mature and peahens will usually live for two years or so before they will start laying eggs.
One by one, about half a dozen peacocks could be seen on the grounds of Waccatee Zoo showing off such ornate patterns.
Futrell eyed one of the creatures that shook its tail feathers while trying to impress a peahen resulting in a noise similar to that of a shaking rattle.
"Like a 16-year-old boy on the boulevard," he said.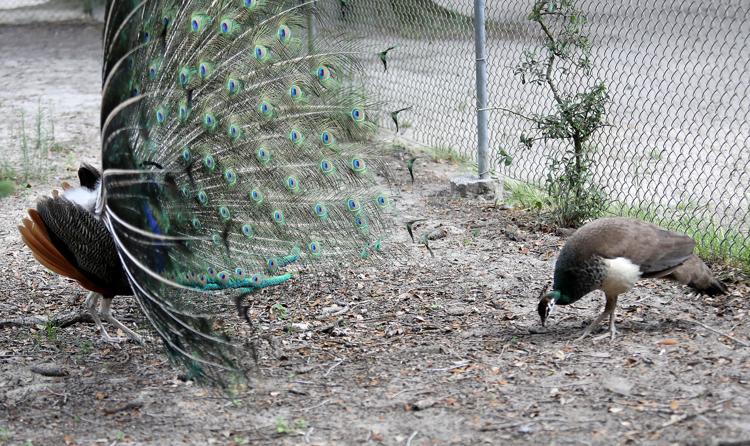 Futrell said the two peacocks on Holly Circle aren't the only ones that have wandered Socastee neighborhoods, highlighting the locality being largely comprised of farmland in the past. He said peafowl are often kept as ornamental animals.
"They're beautiful birds," he said.
Dennis Fett, who helps run the Peacock Information Center, and has written books titled "The Wacky World of Peafowl" volumes 1 and 2, noted peafowl can range in color from blue to green and even white.
The man sometimes called "Mr. Peacock" has several peafowl on he and his wife's farm in Iowa, and the two offer eggs for sale.
Many who acquire peafowl, from places like farms, might acquire the birds to have something to talk with visitors about. For some, having a peacock can be almost a status symbol.
As omnivores, peafowl aren't picky eaters, and will ingest things like bugs, greens, grains and fruits.
Futrell said he has also fed the birds at the zoo things like grain, bread and worms.
Birdseed is often scattered on the ground outside Smith's home in Socastee for the birds and the Holly Circle peacocks will often eat things like raisins and peanuts fed to them by locals.
As for the birds on Fett's property, he's noticed them begin to molt feathers starting typically in July and August and even as late as September.
"It depends on the bird," he said.
On Holly Circle, neighborhood kids tend to pick up feathers shed by the ones in the community.
Around the time fall arrives, one will usually see new feathers start to show up on the birds' tails.
Fett and others noted peafowl attacks are uncommon, though they can end up devouring flowers and vegetables people don't want them to eat.
Loretta Smith, vice president of the United Peafowl Association who also has a peacock farm, said normally if a human approaches one of the birds, it will try to flee and may harm a person in an attempt to get away.
However, Extension Poultry Specialist Emerita Francine A. Bradley of the University of California, Davis, advises community members to keep the animals, which often live into their teens, confined, as they can cause overpopulation problems for suburban areas. According to Fett, one nest can contain anywhere from three to eight eggs.
While some are kept in places like ranches to act as guard birds, Bradley noted feral ones can be destructive to other birds' habitats.
But the two bachelors that stroll Holly Circle aren't bothersome to those like Maria Garcia and her husband Juan.
Maria smiled while gazing at one moseying from her yard to beneath her carport, bobbing its head all the while and carefully moving one foot at a time.