As Jeremy Church sits with a customer inside the Gracious Pig Smokehouse in Surfside Beach, the smell of slow-cooked meats fills the dining area, while a clattering of shot glasses being gathered can be heard in the background.
Church, a Surfside Beach native, is the Director of Operations for Dining & Design. He and Vice President Richie Huggins, a North Myrtle Beach native, have been working from the get-go to make sure the Gracious Pig Smokehouse gets up and running.
The Gracious Pig Smokehouse is a part of a multi-restaurant block located near the Surfside Pier. Pizza Hyena, which Gracious Pig sits across from, was the first restaurant to open up in June 2019. Following the Gracious Pig's opening a little over two weeks ago, a third restaurant called Chimichanga Llama, is expected to open in December or in early January 2022.
"It's long overdue," Church said. "Surfside needed something like this."
The road to the Gracious Pig's opening was anything but gracious. The COVID-19 pandemic, delays in construction, along with working on building inside a major flood zone were just some of the setbacks the Gracious Pig faced.
"When you're building in Zone A, the flood zone, it's a little more difficult to get things done," Huggins said. "You better have all your I's dotted and your t's crossed and we look forward to a long-lasting relationship here."
Prior to the restaurant's opening, the Gracious Pig tested the waters with a food truck and was a staple at Lakewood Campground and also served up festival-goers in May at Carolina Country Music Fest.
"It worked out very well for us," Huggins said.
Since opening, Huggins said he's noticed customers return four, five, even six times since their first visit. Even folks who were regulars at Pizza Hyena have made their way across the street to test out the new restaurant on the block.
What's on the menu?
The menu at the Gracious Pig is simple — yet has flare. Visitors can start their meals with a plate of porchos — a crispy, fried pork skin drizzled in queso cheese, chopped smoked bacon and topped with diced green onion. Following the appetizers, one can order the pulled pork sandwich or pick from the various meats — pulled pork, smoked sausage, pork ribs, sliced smoked turkey, wing dings or sliced brisket — and up to two sides.
The meats at Gracious Pig are smoked anywhere from 12 to 16 hours. All of the Gracious Pig's sides are homemade, and there are no plans to change that, Huggins said.
"That's one thing we're going to continue to do," Huggins said. "Even though it's a little more labor intensive. It's a little more expensive. We've taken a step up in product. People do regular butter beans, we do speckled butter beans. We got brussel sprouts where we add white queso and bacon."
If you're in the mood for a drink, the Gracious Pig has you covered. The bar is filled with a variety of liquor and even moonshine. A signature of the Gracious Pig is their liquor flights, or a sampling of different liquors.
"We got a Kentucky, an Irish and an Old Smokey Bourbon," Huggins said.
Huggins added when it comes to the moonshine, the apple ginger with apple pie moonshine had high praises.
"It's to die for," Huggins said, adding that the "Pigs Punch" mule is a pretty good drink as well.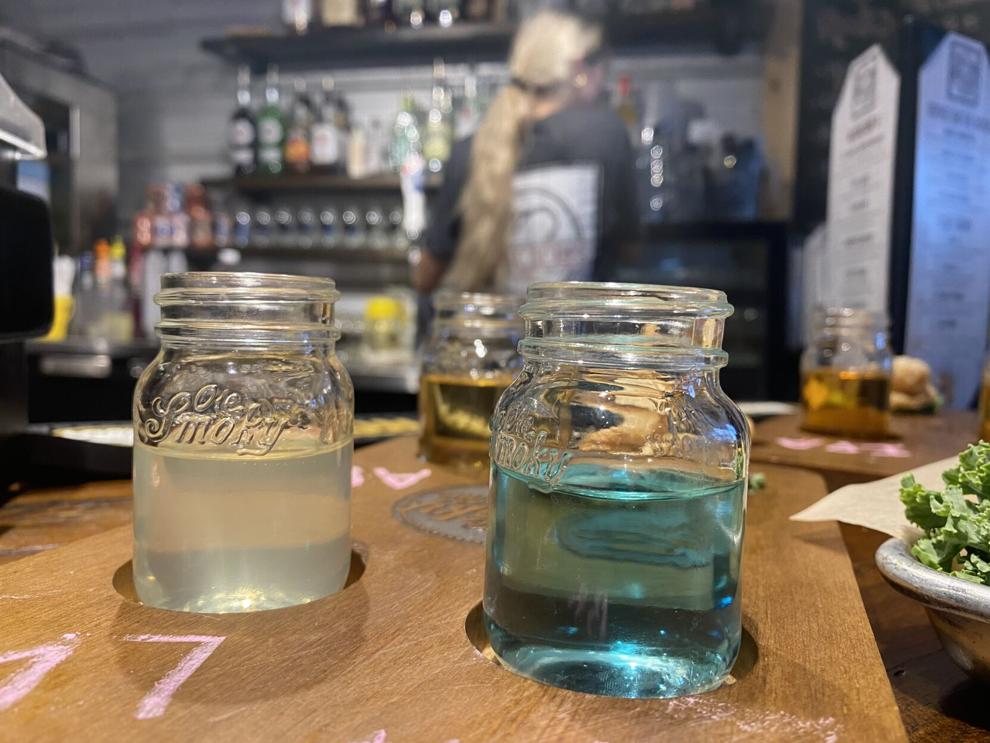 Huggins said the experience that Church has in barbecue is what puts his food above the rest.
"All of our rubs, our turkeys, our butts, our briskets are Jeremy's recipe and his rubs are as good as anybody's in the state of South Carolina," Huggins said. "Some of the seasonings he uses are sometimes out of the square and he makes it work. Little bit of sweet, a little bit of spicy and he makes it work."
When it comes to what makes the recipe so special, Church said it's a simple ingredient.
"We like to say that we make it with love," Church said.
The prices for the food are reasonable, with an order of three slow-cooked meats and two homemade sides ranking as the most expensive item on the menu at $18.
"We want people to stay in this community and spend the money here," Church said. "That way the people in the beach houses don't have to get up and go all the way to North Myrtle or down to Garden City."
Keeping the business going
Throughout the summer, local restaurants faced a staff shortage. Huggins said while it has been hard getting staff for both Pizza Hyena and Gracious Pig Smokehouse, he and Church have been blessed with a great group of college workers who are up for any challenge.
"To be honest with you, I think we have the greatest group of young people in Horry County," Huggins said.
Huggins added the location of the restaurants play a huge role in the staff's desire to work.
"I think the kids want to work here [in Surfside] instead of being up on 17 or in the heart of the city," Huggins said. "If they live in Surfside, they can bike here. And the atmosphere is really nice here, man. We've done a good job of presentation."
The Gracious Pig can seat nearly 100 people, with much of the seating available on the outside patio.
Moving forward, Huggins said he wants to see Gracious Pig Smokehouse appear in more locations across the Grand Strand and in the Carolinas. That includes the other restaurants in Pizza Hyena and the soon-to-open Chimichanga Llamas.
"We're not just opening to have one," Huggins said. "We're hoping that this is one of many, at least three or four of each."
Gracious Pig Smokehouse is located at 12 S. Ocean Blvd. in Surfside Beach, across from Pizza Hyena. It's open from 11 a.m. to 9 p.m. daily.