Downtown Myrtle Beach business owners could be paying the city more money.
City council approved the first reading to create the Municipal Improvement District (MID), which would fund such things as street beautification, additional sanitation services, enhanced security, marketing, special events and research to support neighborhood economic development.
Amy Barrett, president and CEO of the non-profit Myrtle Beach Downtown Alliance (MBDA), said creating a MID in Myrtle Beach adds to the importance downtowns can have on communities.
"Downtowns can be the heart and soul of a city," Barrett said. "It's really important to the city's identity, image and brand. A downtown could be the place where people come to meet their neighbors, gather around important events, really the heart and soul of a community."
The downtown district included in the MID stretches from 21st Avenue North to 12th Avenue South reaching from Ocean Boulevard, across Kings Highway and into the Withers Swash neighborhood. There are roughly 3,650 properties in the MID, Barrett said. Those properties have an assessed value of $60 million, which was calculated at 6% of the properties' market price.
The commercial property that would be included in the MID are high-rise resorts, T-shirt shops, restaurants and residential rental units. Properties that are exempt from the MID include full-time residential units, city-owned property and churches.
City councilman John Krajc said some homes, such as second homes and investment properties, that fall within the MID and are assessed at 6% will be a part of the district. He added no homes assessed at 4% are included in the MID.
City council approved a resolution in mid-April to adopt an improvement plan for the downtown district with an overall cost just under $14 million. The city estimates that the improvement plan will be accomplished by June 30, 2032.
The MID will be funded through revenues from program services, hospitality tax revenues, parking revenues and contributions or grants from other parties, including other governmental entities and private parties.
Should the new district be approved by city council, commercial property owners will be billed 1% of the assessed value of their property generating about $600,000 for the coming fiscal year and $10 million in a decade.
The potential formation of the MID culminates from several years of effort by city officials, business owners and community members. Mayor Brenda Bethune said city council has been examining and studying similar districts for nearly four years.
"I don't want anyone to think that this was a rash decision to look at something like this," Bethune said.
Krajc added to Bethune's comments, describing the process as "careful and strategic."
"When you're imposing any new kind of district in an area, the first thing you think about is tax. And rightfully so," Krajc said, noting the way a district like the proposed MID would operate requires a lot of research.
While there is more work to be done, Krajc added there is a lot of hard work that has already been done – something Barrett noted in her presentation to council Tuesday.
"This is not a new effort but builds on past progress and picks up momentum so that we can keep going, making progress in our downtown area," Barrett said.
While the MID may be a new funding method for the Myrtle Beach area, South Carolina has seen similar developments in areas such as Columbia's Soda City Market and Charleston's King Street Retail District.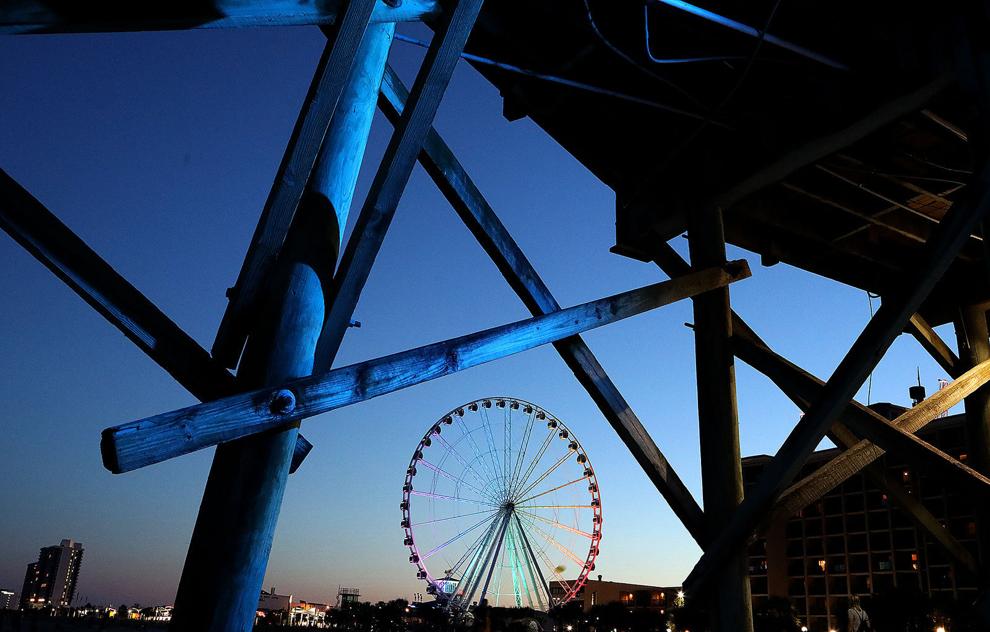 City councilman Mike Chestnut showed his support for the MID Tuesday, saying this district is "a long time coming."
"I am glad to see this kind of partnership with the city," Chestnut said. "It's just exciting."
Fellow councilman Phil Render echoed Chestnut's support.
"The infusion of extra resources in a concentrated area, I think gives planners more latitude without having to consider the whole city in the mix," Render said.
Some members of the public shared similar opinions to that of councils.
"The economic development piece of this cannot be underscored enough," said Jason Green, who is also a member of the city's Technology Advisory Group.
Earlier in the year, Barrett, along with other members of the MBDA, including Clay Brittain III, were struggling to muster support for the MID.
"The response has been underwhelming," he said back in February. "People are really not calling us back and saying, 'Hey, what's all this about?' And that kind of thing. So, we're going back out to the property members and talking with them."
Now, Barrett said the support is there.
"We are at a tipping point and we want to tip in the direction of progress," Barrett said, noting properties totaling $19.5 million in assessed property value, or 32% of taxable property, have indicated written support for the district.
Render said he doesn't see a reason to oppose the MID. 
"The thrust is to provide a little funding autonomy that is directed to a specific district paid for by that district largely," Render said, adding if his business was located in the MID, he would whole-heartedly support the new district.
The alliance is a committee of city officials both elected and employed, business owners, educators, community leaders and nonprofit representatives. The alliance committee was chosen by One Grand Strand. One Grand Strand is a nonprofit made primarily of downtown business owners with the objective of following the city's downtown redevelopment efforts by luring investors.
In terms of oversight, Krajc has full confidence in the committee.
"You have a really diverse board of people who can oversee it as well as being a non-profit organization, they're also fully accountable to the public," Krajc said, referring to the public's ability to request documents from the non-profit. 
Moving forward, the city will hold a second reading on the MID at a later city council meeting. In the meantime, the Myrtle Beach Downtown Alliance will continue to hold community listening sessions throughout June. Barrett noted the public is welcome to attend their board meetings held on the third Thursday of each month, 2-4 p.m. at the HTC Aspire Hub on 9th Avenue North.