Have you ever wondered what could make the perfect milkshake even more perfect? Would a brownie do the trick? How about a full-size Reese's cup?
That is exactly what is being served up at the Crazy Mason Milkshake Bar.
The Crazy Mason first opened its doors on June 5, 2020, inside 810 Bowling at The Market Common. Before they went "crazy," founders Bo and Sherri Steele saw a similar idea and felt that something like that belonged in Myrtle Beach.
"We thought Myrtle Beach had nothing like this," Bo Steele said.
At the time, the space in 810 where the Crazy Mason is located now wasn't occupied. Steele, who was working for U.S. Foods, spoke to the folks at 810 and they agreed to let the Steeles try their venture out.
Steele said even if the business didn't work out, there wasn't much to lose. The idea started out so simple. The store would be run by the couple and the two high school girls they brought on as staff. Bo Steele said that if things went well, he would still have his full-time job at U.S. Foods while his wife would leave her position as the marketing director for the Myrtle Beach Regional Economic Development Corp.
"She was just going to manage those two girls, we'd do about $400, $500 a night and we'd make about what she'd make in a year," Steele said. "We'd be good to go."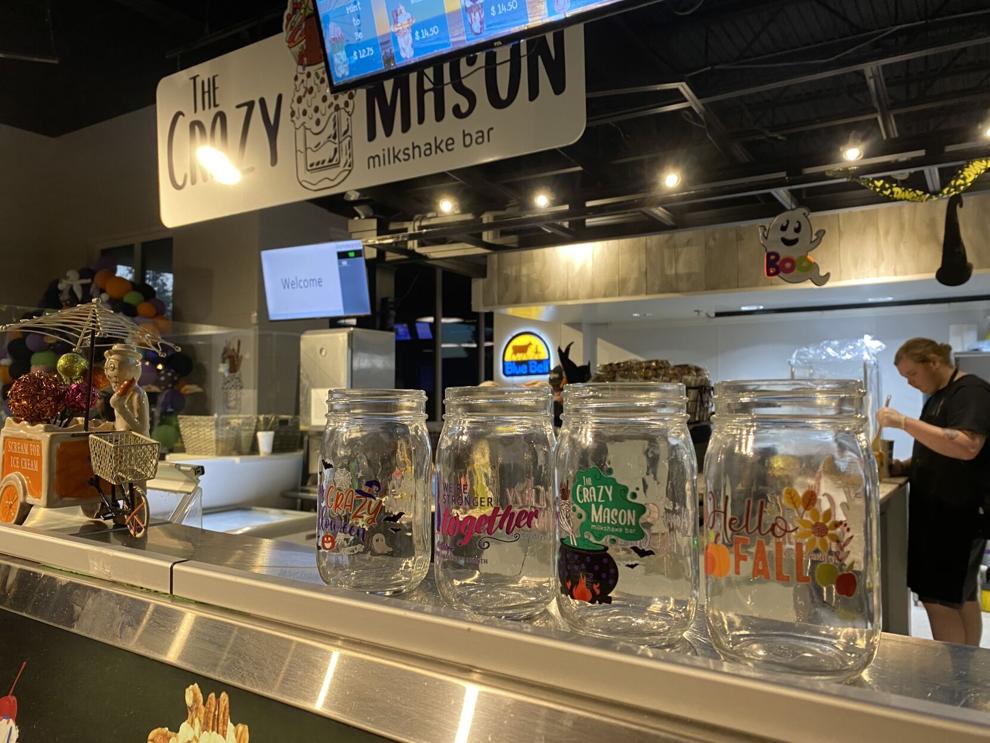 The Crazy Mason brought in a little close to $2,000 in its opening weekend. Bo Steele said his wife started the social media for the milkshake bar, posting a simple post on Facebook saying "The Steeles have gone crazy!" From there, it took off.
"It just grabbed everybody's attention," Steele said. "It took a life of its own."
Steele said the following day, the line was out the door and down the sidewalk when he came in.
"We didn't know what to do," he said. "[The line] went all the way back into the arcade and around. It was insane."
Bo Steele said that night the Crazy Mason ran out of items they had and were forced to close up shop early. Still, Bo Steele did not want his customers to leave disappointed.
"I physically walked the line and apologized to every single customer and handed them a free milkshake card," Steele said.
Over a year later, Steele said that there are people still popping in with that free milkshake card that he passed out on that June night.
While the pandemic had its burdens on small business owners, Bo Steele had a different perspective on how the pandemic affected the Crazy Mason.
"It was a blessing for us," he said. "We caught everybody hanging out on their phones, off work."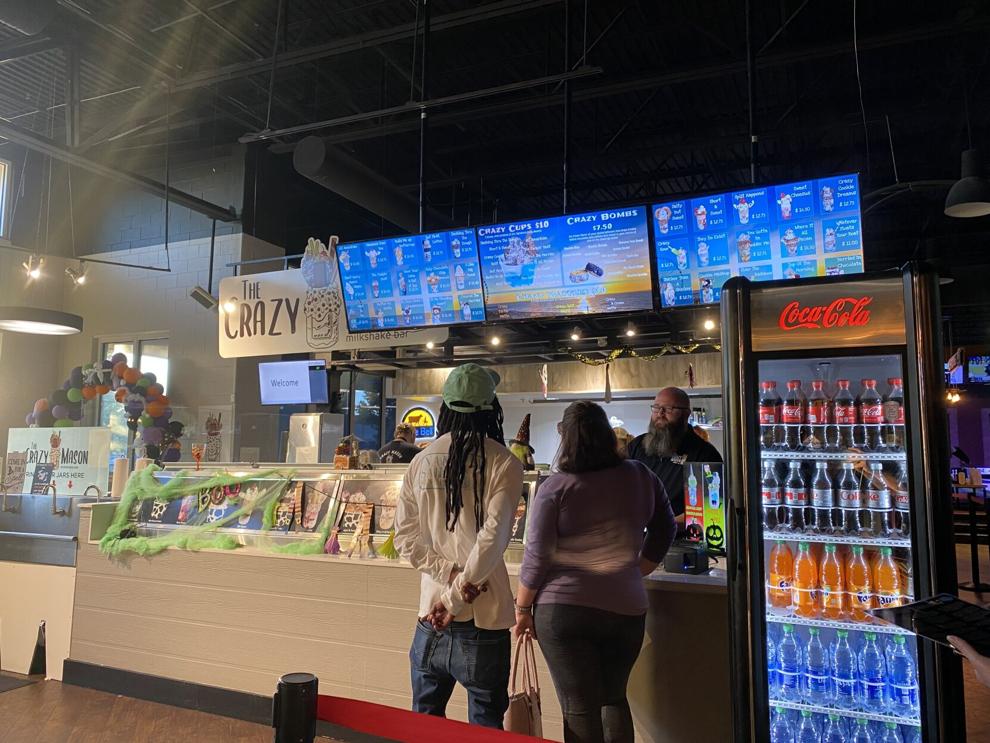 The growing success of the business had its pros and cons for the parents of three children all under the age of 10. Sherri Steele was able to leave her job within a month of the store's opening. However, Bo Steele still found himself circling back to the Crazy Mason.
"It quickly became that I was working my job and here every night," he said.
Bo Steele left his full-time job in September as the couple grappled with a massive decision.
"We had to make the decision then and there," he said. "Were we going to just be a one-hit wonder ice cream store? Or were we going to build something?"
It was a decision that has certainly paid off nearly a year-and-a-half later. Steele credited numerous people to the milkshake bar's success, ultimately praising the staff that makes the experience all worthwhile.
"Our staff is our glue," Bo Steele said. "Our product is awesome, but I say that if we don't offer great customer service and a great experience, that great feeling when people come into the door, then we really haven't done the full job."
Bo Steele said the key to the business's success is also what separates a Crazy Mason Milkshake from the rest.
For starters, all Crazy Mason milkshakes are served in a mason jar that the customer gets to keep. The ice cream used in a Crazy Mason Milkshake is Premium Blue Bell Ice Cream. Everything is made by hand and made to order.
"We like our milkshakes to be super thick," Steele said. "It's really just the experience and the creative side of them."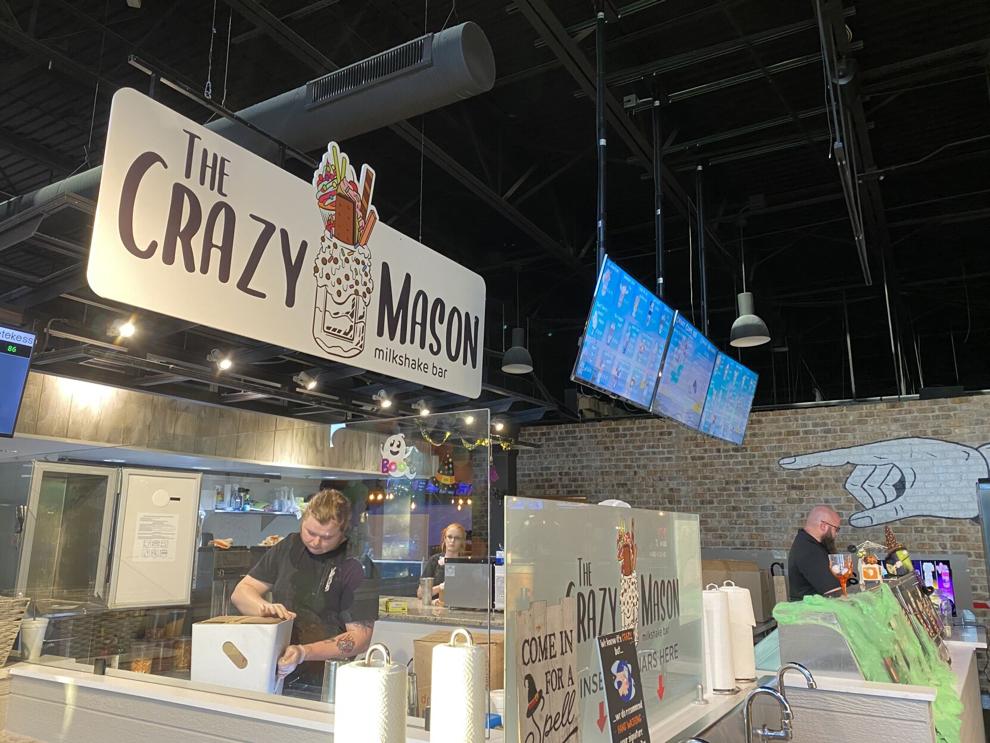 Steele said his team tries to offer the entire package.
"It's not only about give me a chocolate shake with Oreos," Steele said. "We come up with great name for our shakes and we marry that with great flavors and great combinations."
The entire package can certainly be seen in milkshakes such as the "Mint To Be." For the "Mint To Be," chocolate sauce is squirted around the inside of the mason jar before being loaded with mint chocolate chip ice cream. The rim of the mason jar is coated with chocolate fudge, which is then covered in chocolate mint sprinkles.
That's not all. The Mint To Be is then topped off with a chocolate brownie covered with chocolate flavored whipped topping that is showered with mint sprinkles and crushed Andes mints.
And that's just one of the over 60 milkshake options that the Crazy Mason has to offer. The "Bananas Over You" milkshake features a full banana while "But First, Coffee" is topped with a doughnut and crushed Oreos.
"Other people that try to do this just try to put a bunch of stuff on something and make it look good," Bo Steele said. "We really do, and my wife does a lot of this, think long and hard about the combination of flavors that go in our shakes and how all the flavors really marry well together and make a really great experience."
With everything that goes into a Crazy Mason milkshake, one can't even fathom how many calories are in just half of a single shake. Don't worry, though. You're at the Crazy Mason – where the calories don't count.
Bo Steele said the story behind their slogan just casually happened with a customer.
"I was at the register and the lady was trying to decide what she wanted and her comment was 'I just don't know what I want, I can't imagine how many calories are in these things,'" he recalled. "And for whatever reason, out of nowhere, my brain just goes 'Well, you don't have to worry about it, the calories don't count here.'"
Bo Steele said later that night he spoke with his wife about that interaction and she loved it. That next morning, he called his lawyer and trademarked the slogan.
The Steeles have also trademarked the names of their milkshakes, including some that always seem to get a kick of out the guys in the store.
"We got the shake 'I Like Big Buns' and I can't think of one older man that has ordered that and just laughed or looked at his wife sideways," Steele said. "It's the experience. It's not just about coming in the for the ice cream."
Prices for the shakes range from $12 to $15, but that also includes the mason jar that you get to take with you upon completion of the milkshake. Customers can also purchase mason jars for $5 each. Throughout the month of October, the Crazy Mason had Halloween-themed mason jars available for purchase. They also had Breast Cancer Awareness mason jars and proceeds from those sales went to breast cancer research.
Bo Steele said there will be Christmas-themed mason jars coming soon just in time for the holidays.
What started as a four-person operation inside a bowling alley in The Market Common has now turned into a multi-state chain for the Steeles. This past summer, the Crazy Mason opened a second location in North Myrtle Beach inside the 810 Bowling on U.S. 17 South.
"It's been a roaring success," Bo Steele said. "We got a great team up there."
The Crazy Mason crossed state lines when it opened its third store in Gatlinburg, Tennessee, an opportunity that came from a friend who was also a former customer of Bo Steele's back in his food services days.
"He kind of needed a change of pace in life," he said. "His brother is an investor and they approached me after the success they saw here and they felt that Gatlinburg would be tremendous."
Steele said while the store in Gatlinburg isn't the size that is necessarily needed, the location has done incredibly well.
"It's exploded there like it's done here," he said.
The Crazy Mason is set to open its fourth location in Greenville by the end of October. Two more locations in Charleston and Charlotte are expected to open by the end of this year. Bo Steele said they are exploring options for locations in Florida, Georgia and Virginia.
"The important thing is to not go too fast and make sure everything gets done very meticulously and very properly," he said.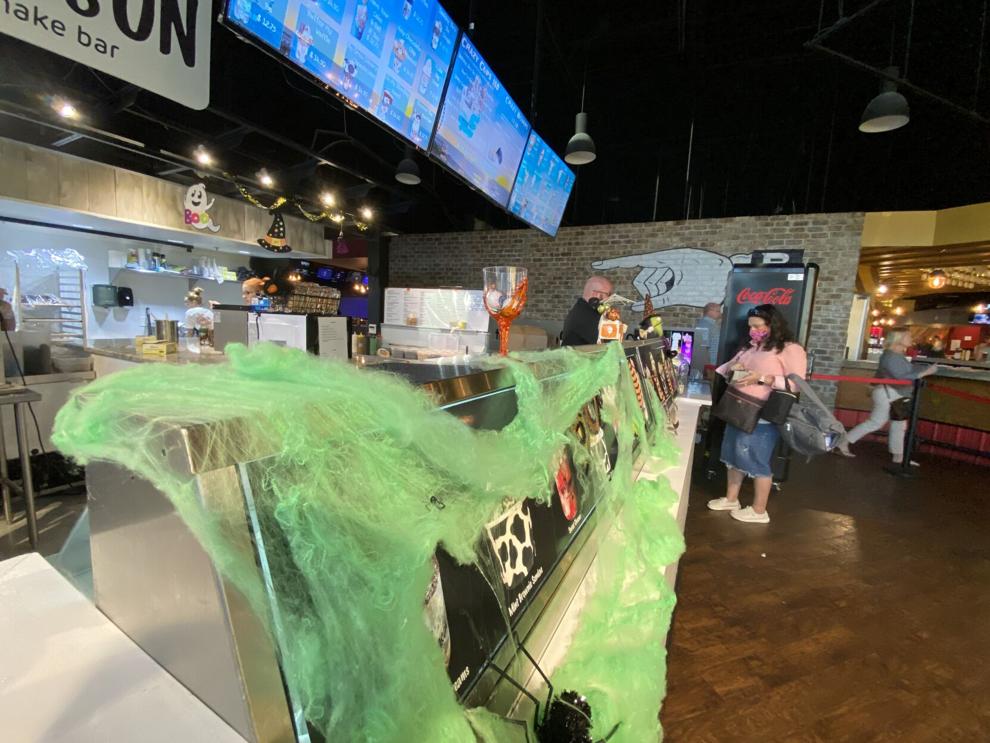 Bo Steele said the people overseeing the Charleston and Charlotte operations were thoroughly vetted.
"This isn't the kind of concept that I want an investor to come in and say 'Hey, I want 10 of these' and not know what he's doing," Steele said. "I want someone that comes in here and puts their blood and sweat into it and they're looking for something for their family."
When it comes to family, Bo Steele said the Crazy Mason is something that he and his wife created for their three kids and that they're the reason he and his wife work so hard.
"This is theirs," Bo Steele said. "We try to make them proud."
Bo Steele said he and his wife have become celebrities in the household and at their children's schools.
"They love it, especially our oldest," Bo Steele said with a big smile. "He loves to wear the shirts. They're definitely the milkshake kids."
The Crazy Mason Milkshake Bars in The Market Common and at North Myrtle Beach are open daily from 3-9 p.m.