Heading to his mother's house, Regie Scott pedals a Huffy toward Mr. Joe White Avenue in Myrtle Beach.
The beach cruiser he checked out from the New Directions men's shelter is one of several bikes available at the facility to help folks get where they need to go.
Scott, who stays in the men's shelter, uses it to get to the DMV office, look for an apartment and even get some exercise or fresh air. It's a lot different from when he used to travel everywhere on foot, which could be tough.
The 44-year-old Scott has already had his spleen removed, endured a heart attack and had several mini-strokes.
Called the Rolling Forward program, the bike sharing initiative he and others at the shelter use aims to address local transportation issues highlighted by researchers.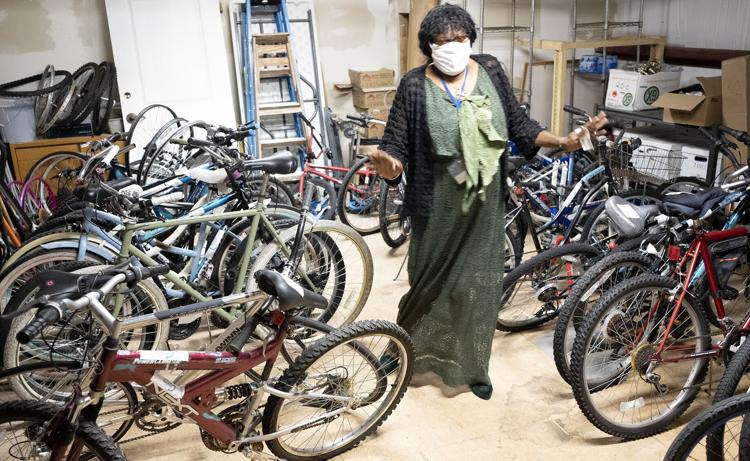 Two Coastal Carolina University instructors and New Directions' director of operations published a study last summer that found that many homeless people in the Myrtle Beach area called a lack of sufficient and affordable transportation a considerable roadblock.
The transportation issues proved problematic when it came to securing and maintaining work, appointments and social lives.
"'I lost my car.' 'I lost my ride.' 'I couldn't get there.' 'They charged me to pick me up,'" said Sara Brallier, one of the researchers who conducted the study.
"'It's too far; the bus doesn't go there.' 'The bus doesn't go there at the right times.' 'I'm all sweaty by the time I get [to work.] I walk there and I'm disgusting.' 'Nobody will hire me.'"
Some folks had specific locations they wished to go to, like school or the supermarket, but couldn't find regular, reliable transportation to get there.
Several noted the need for a form of transportation that would take people straight to work.
The research, from CCU sociology instructors Brallier and Stephanie Southworth, and New Directions' Brenda Ryan, was done to find out what homeless people felt would allow them to become housed and stay permanently housed.
In doing research, they found that studies asking homeless people what led to their loss of housing, or what resources could help them as they pursued permanent housing, are scarce.
Few of them, if any, asked homeless individuals about the services or support they actually utilize or need.
"Nobody said, 'Hey, what do you need?'" Brallier said. "'What could help you?'"
Through interviews, researchers gathered information from 102 homeless people living in and around the four local homeless shelters and 11 staff members from agencies serving homeless people.
Researchers considered a person homeless if he or she was living in a car, on the street, in a hotel, in a shelter, "doubling-up" with another person or family or in another non-permanent place.
For the most part, those interviewed said they were largely able to obtain their basic needs.
A majority were able to get food when hungry, had the chance to wash their clothes, could get medical treatment when needed and were able to secure clothing.
Additionally, most of them were also able to find a place they could bathe and felt they had ways to deal with depression or sadness.
However, the absence of adequate transportation was often highlighted as an unmet need and unaddressed issue.
Sixty-seven percent of those interviewed said finding transportation was problematic.
Folks interviewed described the local public transportation system as inadequate, with routes that were neither extensive nor frequent enough.
They also said routes available didn't take them where they needed to go.
Brian Piascik, CEO and general manager of Coast RTA, said the bus system's network, which serves Horry and Georgetown counties, is currently undersized for the region it's in.
"That's a product of funding," he said, "and we're working on that."
The service is expanding into North Myrtle Beach via Carolina Forest this fall.
Piascik said Coast has provided passes for New Directions, local churches and J. Reuben Long Detention Center for folks who can't afford them, and Coast has sold New Directions passes at a discounted rate to be provided for case managers in bulk.
Looking forward, Coast, a nonprofit, wants to improve service in Socastee, Georgetown County and the Loris-Longs area.
"Really our service is patterned at getting people to the coast where a lot of the jobs are," Piascik said.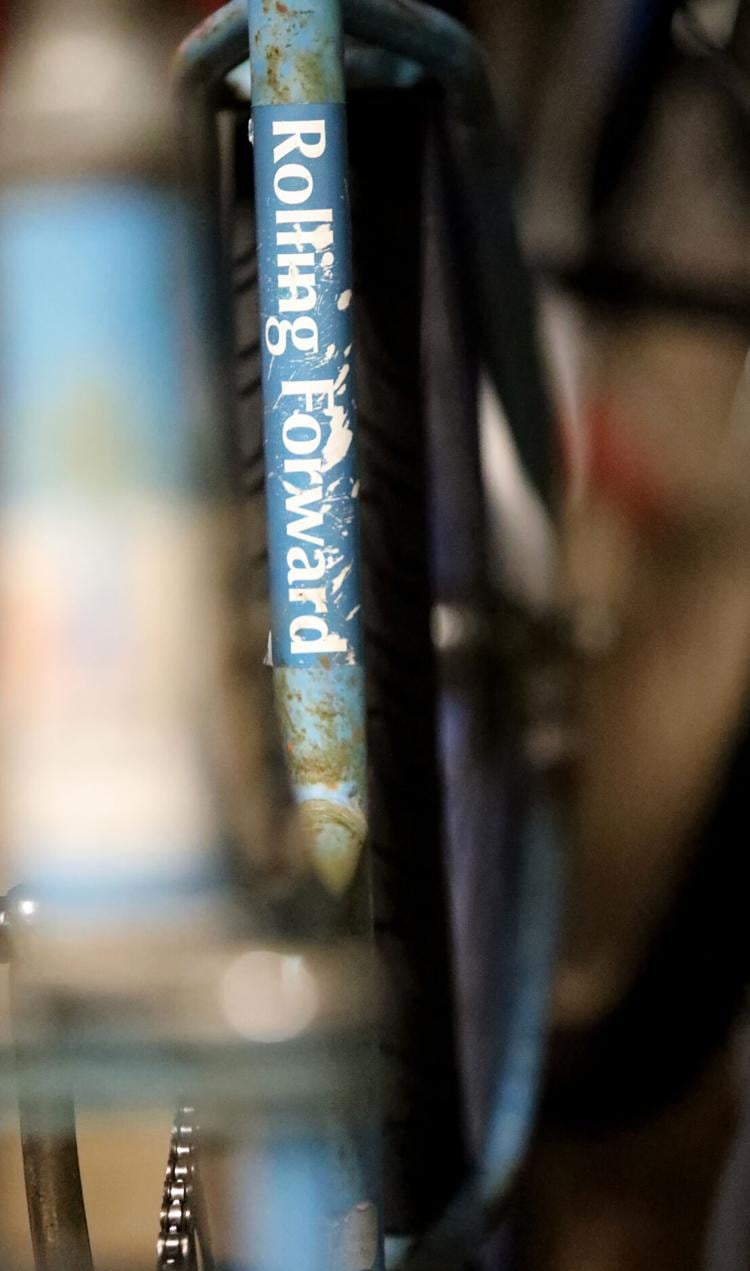 Some industrial parks in the county and other large employers peppered throughout the area are not serviced, and RTA is working to change that.
Piascik pointed out that their North Myrtle route will start serving STARTEK in Carolina Forest, a workplace with several entry-level positions.
There are currently 10 regularly scheduled routes that operate from 4:30 a.m. until 8 p.m.
The hours, though, might be problematic for someone working a graveyard shift, for example, Piascik said. He pointed out, however, there aren't many transportation systems that provide service 24/7.
Piascik also said there aren't a lot of trips happening during those late hours, and, if possible, Coast would add more trips during the day. The organization examines travel patterns across its service area regarding car traffic.
The cost to ride the 10 regularly scheduled routes is $1.50, but seniors, veterans and students can get reduced rates.
Paratransit is also available for people with disabilities who can't use a fixed route and who live within three-quarters of a mile of a bus stop.
Their destination must also be within three-quarters of a mile of a route. Those using that service are picked up on a demand response basis, with fare costing $3 each way.
Those riders can also use standard transit for free.
Piascik hopes to increase ridership and add to Coast's fleet.
He said three things are needed going forward: a transportation system directed at seniors (this may include use of smaller vehicles and taking them to vital services), more services directed at tourists (Piascik has looked at this being funded by visitors) and a robust vanpool program in which locals could drive vehicles themselves.
While not tailored to homeless folks, Piascik said those services could prove beneficial for them.
As for funding, Coast has considered a referendum. One option could be a sales tax, which is present in other parts of the state.
A lot of folks interviewed for the study simply had to walk to where they needed to go.
That can be difficult for people like Bob Guiles, a New York native who's worked as an electrician and has been staying in the men's shelter for about a year. He had his knee operated on and open-heart surgery.
"If you have to walk everywhere, it takes you all day," Brallier said.
And that doesn't account for other aspects such as the weather.
According to the study, men staying in a shelter said a lack of public transportation at night posed a problem for work and returning to the shelter before curfew.
Likewise, women staying in a shelter said the transportation problems were an issue when it came to finding and keeping employment and had safety concerns about walking at night.
Steve Berg with the National Alliance to End Homelessness said there are a lot of places around the country where homeless service agencies are addressing the issue.
Many communities have a functioning mass transit system, and organizations will work with the companies running them to get bus tokens to be given out for free for people who are homeless or receiving assistance from agencies.
In some rural areas, Berg said there are locations with "rolling cars" available to take folks back and forth from work.
"This is a widespread part of dealing with homelessness," he said.
Interviewees also said the cost of transportation was disproportionally high for homeless people.
People might spend most of their income buying bus passes or be unable to afford to fix a vehicle.
Several folks said they used taxis when they could afford it but noted the service was expensive. One person said she spent more than $300 a month on taxi rides.
Some of those interviewed said they would spend a long time just trying to get food because they were forced to walk; wanted a moped or wished to talk to a priest when feeling down but said the church was too far away and didn't have transportation.
As time goes on and the job market starts to come back, Berg expects adequate transportation to be an even greater need.
"At a point like this, early in a recession, where a lot of people are losing their jobs, it's a big problem for people already homeless," he said.
While the $1,200 stimulus checks from the federal government helped, talks about a second federal stimulus package have stalled, and the $1,200 won't last forever.
"It's definitely going to mean more people are homeless," Berg said of the pandemic, noting a recent rise in eviction rates and numerous people being behind on their rent.
Sufficient transportation is helpful for finding a home and looking for work.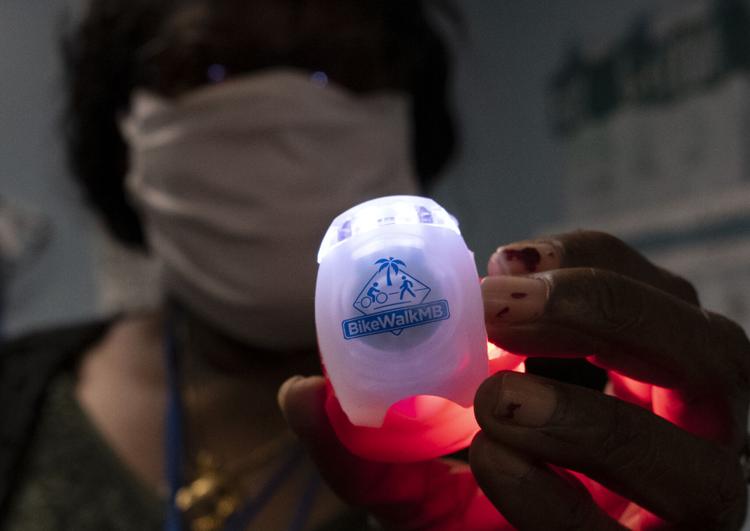 "There are a lot of places where the job market is completely dried up," Berg said. "It's even harder for people who don't have transportation to be able to get around and go to job interviews."
The Coastal professors said they were surprised by the stereotype that emerged concerning homeless people not working or not wanting to work. Just under 30% of those surveyed were employed.
"For the most part, it's people who have run into some hard times and ended up homeless, and they are working their way back into housing," Berg said.
Many homeless folks are desperate to get jobs and relieved once they find work. While smartphones have helped, Berg added it's often difficult to get hired when one is homeless.
One's car might break down; a person could go through a breakup or they could end up homeless due to another reason like having a criminal record.
"Not everybody that's homeless is homeless because of drugs or alcohol," Scott said.
One might flee a domestic violence situation or get kicked out of his or her home, unable to afford deposits for a new place to live.
Scott said he was living with his mom in Myrtle Beach but left because he was staying there without being on her lease and didn't want to risk causing her to be evicted.
And Guiles noted he went from making hundreds of thousands of dollars one year to now having practically nothing.
"You never think it's going happen to you," he said.
"People like to say, 'Well, if they can get to work, they can get a job,' and 'If they can get a job, they can get a house,' [but] it's not always a reality,'" Brallier said.
Kathy Jenkins, executive director of New Directions, which runs four homeless shelters in Myrtle Beach, said her organization used to provide transportation for folks at the men's shelter but stopped more than a year ago.
New Directions had a dedicated driver and would often have to take people as far as Murrells Inlet.
In a county as large as Horry, providing transportation through vehicles proved to be too difficult, she said.
"Our public transportation here is very limited, and so transportation has always been a top issue."
Once clients start working, however, Jenkins said they typically will take care of transportation on their own.
Again, funding is a key issue, with New Directions usually operating on a budget of a little less than $1 million each year, relying on funding from sources including the federal government, the city, churches and private donations.
"It's a challenge," Jenkins said.
Still, the shelter will take folks to medical facilities during emergency situations.
Ann Gowdy with the Eastern Carolina Housing Organization (ECHO) said the agency, which helps folks get housed, has case managers that work to help with transportation as much as they can, though she noted there is often heavy demand.
ECHO has seen a surge in folks requesting services amid the pandemic.
The help with transportation might mean taking someone to a Social Security Administration office, a meeting or an appointment.
Additionally, workers can look for a house or apartment near employment opportunities and with easy access to available services.
Myrtle Beach, which has a population of more than 31,000 according to the latest Census data, has a largely seasonal, tourism-based economy where the cost of living may not be as low as in other areas.
A point-in-time count conducted in 2019 tallied 796 homeless people in Horry County (the second largest amount in all South Carolina counties), though experts have said this probably does not account for a county's entire homeless population. Researchers said closer to 1,200 was more likely.
A lot of folks may hear about the Grand Strand, whether it be from an ad on TV or through word of mouth, Gowdy said.
"It's the promise of coming where it's warm all season, and there are plenty of jobs," she said.
One might come to the city hoping for opportunity, see work dry up and end up homeless.
"We draw people here," Jenkins said.
There were other surprising things brought up during the research period, too. Asked to rate their health, some interviewed would score themselves highly but also acknowledge several health problems.
A lot of those interviewed ran into problems due to not having a form of identification. Police interactions can be problematic.
The researchers also acknowledged that people who chose not to receive help from homeless service agencies may have different priorities. Think getting a meal or finding a place to shower.
Transportation problems aren't the only issues facing the homeless community, and both Scott and Jenkins pointed out the need for more affordable housing in the area.
Along with transportation, Jenkins said other issues the shelter is focused on include mental health and legal problems.
With the help of a small grant, she added, New Directions launched a program in which counselors from the Center for Counseling and Wellness regularly visit the shelter, and the city has worked with different agencies in establishing a homeless court that offers folks a diversion program.
Regarding health appointments, medical workers visit the men's shelter multiple days per week, and clients oftentimes visit a nearby clinic run by Little River Medical Center.
The bike program at the men's shelter is just another way to help folks out. Such an initiative isn't new, as there are similar programs in places like Savannah, Georgia.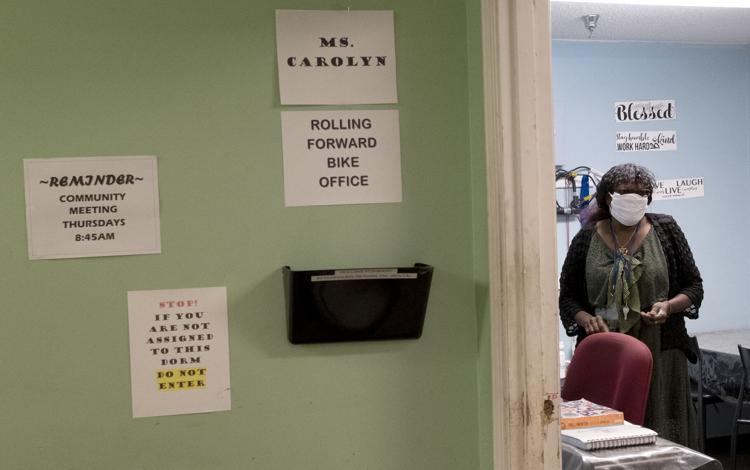 "It gives them independence," Ryan, of New Directions, said, "so they can leave when they want and come back when they want."
Rolling Forward started in April 2017 with donations of six bikes with locks from a local church.
Those were used by people who had been interviewed, and five of them were employed shortly after beginning to use the bikes. And they were still employed four months later.
"It was amazing," Ryan said of the program. "I loved watching it evolve."
The response has been universally positive, and Southworth recalled a man thanking her and saying the bike program helped him find an apartment.
Jenkins said the only negative aspect of the bike program reported was simply that there weren't enough bikes.
Currently, about eight bikes are assigned for use at the men's shelter, and the program has also expanded to the women's shelter.
Brallier and Southworth, who founded the Rolling Forward project, have even expanded the initiative further.
They brought a bike sharing program to John's Place, which is made up of five furnished apartments to be used by up to 20 veterans and run by ECHO, under the Rolling Forward banner.
For now, Scott is applying for Section 8 housing and trying to find his own place to live.
And Guiles said he hopes to return his home state.
"And hopefully live a good life for the rest of my life."
Clarification: This story has been updated to state the founders of the Rolling Forward project started the bike sharing program at John's Place.