The foal nuzzled like a kitten. She wasn't startled by children. Minnie the Mule craved human attention so much that Walter Hill's wife constantly said "Get back, mule" to keep Minnie away from their toddler, Kate.
"Kate's first word was 'mule,'" Hill said.
Some 17 years later, the chestnut-colored animal endeared herself to the judges at the Association for Living History Farm and Agricultural Museums. Minnie won "best equine" in this year's virtual plowing contest, meaning the field-toiling mule is now the best in, well, her field.
"We are proud of Minnie," said Hill, director of the Horry County Museum, which includes Minnie's home, the L.W. Paul Living History Farm off U.S. 701 North near Conway.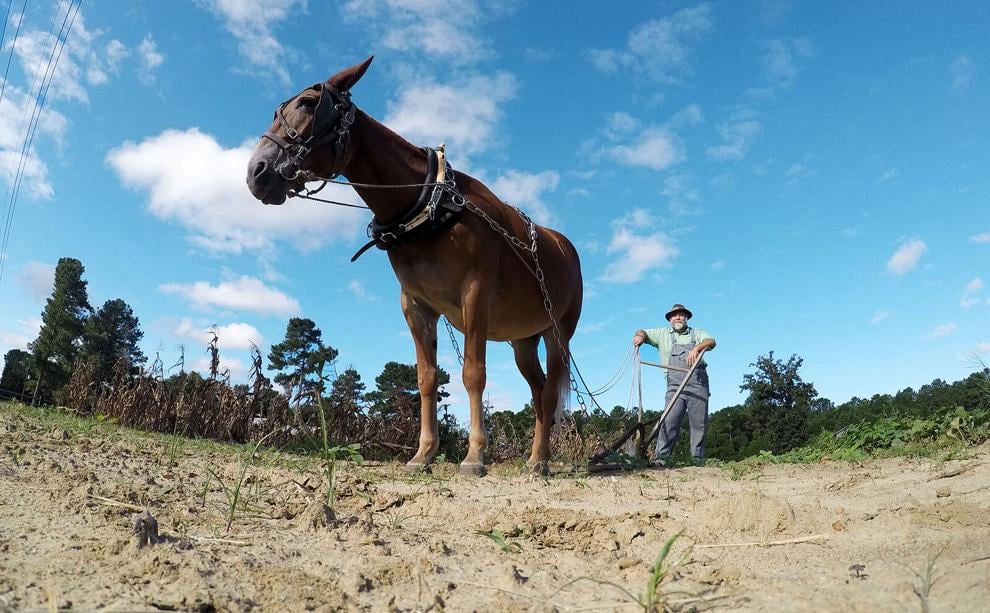 Although other museum staff members won awards in the contest, make no mistake: Minnie is the star of the farm.
She hauls wagons, pulls tobacco drags and works the mill grinding sugar cane.
Minnie is so important to the farm that Hill incorporated her silhouette into the farm's logo when he designed it.
And for Hill, seeing Minnie recognized carries some personal satisfaction. She was born in his Plantersville pasture, not too far from his blacksmith shop.
Hill had purchased an Appaloosa mare as a saddle horse for his wife to ride. At the time, the guy he bought the horse from told him she'd been bred to a Mammoth Jack.
"I got a two-for-one package I wasn't really expecting," Hill said.
After the foal arrived, Hill immediately began petting her and helping her adjust to humans.
"She was so friendly and almost cat-like," he said. "She wanted to be curled up in your lap there."
His family enjoyed the mule and she favored them. She wasn't shy and was gentle for such a strong animal.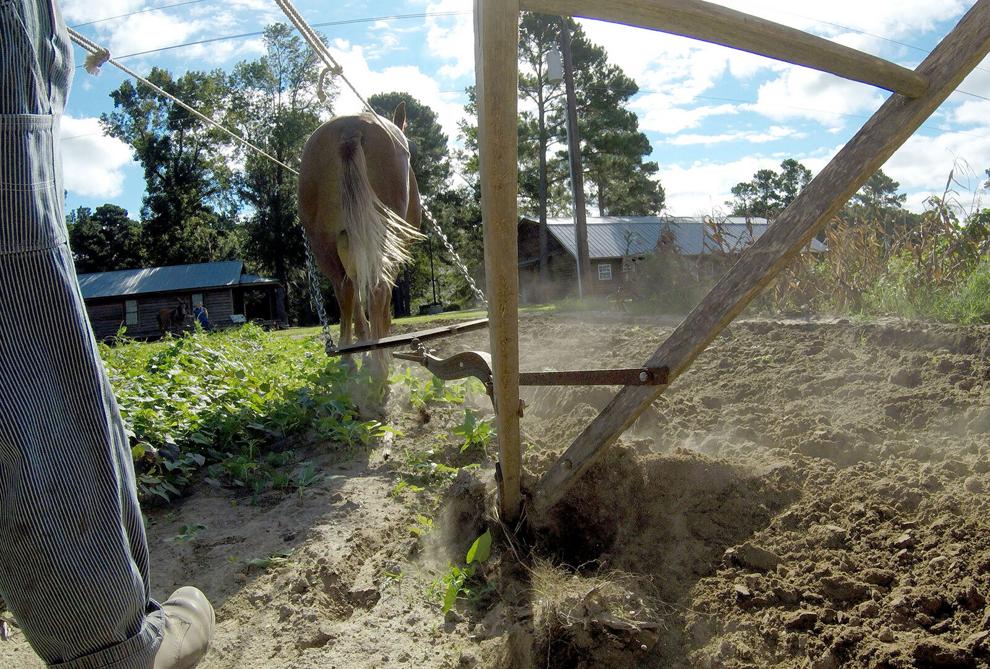 One of Hill's friends, an old man named Jack Hilliard, was impressed by the mule and wanted to buy her.
"That's the best looking mule I've ever seen," he told Hill.
Hill agreed to the sale, but he worried the mule might hurt the old man, who was in declining health. So Hill constantly handled her, desensitizing her to human interactions.
While Hill worked with the mule, Hilliard became gravely ill. Hill would visit him on Sundays and take photos of the animal, which Hilliard started calling Minnie because he'd owned a mule years ago with the same name.
When Hill told him that "mule" was his daughter's first word, the old man proposed that she keep Minnie.
"Nothing would make me happier than to give that mule to that baby," Hilliard said.
Hill wanted to buy the mule back, but the old man insisted. Hill even approached the man's son, fearing he might think Hill was trying to take advantage of a dying man.
But the son spoke with his father and found out that he had made a list of the animals he planned to give away and who should receive them.
Minnie went to Hill's family.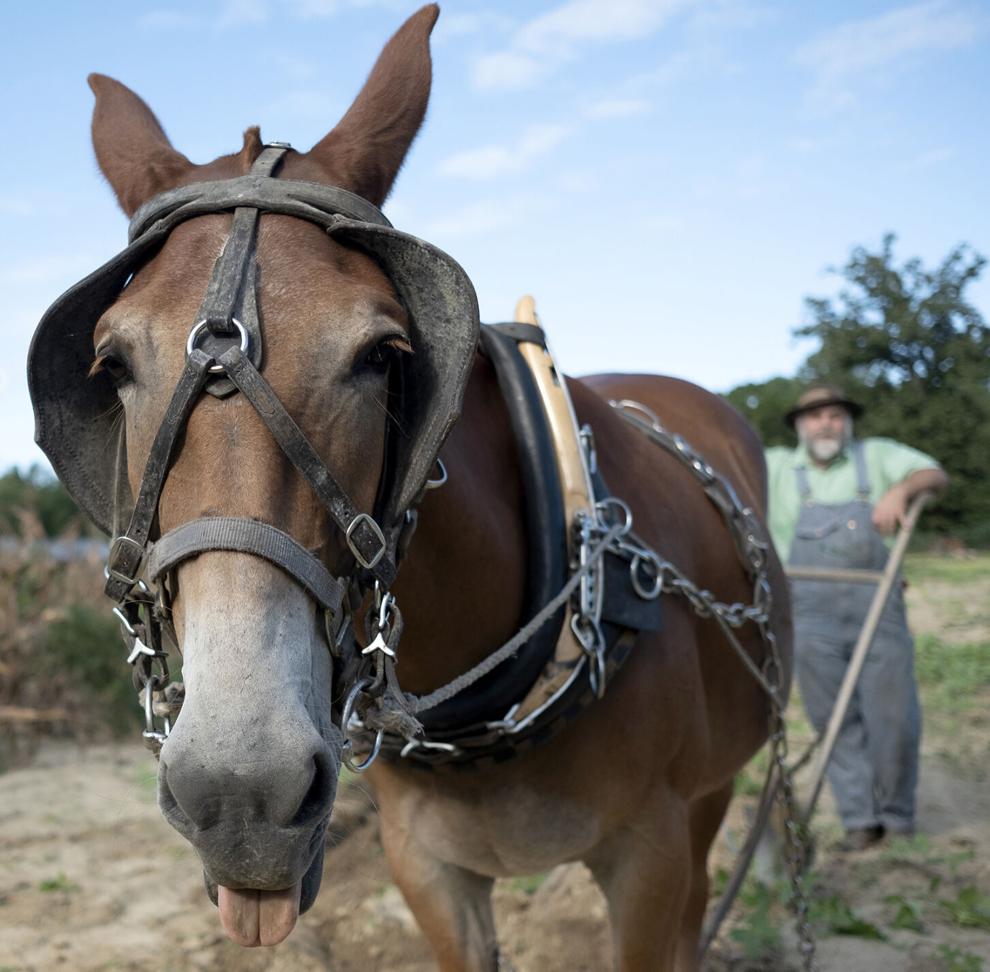 At that point, the living history farm didn't exist. But soon, in 2006, Horry County Council set aside 17 acres for the Paul farm.
The idea behind the farm was to show what life was like in Horry County before Myrtle Beach became a tourist town, back when Carolina Forest was actually a forest.
Specifically, the farm focused on rural life from 1900-1955.
That meant the farm needed a mule.
In the era before tractors, local farmers preferred mules to horses because the animals could sustain themselves on lower quality feed like corn fodder; they didn't need oats or rich alfalfa hay. And the strong, sturdy animals could tolerate the steamy Southern summers and tended to live longer.
"Mules were incredibly important on farms in Horry County's history," Hill said. "The role of the mule as literal horsepower of course has its own level of importance. It's how you plowed the field. It's how you drove firewood. It's how you got corn in. It's how you got tobacco in. It's how you ground cane with a cane mill. It's how you got in the wagon and got to town and took your tobacco to the warehouse."
At first, Hill considered bringing in an outside mule. He even looked at one, but when he tried to lead the animal along with a rope, the mule took off, burning Hill's hand as the rope followed the mule.
Then Hill looked closer to home.
"I said, 'You know, I've got a mule that I know is calm," he said. "She's got good sense. She's easy handle and easy to break and she'll be safe around the public. And she loves attention. She's not shy. She wants people to pet her. She wants people to talk to her. She wants to be engaged with people. So we've got a great one there."
He'd already trained Minnie to wear a saddle and grind sugar cane. They put a plow to her and she was a natural.
"They thrive on repetition and what is plowing more than repetition?" Hill said. "One of the beautiful things about it is once we show her what we want her to do and we make that pass a couple times, she'll figure out, 'Am I supposed to walk in the furrow? Am I supposed to walk on the hill?' Then they'll sort of start predicting that.
"So when we get to the end, often times they'll go ahead and put themselves back in place where they belong. So it allows the farmer to focus more on the tool, the implement, making sure that it's deep enough or far enough … so that it's doing its job."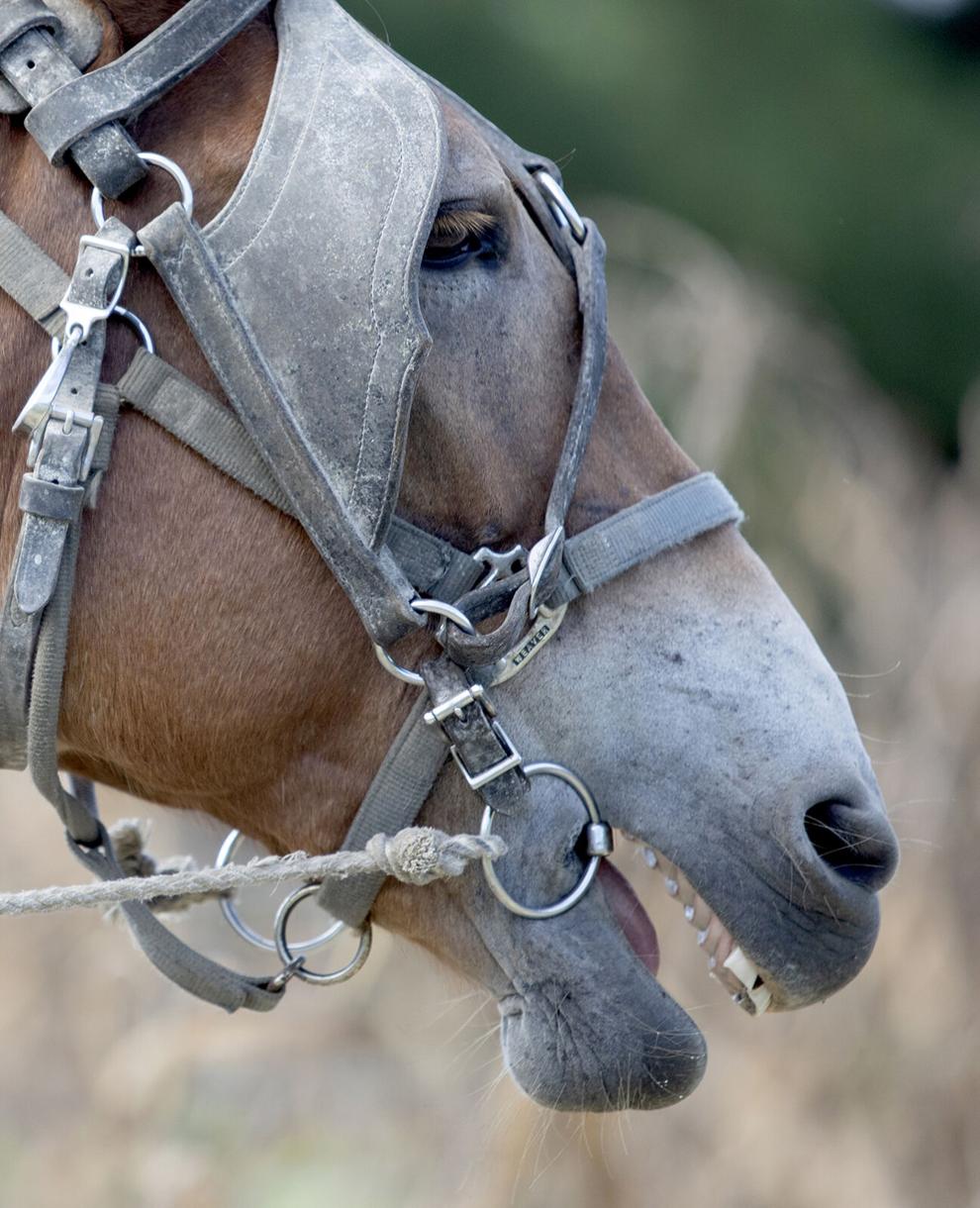 Although Minnie has always been a favorite of the farm's guests, she never competed in the international association's contest. Typically, the association holds an in-person annual event and plowing competitors use equipment and animals at the site.
But this year, the association opted for a virtual competition. Hill said he was encouraged to enter by Ed Schultz, a historic farmer at Colonial Williamsburg in Virginia. Hill said the idea was to generate publicity for the Paul farm and make those in the living history farm industry aware of what was happening in Horry County.
"We may win nothing," he told his staff. "But at least they'll know that we've got a whole team of people that will get behind a mule and work."
The contest required those plowing with the mule to follow Old English rules, which challenged them to carve furrows of at least 100 feet. The focus was on straight lines, consistent depth and animal management.
Hill said the staff had to practice, as most had little experience with that type of work.
He also wanted them to understand what the work was like if they would be teaching people about it.
"If you're going to be an interpreter out here and tell people about that mule and tell people about that plow, you can't talk about it any better than if you've ever done it," he said. "It's truly living the history."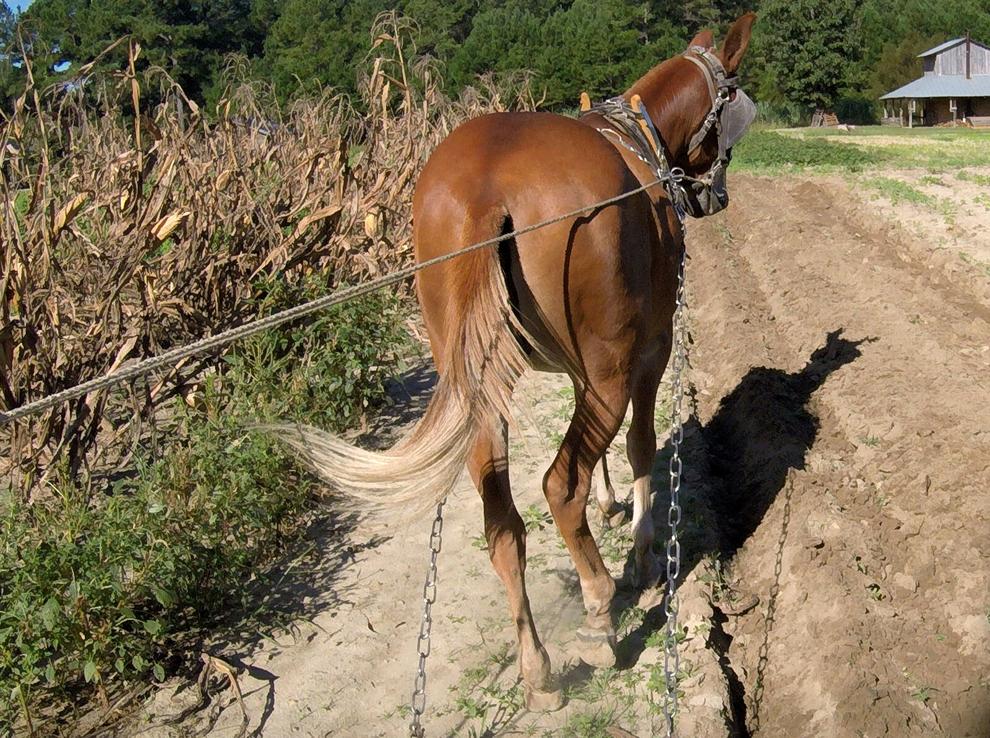 Abby Geedy, a technical assistant with the museum, learned how to guide the plow and lift it to adjust for depth. She also had to keep pace with Minnie.
"It's just a game of cardio after that, really," she said. "They move pretty quick."
Her efforts paid off with first-place honors, and she jokingly told Hill she was prouder of winning the contest than completing her master's degree in anthropology.
"There's a lot of people who can say they have a master's degree," she said. "Not a whole lot of people can say they won a plow competition. … Yeah, I worked for like three years to get a master's degree. I'm very proud of that. But this is just cooler."
But Minnie's win is the one they're celebrating the most. For Hill, it's an appropriate achievement for an animal that's been beloved since she was born.
"She's spent the life of Riley out here," he said. "She has the best I could give to a mule. She's got plenty of grazing. She gets to come out and exercise. A lot of people say, 'Oh, she's working hard.' Well, absolutely she's working. She's not sweating like I am, but she just loves it."