As three homes burned on Cherry Grove's Blossom Street Monday afternoon, smoke could be seen for miles.
On nearby Seaside Drive, Jenette Moser was home with her dog, Annie. Shortly before 3 p.m., she heard a loud noise.
"We heard a boom," Moser said. "The dog barked and I came out and I saw the flames. And then the fire truck appeared on the scene. I know there was one person in a wheelchair, they said they got her out."
The boom was most likely homeowner Robert Benton's propane tanks. The woman in the wheelchair was his wife. 
Three homes were destroyed in the fire. Two, including Benton's, were fully engulfed in flames by the time North Myrtle Beach and Horry County firefighters showed up. The third also caught on fire, and while the home was a total loss, firefighters put out the flames before it burned to the ground. 
No injuries were reported.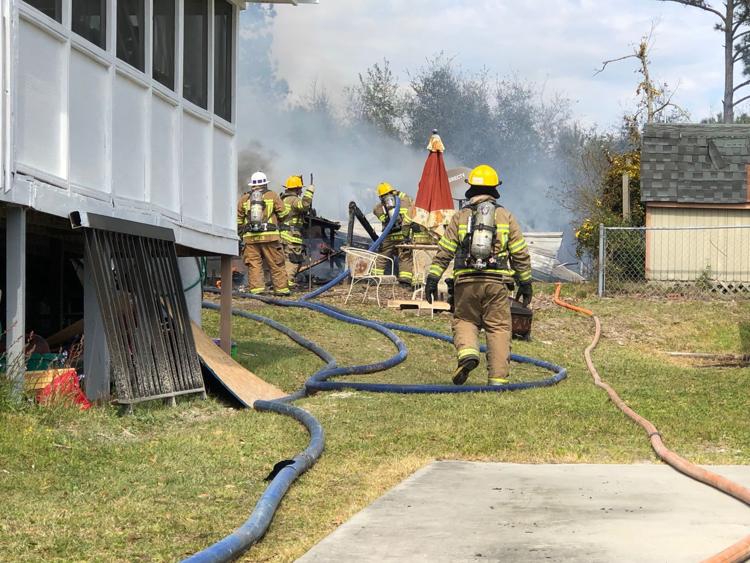 When the fire in Benton's house started, his wife was already on the porch.
"I was in the garage and had to go to the bathroom," Benton said. "As I'm sitting there in the bathroom, I smelled smoke. And as I left the bathroom going through the rest of the house, I could hardly see where I was going. So out the door we both went. The next thing I know, the guys standing on the street here, they're telling me my house is on fire."
Benton, a 71-year-old veteran, lived in the house for 25 years and raised four kids there. He said he tried to put out the fire with an extinguisher, but it spread too quickly, taking Benton's propane tanks in the process. 
"I have outside gas like a lot of people do," Benton said. "But that bang didn't start it, because that bang didn't go off until we were all out here."
The fire was another setback for Benton this year. Benton had managed to lose dozens of pounds while trying to shed extra weight, but in February, his foot needed an operation, and he's still wearing a boot to get around while his foot heals. 
He had two boots, and the fire took one of them, along with the couple's clothes, wallets, keys, debit and credit cards, Medicare cards, and everything else in the home, including a valuable music and art collection. The couple plans to stay at their children's houses.
"I'll go to my son's, she'll go to my daughter's, and start all over again," Benton said. "She wants to get it cleaned off and put another house up there. And I always look for tomorrow."
But Benton and his wife live on a fixed income. 
"I live on social security, she lives on disability social security," he said. "I don't know what it's going to cost to remove this, put another one on there and with the mortgage payments again, after everything's paid off…"
His voice faded to a whisper as he choked back tears while resting in the back of an ambulance. 
"I think sometimes life is meant to be and you've got to be strong. I'll start crying tomorrow," he said. 
"They say when you get a house, it comes with a grain of salt, but it's not a grain of salt: it's a life."
A report detailing the cause of the fire is not yet available.