Kevin Armstrong finally opened his barbershop. 
The small space on Madison Drive near 18th Avenue South in North Myrtle Beach's Crescent Beach neighborhood has checkered floors, two old barber chairs, plenty of southern-style decorations and something that separates "real barbershops" from chain salons: straight-edge razors. Sitting still is all but required when the straight-edge comes out. 
"Barbers are dyin'," Armstrong said. "Most of the true barbers are either retired or passing away, because the trade of barbering is about gone."
But not in North Myrtle Beach. The city is already home to a couple barbershops, and now Kevin's Barbershop has joined the list. 
"I think I've found a perfect spot," said Armstrong, 55, who opened Kevin's Barbershop on Thursday. "I've got some good clientele. Some regulars that are here all year round, and I've got my Canadians that I look forward to seeing for two to six months every year. I've got a lot of Canadians, and they're some beer-drinking fools, man." 
Armstrong came to North Myrtle Beach after leaving Charlottesville, Virginia, where he spent much of his barbering career following his service in the Army. He spent the last several years at the Ocean Drive Barbershop, working with Bobby Lewis. 
"The wife told me that I promised her that we'd be living at the beach within five years of being married," he said with a grin. "To be honest with you, I used to drink a lot so I really don't remember what I told her." 
Armstrong left Ocean Drive Barbershop in September and bounced around for a couple of months until he opened his own shop.
"I had to find a place to at least let my customers know I was still in the area, so I went to a franchise like Sports Clips," he said. "So I got a taste of the franchise environment. I was the only male in a bunch of females at Sport Clips. And that was a hoot for a while. I survived."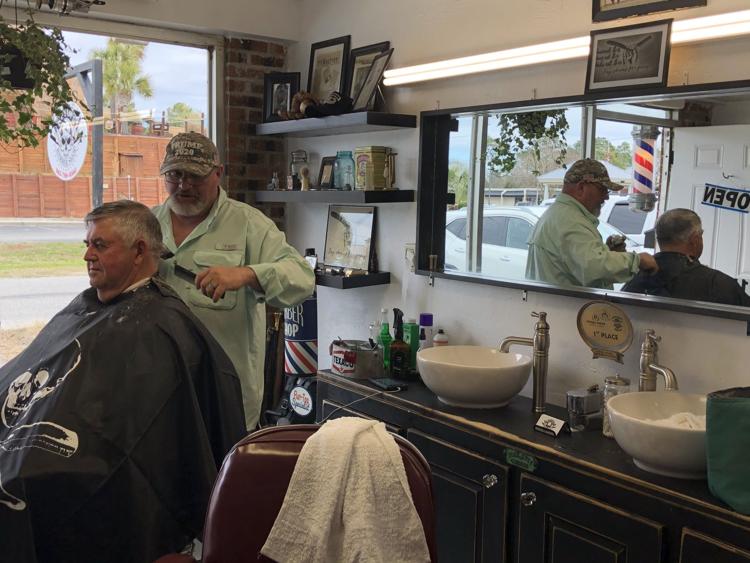 Armstrong has plenty of customers. He's generated a following since he came to town, and they followed him to his new shop. 
On Thursday, Canadian Allen MacDonald had his turn in the barber chair. The 67-year-old comes to the Grand Strand for several months each year.
"He gives a good haircut," MacDonald said. "I stick with the same barber. If I find a good one, I stick there." 
Caleb Serge, a 37-year-old realtor, comes about once a month to get his hair cut. 
"This is a big thing: he puts nice touches on what he does," Serge said. "Whatever he feels you needed, you need your neck shaved – that was the main thing that really sold me – or wash your hair, whatever the case may be, you need your eyebrows touched up; he goes the extra mile, in other words."
That attention to detail is obvious. 
The barber chairs are both originals from the Emil J. Paidar company in Chicago. They date back to 1942. The refurbished hot lather machine dates back to 1954. 
An old record player faces those barber chairs, but most of the music Armstrong plays – mainly roots rock, blues and bluegrass with a couple other genres mixed in – comes from a small speaker in the corner. Armstrong has some old Motown records if he wants to ditch the corner speaker. 
"He makes you feel welcome," Serge said. "He gives good haircuts. He actually listens and pays attention to detail to what you want. Funny guy, tells good stories, I like that he has good music."
The shop is still a work in progress. Armstrong is planning to install a TV and refrigerator in the small back room, and wants to host monthly live music shows. Eventually, he'd like to serve beer and wine, and maybe hire some help.
"I would love to find someone, but the wife said I couldn't get a lady," Armstrong said jokingly, before describing - in explicit detail - the qualifications desired.  
And, if Armstrong is to be believed, haircuts aren't all he does. 
"I do bikini waxin'," he said mischievously.  
The shop at 1711 Madison Drive is open Monday through Friday, 8 a.m. to 5p.m. Saturdays are reserved for appointments. Haircuts go for $18, with buzzcuts and kids' cuts at $15. During the shop's first year open, veterans can get cuts for $12.