The city of North Myrtle Beach on Friday took the first steps in figuring out how to address the summertime problem of insufficient beach parking. 
"It's a finite resource and there's only so many places you can put parking spaces," said Brett Wood, a consultant with the Raleigh-based firm Kimley-Horn, which is tasked with developing short-term and long-term strategies to address the parking issue. 
City Manager Mike Mahaney said North Myrtle is paying Kimley-Horn roughly $100,000 for their work. 
"They've been out there looking physically at everything we have, seeing where it could be better defined or even expanded," said city spokesman Pat Dowling.
Kimley-Horn's analysis showed 2,449 public parking spaces in the city, but that number is no longer adequate to serve both residents and out-of-towners. 
"If you own a home in the Ocean Boulevard area, you don't really want people parking in your yard or the right-of-way in front of your yard," Wood said. "You don't really want to see parking in the median because it's difficult from a pedestrian standpoint to get across the road. If you're a visitor, day-tripper from outside of the city in the county or coming in from outside of the state, the big issue is trying to find parking."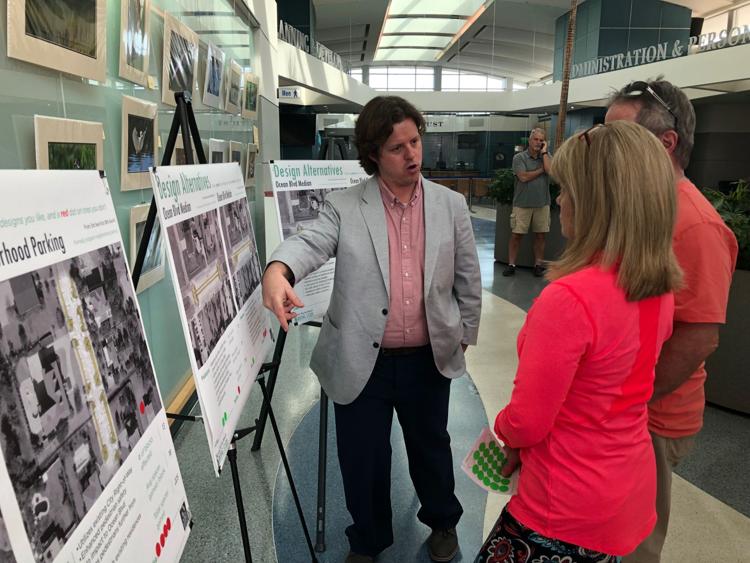 Last summer, safety concerns prompted the city to stop letting people park in the median on Ocean Boulevard
"It was very difficult for the city to catch up to the situation that escalated during the summer last year," Dowling said. "So instead of trying to chase the cat down the road or the dog down the road during the summer, we canceled parking in the median and basically put out a request for proposals from public consultants that are familiar with public parking issues and their solutions."
On Friday, residents filed in and out of city hall to look at a presentation by Kimley-Horn. Set up on easels were choices of different parking strategies and different beachfront parking lot designs.  
"This is an information-gathering workshop where we've invited the community to come in and give us feedback about broad strategies related to parking management, goals for achieving better parking solutions along the beachfront and in the community and then some specific concepts that could be aligned along Ocean Boulevard between 3rd Avenue and 18th Avenue North," Wood said.
Strategies included things like more parking garages or shuttle service to the beach. 
Parking lot designs included extending ocean-front parking lots and turning the Ocean Boulevard median into parking spaces. 
Residents were given red, green and blue stickers to mark which strategies and parking lot designs they liked the most, and which ones they didn't like. 
"[A] long term solution may be building more parking," Wood said. "The median concepts you see here are probably a little more long-term because you couldn't do those before the summer of this year. A short-term solution may be temporary parking in surface parking lots, it could be different parking management strategies like applying more paid parking at the beachfront, or wayfinding or technology through existing smartphone applications to help people find parking."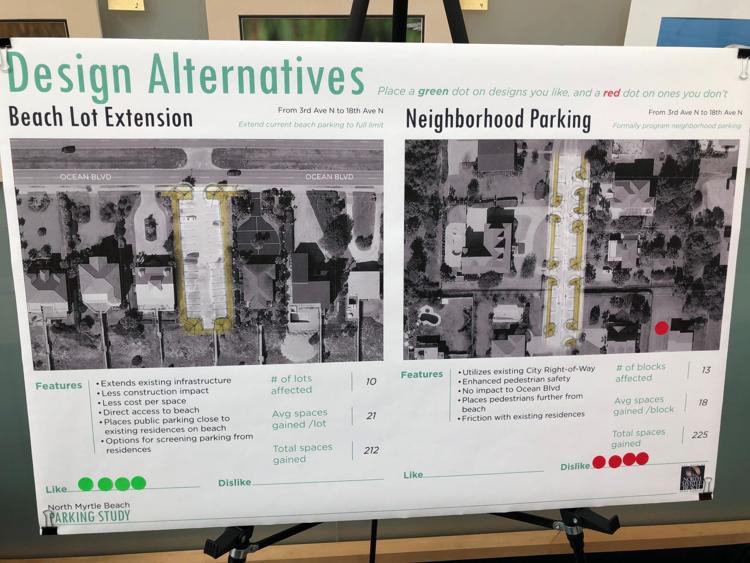 Parking garages are another example of a long-term strategy.
"The devil's always in the details," City Manager Mahaney said. "When you start adding parking garages, if you're going to make it look nice, it's about $30,000 per parking space. It's expensive."
Dowling said the consulting firm will meet with the city council to talk about the results of Friday's workshop.
"They'll take all of this, synthesize it, meet with city council in a workshop in March sometime, and then council will understand the global view of things as they exist in North Myrtle Beach," Dowling said. "Ultimately this group will provide recommendations to city council both short term and long term."