If all goes to plan, North Myrtle Beach will get a new pet boarding facility in its Windy Hill neighborhood in mid-October.
The new Coastal Paws Pet Resort will feature 20 televisions with DOGTV (a channel that's meant for a canine audience), 24/7 webcams that let pet owners watch their furry family in their boarding suites or play areas from a computer, and indoor and outdoor play areas, including a splash pad.  
The facility will have an on-site spa that offers baths, teeth and ear cleaning, blueberry facials and oatmeal paw treatments. 
Brandon and Kristen Downey are the owners, and Kristen will run the day-to-day operations.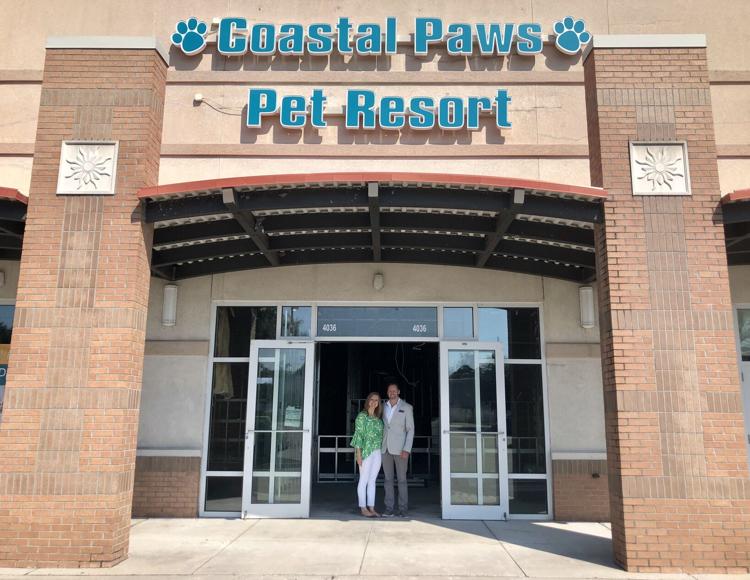 Kristen is physical therapist and canine therapist, and Brandon is a financial advisor who spent a year in Florida as the vice president of development for All American Pet Resorts. 
In 2017, Brandon was recruited to come to the Grand Strand to be a financial advisor for Edward Jones. 
The couple came with their two dogs: Zoey, a 5-year-old Basset Hound, and Elly, a 6-year-old Greyhound. 
Kristen said they struggled finding a place in North Myrtle where they felt comfortable leaving their dogs.
"From a standpoint of where to take your dogs, there's really not much on this north end at all," she said. "So that was one of our big reasons for wanting to be in this area." 
The new Coastal Paws Pet Resort is located at 4036 Highway 17 South, on the south end of the shopping center that houses the Bi-Lo, Hungry Howie's, Eggs Up Grill and On Point Animal Hospital. The adjacent parking area will be turned into an outdoor play area with artificial anti-microbial K9Grass. 
The spot works because in North Myrtle Beach, retail zoning also allows dog boarding. 
"A lot of municipalities will only let you board dogs in industrial zone locations," Brandon said. "We know dogs love to be outdoors so this location checked all those boxes for us, from size, accessibility, visibility, and then zoning obviously was very important. The city of North Myrtle has been great to work with and been easy in that regard." 
The facility offers doggy daycare and boarding for cats and dogs. They have regular boarding suites and "luxury" boarding suites that are bigger and include a once-a-day owner-pet facetime opportunity.
There are also special needs suites for geriatric dogs or dogs that need more attention or a quieter setting. 
In 2016, Kristen went back to school to get certified in canine rehabilitation, but she's focusing on the boarding facility for now.  
"I'm putting the rehab on the backburner for a while, but working and treating pets, that's something that is a passion for me," she said. "So this is kinda the best of both worlds. I can put knowledge that I know about injuries and how to treat stuff like that into this, and just caring for dogs in general."