Antonio Vereen was 4-years-old when his father died, and he was raised by a single mother. 
His biggest worry was that she wouldn't come home. 
"Now, at this day and age, I'm 19, I feel like I might not come home to her, and that's the biggest fear I have in my heart right now," he said. 
Vereen was one of dozens of people who marched down Main Street Tuesday afternoon to protest against systemic racism and police brutality following the death of George Floyd, a black man who passed away shortly after a white Minneapolis, Minnesota police officer named Derek Chauvin pressed his knee into Floyd's neck for more than 8 minutes while Floyd was stretched on the ground begging "I can't breathe!" 
Bystanders pleaded with Chauvin and the three other officers to check Floyd's pulse, but officers did nothing as Floyd cried out in agony until he became unresponsive. Even then, a video shows, Chauvin kept his knee on Floyd's neck. 
Chauvin has been charged but the other officers haven't.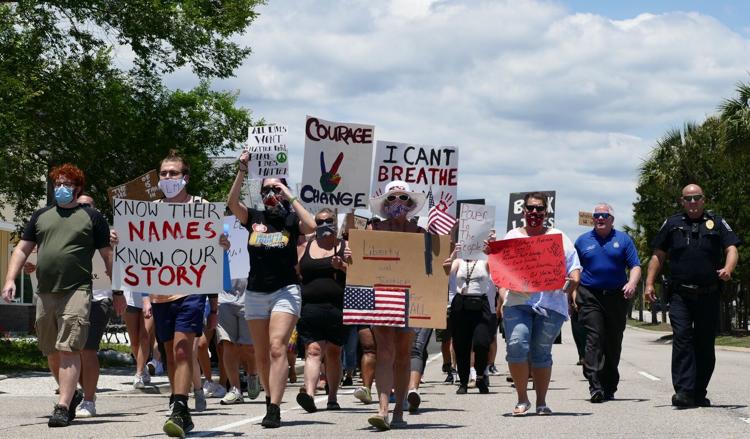 The protest march on Tuesday was organized by two North Myrtle Beach High School students: Livingston Privett, 16, and Hailey Hegge, 17.
"I'm so sick and tired of living through historical events in my so short-lived life," said Privett. "I've been exposed to injustice and inequality my entire life. I've seen it on the news and I'm sick and tired of seeing it. We want people that are refusing to talk or speak on this subject to finally realize that it's wrong, and speak out."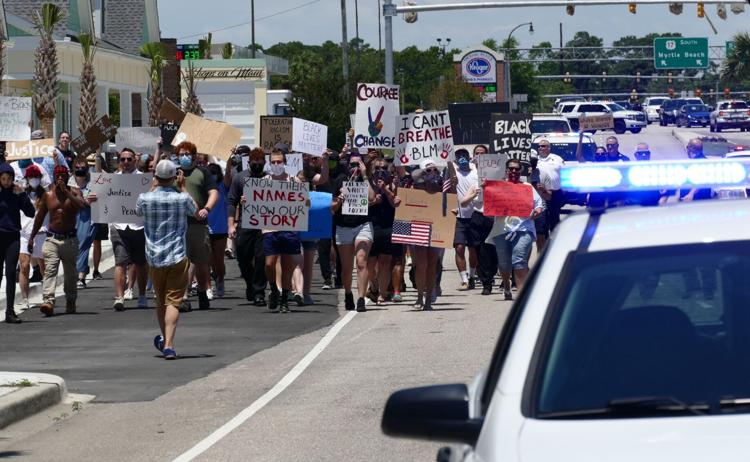 News of their event spread fast through social media on Monday, and drew a large crowd.
"I was actually kind of scared that it was going to be just a few people," Hegge said. "I'm amazed how many people showed up and turned out."
The event caught the attention of North Myrtle Beach Director of Public Safety Jay Fernandez and City Manager Mike Mahaney, who showed up to talk to the demonstrators gathered near the shuttered Bi-Lo grocery store.
"We agree 1,000 percent that was a murder; there's no question about that," Fernandez said, adding that the move Chauvin used is prohibited by North Myrtle's police policy, which also prevents officers from restricting any person's ability to breath. "What happened is not approved in law enforcement anywhere, to my knowledge, and it better not be." 
Mahaney led the group in prayer before Fernandez and NMBPD officers escorted the protestors down Main Street and blocked traffic so they could use the road. The march was peaceful and no one was arrested. Officers with coolers handed out water bottles to the crowd.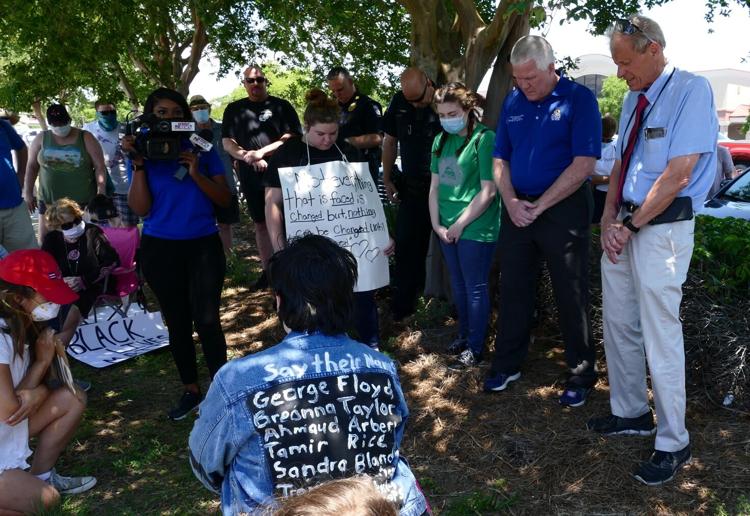 "I love it. We need more of that," said Deborah Broomer, who recently moved to North Myrtle Beach after spending several years as a teacher in South Korea. 
She was running errands with her mother and young nephew when they saw the march down Main Street and said she had no choice but to march.
"He sees the news and we want him to have an understanding that his life has value and other people's lives have value and worth," she said, "so we couldn't' not join the protest. And the fact that it was a peaceful protest on top of that was even better."
Advocating for black lives, isn't an "us versus them" problem, she added, but humanity's problem. 
"At the end of the day, if it's our problem, it's your problem, too," Broomer said. "Black lives matter. If your life matters, so does mine. It's all of us in this together."
Protestors marched down Main Street, turned north on Ocean Boulevard and then headed back on Second Avenue North, ending the march where they started at Bi-Lo.
They chanted "Tamir Ric," Eric Garner," Trayvon Martin," "George Floyd," "Ahmaud Abery" and "Breonna Taylor," among others, as they walked.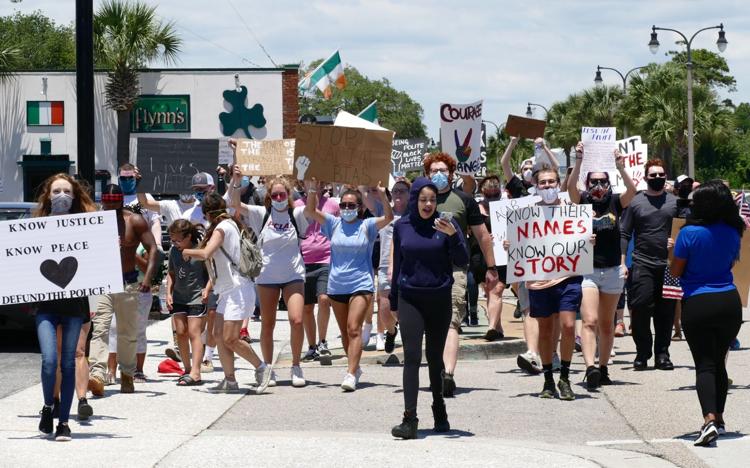 Ronnie Johnson showed up to bring his voice and his presence.
"There's not a lot of us out here so I came by to support my race," he said. "Black is not a crime. I feel like white privilege is real, and I feel like we just need to all come together and just be understanding. Put all the marbles on the table and lets just argue it out if we have to, talk about it."
Johnson said he once got pulled over for matching the description of someone accused of a felony and that facing discrimination is a daily occurrence for him. 
"When you walk in a building and you can feel the vibe that tells you that you don't belong, I don't like that," he said. "You get these angry faces that seems like they don't want you there." 
Jasmine Young of Conway said she'd been to several demonstrations, already.
"I have a 3-year-old son," she said. "I am coming out and doing my part so he won't have to, later."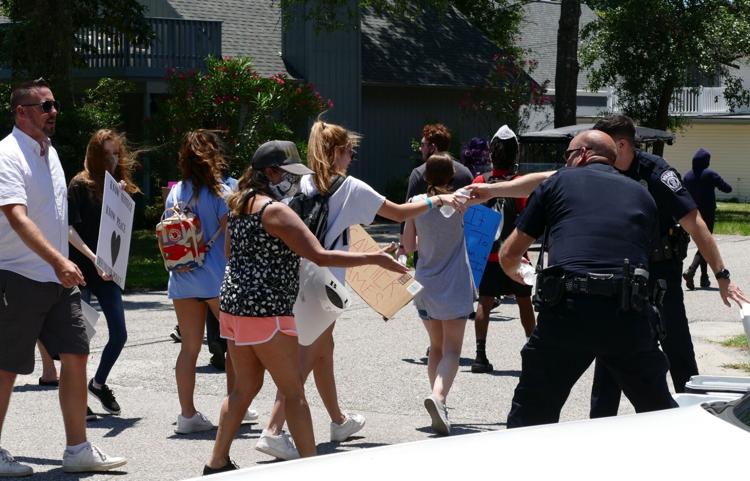 And for anyone else who want to speak out against systemic racism, there's another protest happening at the Market Common on Sunday from 2 p.m. to 6 p.m. 
"Sunday, we are organizing a peaceful protest similar to this one," said Mia Angelo, who helped negotiate the release of several detainees during another protest in Myrtle Beach days before.
"We're hoping it doesn't escalate like the Myrtle Beach one did," she said. "Sunday won't be the last one. We're going to continue to protest, because we can't be quiet. We have to continuously be loud and in people's faces until we see systemic change."