Just four hours into New Year's Day, North Myrtle Beach police Sgt. Gordon William Best "gave it all," said Chaplain Jay Ortiz during the fallen officer's Friday funeral at Alabama Theatre.
The service was projected on a jumbotron outside for the public to watch due to COVID-19 seating limitations. 
"Buddy," as his family and friends called him, died while responding to a call in Barefoot Resort. He was 30 years old, and left behind his wife Taylor, their children Braxton and Blakey, and his parents Gordon and Renee. He was buried at the Southern Palm Memorial Gardens in North Myrtle Beach.
"Let our memories of Gordon not be ones of sadness of loss, but a celebration of a life lived in the image of you, Lord," prayed Chaplain William McLeod before the funeral.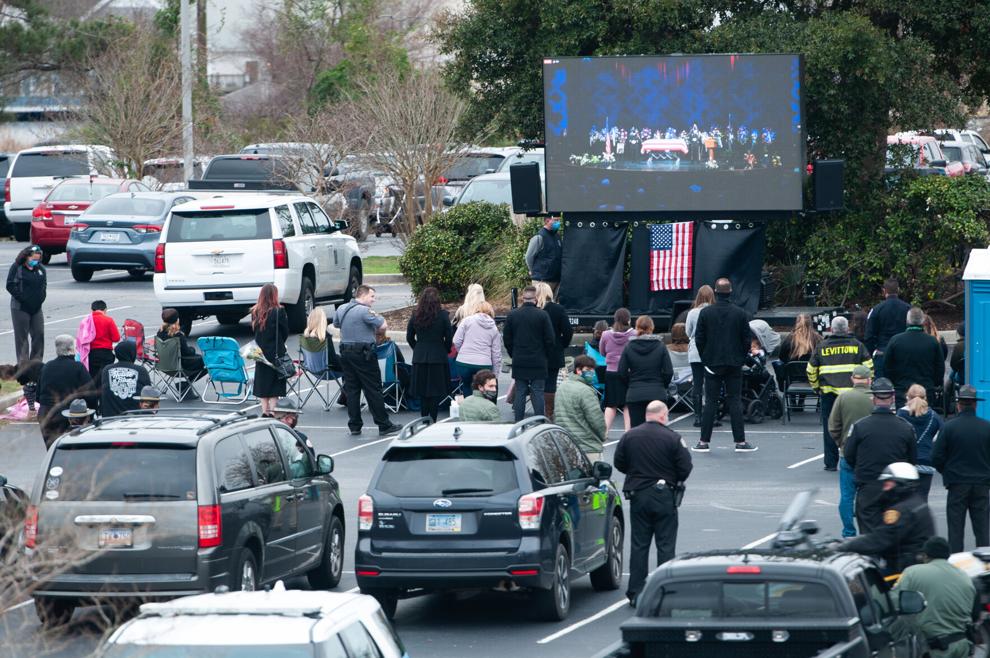 At 3:48 a.m. on Jan. 1, dispatch received a call from the Barefoot community about people yelling, screaming and fighting, said police Chief Tommy Dennis. Two people called in to say they heard gunshots.
Best, who oversaw a squad of officers, was ready to help. 
"He ran out of that police department, ran to his patrol car," Dennis said. "He got in and made his way to Barefoot Resort. He was going there responding with his brothers on his squad." 
But while driving on wet roads during the pre-dawn hours, Best's car veered off the highway and hit a utility pole. He died at the scene, making him the first fallen officer in the town's history. The S.C. Highway Patrol is investigating the crash. 
"Why was he taken from us so soon? We all asked ourselves that and we'll keep asking ourselves that for as long as I guess we're here," Dennis said. "Much of what happens in this world surprises us; but it doesn't surprise God. He's known it from the beginning, he knows it 'til the end.
"We cannot hope to know why tragedies like this happen," he continued. "However, like many of you, I believe our Father God took Sgt. Gordon Best because he somehow fits into God's larger plan. Don't know what that is. It'll be revealed to us one day, I imagine. Now, that belief doesn't make dealing with his passing any easier. But faith and trust in God, that'll help get us through."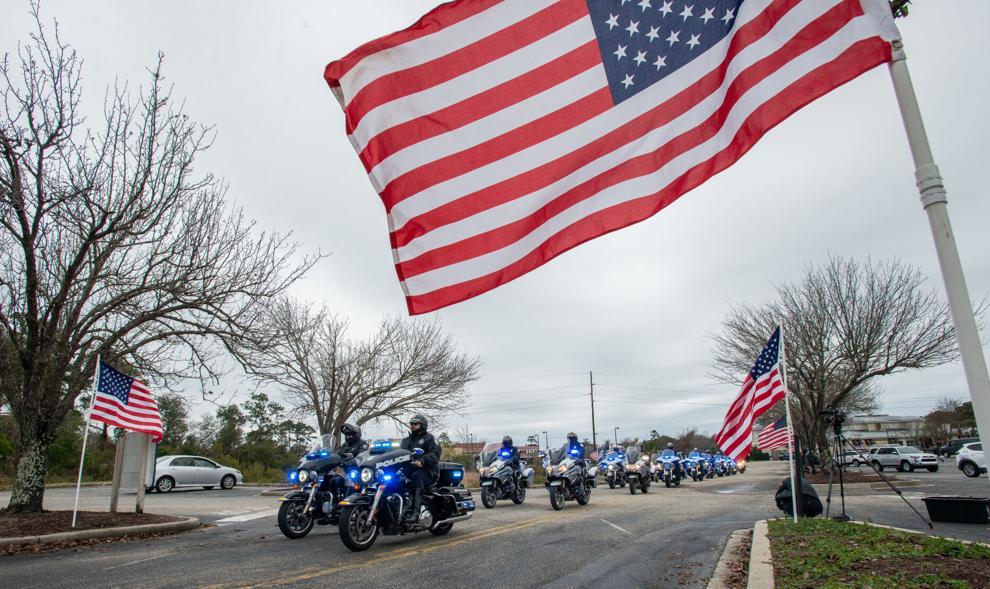 Best "had the heart of a true leader," the chief told officers attending the funeral. "He loved and cared so much for you. He had your back, always. Probably more than you knew." 
In 1990, Best was born into a police family. His parents were both North Myrtle Beach police officers. He graduated from Horry-Georgetown Technical College with an associate degree in criminal justice and he did his college internship with North Myrtle police. His work ethic, studious attitude and desire to help others appeared at a young age. 
Orbie Smith, a family friend and Best's third grade teacher at North Myrtle Beach Elementary School, said he had the type of qualities that made her job as a teacher easier.
"These students are naturally endearing to their teacher, and it is difficult not to embrace them because they make your job easier," she said. "Gordon was that type of student. He was kind, funny and loved science trips with a passion."
Even as child, she said, he wanted to be an officer like his parents. So she was surprised when he wrote about a different career path during a third-grade writing assignment.
"When I gave the papers back the next day, I said, 'Gordon, you've always talked about being a policeman one day, so why did you write about being a cowboy yesterday in your story?'" Smith remembered. "He quickly replied, 'Ms. Smith, I just read a book about cowboys. It looks like they have a lot more fun than policemen. They get to ride horses and chase cows. But if being a cowboy doesn't work out, I can always go back to being a policeman.' So there you go. Priority one: love what you do, and have fun doing it."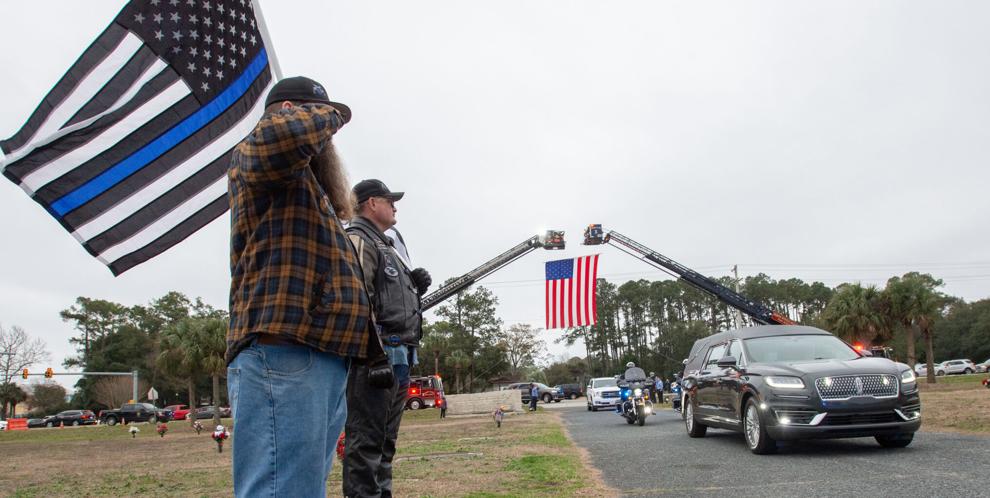 That year, Smith's mother was in the late stages of Parkinson's Disease. She was in the classroom when she got a call that her mother had been taken to the hospital. Although she tried to hide it, tears began to flow. 
She felt a student's little hand grab her own. It was Gordon.  
"Don't worry, I'll take care of you," she recalled him saying. "That was the kind of person he was. He was always the kind of person who would step up and take care of someone sad, hurt or afraid. That's why none of us were surprised when he was accepted as a part of the North Myrtle Beach Police Department of public safety. On the worst day of people's lives, he was there." 
Lt. Dana Crowell of North Myrtle Beach police was friends with Gordon's mother Renee and said she heard lots of "Buddy" stories as the young man grew up. Although she was 10 years older than him, she said the pair shared a love of their hometown of Loris, policing and Jesus. 
"Considering both of his parents worked for our agency, it was no surprise when the legacy kid chose to do his college internship in North Myrtle Beach," Crowell said. "In 2013, I sat on his interview board to become a public safety officer. Gordon was young, he hadn't experienced a lot of adversity, and he didn't have a whole lot of life experience. But he was charismatic, he was full of life, and he was a little bit cocky. We decided 'What the heck? Let's give him a chance to prove himself.'"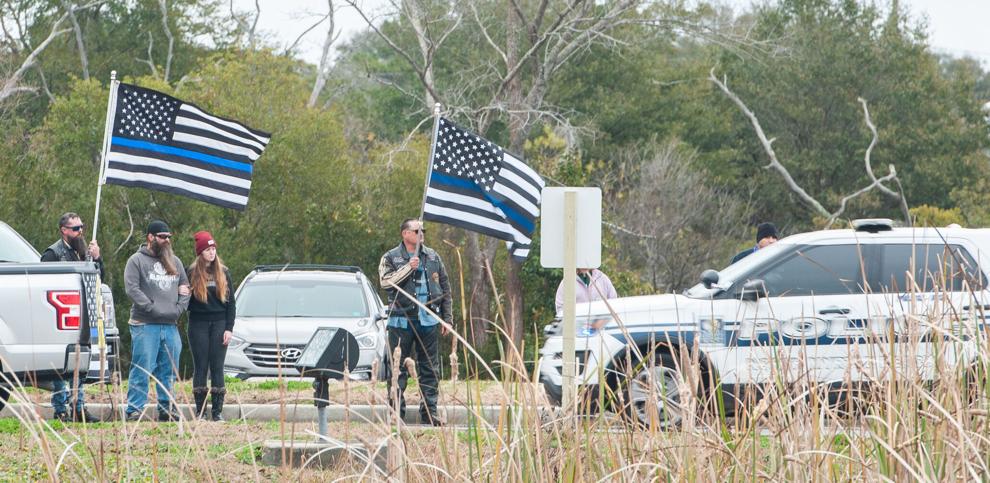 In October 2013, Best followed his parents' example and joined the department. 
"Gordon was an active listener and eager to learn more about how to be a successful patrol officer," said his fellow sergeant, Carrie Rose. "He paid so much attention to detail in his work that he would at times have to stay late to finish his reports. Gordon's reports ended up being short novels when the final product was submitted. He clearly took the expression 'If it's not written down, it didn't happen,' to heart." 
After Best's first year on patrol, and in preparation for his first evaluation, Rose challenged him to list three professional goals he hoped to achieve. His first goal was to never turn down an opportunity for advanced training. Rose said Best hoped to become a well-rounded policeman upon whom other officers could rely. 
His second goal was to develop a specific career path, Rose said. And his third was to be more involved in community service. He valued the benefit of education in policing over enforcement. 
"Law enforcement is constantly being displayed in a negative light and public opinion of our chosen profession is way down. I would love to somehow be a part of bridging the gap between law enforcement and the people who we serve," Best wrote.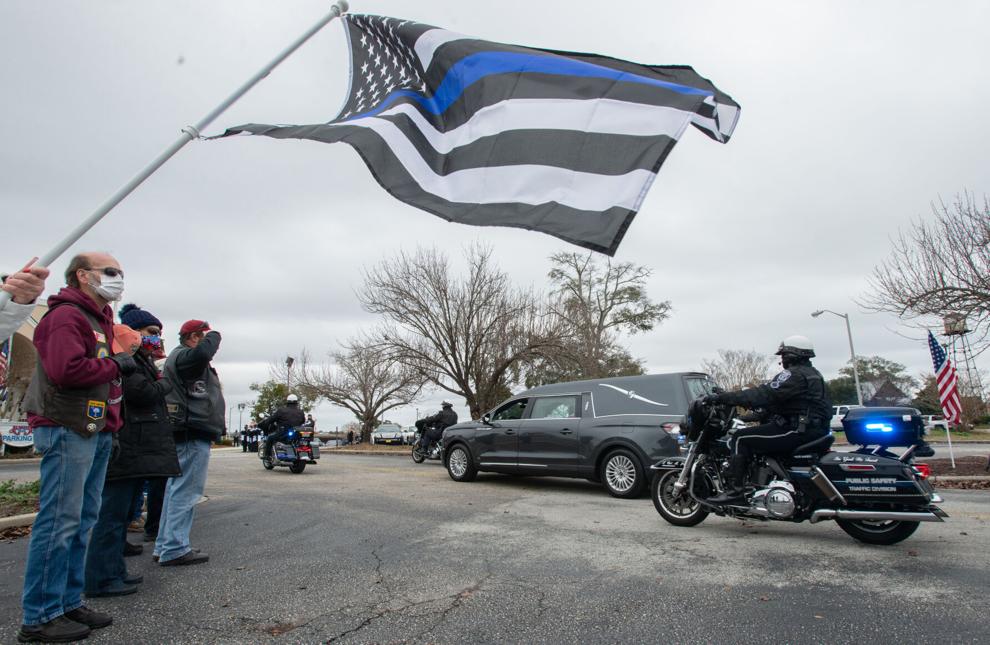 Rose said that Best didn't find gratification in writing lots of tickets or making the biggest drug busts. Rather, she said, "community service and community contacts were what Gordon found most rewarding early in his career." 
After about five years on patrol, Best wanted to take on a leadership role. He participated in promotional testing for sergeant in February 2019, and made the grade. He was assigned to a sergeant position and after a couple weeks of training was assigned his own night squad. 
On his night shifts, Rose said, Best was the highest-ranking officer on duty. 
"That is a lot of responsibility to be given," she said. "It's intimidating. Gordon took the ball and ran with it. He used his resources well and led his men with confidence. He did quality work, made good decisions and went home went he was done." 
But the morning of Jan. 1, he didn't come home. 
"Last Friday, home became heaven, and Gordon's new beat patrol," said Rose, choking back tears. "I don't know why he was called there to serve. It doesn't make sense. It's not fair. But we have to keep trusting God. He's always in control, even when the circumstances are out of control." 
Best wasn't just a police officer. He was a hunter and fisherman, and a man of Methodist faith who'd been baptized in the Waccamaw River as a child. He was a Mason. And he was a son, a father and a husband. 
In 2015, he married his wife.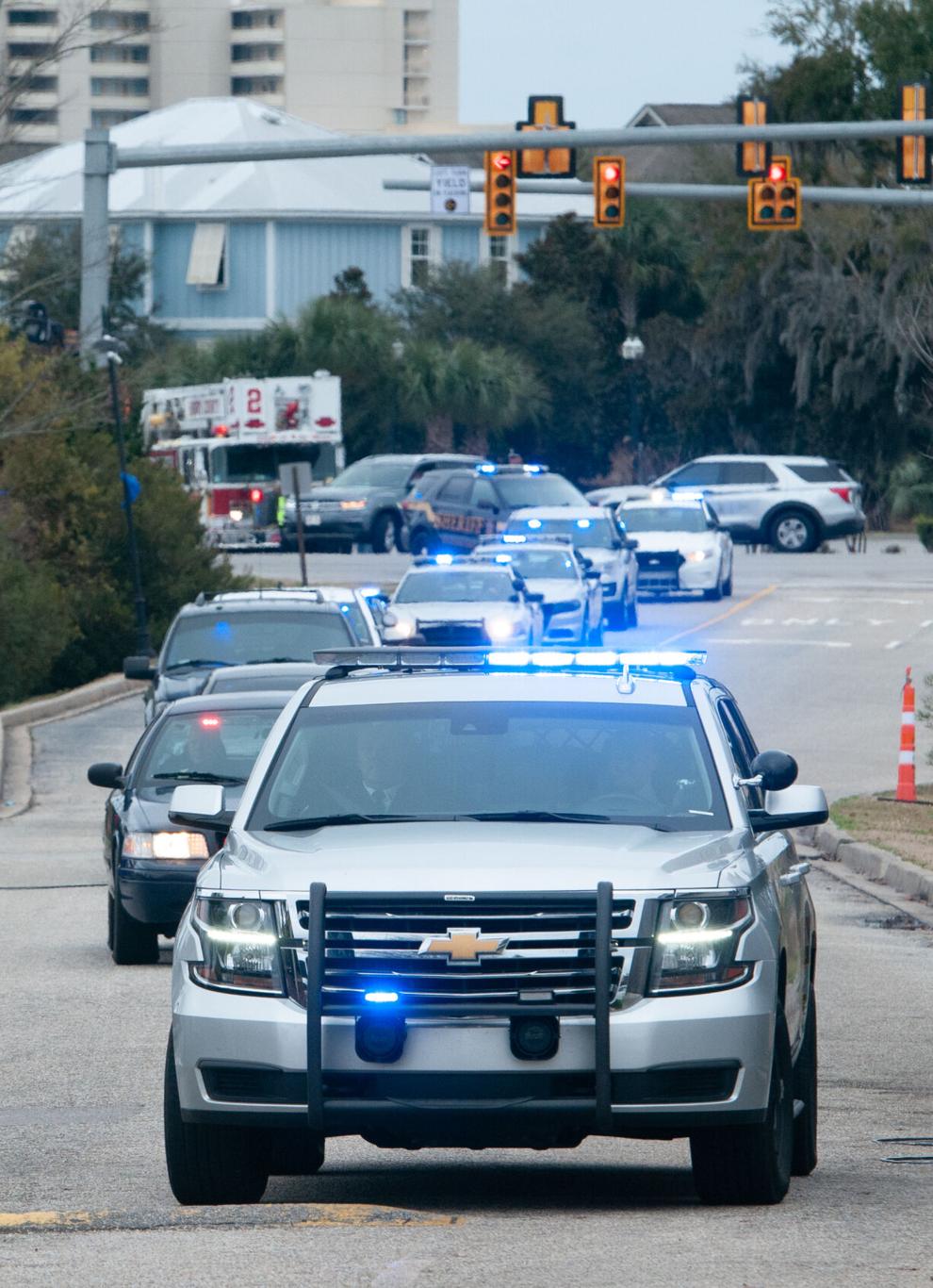 "As his police career was underway, Gordon's personal life brought him the true joy and passion of his life," Rose said. "If you have spent any time at all with Gordon, you know how much he loved his wife. It was clear the driving purpose of his life was Taylor's happiness." 
After they were married, the couple had their first child, Braxton. They built their "dream home," Rose said, and had their second child, Blakely. 
Best had a romantic spirit, and although he was often working at night, Rose said he always made sure Taylor had breakfast in bed and tried to make her life as enjoyable as possible. 
"Taylor told me the other day Gordon had written her beautifully-worded love letters," Rose added. "It is clear Taylor was our local Disney princess who won the heart of Prince Charming, who happened to wear a North Myrtle Beach police uniform."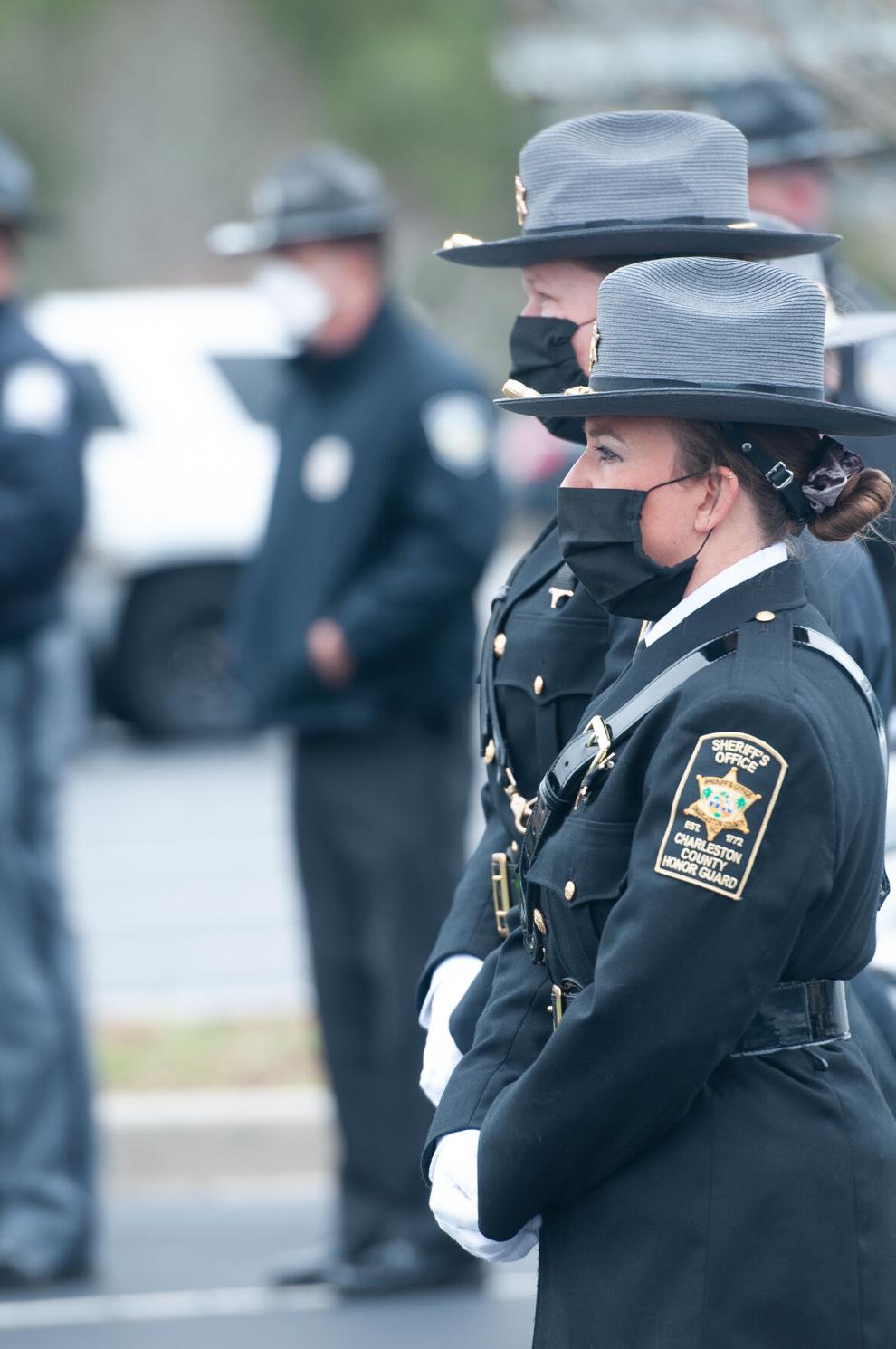 Crowell said Best could "bedazzle" with words, paid attention to detail, placed a high value on knowledge and would have had a bright future with the department. But she said those qualities didn't necessarily define him. 
"It was never Gordon the police officer that impressed me the most; it was Gordon the husband, Gordon the father, the son and the friend that did," Crowell said.
Best had his priorities in order, she said, adding that all of their conversations ended with Best talking about his family. 
"You never had to talk to Gordon very long before you realized young Gordon had done something many of us, particularly those of us in law enforcement, are rarely able to accomplish: he had found the sweet spot in life," Crowell said. "He had struck that near-perfect balance between being a successful public servant, a child of God, an adoring husband, a dedicated, devoted father, a loving son, brother and son-in-law, and a dependable friend and co-worker." 
Several weeks before his death, Best approached the chief about the next round of promotions. Although he had only been a sergeant for a couple of years, Best was eligible to test for lieutenant. Dennis told Best to pursue the position, but the sergeant wasn't sure if he was ready, and was worried that it might look bad if he was offered the promotion and rejected it. 
Dennis reassured Best that he had plenty of time to make lieutenant and move up in the ranks. "From there, at some point, you could have my job. You're going to be the chief," Dennis told him.
"I didn't tell him this to make him feel good," Dennis said. "It was the honest truth. I think many of the officers who worked with him and his family would agree that had his young life not been cut short, everything about this man, his personality, his leadership, his experience, his skills; nothing would have stopped him. I promise you that.
"But after all, God had a different promotion in mind."