North Myrtle Beach is about to get more surfer-friendly. 
An ordinance that passed final reading Monday expands the city's surf zones – previously just a few select areas – to include most of the beach. 
A map provided by the city shows the existing zones in light blue with the new zones in dark blue. Between 9 a.m. and 4 p.m. May 15 though September 15, surfers are limited to those select areas. At other times, surfing is not restricted.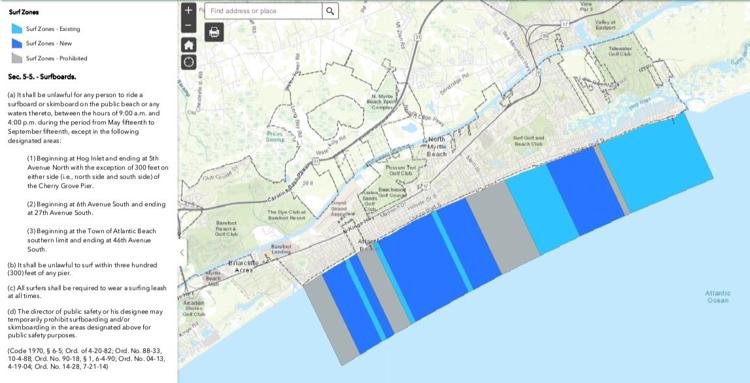 "Basically, the biggest thing is a lot of the surfing areas along the coast have done this," said councilor J.O. Baldwin, who's also a surfer. "They don't have surf zones, per se, and the main reason is for safety reasons. If you have surfers designated in one area and it's the one area they can surf, and you have swimmers swimming in that area, the surfers can't really get out of the way of the swimmers."
Luke Sharp, a surfer and director of the Adaptive Surf Project, echoed Baldwin's safety reasoning.
"We all surf by the pier, Cherry Grove Pier, and it's fun to go to different spots around the beach," Sharp said, "Most people know how to control their boards; they're not going to run over people. And it's is probably safer to spread us out rather than have us concentrated in one point." 
Baldwin said surfers are generally aware of their surroundings, and can help other surfers or swimmers in distress.
"They can get to them relatively quickly compared to a life guard," Baldwin added. 
The new surf zones are as follows: 
From Hog Inlet to 5th Avenue North except the 300 feet on either side of Cherry Grove Pier.
From 6th Avenue South to 27th Avenue South.
From the south end of the Town of Atlantic Beach to 46th Avenue North.
Surfers who want to catch a wave must use a surfing leash at all times, according to the ordinance.