For the past several weeks, south-bound travelers on Highway 17 who pass the North Myrtle Beach Mellow Mushroom location have seen the pizza joint's sign asking a simple question: where's Brian?
"Basically, Brian is our bar manager," said Mellow Mushroom restaurant manager Andrew Hardy. "Very regularly, our customers that come in on a regular basis will ask us where Brian is." 
That question became a recurring theme among the bar staff and regulars. 
"As a joke, we threw up the sign, 'Come see our bartenders. Where's Brian?'" Hardy said. 
Tomlinson's, a Carolina-based clothing and home décor retail outlet just south of the Mushroom, responded their own way about a week ago.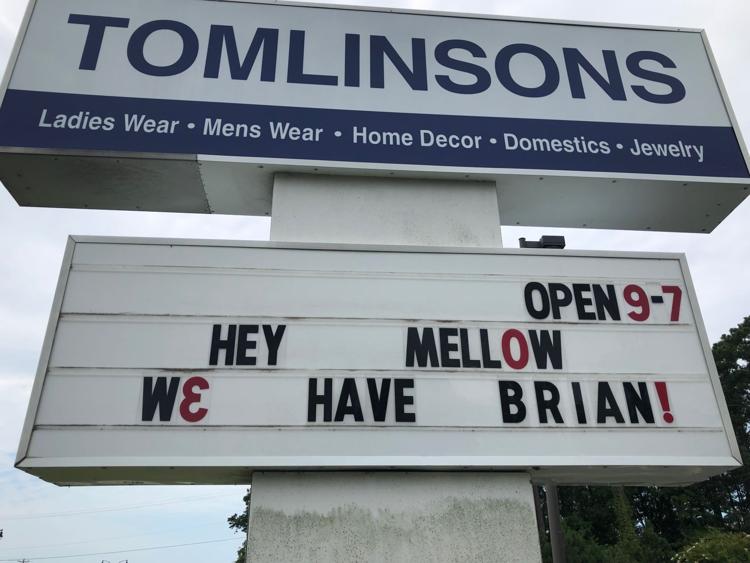 "Hey Mellow we have Brian," their sign said. 
It just so happened that Tomlinson's manager, also named Brian, was fairly new, having started in February. 
"We were just playing around with it," said manager Brian Crisp. "I'm brand new as a manager here, I just came to this location. I just looked at it and said 'Hey, it's a chance to try and stir up a little business at both locations.'"
On Tuesday morning, Hardy told MyHorryNews that they were trying to come up with another response to Tomlinson's. 
By Tuesday afternoon, the Mushroom had a new sign up:
"Hey Tomlinson's," the sign said. "You can't handle the real Brian."