Mounds of rubble, contaminated by asbestos have been piled up near Ocean Boulevard in Myrtle Beach, according to records obtained from the South Carolina Department of Health and Environmental Control. The mounds have been there, uncovered, for weeks.
Exposure to asbestos can cause several types of cancer, according to the World Health Organization.
The City of Myrtle Beach referred questions about the asbestos-contaminated material to DHEC. A DHEC official said an inspector was on the site Friday in order to locate the contaminated material, which would then be removed.
The mounds include what's left of The Breakers' demolished registration building at the intersection of Ocean Boulevard and 21st Avenue North, and discarded material from The Breakers' Tower next door
DHEC records show that initial testing in June found asbestos at the registration building, which was abated before demolition.
But when the tower was abated in preparation for demolition, not all the asbestos-contaminated material was removed.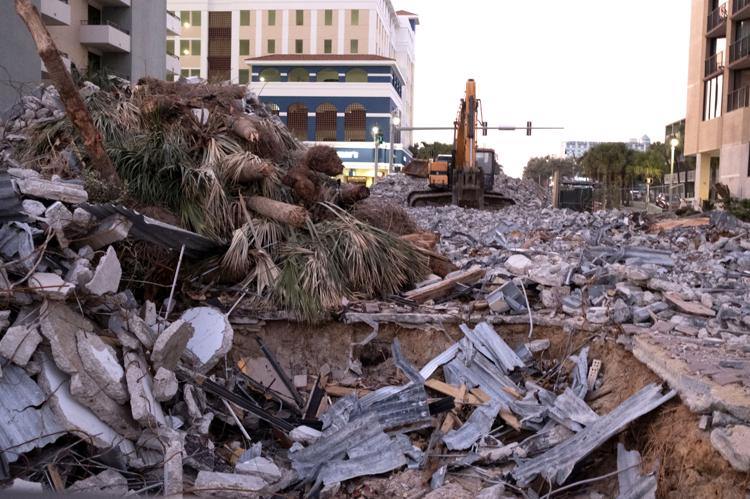 "After completion of the first abatement for the tower, the demolition contractor began minor removal of drywall but halted when more possible asbestos-containing material was discovered," DHEC spokesperson Laura Renwick said Friday in an email. "Sampling was conducted, and it showed that pieces of joint compound, which is applied to seams in between drywall pieces, were asbestos-containing material."
Some of the asbestos-containing joint compound that had been removed by the demolition contractor was found in the debris pile from the demolished registration building, Renwick said.  
"Since there's still a significant amount of debris from the already-demolished building in the same area, a licensed asbestos building inspector is conducting an additional inspection at the site [Friday] to determine which debris is 'clean' construction and demolition material and which is asbestos-contaminated material," Renwick added. "Any asbestos-contaminated debris will be ​handled and disposed of appropriately ​​by a licensed abatement contractor."