It started with a peaceful march down Mr. Joe White Avenue Sunday morning. 
But shortly after 5 p.m., the protest had turned into a standoff, with a line of cops in SWAT gear guarding the Myrtle Beach Police Department headquarters on one side of a blocked-off Joe White, and passionate protesters on the other side. 
Huddled in the middle of the road negotiating the release of six jailed protesters was a group of Myrtle Beach police officers, a Coastal Carolina University student taking part in her first demonstration and a small business owner who had spent the day protesting and preaching the power of God.
All the detainees were eventually released as the protesters began moving in order to free up the sidewalk. Many of them had dispersed by 6:30 p.m. 
But with a 6 p.m. to 6 a.m. curfew in effect, police began to crack down on those who still lingered, and once again, multiple people were arrested, with some packed into an Horry County Sheriff's Office transport vehicle. 
It could have been worse. No one was seriously injured. No buildings were destroyed or looted. Police never had to use tear gas. 
Here's how it all went down. 
The Sunday march 
In gatherings across the United States and around the world, people have protested the death of 46-year-old George Floyd, a black man who died after a white Minneapolis, Minnesota, police office named Derek Chauvin pressed his knee into the back of Floyd's neck for about eight minutes, according to footage taken from the event.
He kept his knee on Floyd's neck long after Floyd stopped showing any signs of resistance, and ignored bystanders pleading for officers to check his pulse.
Chauvin kept his knee pinned to Floyd's neck while Floyd gasped "I can't breathe" and begged for his "Mama." Shortly after, he was pronounced dead. 
Floyd's death has been a catalyst for protests against systemic racism and police brutality.
They have frequently turned violent, but the Sunday morning march, From Plyer Park to the Myrtle Beach police headquarters and back, was intended to be a step in "moving toward peace," according to organizer Phoebee Adams, a 22-year-old Coastal Carolina University English major who wants to be a teacher. 
And it was. 
Adams posted her event on Facebook Saturday night and word of the event quickly spread. More than 150 people joined her for the march at 10 a.m. The crowd chanted "No justice, no peace," "Say his name" and "George Floyd" as they marched for about a half-hour. 
"We're just asking for reform," Adams said. "Although they arrested the cops that are responsible, he didn't have to die that day. If they would have had checks and balances in place within the police system, he probably would have still been here. It demonstrates that we as a people see a need for change, and we're all trying to be on the same page right now." 
Sunday was Jose Carter's first protest. A security guard who moved to the beach in 2013 from Minneapolis, where Floyd died, Carter recalled several instances of mistreatment due to his race. 
"Some police officers, they've forgotten how to be human," Carter said. "You're a human being first, before anything else. You've got to put yourself in the shoes of the people you deal with sometimes. If you're not willing to do that, you need to find another occupation because when you've got that badge on, you represent the law for everybody."
Carter talked about being called the n-word as an 11-year-old in St. Paul, Minnesota, the time officers threw his belongings on the ground after they stopped him for going through a red light on his bicycle in Minneapolis and the time he was stopped by bicycle police in Myrtle Beach for tags that he said were expired by less than a month while several fights occurred nearby. 
"This is actually my first protest I've ever been to and I'm excited about that," Carter said. "But at the end of the day, this stuff has been going on since we've been brought to this country. These levels of injustice have been going on over and over again. It ultimately needs to stop, and if we can get a peaceful start to that right here, right now, if we can keep it like this all the way through, they'll know that we're not out here to tear the place apart."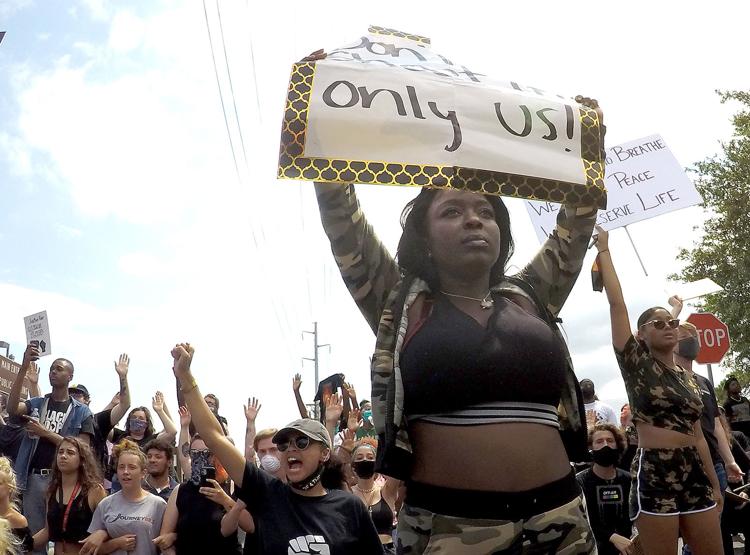 Casarah Ferguson of Conway was also one of the many who showed up. 
"There's too many of us dying for no reason," she said. "I think it's just because our skin is automatically seen as a danger and a threat, and that we're to be tamed down and controlled and abused. People will see us and automatically make a whole storyline in their head before actually getting to know our character." 
City Hall 
After the march, the protesters regrouped in Plyer Park for a prayer, with plans to go to Myrtle Beach City Hall for another demonstration. Some had hoped to hear from Julian Betton, a Myrtle Beach man who was shot nine times by drug agents during a no-knock raid in 2015.
The police officers who shot Betton had a warrant, but a neighbor said police never announced themselves like they should have.
The officers who shot Betton said he fired first, but it wasn't true. Betton never fired his gun, according to a State Law Enforcement Investigation. He eventually received an $8.5 million settlement from the city of Myrtle Beach that was announced in February.
Betton called off his speech after city leaders agreed to issue a public apology and discuss policy changes with him.