For years, Rosewood resident Clelia Turbeville has said she wants to pack up and move. 
Her flood-prone Socastee neighborhood along the Intracoastal Waterway has submerged annually over the past several years. This week was the seventh time in six years that her house flooded.
"It's probably four inches, five inches now in there," she said Thursday morning as she prepared to boat to a neighbor's house with dry floors where she would wait until the ephemeral urban swamp disappeared. 
"We've already took the dogs over because they had nowhere to go this morning but stand in water," she said. "I don't think I'm going back." 
But moving is expensive. So is raising her home, which she said would cost $34,000 to lift, $10,000 for bricks and $60,000 to put back together again. 
That's why she's hoping to take a buyout if that program is offered to Socastee residents. The last time her house flooded was June of last year, and she's tired of fixing it. 
"I just got my house put back together two months ago," she said. "That was $20,000. Now here we go again. And your insurance won't give you your money unless you fix your house. So what's the use of fixing it and then they're going to buy it out? 'Cause then they're going to bulldoze it down." 
And leaving without the help from a buyout program would be difficult. 
"I want to, but the mortgage," she explained. "And I can't afford to go. We haven't even worked in almost a year now because of this COVID. And we can't afford to go buy another place until we get rid of this one. I thought at least I'd have a couple more years." 
On nearby Starcreek Circle, also in Socastee, some folks still had dry houses but flooded yards as the water crept up. The ICW was at 17.7 feet Thursday, and Horry County officials were expecting it to crest around 18 feet over the weekend. Most who weren't flooded had enough clearance to ride out the water as long as it didn't go above the 18-foot projection. They had retained their electricity but had lost the ability to flush the toilets.
"Since [Wednesday] morning we weren't able to use it," said Keith Moore, who moved into his house in 2017. "So we have a Home Depot bucket and a thing of kitty litter next to it. It's our litter box."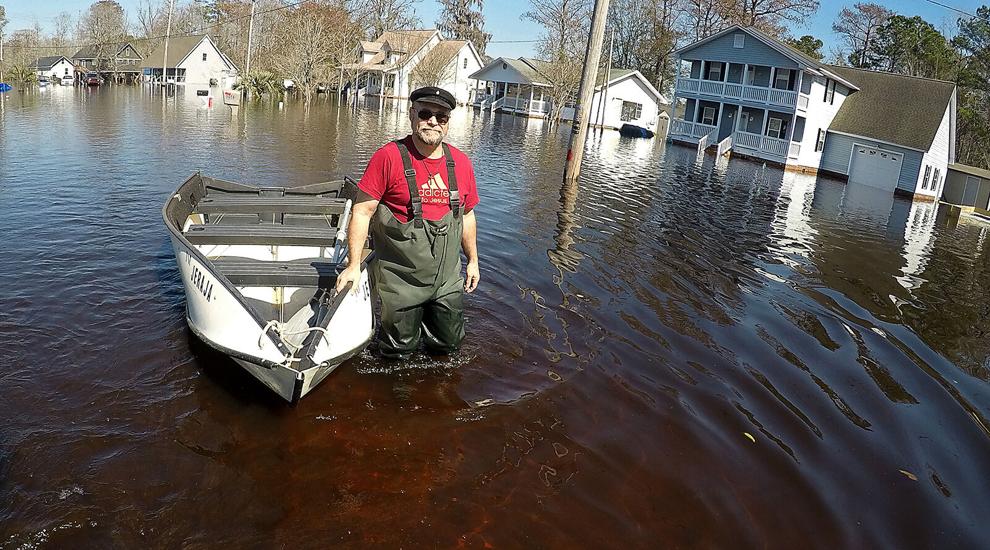 Hunter Broadwater with Grand Strand Water and Sewer Authority was in the area pumping cleanouts to prevent toilets from backing up. He was a welcome guest for the residents who stayed.
"The cleanout is an access to your sewer line that goes to the force main or gravity main to the lift station," he said. "It gives it somewhere to go so it just doesn't got back up into the house." 
A nearby generator at the subdivision's lift station had run out of gas but there were no plans to get it running again. Broadwater said that it wouldn't help the toilets flush, because the sewer lines were already flooded. 
Moore is still working to repair his home, which was damaged during Hurricane Florence. 
"Tom Rice and Lindsey Graham stood right over here and did an interview two years ago. I recorded the whole thing," Moore said. "Lindsey said there's hundreds of millions of dollars here in Horry County ready to help the victims of Hurricane Florence. Then Tom said within 10 days of this, we appropriated $1.6 billion for the victims of Florence and the money's coming down. It's been over two years and nobody's received any help." 
Three feet of water went into Moore's home during Florence. He and his son had just finished replacing the floor, and they still have to replace kitchen cabinets and fix the roof.
"We thought when the mitigation money gets released, if it does, instead of a buyout, we thought about raising it, but now at this point, every time it floods, we're still going to have to boat in an out, we're going to have the sewage problems," Moore said. "We just want the buyout. We're ready to go."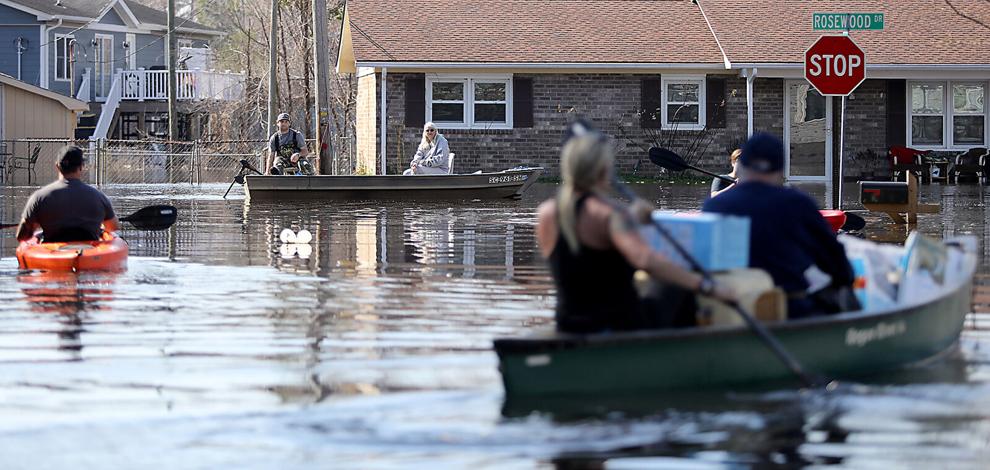 In Rosewood, Turbeville's father in-law, Sam Paul, said he'd love to keep living in the neighborhood if the water could be controlled. For decades, he said, the neighborhood wasn't flood central like it is now.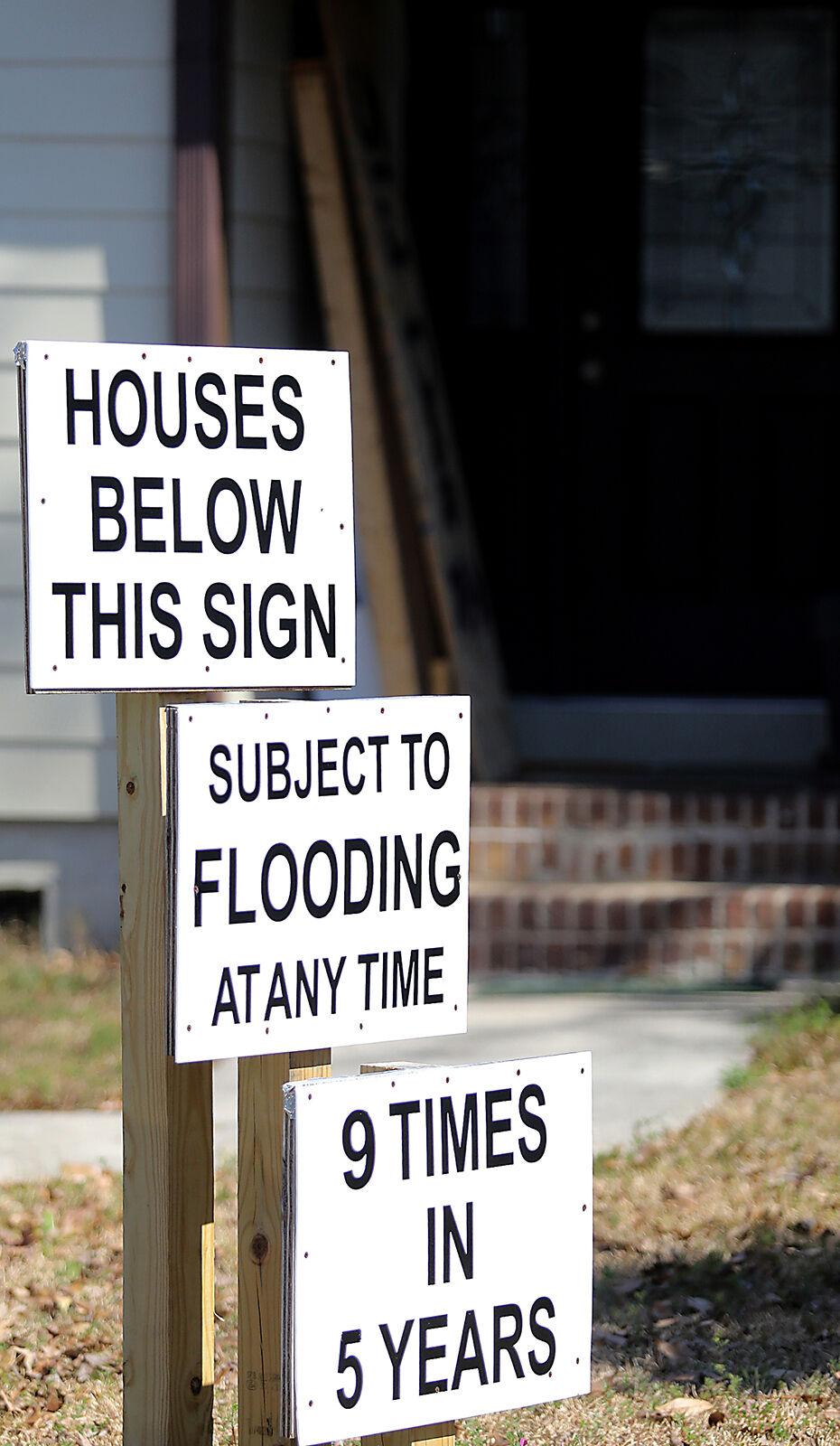 "And all the reasoning we get, the reason this is caused is because of all the current building. There's no place for the water to go. That's what all the laymen say," Paul said. "We have no idea." 
And as far as a buyout is concerned, Paul said, "We're waiting. We've been talking to [county councilman] Cam Crawford, he's the go-between. He's saying it's in the hands of the folks in Columbia now."
For more images, check out the gallery below: