A special prosecutor on Tuesday agreed to drop all charges against seven protesters who were arrested outside the Myrtle Beach Police Department in 2020 during the demonstrations over George Floyd's murder.
The prosecutor's decision came a day after a Myrtle Beach judge ruled that the city had not proven its disorderly conduct case against the first local protester to go to trial this week. Then came Tuesday's decision, which eliminated the misdemeanor cases against the other protestors.
"It's over. You can go home. It's like it didn't happen," defense attorney Amy Lawrence-Lovely said to two clients after they had waited more than two years for their cases to be heard.
The charges stemmed from a Blacks Lives Matter protest on May 31, 2020, and a city-wide curfew that officials implemented in Myrtle Beach in the wake of the demonstrations, which were happening in cities across the country after a Minnesota police officer murdered Floyd.
"It's hard to put into words," Lakyn Skipper said of the protest and subsequent arrest. "It was a whirlwind. There was so much happening at once. It was intense. It was a very intense time."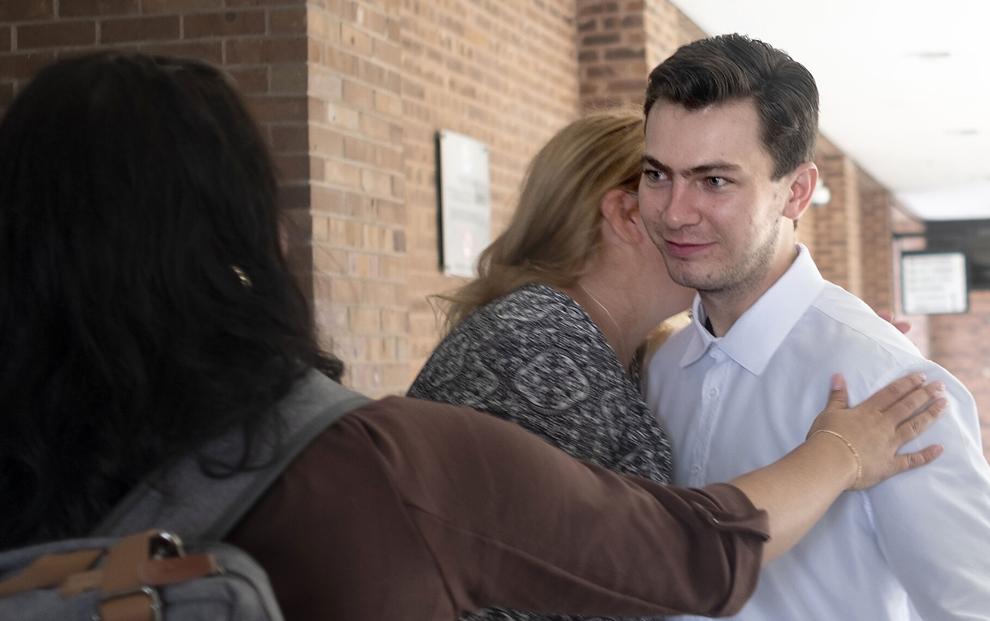 The intensity ended for Skipper with a whisper from the city's special prosecutor, James Battle, that the city would not be proceeding with the case.
"I'm mentally scarred but physically unharmed," Skipper said of the protest and facing charges of breaking the city's curfew.
Alexander Sullivan, who was expecting to make his case in front of a jury on Tuesday, stood nearby with his face frozen in a smile.
Sullivan had been skateboarding in the protest line when he was charged with disorderly conduct and using profane language.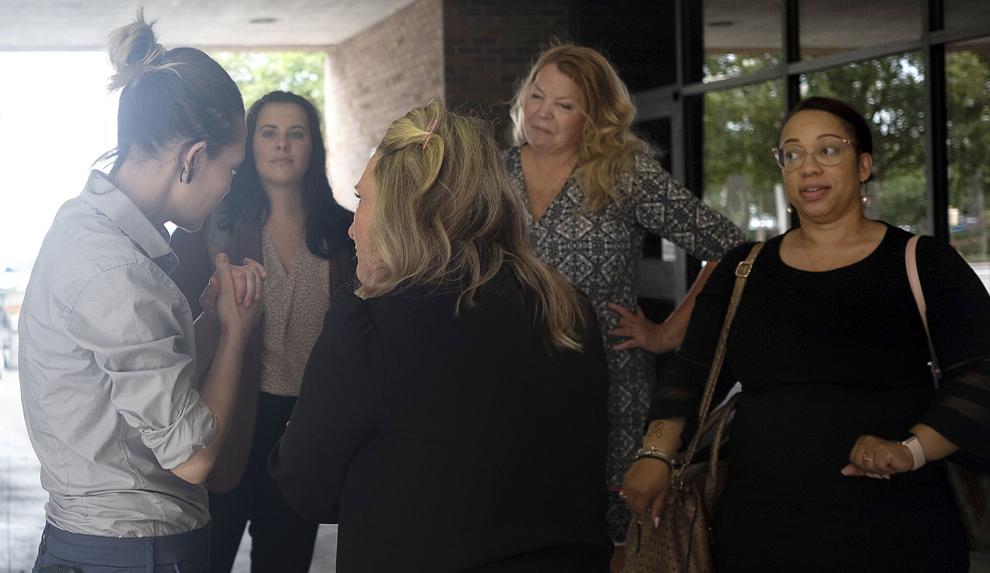 Smiling, he said he didn't want to talk about the day he described as "chaotic." But he wanted to thank his all-female attorney team from the Lovely Law Firm.
"This is really over?" he asked, embracing Aimee Zmroczek and Sharde' D. Crawford as Sarah M. Austin waited her turn to hug him.
"It is. It's done," Austin said.
Lawrence-Lovely and Battle met out of sight as potential jurors sat in the courtroom for more than an hour Tuesday morning at the Ted C. Collins Law Enforcement Center off Oak Street in Myrtle Beach. It ended unceremoniously with Battle saying the city was not going to proceed with any of the cases.
Lawrence-Lovely turned to face the crowd and held up a map of the city she was planning to present as evidence. She was careful not to let the room see a photograph of Minneapolis, Minnesota, police officer Derek Chauvin pressing his knee on George Floyd's neck. A day earlier, a judge told Lawrence-Lovely the photo would be unfairly prejudicial.
Lawrence-Lovely wanted to show the image to the jury to explain how Floyd's death had spurred Myrtle Beach's day-long protest.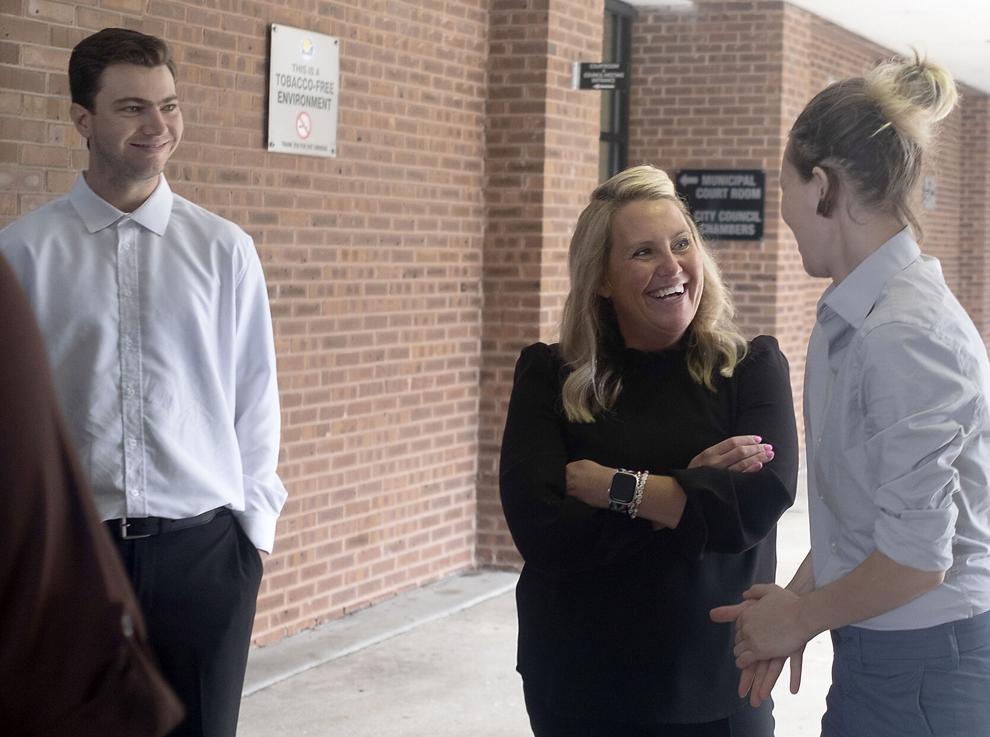 On that day, the protest began peacefully in the morning. The protesters were later joined by others at city hall for speeches, poetry and prayers.
"Right now, it's time to put a Bible in one hand and a gun in another," Shakira Brockington had said at the city hall gathering. She was later charged with breaking the city's curfew. Her charges were dropped on Tuesday, too.
On the day of the protest, others joined the initial protest group and the crowd moved to the police station where demonstrators chanted, held signs and lay on the ground repeating Floyd's last words of "I can't breathe."
The crowd formed a line blocking the entrance to the police station. Some in the crowd talked to police officers and agreed to walk to Ocean Boulevard with Myrtle Beach Police Chief Amy Prock and other officers as a sign of unification.
But after a few minutes at Plyler Park on the boulevard, Prock had left and the crowd rushed back to the police station where the scene had changed. They were met with officers dressed in riot gear blocking the entrance. They were told of a city-wide curfew. Six people were arrested at the station, including Sullivan and Noah Spadone.
Officers promised they would be released if the crowd dispersed. The six people, including Sullivan and Spadone, were released. Once the late-afternoon curfew began, officers asked the crowd to leave before marching in line toward the protesters. Some protesters scattered towards the city services building on the next block. Some were arrested while others backed toward city hall and eventually towards Kings Highway. In between the city services building and Kings Highway, Skipper was arrested.
Lawrence-Lovely said the dropped charges were inevitable, citing what a judge had said during a hearing on Monday. Judge Scott Long had issued a directed verdict freeing Spadone of disorderly conduct charges. Long had said the city failed to prove its case.
Specifically, Long noted that Spadone was accused of one violation but was being tried on another. Police confirmed the mistake during testimony.
"On May 31, 2020, in response to the murder of George Floyd, the Myrtle Beach community came together to peacefully protest and demand change in our local police departments," Lawrence-Lovely said Tuesday afternoon. "That demand was met with military uniforms, assault rifles and police officers who were unwilling to accept that there was a problem at all. Our clients paid a price for demanding more, for demanding better, for demanding equal.
"Exercising their First Amendment Rights resulted in their unconstitutional arrest and ultimate prosecution. Today, the city of Myrtle Beach decided to do the right thing in the face of their own failures and dismiss the charges against Shakira Brockington, Alexander Sullivan, Jenaysia Crane, Janiya Riley, Lakyn Skipper, Marissa Simons and Tray'asia Singleton – and for that we are grateful."
As for the city, no comments were forthcoming.
"We appreciate the opportunity to provide comment but we don't have anything to add at this time," Myrtle Beach Police spokesman Thomas Vest said, echoing Battle's silence on the cases.