The Grand Strand was spared major damage as the Category 2 – and at times Category 3 – Hurricane Dorian moved north, skirting the coast without making landfall in South Carolina. 
"What hurricane?" asked Gary Weller, who lives in Barefoot. "We were very lucky, compared to what other people had to deal with, very lucky."
The storm wrecked The Bahamas earlier this week, killing at least 30. But the Grand Strand escaped without problems, save for a couple of tornadoes that touched down in the North Strand Thursday morning. 
Weller was on the beach in Windy Hill looking for shark's teeth, something he does almost every morning. Sometimes it's easier to find teeth after a storm.
"It gets a wash from the wind and the rain and waves," Weller added. "But after the replenishment it's been tough because they cover up everything, so what you need is a wash to clear off the top of the sand a little bit." 
Rick Lussier of Windy Hill was also on the beach. His wife is a shell collector, he said, strolling along the beach while finding a few whelk and olive snail shells. The erosion and churning seas from the storm made them plentiful. 
"Turned out just to be a tropical storm," he said. "I got a little branch down in my backyard. I can handle that." 
Horry County Council Chairman Johnny Gardner said the unincorporated areas of the county saw minimal damage. Some trees fell, a few roads flooded but there was no widespread destruction, certainly nothing like last year's Hurricane Florence, which damaged 2,000 homes countywide. Crews were still assessing the storm's impact on beach erosion, but he said that also isn't as severe as what officials initially feared.
"We were spared," Gardner said. "It could have been much worse, but it wasn't and thank God. … We're in good shape."
Gov. Henry McMaster's evacuation order for the coastal portion of Horry County was lifted at 10 a.m. Friday. Storm shelters will soon close and schools will return to their normal schedules on Monday.
McMaster plans to visit the county's Emergency Operations Center in Conway around 1 p.m., according to a release from the governor's office.
City of Conway spokeswoman Taylor Newell also said Conway saw little damage. Parts of low-lying roads such as Long Avenue and Sherwood Drive were still flooded Friday morning, but that was about it.
"We got lucky," she said. "That's for sure." 
City of North Myrtle Beach spokesman Pat Dowling said crews were still out assessing damage around the city. If the damage wasn't severe, he said, debris would likely be picked up on the regular sanitation schedule.
"All the dunes and beach walkovers appear to be intact, we're going to resume lifeguard operations Saturday morning," he said. 
The storm wasn't near as bad as the Category 1 Hurricane Matthew, which hit the Grand Strand in 2016.
"It's not in the same ballpark from what we've seen so far," Dowling said. "Matthew actually made landfall and came up behind us. This storm stayed off the coast."  
In Surfside Beach, town clerk Debra Herrmann said Dorian caused a few downed trees and power lines in the South Strand community, but no significant damage.
"The town was in real good shape," she said.
The curfew that went into effect 8 p.m. Wednesday in the town was repealed Friday morning.
Things began to return to normalcy in Myrtle Beach Friday morning.
Mark Kruea with the city of Myrtle Beach said they were expecting a bigger storm. 
"Had it moved 30 miles to the west, it definitely would have been a different event," Kruea said. "We would have had a lot more damage. The forecast track was just iffy enough to keep you on the edge of your seat."
Kruea said the storm had caused some minor tree and sign damage, plus a few traffic light outages, but nothing major. The dunes were still intact.
"This was better than Matthew by a long shot," he said. 
The infamous Jeep that garnered news coverage and spawned internet memes was towed. Myrtle Beach Police Cpl. Tom Vest said in a statement the investigation into the incident continues, and the agency is working with the U.S. Coast Guard to determine any impacts to the shoreline or coastal waters. No charges had been filed in the case at the time of this report.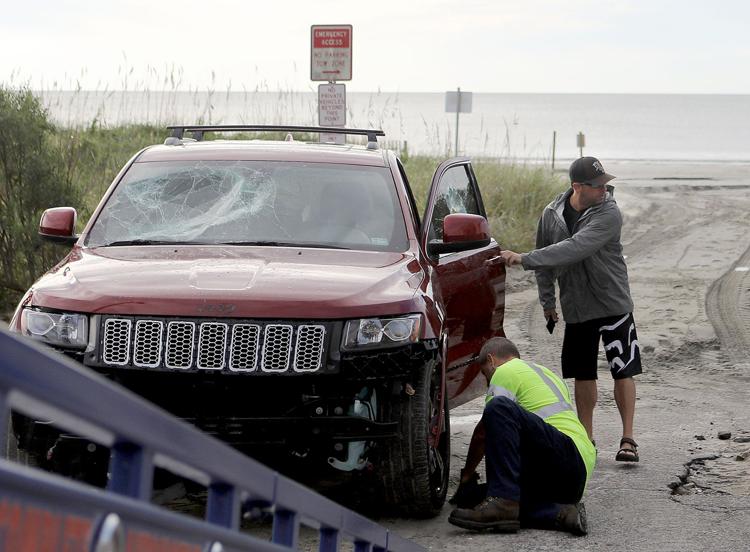 Marcia Barrera was on the beach with her daughter near 72nd Avenue North in Myrtle Beach. A Myrtle Beach native, Barrera said she moved outside of West Palm, Florida, two years ago but evacuated to Myrtle Beach when Dorian was threatening the Sunshine State. 
"We evacuated last week when they said it was going to be a direct hit, category 4," she said. "We came here just to have the hurricane follow us." 
Barrerra and her daughter were collecting shells during low tide, when bigger shells are easier to find. They rode out the storm without any problems.
"Honestly it wasn't anything close to what I expected," she said. "I've never really evacuated for a hurricane, but it being our first one we were dealing with living over there in Florida, we thought it would be good to leave for a [Category] 4, because we're close to the water there as well. But we were two blocks from the beach here and we barely felt anything. We kept power and everything."
David Suway was busy taking down plywood from his home in the Del Webb community Friday morning on the northern end of the city.
The former Atlanta, Georgia, resident had been reluctant to board up, but did so Wednesday as the storm approached the coast as a Category 3.
"We're happy with what it was," he said of the storm, "because when it went back from [Category] 2 up to 3, I said maybe it's going to be tough. Wilmington got it last year pretty bad."
He and his wife Diane praised neighbors for helping each other with tasks such as placing boards on houses and putting belongings indoors ahead of the storm.

"It was a real neighborhood thing," Diane Suway said.
The neighbors could be seen teaming up again Friday.
"It's almost margarita time now," David Suway said.
Viraj Naik and Charles Perry contributed to this report.