In the days before state regulation and water quality monitoring, Cherry Grove, Hog Inlet and Dunn Sound Creek were lands of free-for-all oyster harvesting. 
"Back in the day, the little boys would get out of school, and all of 'em [would] go in the creek and get 'em some clams and oysters and that kind of stuff, and they'd bring 'em up to Mr. Platt, I think for two cents a clam back then," said Carl Berry, 68, who used to work for Eugene Platt, the founder and original owner of Platt's Seafood on Sea Mountain Highway.
"They'd get oysters the same way," Berry continued. "You didn't have to have all them tags and where you harvest them at and all that stuff. It would remind me of a farm sometimes. You'd ride down there and you'd see 10 people over here, 15, 20 over there. Just people all over the place. To be honest with you, back then, you didn't have as many kids breaking in houses because they had a way of making them a few dollars."
Berry would venture into the marsh a few times a month, he said. Sundays were his best days.
"I'd be at the restaurant and a friend or two of mine would call me wanting six, eight, 10 bushels of oysters," Berry said. "You could just ride down the highway and pick a channel and jump out and get a load of those in a few minutes. Git'cha $5 or $6 a bushel; that's a good day's work." 
It was also good money.
"Gasoline was a quarter; cigarettes was 40 cents a pack," he added. "You could buy a lot."
That all changed in the 1980s, when the state Department of Health and Environmental Control closed the area to shellfish harvesting, citing the dangers of poor water quality.
But thanks in part to a $275,000 DHEC grant, a watershed plan and the cooperation of North Myrtle Beach and Horry County, the oyster beds of Hog Inlet and Dunn Sound Creek could eventually re-open.
* * *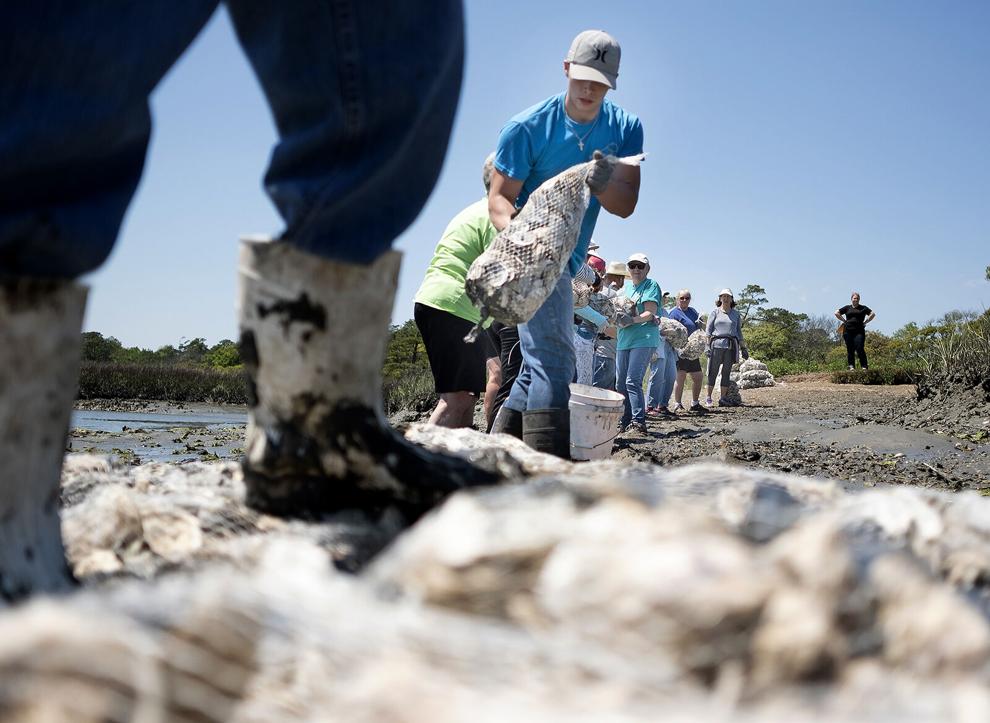 The fiddler crabs, seagulls and herons of Hog Inlet's marsh watched from a distance last week while two-legged invaders took advantage of the clear afternoon sky and ebbing tide to build a new development in the coastal residents' neighborhood. 
The pines of Waties Island hovered in the distance as volunteers formed a line into the pluff mud, handing down a couple hundred bags of old oyster shells bound with biodegradable mesh where Coastal Carolina University marine ecology professor Keith Walters and a grad student, Colten Winters, laid them out in a strip next to the bank 
With any luck, the new eco-friendly development will stabilize the eroding bank and invite new neighbors: a colony of live oysters that will provide a habitat for young fish and help clean out the water in Hog Inlet. Oysters spawn in the summer, and take several years to reach full size. Once they're mature, they can filter about 2.5 gallons of water per hour, and up to 50 gallons per day. But oysters only grow on oyster shells, so creating new reefs is critical to introducing a new population.
"They remove things like phytoplankton, which they feed on, and anything else that's in the water column, and they deposit the stuff they don't use as pseudo-feces, which basically clears the water," said Walters, who provided shells for the project. 
The shells were sourced from the Flying Fish restaurant in North Myrtle Beach and other eateries along the Grand Strand, Walters said. They've been sitting at Coastal's campus for more than five years, just waiting for a purpose.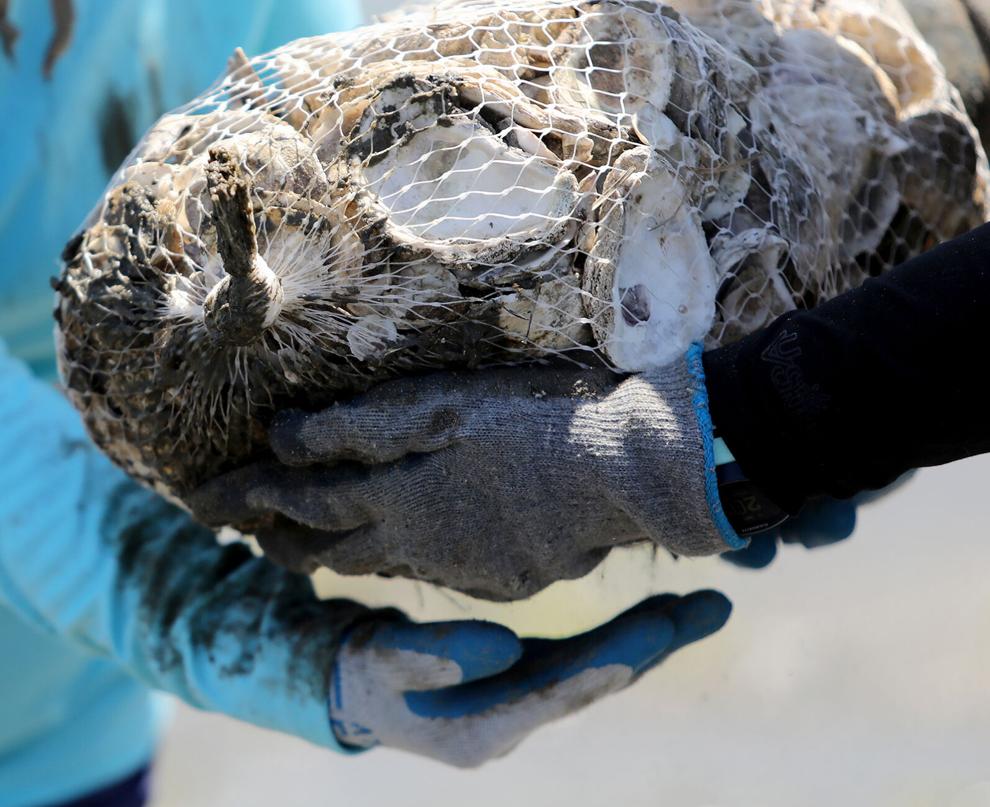 * * *
For decades, the North Strand's oyster beds have stagnated in water too contaminated for legal harvest, inundated with stormwater drainage and mucked up with silt. While boating and swimming in the inlet may be safe activities, consuming oysters from the surrounding marsh is not.  
In 2016 and 2017, the city of North Myrtle Beach dredged the Cherry Grove canals. That project reduced the silt that can stunt oyster growth and serve as a vehicle for bacteria and contaminates. As part of the dredging project and under the supervision of Walters, the city installed oyster beds to replace the ones lost during dredging, and those populations have grown over time. But that alone hasn't improved the area to the point where the Department of Health and Environmental Control will allow oyster gathering.
The South Carolina Coast is divided into shellfish management areas, and DHEC uses water quality monitoring sites in each area to track the presence of fecal coliform bacteria in the water. While not every type of fecal coliform bacteria is harmful to humans, levels of the bacteria serve as an indicator of other harmful pathogenic bacteria, protozoans and viruses from warm-blooded mammals that can present a public health threat. Lower the bacteria levels, and you've likely reduced the amount of all the other little nasties.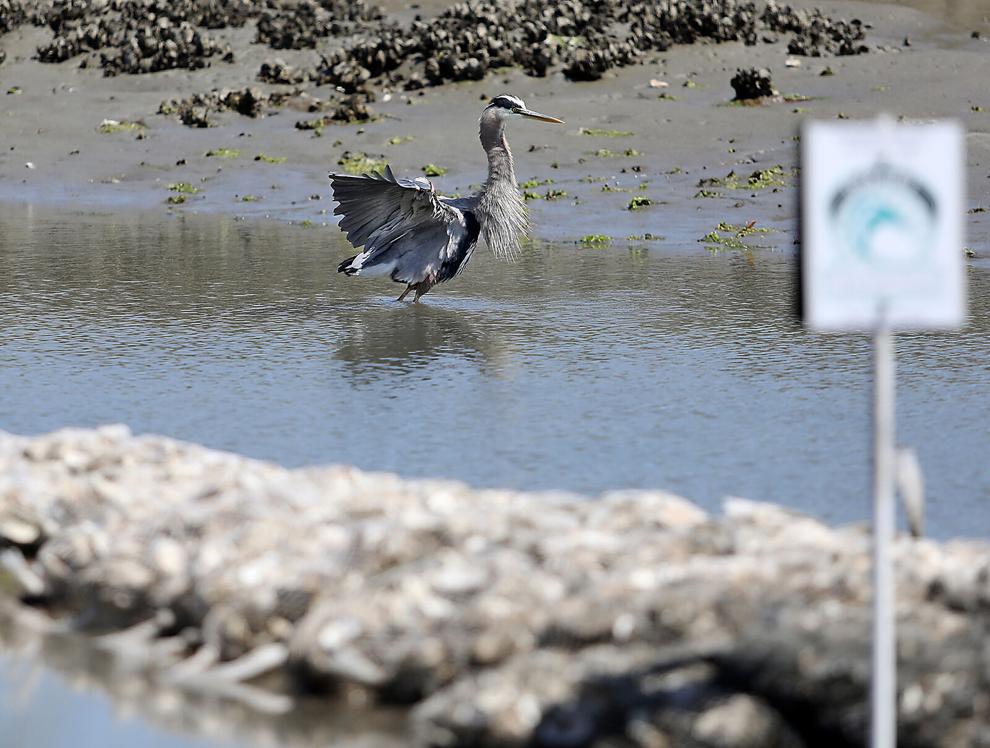 Shellfish management area 1, in Cherry Grove, Hog Inlet and Dunn Creek, consists of almost 3,300 acres of shellfish-growing habitat, although the state Department of Natural Resources says there's only about 12-to-15 acres of oyster beds there. Every section of the management area has been closed to harvest for decades, according to DHEC, except for one. In 2011, DHEC opened up Hog Inlet and its northern marsh. It closed again the next year.
More than 1,100 acres in the area, mostly along the Intracoastal Waterway, are classified as "prohibited" sections, meaning DHEC doesn't have a sanitary survey report for the area or that the levels of contaminates is too high to safely consume oysters from the area. 
More than 2,100 acres are designated "restricted," meaning the water has levels of contaminates that are high enough where fluctuations in water quality could make oyster consumption dangerous. 
DHEC has nine water quality monitoring sites in the restricted area, and seven of those sites measured an increase in bacteria levels between 1992 and 2016, according to a 2018 watershed plan for Hog Inlet and Dunn Sound Creek, which presents an array of tactics to reverse the trend. 
The long-term goal of the plan is for 80% of all shellfish harvesting areas within Hog Inlet and Dunn Sound Creek to be approved for harvest within 15 to 20 years, to identify all common sources of bacteria entering the watershed in order to mitigate them, to build sustainable oyster reef habitats while restricting them to purely recreational uses and to encourage sustainable development practices to protect natural resources.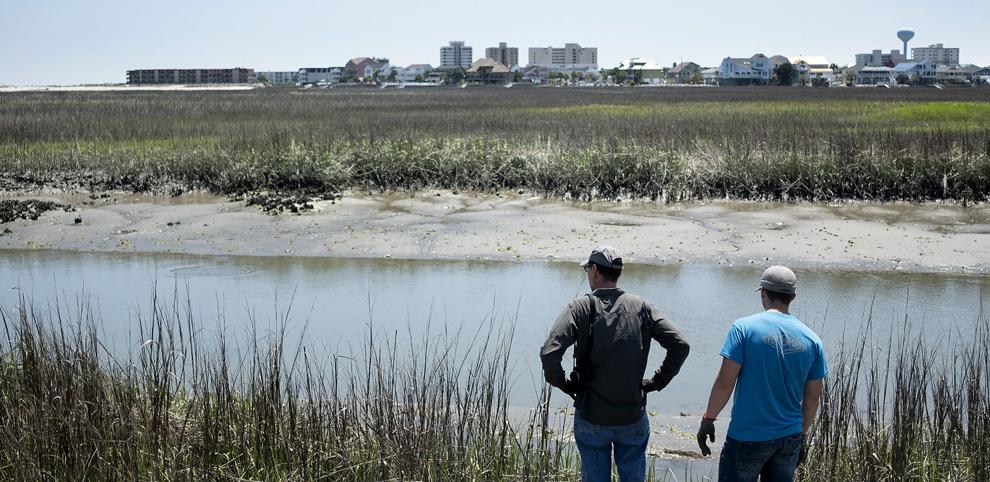 Ben Dyar, who heads up the state Department of Natural Resources' oyster shell recycling program, said the fecal coliform bacteria itself doesn't have a direct impact on the health of oyster beds, but sedimentation and long periods of low salinity do. 
Generally speaking, Dyar said, "if that amount of accretion of sediment or sand is faster than what the oysters can grow and stay above that sediment, it basically can suffocate them where they can't filter feed to be able to survive." 
But the agency doesn't have any data on changes to the quality or quantity of the north end's oyster beds because the area has been closed to harvest for so long, and the department's funding and resources are prioritized for fisheries that do allow harvest, like Murrells Inlet.
Citing the declines in the Northeast and in Chesapeake Bay as examples, professor Walters pointed out that as human populations have increased, the oyster populations near them have decreased.
"There's obviously general historical records of that kind of generalized decline across the world," Dyar added, "But as far as that micro-population, I don't have any direct numbers I could point to, to say it was this many oysters and now it's this many."
* * * 
The 2018 watershed plan was developed by the Waccamaw Regional Council of Governments with help from the city of North Myrtle Beach and Horry County, and funded by a $275,000 grant from DHEC.
"What we hope to do is implement a series of best management practices to hopefully lower the fecal coliform bacteria level to hopefully someday open the shellfish beds to harvesting again, but just generally speaking, improve the water quality," said Daniel Newquist with the WRCOG, who was the primary author of the plan. 
The watershed is divided into six catchment areas which drain into the inlet. The areas collectively run from Crescent Beach up north of Highway 17 in Little River, around Waties Island, and all the areas in between. Common sources of bacteria and other tiny organisms include pet waste, sanitary sewer systems and residential septic systems, feral cat waste and bird and wildlife waste.
The most common ways the bacteria enter the watershed are through stormwater runoff, sediment buildup and the increase of impervious surfaces.
Proposed solutions to lower the bacteria levels include connecting people on Little River Neck Road to water and sewer lines, pet waste pickup campaigns, encouraging the use of rain barrels to collect water from roofs, planting vegetation along banks of water bodies, planting floating wetlands in existing ponds, turning paved surfaces into impervious surfaces and an infrastructure project to divert more stormwater out into the ocean instead of the Cherry Grove marsh. The larger goal is to let water soak directly into the ground instead of sending it into the stormwater system and over paved surfaces where it can pick up contaminates.
"We try to, with the bacteria impairment type study, look at it as comprehensively as possible," Newquist said. "In this watershed, we have a few neighborhoods that rely on septic systems and we're in the process of identifying residences that are now malfunctioning and providing some assistance to them to actually get their septic system repaired or replaced, so that's a component of the project." 
The city of North Myrtle Beach in partnership with Horry County pursued a grant a couple years ago to run city water lines to folks on Jack's Circle Road and Harrelson Avenue in Little River Neck, in unincorporated Horry County. But residents would have had to foot the cost and pay a monthly water bill. The terms of the grant required 70% of residents commit to hooking up to the system, and that support never materialized. 
"Most of the residents would like the convenience of having public water and sewer services, but that requires their commitment to monthly usage billings," said city spokesman Pat Dowling. "Even with grants that pay to have the water and sewer lines extended to their locations, and programs that help to cover most if not all of the tap fees and other hook up costs, having to commit to the monthly usage fees represents an economic challenge many do not want to embrace."
Other projects, like running city sewer and water lines to Riverside Drive, have been more successful. They include a plan to replace the pervious paved Hill Street Park parking lot with an impervious lot, likely built with pavers that have enough space to let water soak into the earth, Newquist said, and installing floating wetlands in ponds along Riverside Drive, Nixon Street, and the Surf Golf and Beach Club. 
"That is kind of an innovative concept where what you want to do is encourage wetland species that will pick up nutrients and sort of filter out water in that regard," Newquist added. "We're hoping to begin that part of the grant later this spring, if we don't get to it this spring, maybe late summer, early fall."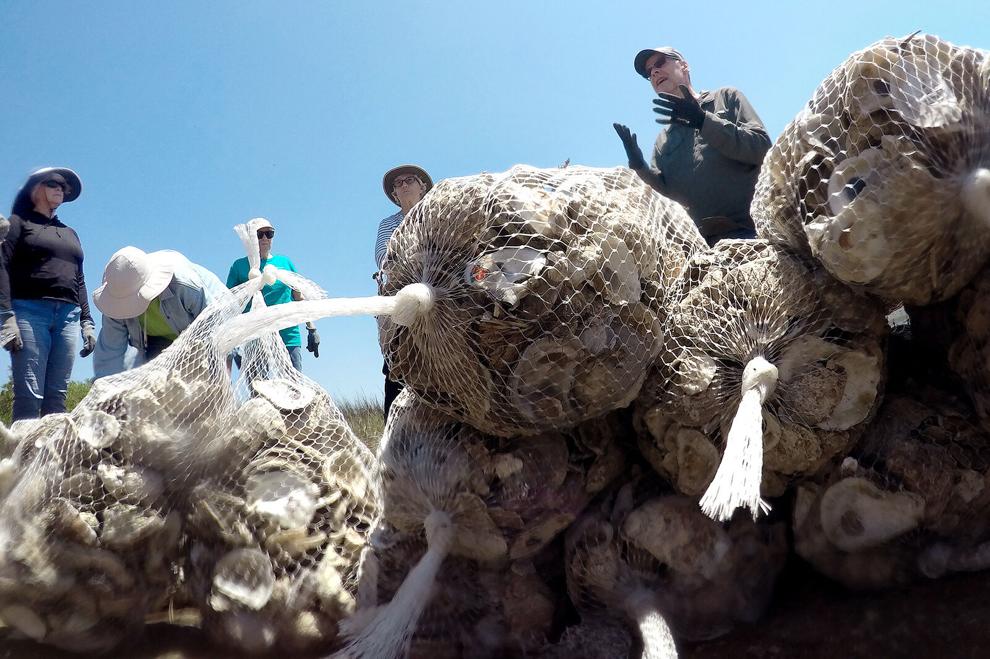 The biggest project outlined in the plan is a 1,200-foot ocean outfall at 18th Avenue North. Two years of construction on the $14.5 million improvement is scheduled to start this fall, said Dowling. It was included in the city budget last year, but postponed due to COVID-19.
The new outfall is designed to alleviate flooding in the area, reduce the amount of stormwater that flows into the Cherry Grove marsh, and reduce the levels of bacteria in the ocean where people swim. The SCDOT-installed storm drainage pipes will be removed, Dowling said, and multiple landward storm pipes will flow into the new outfall and out into the ocean, well past the breakers. 
Dowling said the new outfall will collect stormwater from between 14th and 23rd avenues north, reduce flooding along 11th Avenue North and reduce flooding on Ocean Boulevard between 18th and 20th avenues north that occurs after heavy rains. 
The big pipe will collect runoff from the Surf Golf and Beach Club and parts of Sea Mountain Highway, which normally flows into the inlet near Duffy Street, and redirect it out to sea, according to the watershed plan. City documents included with the watershed plan estimate the outfall alone will reduce the bacteria load from that catchment area by 50%.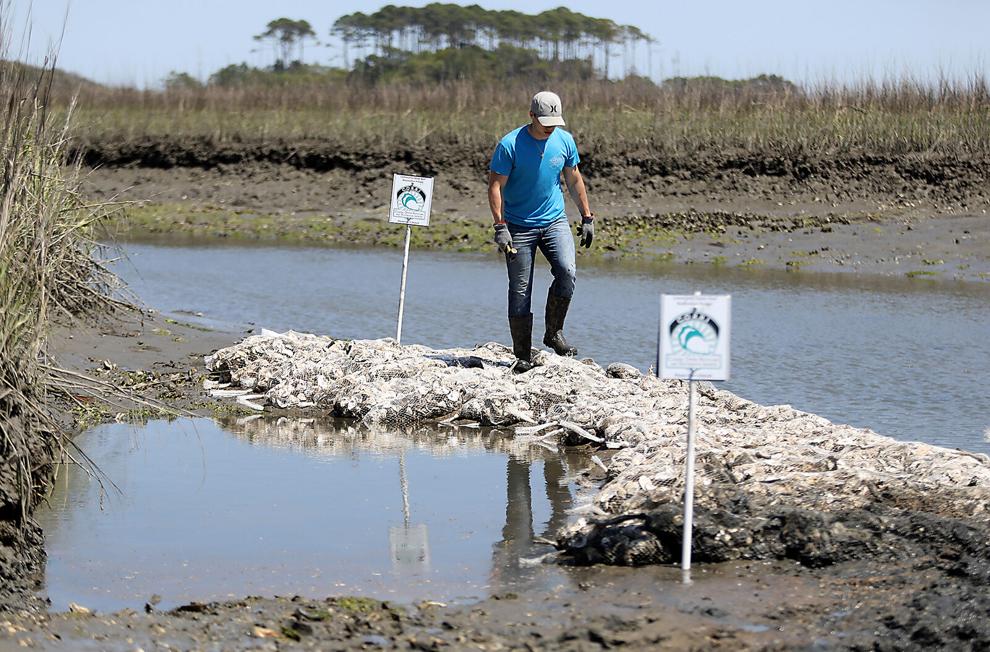 Other proposals are less costly, but require citizen participation.
For example, residents can help by using rain barrels to catch water from their roof during heavy downpours and repurposing it for irrigation instead of letting it enter the stormwater system. Light drizzles usually don't cause a lot of runoff, Newquist said, but heavy storms do. 
"The more you can contain water on site, the more each individual property can make a difference," Newquist explained.
If all the recommendations in the plan are put into place, they could substantially reduce the bacteria load into the watershed from each catchment area, from a 24% reduction in bacteria from the "Little River Neck - marsh" basin up to a 71% reduction in the "Sea Mountain Highway to 11th Avenue North" basin, with the others falling somewhere in between.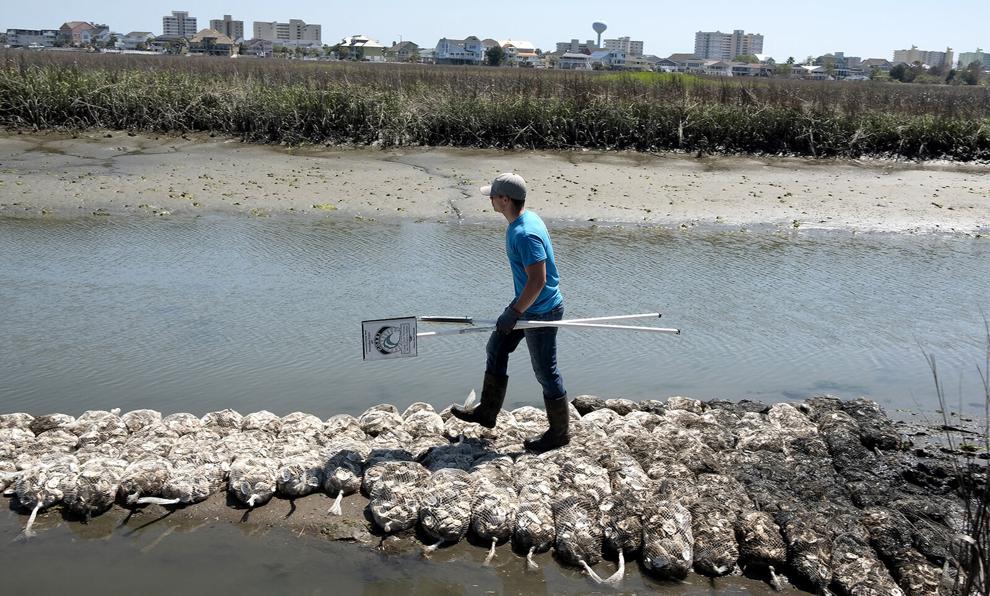 * * * 
DHEC's annual shellfish management area reports show reason to believe that the watershed effort will pay off. 
The reports for 2018, 2019 and 2020, the years following the Cherry Grove canal dredge, show that Hog Inlet's water quality has improved during each monitoring period. In 2020, all but one water quality monitoring site showed improvement in bacteria levels, according to the reports, and DHEC attributed the outlier to several days of heavy rain in the area before the measurement was taken.
If the management area ever opens, it would likely start with small sections at first.
"The last report indicates there's been improvement," Newquist said. "We're not in a position to petition DHEC to open the shellfish harvesting now.  Portions of Murrells Inlet are open, portions of Murrells Inlet are closed; I would anticipate that being the direction of Hog inlet and going from there." 
Optimistically, it's possible that portions of the area could be open within five years if the area keeps improving, said Newquist, but there's no guarantee. The watershed's long-term goal has a 15-to-20-year outlook, so don't expect the marsh to open back up just yet. 
"Really, when you're dealing with a bacteria sort of situation, it definitely entails a comprehensive solution," Newquist said. "You're not going to get it down to zero; there's always going to be some bacteria. It would be a losing bet if I said next year we'd be open. But I hope we trend in the right direction and it continues to improve."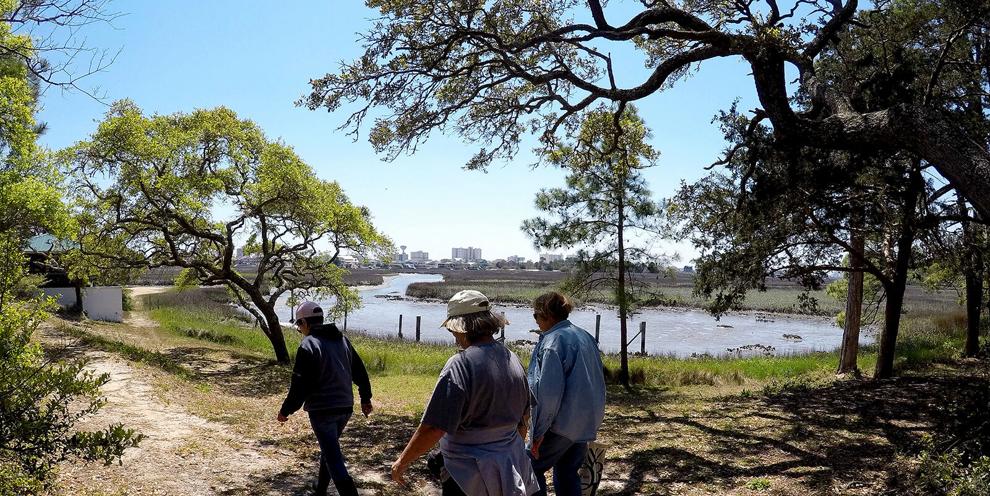 Both Berry and Eugene's son, Timmy Platt, would like to see the place open back up, when the water no longer poses a danger. 
"It's a big demand for 'em," said Berry. "I would love to see that happen if the water samples are good and it's not going to make anybody sick, let people go out and enjoy themselves, give 'em something to eat."
While Platt's used to rely on the marsh for shellfish in the old days, Eugene's son and current store owner Timmy Platt said he'd like the area to open back up, but only for recreational harvest.
"I'd like to see it open for the public just so kids can come out in the wintertime and maybe get them something to eat," Platt said. "I'm not necessarily all in-favor of commercial harvest. I would think for the public, it would be a good thing."
***
Back at the marsh, volunteers who'd spent an hour in the sun laying out several tons of oyster shells dispersed to the higher ground of Little River Neck to suck down bottles of water. 
The fiddler crabs exited their holes and resumed their beach patrol. 
And a heron caught the breeze to land gently in the rising tide. Feeding time.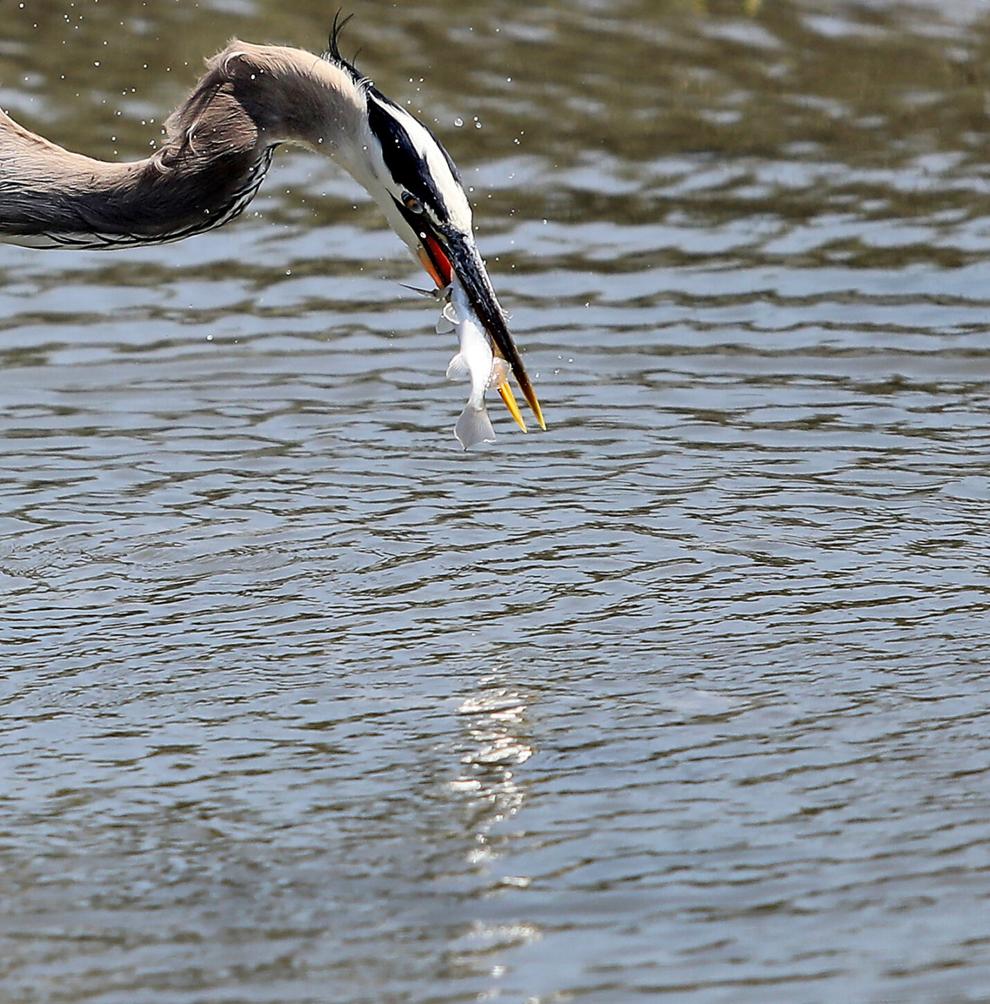 Gallery:
Oyster bed restoration in North Myrtle Beach