The sun that broke through the clouds and lit up the shimmering seagrass in the Cherry Grove marsh Tuesday morning also shed light on a more unwelcome sight for residents in North Myrtle's most flood-prone neighborhood.
The storm surge flooded out homes, toppled trash cans and sent boats on unplanned trips to new and damaged horizons.
At the northern end of Cherry Grove Beach, the Category 1 Hurricane Isaias had knocked away a large section of the Sea Cabin Pier near 60th Avenue North, causing North Myrtle Beach to issue a warning to swimmers and surfers to stay on the south side of Cherry Grove Pier, lest they get injured by the large beams, some of which had already washed up on shore.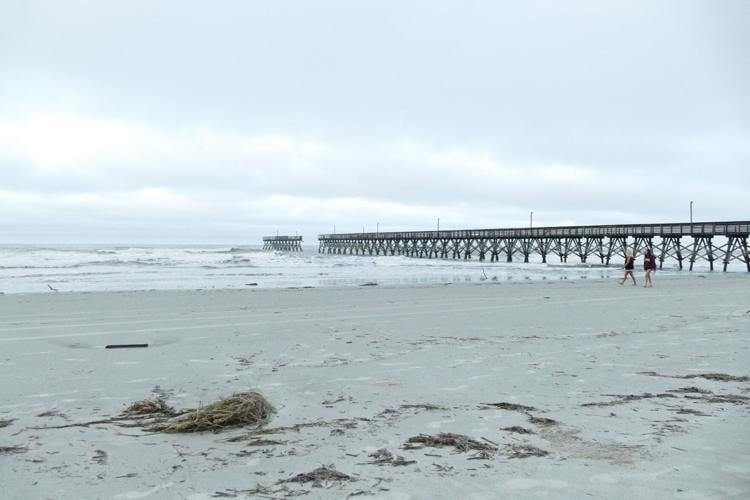 Bill Noel was staying in a condo near the damaged pier watching the storm roll in Monday. 
"We were watching it on the balcony," Noel said. "It didn't look like much. It must have really got crazy. It must have, because look!
"We walked out there last night. It's gone now." 
Dozens of docks in the Cherry Grove canals were damaged. Some of them were missing. Most people in the neighborhood saw 3 feet of water in their homes, and it was deeper in the street.
"All the cars are totaled. It was worse than Matthew," said Luke Sharp, who lives on 34th Avenue North. "Our downstairs was destroyed. My wife didn't sleep because of it. I was planning on surfing, but with all the damage, I'm going to have to do some work."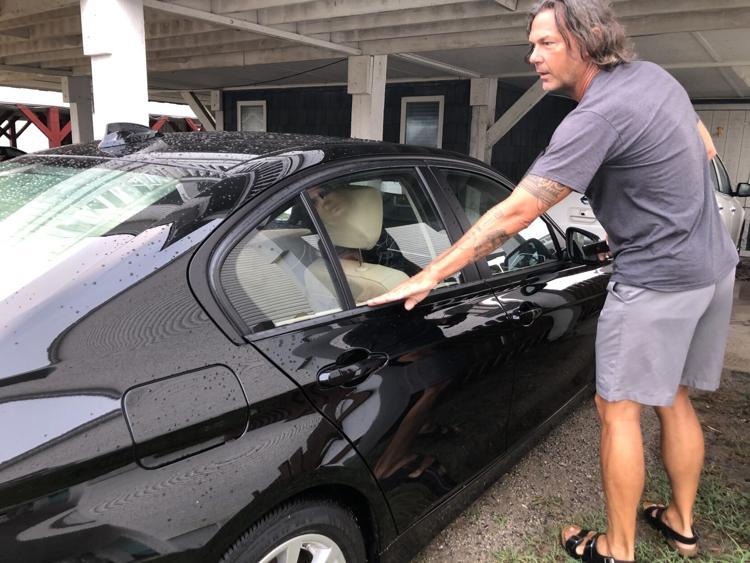 People in the neighborhood are used to flooding in the street and low-lying areas, but this storm sent water into people's homes. 
Luke Sharp's wife, Erin, said the water levels were about the same as Hurricane Matthew in 2016, but it was "worse this time, it's muckier, there's mud that came with it. And our neighbor, her whole backyard is basically gone." 
Almost every home along the Cherry Grove canals is built on stilts, so residents were able to wait out the storm upstairs. But they generally use their downstairs space to park cars, store washers and dryers, and sometimes they'll use the space for an extra room. 
"We have a little Airbnb apartment on the bottom floor that we rent out," Luke Sharp said. His daughter's friends were staying there, but as the water rose, everyone moved upstairs, and the apartment was inundated with water.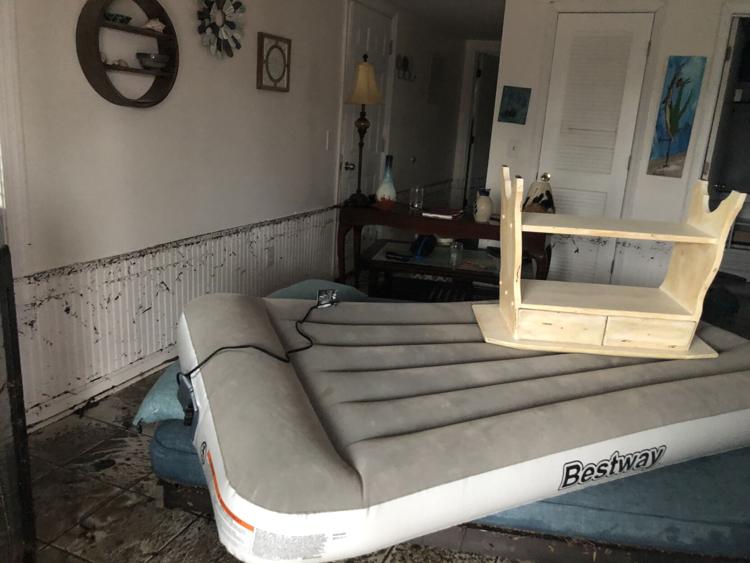 "Before I start cleaning, I've got to get my surf in," he said. "It's a mess out here." 
City spokesperson Pat Dowling said via email that Cherry Grove saw up to five feet of storm surge Monday night, resulting in 15 calls for high-water rescues. The flooding was the main culprit for damage, with a chart provided by Dowling showing that wind speeds in North Myrtle never got over 60 mph, and city workers reported little or nor structural damage from wind, including roof and shingle damage. 
As of noon Tuesday, Dowling said city workers had surveyed 205 of the circa 3,500 homes in Cherry Grove, and found an estimated $1.1 million in flood damage. That number did not include damage to vehicles, docks, decks, and other ancillary flood damage. 
On 49th North, Michelle Rhyne watched the water coming up using mailbox posts as water gauges.
"We went out to go get some coffee at like 7 [p.m.], and we came back and we're like 'Oh no, the water's really coming up,'" she said. "We were out here for probably 10 minutes and all of a sudden, all the grass was completely covered in water. We thought it was going to be like it normally is. We went inside. By 8 o'clock, the water was waist-deep." 
By 9:30, the water was over the mailboxes, she said. "If we wanted to go, we could not. It was scary." 
While their cars were safe and parked on higher ground, Rhyne said she thought she lost her washer and dryer, and possibly the golf cart.  
"I said, 'I don't ever want to be here again when it's like this,' it was scary," she said. By 9:45, the water began to recede as fast as it came up. 
Rhyne's next-door neighbor Linda Eleuteri, lost her dock, which washed across the canal, and her 40 Koi fish, which require fresh water.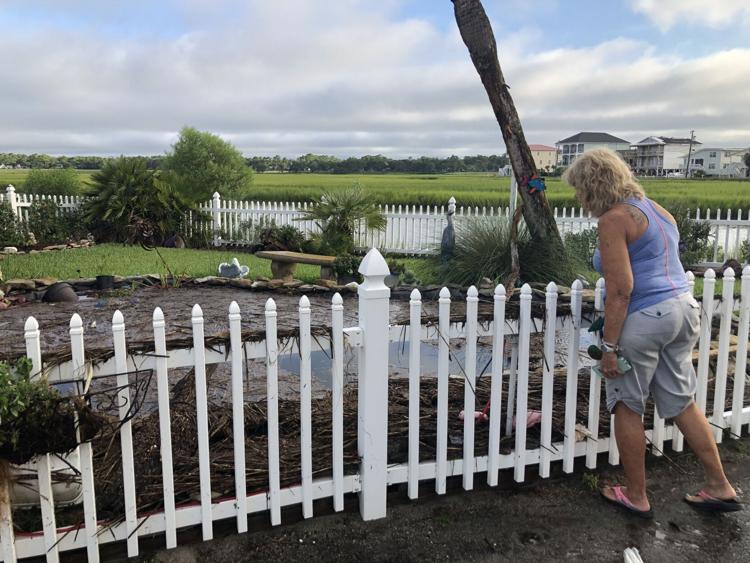 "They're somewhere floating around in the ocean; no, they wouldn't be floating, they're dead," she said. 
Like her neighbors, Eleuteri's bottom floor was flooded out, including a large shop room filled with tools. Out back, a propane tank the size of a refrigerator was toppled over. 
"No one was expecting this," she said. "No one. We didn't make really that many preparations here, because No. 1, it was supposed to be a tropical storm. We would have tied more things up and packed more things up."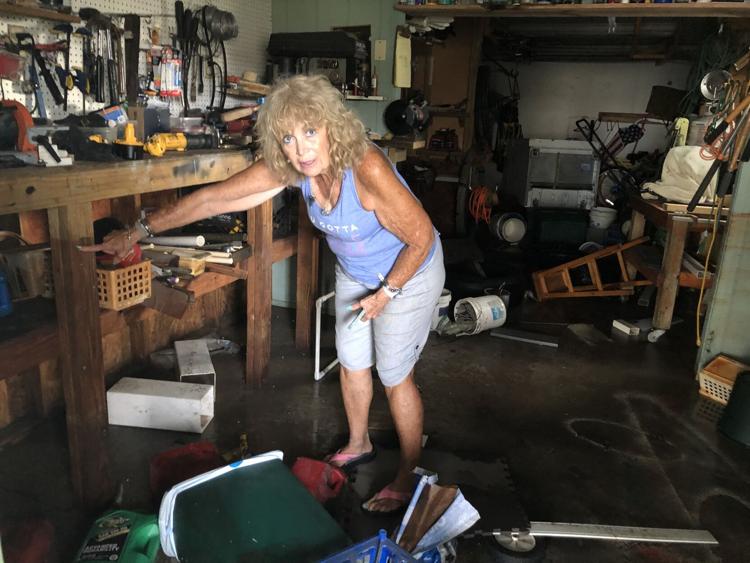 Eleuteri was coming home from a friend's house Monday night and arrived on her street when the water was already coming up high. 
"I parked at the corner, thinking 'I'll just take my shoes off and walk home,'" she said. But the water was already up to her hips. "And I thought, 'I'm scared to death of water, I am not going any deeper, forget it.' So I sat in my car and waited. At 12:30, my son came and picked me up and brought me." 
Now, she's dreading the impending cleaning and rebuilding process she went through during Matthew. And of course, her insurance won't cover everything. 
"Usually with your insurance, you have a $5,000 deductible," she said. "And can you replace everything? No, you can't replace everything."  
But, she said, "We're alive and well. A little worse for the wear."  
Deloris and Tommy Thompson on 46th Avenue North also lost their downstairs living area, where they had a refrigerator, washer, dryer and bed. They fared better than their neighbor, whose house caught on fire. It was one of a half-dozen fires that happened overnight, Dowling said in an email. 
"The storm, they never thought it was going to be this bad, and then it came in with a vengeance," Deloris Thompson said. "Everything was moved. Our heavy picnic table was moved around. We lost a lot of outside stuff that was so heavy we didn't think it would be moved." 
Tommy Thompson said they lost power downstairs, but kept it upstairs.
He blamed the severe flooding on the timing of the storm's arrival, because it started impacting the area at the same time as high tide. 
"The winds, the rain, we got caught in the tidal surge, is what happened, and that was something they didn't want to happen and we were hoping it wouldn't happen," he said, adding the worst of the wind came between 10 p.m. and 11 p.m. "It just kept blowing, it just kept blowing."