As usual, North Myrtle Beach's Cherry Grove on Monday night bore the brunt of the headaches that come with a hurricane, as Isaias temporarily stranded a gas station clerk and caused the city to put one of its high-water vehicles into use to evacuate a family and their pets. 
As the storm skirted the coast, causing power outages across the county and dumping rain on the North Strand, local surfer Luke Sharp stood on the Cherry Grove Pier. He was sitting on his porch when the canal bordering 34th Avenue North spilled over the road as the tide rose. 
Sharp and a couple of his daughter's friends headed to the pier. 
"We're surfers, so we've gotta watch waves," he said. 
Cherry Grove is no stranger to flooding, and hurricanes, tropical storms and even king tides are enough to send water into people's yards. 
This time around, some of the larger vacation rental companies and Prince Resort had offered high and dry parking areas to let folks stow their cars away from the water, as did as a local Walmart, said city spokesman Pat Dowling. 
Not everyone was so lucky. 
"We watched a house scrambling with a golf cart they rented," Sharp said. "I don't think they got it out." 
Underneath the pier, Shawn Wallace of Concord, North Carolina, knelt down in the surf to get some pictures to show his son. 
Wallace grew up coming to North Myrtle Beach, and took his family on a week-long vacation before his 5-year-old son starts kindergarten. 
"I wanted to get some good pictures to show my son that, 'Hey, even when you're 5 years old, you survived a hurricane,'" he said. 
By 9 p.m., most of Cherry Grove was underwater, and at 9:30, Circle K convenience store clerk Cassie Goebel was temporarily stranded. At least two feet of water surrounded the store on Duffy Street and Sea Mountain Highway.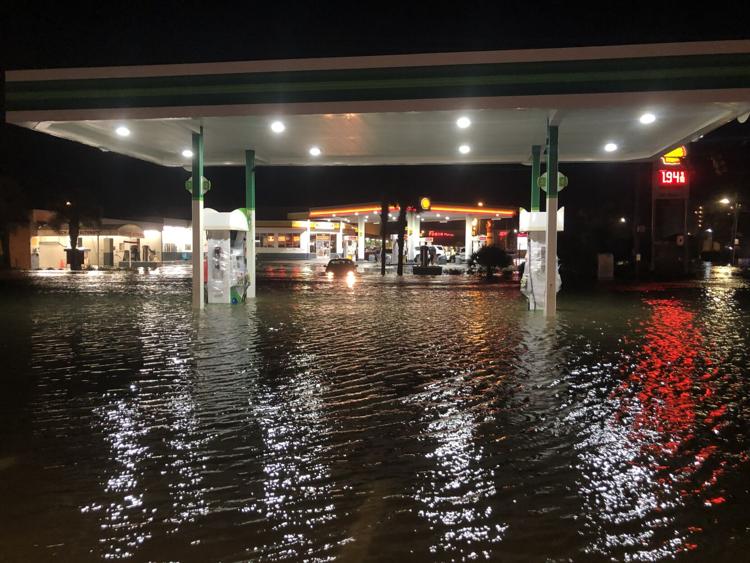 "It was pouring down rain one second, and I went outside and the parking lot was completely flooded," she said. 
She didn't drive to work, so her car wasn't in danger of flooding, but she didn't know how she would get home.
"My mom's supposed to be coming to get me, but I don't know how she's going to get in the parking lot," she said. "I don't know how far flooded it is. I don't know where I can walk to, to meet her. It usually floods in this area pretty bad, but not where I've been in it. I've got to go ahead and lock up and figure it out from there."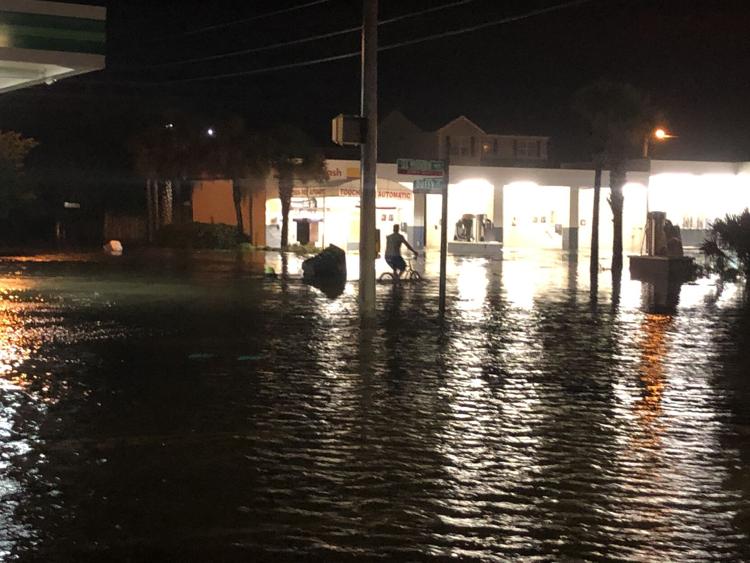 Shortly before 10 p.m., North Myrtle Beach Fire Rescue was called to a house on 59th Avenue North in Cherry Grove to evacuate a family and their pets. 
Dowling said there was smoke from an electric issue, but no fire at the time of the rescue. Since the streets were flood, a fire truck couldn't get to the house. So the city sent a high-water vehicle to evacuate the family.
Dowling said it was one of "many" rescues using high-water vehicles Monday night, as the high tide and storm surge combined to put Cherry Grove under an estimated 4 feet of water. 
Dowling said in an email that the fire department responded to "about a half dozen residential fires" Monday evening, with one sustaining "significant" damage and the other "moderate damage." He said the other fires were knocked down quickly and no one was hurt. 
The city's building division workers will do a windshield survey to assess storm damage to the city Tuesday morning, Dowling added.
Cherry Grove wasn't the only place in North Myrtle to flood. The city shut down Main Street between Ocean Boulevard and Hillside Drive around 8:30 p.m. due to flooding near the southern end of the street. 
"At high tide, you absolutely can kind of predict this," said Cameron Winchester as he was leaving International Café. "You have a high tide with an incoming tropical storm, a surge, it's 100% gonna flood. This is very minimal at this point." 
Hurricane Isaias finally made landfall as a Category 1 Hurricane near Ocean Isle Beach in North Carolina shortly before Monday turned into Tuesday. 
But the passing of a big storm leaves a treat for surfers. 
"A hurricane passes us, the wind switches to an offshore wind and the waves just glass up and it's beautiful," Sharp said. "That's normal behavior. I'm gonna be here at first light. First light tomorrow is 6 [a.m.], so I'll be here at 5:45."